Domestic Violence
29 January 01
by Tracey Middlekauff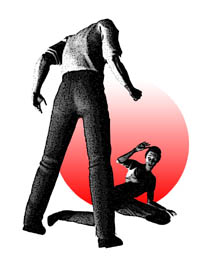 Get off me baby,
Get off and leave me alone
I'm lonely when you're gone
but I'm even lonelier when you're home
A blues song by Holly Near
Rosa Schirripa is a full-time student at the City University of New York, a part-time intern in social work and a full-time mother of two teenage boys. She is also a former victim of domestic abuse.
She accepted the beatings for years. "I thought marriage is not about happiness, it is about starting a family and raising kids," she says. "My father used to hit my mother, so I thought that is the way a husband and wife treated each other."
In 1999, New York City's domestic violence hotline received more than 95,000 calls. These included reports of child abuse, elder abuse, abuse of a partner in a gay or lesbian relationship, and other crimes. But the majority were from women who are abused by their husbands or boyfriends. An estimated 49 percent of all women who are murdered in New York City die at the hands of their intimate partners. In Brooklyn alone, from 1998 to 1999, domestic violence homicides nearly doubled (from 14 to 25 by September).
New Yorkers are now facing the problem in several ways. The city recently enacted two landmark laws designed to help both former and present victims. Private groups provide victims with shelter and educating them. School programs try to reach young girls before they become victims. New York's court system will soon become somewhat less Byzantine, thanks to a new plan that will allow each domestic violence case to be heard by a single judge, rather than in a series of often unrelated courts, as is now frequently the case.
The efforts are going on in Washington as well. In her final days in office Attorney General Janet Reno issued a ruling that could make it easier for foreign victims of domestic violence to receive asylum in the United States.
Still, life is not easy for people like Rosa Schirripa. She left her husband when she read an article about wife abuse and recognized her own life story. She contacted a counselor, who helped her move out. Her first hurdle was to find a place to live, initially an apartment, then a house in Staten Island. Now she continues to struggle, with school, with work, with childrearing - and with the constant temptation to go back to her ex-husband. She deals with the stress, she says, by eating and crying.
THE NEW LAWS
In December, Mayor Giuliani signed into law a bill -- the first of its kind in the country -- that gives domestic violence victims the right to sue their former abusers for compensatory and punitive damages. The federal Violence Against Women Act had included such a provision, but it was overturned by the Supreme Court, which ruled that such protection should be left up to states and municipalities. The New York City law is partly a response to the court.
This "provides one more avenue for women to use, especially women who are economically dependent on their abuser," says Bea Hanson, vice president of domestic violence services at Safe Horizon, a nonprofit victim assistance, advocacy and violence prevention organization.
Far more controversial was a bill that aims to prevent employment discrimination against victims of domestic violence. It would, for example, require an employer to grant an abused woman leave to pursue her case in court.
Elisa Velazquez, deputy counsel for Public Advocate Mark Green, who introduced the bill two years ago, says one aspect of domestic violence distinguishes it from other crimes. "It is an ongoing crime," Velazquez says. "Home is not a haven. That is very different from someone who is a victim of a one-time act." She also explained that "there is a stigma associated with domestic violence, which is why we specifically targeted it."
Mayor Giuliani initially opposed the bill but reversed himself and signed it on January 5 -- with reservations. While stressing the positive aspects of the legislation, Giuliani called for amendments to clarify the definition of a domestic violence victim and to require that employers be given proof than an employee seeking relief under the measure is, indeed, a victim of domestic violence.
GETTING OUT
One perplexing question for people who have never been in an abusive situation is why someone would "choose" to stay. Schirripa herself does not know why she let her ex-husband hit her for years: "If I ever figure it out, I will be happy to tell you."
One problem is that the victims are often financially dependent on their abusers. Even a "wealthy woman" can feel trapped, with limited options, if she has no access to the family finances.
To remedy that, organizations in the city try to expand those options, by offering counseling services, shelter and education. Safe Horizon, has a contract with the city to run its 24-hour domestic violence hotline (1-800-621-HOPE) and oversees 25 percent of the city's emergency beds, as well as its own shelter facilities, transitional programs and counseling services.
Its services seek to help women achieve independence, both financially (by hooking them up to job training) and emotionally (by building their self-esteem). "Independent living arrangements are important as well," Safe Horizon' Hanson says.
Hanson admits that there are never enough shelters to fill demand. She would also like to see more supportive, permanent housing for abused women. "Women who do not have many Resources often go back to their batterers," she says.
Rosa Schirripa agrees that there should be more housing options for women who are trying to get out of desperate situations. "I wish once the victim felt strong enough to leave, there would be some kind of public housing with a reasonable rent," she says. "Not a shelter; that's a joke. I was given a choice -- 'There is room for you, but not for your kids.'"
EDUCATION
The best approach, of course, is to stop abuse before it starts. This includes prevention programs in the schools. "It's important to reach people before they're stuck in violent relationships; People who grow up with abuse don't see it as a problem until it's too late," says Rona Soloman of the Center for the Elimination of Violence in the Family, which is working in 13 city high schools to teach the fundamentals of a healthy relationship.
The city also sponsors public education campaigns such as the Teen Relationship Abuse campaign, which seeks to teach the public that patterns of abuse often start early. At present, though, there is no citywide program in the public schools to teach self-esteem to girls.
CALLING THE POLICE
Rosa Schirripa remembers that things got so bad with her husband one holiday that she called the police. "Why don't you just kiss and make up for the kids," an officer told her.
Attitudes since then have been changing. In 1994, Mayor Giuliani established the Mayor's Commission to Combat Family Violence, which places specially trained domestic violence prevention officers (DVPOs) in every precinct. These officers take complaints seriously, follow up on them and make it clear that they are available to be contacted for further assistance.
In potentially violent family situations, the police must fill out a domestic incident report that can be used in court if a victim needs to seek an order of protection against her abuser.
One problem with this program, some critics says, is that while the domestic violence officer may be well trained, they are not always the ones who respond to a call, leaving the situation up to the particular sensitivity of the officer in question.
But Bea Hanson says that, despite its shortcomings, "the domestic violence prevention officer has pushed the domestic violence agenda ahead light years."
TOO MANY COURTS
After a case leaves the hands of the police, it often goes to the courts, where reforms are also being made.
One program, to be launched in two Brooklyn precincts with high rates of reported domestic violence, will place key evidence in a domestic violence case onto a secured Web site that will be available to judges within hours of an attack. This will provide the judge with pictures and sounds from the incident as well as information about the defendant's criminal record and whether the couple has previously been involved in Family Court. Now, most misdemeanor domestic-abuse cases in New York are dismissed, many because of poor evidence.
In a further attempt to make the judicial system more responsive, New York State's chief judge, Judith S. Kaye, announced a plan on January 8 that would allow domestic violence cases to be heard by a single judge. Currently, as many as four courts can be involved, with the Supreme Court handling the divorce aspects, Family Court resolving custody issues and Criminal Court hearing any criminal charges. Surrogate Court also sometimes plays a role.
By this spring, integrated Domestic Violence Courts will be established on a trial basis in four counties, including the Bronx. The plan should eventually be implemented statewide.
HOPE
Rosa Schirripa says she still loves her ex-husband. But for her own sake and the sake of her sons, she says, she is firm about one thing: She will never return to him. She knows she will make it through the tough times. "I want to teach my kids that we are not quitters. It might not be easy, and it might not be today, but it can be done if you have the will."
Other Resource
###
Visit the Issue of the Week archives.
Tell us what you think about this issue. Write a letter to the editor.
$app = JFactory::getApplication(); $menu = $app->getMenu(); $menu_items = $menu->getItems('menutype', 'mainmenu'); var_dump($menu_items); * */ ?>