Ballot Box Blues
by Kevin Strouse and Peter Mickulas
30 October 00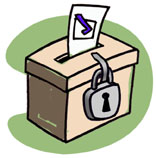 "This is my third time trying to register to vote," the woman told the clerk at the main office of the Board of Elections. She was courteous, but she was upset. It was October 13, the last day to register for this year's elections.
After registering the first time, she explained, she received a notice that she was on the voting rolls. But it wasn't really her; her name was badly misspelled. She called the Board of Elections. She wrote the Board of Elections. Nothing happened. She re-registered. She did not receive any notice in the mail that she was indeed registered now under her real name. So here she was, in person. She was not alone.
Her story is all too familiar to many New Yorkers who have tried to register and found themselves, in effect, disenfranchised.
This is not the only problem with elections in New York. People's applications to register are lost. Nobody knows where they are supposed to vote. Voting machines are archaic and inefficient.
Difficulties confront candidates as well, who, thanks to absurdly stringent state elections laws, have more trouble getting on the ballot in New York than anywhere else in the country.
Why are things so complicated in New York?
Henry Berger, an election lawyer who sued the state on behalf of John McCain, said that the laws are complicated because "that is how the politicians want them" so that incumbents can stay in power.
"Politicians know the laws and outsiders don't," Berger said. "They've got the organizations that can deal with them."
Ironically, the system that is set up to promote and facilitate democracy thus, many say, is actually responsible for impeding it.
SHUTTING OUT THE VOTER
Voters confront a myriad of obstacles, even though the state laws governing who can register are fundamentally simple. Anyone who is a U.S. citizen and has been a "resident of the state...city or village for a minimum of 30 days" can vote.
That is why Alicia Brown was confused last November when, after filling out her registration form, she received a questionnaire. "It asked me things like where I got my driver's license and where I lived in the summer. I filled it out but I didn't hear anything back. When I went to vote in the primary I found out I wasn't on the list."
Brown was a freshman at Columbia University and she and other students became convinced that the extra step was intended to try to disqualify them from voting.
Brown was finally able to register, but in response to her problems and those of other students, the New York Civil Liberties Union and political activists at Columbia threatened to file a class-action lawsuit against the Board of Elections. Two weeks before the October 13 registration deadline, the Board of Elections voted to allow out of state students to register without filling out any questionnaire.
Daniel Defrencesco, executive director for the city's Board of Elections, downplayed the issue: "A young lady from Civil Liberties gave a presentation and our board decided for this election to take [the questionnaires] off."
GETTING DIRECTIONS
But college students are not the only voters confronted with confusing procedures.
After people register, they must await the arrival of a confirmation card from the Board of Elections -- not only to make sure that they can vote but also to learn where they should vote. Often the assigned location is not the polling station closest to the voter's residence. Brown, for example, was told to vote six blocks uptown, rather than on campus, where she lives.
At the polling places, voters are met by huge ledgers holding the name of everyone in their election district. Anyone whose name isn't there is either in the wrong place or not listed on the city's voting rolls. Admittedly, this is an improvement from the former system, when people were not required to write their signature, and especially eager partisans boasted of voting many times. The requirement to sign your name was established in 1914. Sometimes it seems not much has changed since then.
IN THE BOOTH
While most other jurisdictions in the country have either computerized or punch card voting booths, New York uses machines in which voters pull a lever to record their choices. Some of these machines are nearly 40 years old.
Not only are they susceptible to breaking down, but the aged machines also limit voters' options because they have limited space to list candidates and propositions and can only handle three languages--English, Spanish and Chinese. Punch card machines, which are used in Chicago and Los Angeles, have much more room for candidates and space for nine languages.
In 1993, the city intended to spend $60 million to purchase 7,000 new electronic voting machines. It never happened.
While many cities use new technology, New York is not the only East Coast city slow to change.
"The lever machines are heavy, difficult to move, and old," said Nancy Lo, the chair of the Boston Election Commission. "But they are the most reliable thing around."
Some seem to be saying the same about a different kind of machine involved in voting, New York's political machine.
BALLOT BLOCK
New York's complicated ballot-access procedures became a national laughingstock this winter when Republican presidential contender John McCain was temporarily excluded from the primary ballot. Republican leaders, with the backing of Governor George Pataki and George W. Bush, challenged McCain's petitions in 17 districts, because, they said, he did not get enough signatures from registered Republicans. This came after McCain had won the New Hampshire primary and was surging in the polls.
The federal courts sided with McCain, and the laws were changed so that any Presidential candidate who was designated by the state Board of Elections as "widely known" would automatically be on the ballot. People who qualified for federal matching funds would also be listed, while candidates who did not meet either criterion could still go through the petition process. This put McCain on the Republican ballot, along with other contenders such as Alan Keyes and Steve Forbes.
But the problems with New York's arcane election laws were far from solved.
Candidates in New York must collect a certain number of signatures to be recognized by the Board of Elections and put on a ballot.
To run for the State Senate, for example, candidates need 1,000 signatures from people of their party who live in their district. Each signer must supply a name and address. This onerous task of collecting signatures is a hurdle that invariably favors the well-funded or major party office-seeker.
The complicated state laws allow a candidate's petition to be challenged by any enrolled voter for any of a variety of reasons, like, for example, a missing street number in an address. A challenge requires them to go before a panel of 10 Election Board commissioners. During one week this August, 335 candidates for various offices in the city had their petitions challenged. Many did not contest the challenge and were removed from the ballot, but the Board nonetheless heard 161 cases.
Neil Rosenstein, the government reform coordinator of the New York Public Interest Research Group, said that New York's barrage of petition challenged "reduces choice."
"We want [the commissioners] to interpret the forms liberally, and to get rid of some of the technical requirements. Those are used to trip up the candidates. We want to lessen the impact of challenges."
TWO-PARTY LOCK
So-called minor parties have a particular problem with ballot exclusion. In September the Green Party filed a lawsuit against the city, asking a judge to force the Board of Elections to put Green Party candidates on the ballot for the Senate primary. The city had not put Green Party candidates on the ballot in order, officials said, to save space in the voting machines.
Like many conflicts over the ballot box in New York, the defense might strike outsiders as ridiculous. But this is New York.
"The [Board of Elections] is run by Democrats and Republicans, and they didn't want to put the Greens on," Rosenstein said.
Saving space on the voting machine turns out to be a higher priority in New York than allowing voters to pull the lever for third-party candidates. The Green Party lost the case.
OTHER RESOURCES:
IF YOU HAVE PROBLEMS VOTING
The New York Public Interest Research Ggroup wants voters to call them on Election Day if they have any problems when voting, including a discourteous Board of Elections staff or problems with voting machines. NYPIRG voting problem hotline: (212) 349 6460.
###
Visit the IOTW Archives!
WHADDAYASAY?? GothGaz wants to know what YOU say about this issue. Fire away!