Community Banking
23 July 01
by Mark Winston Griffith
At first glance, the way that Zaraya Hazlewood does her banking seems simple and straightforward. She has an account at the Dime Savings, mainly because her mother opened one for her there when she was a child. With a balance that usually hovers around $500, Hazlewood, now 30 years old, uses the account primarily for paying bills and cashing the checks she receives as a professional clown. Although she has an ATM card, "I only use it in emergency situations," she says with pride. "I don't want to get hooked on it."
Yet, upon closer scrutiny, Hazlewood's route to financial services in the Brownsville section of Brooklyn, where she has lived all her life, is much more roundabout. Years ago, when she was strapped for cash and needed a new dress for a party she wanted to attend, she pawned a set of gold earrings at the local pawn shop. During a brief period when she was on public assistance, she received her payments at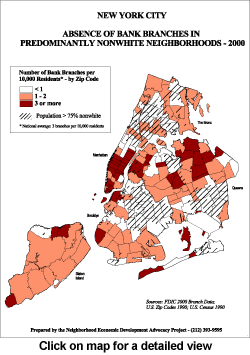 the local check cashing operation via the Electronic Benefit Transfer system, the computerized network that distributes welfare payments through commercial outlets. Later, when she needed to save money to jumpstart Watoto Entertainment, the professional clown business she started last year, she used a local "su-su", an informal cooperative savings system frequently used by Caribbean immigrants (Hazlewood is of Panamanian descent). And when her fledgling business needed an infusion of cash, she applied for a loan at Project Enterprise, a Manhattan-based not-for-profit that makes small loans to "micro-enterprises", mostly homebased and start-up businesses. "I didn't know how to walk into a bank and get a loan," she admits.
Meanwhile, she conducts her day-to-day banking business at the Dime's main branch in downtown Brooklyn. A single transaction can easily take two hours out of her day, including travel and time spent on line. The Dime's only Central Brooklyn branch, a three-teller mini-branch outlet in Bedford-Stuyvesant, was closed almost a decade ago. And to make matters a little more complicated, Hazlewood has just learned that the Dime, a community bank that got its name by encouraging New York customers to save ten cents at a time, is being purchased by the Seattle-based Washington Mutual, the nation's largest thrift.
Zaraya Hazlewood's banking world is representative of what is known as "community banking," a broad term referring to neighborhood-based financial services, or, to put it another way, the banking market composed of people with low and moderate incomes, and of people of color.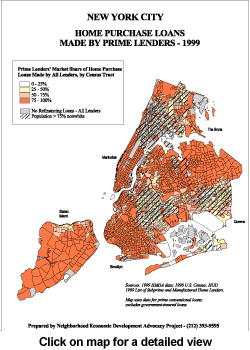 The range of choices now available to low-income people has changed dramatically over the last five years. Some say an already bad situation has been made worse. Others say there are new opportunities that will eventually make things better. In either case, there is certainly now a new set of issues facing community banking customers, regulators and advocates alike.
PAST PRACTICES
Poor communities have long been under-served by mainstream financial institutions. It is common for poor people to pay more for financial services, or to be denied them outright. There was a time when the major problem was redlining, the practice of openly discriminating against communities of color by denying mortgages and other loans to individuals and businesses in them. To combat the problem, advocates pushed for the Community Reinvestment Act, a 1977 federal law requiring banks to serve low-income areas. Since then, community activists have used the law in creative ways, challenging hundreds of routine actions by banks that needed approval by federal regulatory authorities, arguing that the bank seeking approval had not met its Community Reinvestment Act obligation. Often times these CRA challenges have resulted in banks, eager to remove regulatory impediments and maintain a good public relations profile, making financial commitments to low-income communities and advocacy organizations.
But recently the fundamental tenets of the Community Reinvestment Act, once a relatively secure cornerstone of banking policy, have been challenged by powerful people like United States Senator Phil Gramm (R-Texas), who characterizes CRA as little more than an opportunity for community organizations to shake down good corporate citizens.
The advocates of community investment were put on the defensive, and the debate changed from whether the banks were doing enough in poor communities to whether the groups and individuals receiving loans really deserved them.
Opportunities to make deposits and investments in poor and non-white neighborhoods are still hard to come by. But what is happening is now a sort of reverse redlining. The question now is not whether consumers in the city's economically neglected neighborhoods have more alternatives, but what the quality is of those choices -- and how those choices will be further affected by the tumult in the banking industry as a whole.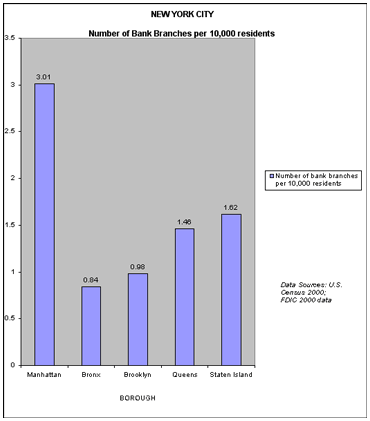 MAJOR CHANGES
Three inter-related trends have driven the transformation in the banking industry. In deals referred to as "mega-mergers", large financial institutions have been joining in corporate matrimony and forcing the large scale consolidation of the banking industry, which often means the closing of local bank branches and the curtailing of community philanthropy. Secondly, higher ATM fees, technological innovations and greater reliance on virtual (online) banking have raised new questions about whether banking will remain accessible to consumers who are not affluent. And, finally, landmark deregulation, most prominently in the form of the Gramm-Leach-Bliley Act, better known as the Financial Services Modernization Act of 1999, has torn down firewalls that used to separate the banking, securities and insurance industries. This has opened the door for banks to offer products, like insurance for instance, without the same consumer protections that cover their conventional banking services.
"What we are seeing these days is the further development of a two-tiered banking system", says Sarah Ludwig, executive director of the Neighborhood Economic Development Advocacy Project. For all the growing sophistication of commercial banking services, the number of bank branches is shrinking in New York City. In the New York area, the number of bank branches relative to the region's population is among the lowest in the country. In place of bank branches, Ludwig points to the "proliferation of fringe banking institutions in low-income communities that, if not predatory, are at least more expensive." These institutions include check cashers, Rent-a-Centers, high-cost mortgage companies, wire transfer centers as well as pawnshops and loan sharks.
Advocates like Ludwig see recent developments, like Citigroup's recently announced intentions to acquire European American Bank and close 24 branches, as more bad news. But suburban and out-of-state banks like North Fork and Washington Mutual reportedly see the current situation as an opportunity to break into the New York retail bank market by opening branches and offering highly competitive rates in areas where other banks have retreated. "The idea that neighborhood banks would disappear has not materialized," contends Barbara Kent, Director of Consumer Affairs and Financial Products for the New York State Banking Department. "Service and customer loyalty have been expanding."
BRICKS VS. CLICKS
Branches have long been a pivotal community banking issue. It takes no economist to understand that people like to bank near where they live, and community leaders like to see the money from community residents stay in their community. But with new technology now redefining access to financial products and services, there is an uneasy tension expressed around the importance of traditional, behind-the-counter banking. Bankers cite the recent demise of Wingspan Bank the fully on-line bank that was touted as the future of banking, as a clear indication that customers are not yet ready for a complete reshaping of their banking habits around the internet. "One of our biggest fears was that on-line banking was going to catch on to the extent that branches would close and the elderly and low-income people would be left out of banking due to a big digital divide," said Kent. "But we never hear, for example, that the elderly are being pushed to do banking on the Internet. They still have access."
In an effort to increase the establishment of branches in low-income areas the Banking Department has created Banking Development Districts (BDD), neighborhood designations that provide various incentives (such as an decrease in property taxes and a promise to deposit government funds) to banks willing to open branches in areas of low and moderate income. Because of the potentially positive impact of BDDs, some advocates of community banking have muted their criticism of the initiative. But privately they see it as representing a kind of corporate welfare. They also see it as evidence that the Community Reinvestment Act, is not working. Others protest the fact that Credit Unions, which banks routinely accuse of having unfair advantages because of their tax-exempt status, are not eligible to receive BDD designation. Still, since its enactment in 1997, the BDD initiative has led to the creation of five new branches in New York City, eight statewide.
Few would argue that community banks will dramatically alter the branch per person ratio in most low-income areas. But there is mounting evidence that other types of financial institutions, the socially responsible and dubious alike, are picking up the slack. For example, not-for-profit ventures like Project Enterprise, Accion, Trickle Up and the Institute for Entrepreneurship are increasingly penetrating low-income micro-enterprise markets with innovative lending programs and even grants. And Cliff Rosenthal, the executive director of the National Federation of Community Development Credit Unions, a trade group made up of credit unions serving low-income populations, reports that over the last couple of years there "has been an aggressive expansion of community development credit unions throughout the city".
NOT READY FOR PRIME TIME PLAYERS
Two recent New York Times articles have highlighted the predominance of informal, underground credit activity in areas like Washington Heights and Central Brooklyn. Ranging from the benign, in the form of lending circles, to the ridiculously exploitative, like loan sharking, the subtext is that banks have refused to meet micro-credit demands of highly enterprising immigrant communities where, even by the normal standards of usury, debt repayment rates are often extremely high.
Nonetheless a host of more corporate, high-cost home equity lenders, brokers and contractors with deep pockets and marketing muscle have taken center stage on the community-lending scene. They target "sub-prime" borrowers, people considered to be high credit risks. Charging higher rates, mostly in Black and Latino neighborhoods, many of these sub-prime lenders, along with affiliated brokers and contractors, have been accused of conspiring to defraud and price-gouge homeowners, particularly the elderly. Recently, acquisitions of some of the more notorious companies by mainstream banks, like Citigroup's purchase of the Associates, signaled that sub-prime lending has decidedly entered mainstream banking.
Over the last two years, a whole new wave of well-coordinated community reinvestment advocacy has formed in opposition to alleged fraudulent and abusive practices in the sub-prime lending market. Organizers and activists have used a combination of direct action protests, legislative and policy initiatives as well as legal and financial relief for foreclosure victims. For instance Herman De Jesus, a community organizer and home ownership counselor with Cypress Hills Local Development Corporation, works with people who are facing burdensome repayment schedules and foreclosures as a result of sub-prime loans. In doing so, De Jesus, who claims he has never met a high-cost mortgage company he has liked, also refutes the notion suggested by sub-prime neighborhood lending patterns that communities of color are by definition not viable prime lending markets. "Ninety percent of the people who I counsel" says De Jesus, "could have qualified for a prime loan either before or after they received the counseling."
Mark Willis, executive vice president and director of the Community Development Group for JP Morgan-Chase, who points out that Chase has the largest community branch presence in New York City, views developments such as Citibank's merger with the insurance giant Travelers and Chase's own acquisition of high-cost lenders, as the inevitable result of a market-driven process in which the "regulated end of the financial services industry was losing share of the consumer market to non-regulated business." This more competitive field, Willis feels, is good for community banking consumers who will receive a broader range of choices.
Willis is hopeful that this competition will lead to a lending environment leveled by "risk-based pricing." As the argument goes, this kind of pricing eliminates the need to have two distinct and separately priced markets because it uses a sliding loan pricing scale to accommodate any borrower, based on a set of theoretically objective standards that measures credit riskiness. Sarah Ludwig is a little more skeptical. "With regard to risk-based lending, I'm an agnostic. I'll believe it when I see it. What we are seeing now is risk-based gouging."
Meanwhile, consumers in areas such as Brownsville are just trying to get services wherever they can get them. When asked how she will respond if the Dime undergoes major changes as a result of being acquired by Washington Mutual, Zaraya Hazlewood replied: "To me it's just a faceless corporation. It doesn't matter who owns it, as long as they cash my check." And what if the branch she uses is eventually closed? "It would force me to try other options, which I've been meaning to do for a long time anyway."
Mark Winston Griffith is a writer whose work has appeared in the New York Times, Essence and Spin. He is also executive director of the non-profit Central Brooklyn Partnership, which organizes people to build economic power.
###
Visit the Issue of the Week archives.
Tell us what you think about this issue. Write a letter to the editor.