Billboards
19 February 01
by Melissa St. Pierre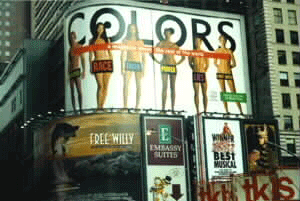 Billboards are not new to New York City. They have been a part of the city landscape since the 1830's, when P.T. Barnum put up ads for the circus that were slightly bigger than your average poster. They steadily grew in size and prominence, so that by 1954, it seemed hardly an exaggeration at all to the audience of the movie It Should Happen to You, that a young, would-be actress played by Judy Holliday would become a star simply by paying to put her face up on a billboard in Columbus Circle.
Complaints about billboards in New York City are not new either. In the 1890's reformers condemned billboards not just as eyesores but as hiding places for "immoral acts." A task force to investigate "the billboards nuisance" in 1912 resulted six years later in the first city ordinances against billboards, making them illegal in residential areas and in places designated as scenic.
But now, billboards are bigger than ever before -- bigger and more overbearing than some people ever thought possible. And so are the complaints about them.
"The invasion of this advertising into every pore of our bodies and into every moment of our existence must be stopped," proclaims Councilmember Kathryn Freed, who is one of the main advocates for a bill that the City Council is planning to vote on next week that would fine a company as much as $15,000 a day for displaying "illegal signs." In addition to drastically reducing the maximum size of signs and lowering the height from which they can be displayed, the bill proposes a voluntary compliance plan, through which outdoor companies would be allowed to schedule the removal of nonconforming signs over the course of three years.
To the outdoor advertising industry, which is gearing up for a full-scale legal battle, the bill is not just excessive, not just draconian, it is downright anti-New York. Billboards are what make New York City a tourist attraction. Large-scale brightly lit billboards that were once only seen in Times Square have moved to other parts of the city, and tourists seek out these larger-than-life billboards, and take pictures of them.
"Some of the advertising might be inappropriate," concedes Timothy Stauning, president of Eller Media, one of the three advertising companies that own 80 percent of the outdoor signage in the city. "But it's not our fault."
"I feel like I'm living in the parking lot for a strip mall," says Jane Krupp, an artist, who is actually living in Soho, on what would be a beautiful block, if it were not for the half naked, thirty-foot-tall heroin addict staring at her through the window. It is somehow an advertisement for jeans.
WHAT'S THE FUSS
Advertisements have found their way onto buildings and bathrooms and payphones -- nearly every available surface outside in the city. There are the Calvin Klein ads of adolescent girls and boys in their panties selling -- what? -- sex, heroin, clothing? There are the swirling neon lights asking "Do You Yahoo?" There are the odd, enigmatic signs from Internet companies who once had millions to spend but have since gone belly-up, the only thing remaining the billboards that loom like ghosts over the city, a constant reminder that we live in a precarious age. The most persistent example of these is Angryman.com, a now defunct on-line advertising start-up, whose logo, of the 70's yellow smiley face gone red mad, bursts out of the sky throughout the city. The billboards are not just atop buildings. They encircle us: A company named Street Blimps sends out battalions of moving billboards on flatbed trucks to spread the marketing message.
Outdoor advertising is a thriving business in the City of New York, where the cityscape looks more and more like that scene from the movie Blade Runner where Harrison Ford wanders down a Tokyo street that is crowded with trendy mole-like people but also with giant glaring advertisements. The amount of public space in New York not covered with advertising has steadily declined over the past few years, while the money spent on these kinds of ads is skyrocketing. Of the more than 200 billboards along arterial highways within the five boroughs, over half have been erected within the past three years. Expenditures more than doubled in two years, from about $50 million in 1997 to almost $110 million in 1999, according to data from the marketing firm Competitive Media Reporting. And while only a few years ago the largest anyone could construct a billboard was about 1,200 square feet (about the size of a three-story townhouse), advances in advertising technology have made it possible to make one 3,000 square feet (or about the size of a six-story office building).. Add to the expansion in size the new intensity in illumination and you have the mass of residents echoing the insightful cultural critics from the past: billboards have grown out of control.
RESIDENT COMPLAINTS
The intersection between Broadway and Houston is the epicenter of a neighborhood gone wild with monster billboards. Marilyn Geyer lives in that neighborhood and is a member of the NoHo Neighborhood Association. Her apartment looks out on a three dimensional ad for Ikea house wares (which is literally laid out like a mini-apartment), and she said it has attracted too much traffic and too many passers-by.
"There are always people standing around gawking at the billboards in our area and taking pictures," she said.
While neighborhood associations and community boards across the city have been complaining about the billboards, the irritation seems most intense in SoHo and NoHo. That is because the zoning for these neighborhoods goes back to 1961, when they were centers of manufacturing, and few people lived there. Even though the areas are now primarily residential, outdoor companies can still legally place signs on the sides of buildings there.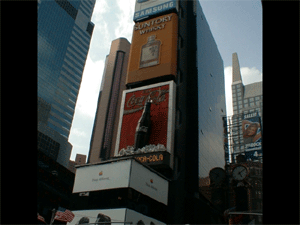 Councilmember Kathryn Freed has been keeping a running file of billboard complaints since she took office a decade ago. In the past few years alone, the file is easily two inches thick. And that is just the people calm enough to write.
"I think the billboards have totally cheapened the neighborhood," says John Paulson, whose apartment looks out at the infamous corner of Houston and Broadway. "It's brought crass commercialism to what was once a nice residential area."
"The quality of life for people has gone down with the bright lights and steel girders in their windows and ads everywhere," said Skip Vichness, another area resident.
Many of the complaints sound like they came right off the mission statement for the nation's largest outdoor advertising trade group, the Outdoor Advertising Association of America. On their web site, they outline what they see as the many positive qualities of billboards:
"Outdoor signs are permanently on display, 24 hours a day, 7 days a week, visible by day, illuminated at night. People can not switch off a poster, change channels or turn the page, and the posters are right where they can't be avoided."
By reducing a message down to its simplest form, billboards profit from the quick and easy play on the viewer's emotions, "delivering powerful message" as the Association puts it, "which remain in the subconscious mind" That is part of what makes these larger-than-life signs so effective, and so offensive to local residents, though they do not see very much subconscious about it.
Once residents began throwing paint at the sign, its owners placed a camera in the bathtub drain of the ad to monitor the vandals. On top of all the distress it caused, Geyer said people living across from the all-seeing drain regarded it as an invasion of privacy, as they had a video camera trained on them 24 hours a day.
"Two years ago we said we were going to turn into Times Square, and it happened," said Geyer. "We have become a tourist attraction for signage."
RESPONSE OF ADVERTISERS
The three most powerful outdoor advertising companies in the city, Eller Media, Infinity Outdoor, and Vista Media Group have formed an alliance to fight the planned regulations, fully prepared for a court case if the City Council turns the bill into a law next week.
"We understand the need for regulation and control," said Eller President Timothy Stauning, who added that all their signage is legal. "unfortunately we have not received a receptive tone from the city. They do not want to work together on this."
Outdoor advertising companies perform the same sort of function as real estate agencies, investing in prime advertising locations and making them available to their clients for the right price. The three companies collectively own 80 percent of outdoor signage in the city, an inventory valued in the hundreds of millions of dollars. For a single billboard, they charge up to $50,000 a month.
If there is a culprit in the conflict, Stauning says, it is the city's antiquated zoning laws. "In predominantly mixed-use areas, where apartments and manufacturers are intermingled," he points outs, "the city has not been up to date in their regulations."
A 12-page " white paper report" put together by Eller's legal counsel, points to a string of adverse economic effects that would follow the passage of the proposed bill, which was prepared by the city's Department of City Planning. The loss of millions of dollars of inventory will wreak "serious economic injury" on the regional economy. Among those who will be adversely affected are local business owners who rent out building space to advertisers at 15- and 30-year clips, and the 1,100 unionized sheet metal workers who erect the signs, according to the report.
But it is not just an issue of economics. It is a cultural issue. Billboards help define the city's unique character. People actually LIKE billboards. Three in four Americans polled by market analyst group Penn & Schoen in 1997 said billboards are useful, and a lot of those people seem to make their way to New York.
It is even a Constitutional issue.
"By restricting the size of certain signage in certain areas, the signage amendment probably renders any commercial expression at those locations impossible or of very limited impact," said Robert Brill, the attorney for Infinity Outdoor, who characterizes the proposal as a "rigid, limiting, and draconian scheme." He added that, "The city could be held liable for money damages and attorney's fees for the infringement of the Constitution."
SPACE FOR COMPROMISE
Councilmembers William McCaffrey and June Eisland head the committees that have dealt with the legislation thus far, and they both say they will not be bullied by threats of legal action from the advertising companies.
"I don't believe we should reward their brazen disregard for the law," said McCaffrey .
And not everyone in the outdoor advertising business is looking for a fight. Moira McNally has had a lot of experience putting up billboards in the city as an account supervisor at Out of Home America. She advises the " Big Three" to relax; the proposed restrictions, she said, would not change the business, which will continue to boom whether the billboards are 5 by 5 feet, or 50 by 50.
"[The legislation] won't affect the industry as a whole, because the market is healthy enough," she said. It reminds her of the industry's alarm over the banning of tobacco advertisements: " When tobacco billboards were banned, the industry went nuts saying this would kill business. But it hasn't been a problem."
McNally said she makes the professional choice not to buy wall space that doesn't already have ads on it, and she is skittish on the legality of new development.
She also implies that the problem is not just the outdated zoning resolution, but a change in the structure of the outdoor advertising industry. While the companies selling the advertising space have consolidated, the companies creating the advertising itself have broken up over the past four years, replaced by smaller, more aggressive and perhaps sometimes less responsible companies. " So many more companies have emerged from the woodwork, and signs are popping up where there never were any before," said McNally.
If McNally sounds like a reasonable advertiser, Marilyn Geyer, in quieter moments, sounds like a reasonable resident. Despite her own tortured experience as a neighbor to a billboard, she sympathizes with the needs of business owners who lease ad space:
"Hey, if I can get $10,000 a month for my co-op by wrapping our water tank in advertising, I can see how that would be very tempting."
###
Visit the Issue of the Week archives.
Tell us what you think about this issue. Write a letter to the editor.