Brokers Rising
by Reet Rana
28 August 00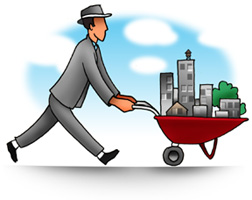 When Anita Mambo found out the rent for the tiny, deregulated Manhattan apartment that she shares with two roommates was going to be raised yet another 15 percent this summer, she decided she had to move. But like many other New Yorkers of moderate means, she was overwhelmed by the effort to find an affordable apartment. More than anything else, she blames her difficulties on real estate brokers.
This was not because of the finder's fee, which is usually 15 percent of the first year's rent. The problem was that brokers simply would not accept her as a client. Her salary was not high enough for them, and she also has a dog.
But, after a month of trying to talk to superintendents of buildings, asking everyone she knows, and even going door to door in several neighborhoods, she came to the conclusion that she did not have a choice: the only way she was going to find an apartment was to go through a broker.
One broker she finally found had a low fee and listed properties that took dogs. The broker offered her a four-room railroad flat in Red Hook, Brooklyn for $750 a month, plus deposit. The broker's fee was an additional $750.
"It was a dump," she said. "The whole place needed new floors. The landlord said he wanted money from us if we wanted him to fix up the floors."
So Mambo gave up. She and her roommates decided to squeeze a fourth person into her East Village apartment, in order to pay for the raise in rent. "Even though the rent is higher here, we didn't have to pay a brokers fee."
Real estate brokers used to be seen as a necessity only for luxury apartments in the most desirable neighborhoods. But in the last ten years, New York's whi te-hot rental market has turned New York's nearly 44,000 licensed real estate brokers and salesmen into something of the gatekeepers to city apartments. This is true even in what were previously low-income neighborhoods.
The result, tenant advocates charge, are not just higher fees but higher rents for everyone, including businessmen looking for commercial space, but especially renters.
"Brokers make the already nightmarish process of finding a place to live in New York City even worse," says Bob Kalin of the Housing Conservation Coordinators, a tenant advocacy group based in Clinton, the Manhattan neighborhood where rents have climbed the highest.
Pam Liebman, head of The Corcoran Group, says that they simply provide a needed service.
"People are breaking down our doors willing to pay for it," she says. The Corcoran Group, which began in 1984, is now one of Manhattan's largest brokerages, with record-setting sales last year of $2.8 billion.
Do real estate brokers provide a salve to a sore that was not of their making, or do they further irritate the wound that is the real estate market of New York? Whatever the answer, there are some signs that things are about to change.
RENTERS ARE BROKER AND BROKER
Since the 17th century, Manhattan has had the highest real estate prices in the country. But the current economic boom, combined with the perennial housing shortage and a lull in new subsidized housing construction, has brought the high rents to the rest of the city.
More than half of New Yorkers spend more than 50 percent of their income on housing, according to a recent study. While average rents have shot up nearly 70 percent in some parts of Manhattan and Brooklyn over the past ten years, th e other boroughs have experienced rent hikes between 20 and 50 percent. A major factor, according to the study, were legal changes that have made it easier for owners to free units from rent regulations.
It is no coincidence, say tenant advocates, that in those same ten years, the dominance of real estate brokers has increased noticeably. Places like Park Slope and Williamsburg, Brooklyn, two areas that witnessed the most visible neighborhood revival in the past ten years, have also become increasingly broker-dominated, according to renters.
"Realtors seem just as inevitable † and just as loathsome † as death and taxes," wrote one wag in the Time Out New York annual issue on apartment hunting four years ago. (This summer's issue offered advice on how to keep your broker in check)
"You never heard complaints about brokers before," says Bob Kalin. "Now they happen all the time."
Actually, in this most contentious of cities when it comes to matters of housing, it is hard to remember a time when apartment-hunters did not complain.
"I don't see any dramatic increase in complaints against licensed brokers," says Larry Soronen, litigation counsel for The New York Department of State, which has licensed real estate brokers throughout the state since 1922, and which accepts complaints from consumers. In 1997, Soronen says, the Department of State received 1,708 complaints; in 1999, there were 1,948.
("It doesn't surprise me that people haven't taken the extra step of filing formal complaints," Kalin replies. "They're too busy looking for apartments.")
Where Soronen has indeed seen an increase in complaints over the past year, he says, is in what are called "apartment information vendors," all but 19 of which are unlicensed. "They sell lists of allegedly available apartments for $150 to $200, promising updates. Sometimes the lists are just copied from the classified ads in the New York Times." Other times the lists are completely bogus. Since last September, Soronen has referred 53 complaints against unlicensed listing services to the New York Attorney General's Office, which itself issues a tenants' rights guide.
Critics of the system seem well-armed with horror stories: brokers insisting that renters prove their income is at least 75 times the monthly rent, or asking for high commissions (one reportedly asked for six months' rent), or insisting that their fee be paid in cash. "Sometimes people give the money, only to find out the apartment has already been rented," says Kalin. "They have to fight to get their money back, because they have no proof."
In some worst-case scenarios, says Jerry O'Shea, director of the Brooklyn Tenants' Council, a renter must pay a broker's fee on an apartment he found by himself, because a broker has previously worked out an exclusivity agreement with the landlord.
"We get a lot of complaints that the broker didn't earn his fee," says Soronen of the Department of State.
But the most serious problems, advocates charge, are not the extreme abuses but the very nature of the brokers' lucrative commission-driven business. It motivates them to push for higher and higher prices, and to make it more difficult, rather than easier, for landlords to find tenants or tenants to find landlords. And it has a ripple effect, even on landlords who do not use brokers nor charge fees. These landlords, critics say, often raise their rents a few hundred extra dollars a month to keep pace with the price of the brokered apartments.
REPERCUSSIONS IN COMMERCIAL REAL ESTATE
The issues resonate throughout the commercial real estate market as well, which has seen similar skyrocketing prices in recent years.
Among the many drawbacks, according to a recent article in the New York Times, is that businesses may choose to limit their expansion or even relocate. That could mean less job growth. And as the cost of living continues to skyrocket, many industries can't attract the talent they need because they can't afford to pay the salaries necessary for their workers to live in New York.
GIVE BROKERS A BREAK
Pam Liebman of The Corcoran Group, says brokers have become more important because landlords prefer them, and apartment hunters need them.
"Manhattan and all of New York has become a great place to live, and core neighborhoods have gotten more expensive, so people are willing to explore less affluent neighborhoods," she says "When we advertise an apartment in Harlem, we get flooded with calls."
Brokers say they step in to help out the process of renting or buying in New York³a city, they say, where the process of getting a place is more complicated than anywhere else in the country. And if they get high prices for their clients who are selling apartments, what is wrong with that?
"They would be derelict in their duties if they didn't come in and appraise properties at the best price for the seller," says Kenneth Patton, executive director of the NYU Real Estate Institute.
CHANGE AFOOT
Recent news suggests that some changes may already be on the way, because of the internet's impact on the real estate market:
The "Big Three" Manhattan real estate brokers -- The Corcoran Group, Douglas Elliman, and Halstead Properties -- announced they will create a multiple listings service for New York City. All properties for sale will be registered in a common database and shared among all licensed real estate brokers. The Brooklyn Board of Realtors, which represents 200 independent real estate brokers in that borough, are planning a similar multiple listing service of their own online. New York City is the last major city to begin using a multiple listings service, long commonplace in other parts of the country.
One database will be for the agents, and another will be for the buyers. Renters will soon be able to utilize the service as well, which will begin some time next year. Clients will be able to go to one broker to obtain all possible listings, rather than contacting a dozen different brokerages.
Part of the reason why this happened is because of pressures placed on the market from new Internet companies that put listings on the web. These companies, which often charge a flat-fee for their services, have grown increasingly popular in recent years. They may be more difficult to regulate, and thus more likely to inspire further horror stories (the "apartment information vendors" often operate on the web ). But they point to a possible future. "There are building owners who have their own web sites now," says Anthony Musto, a Brooklyn broker, "and find their tenants directly."
To Manhattan Borough President C. Virginia Fields, the brokers are a sign of a larger problem, one with a clear solution.
"The rapid increase in prices, and broker fees, and numbers of properties under brokers are all related to the housing shortage," she says. "Brokers, recognizing the shortage, have become more aggressive as of late. If we had more supply, that would reduce the dependence on these brokers."
###
Visit the IOTW Archives!
WHADDAYASAY?? GothGaz wants to know what YOU say about this issue. Fire away!