Brownfields
by Michael Burger
14 August 00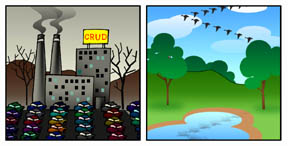 Baretto Point is 14 acres of industrial ruins in the Hunts Point section of the Bronx that the city wants to turn into a waterfront park and pier, at a cost of seven million dollars. True, an asphalt factory and a gravel manufacturer once operated on the property, and left it littered with toxic ponds. It is also next to a sewage treatment plant that still leaks pollutants into the water, ground and air. But these were not obstacles when the Department of Parks and Recreation drew up its plans two years ago; quite the opposite. The contamination was what made the site attractive for redevelopment. It meant federal and state money would be available.
Barretto Point is known as a brownfield, one of an estimated 6,000 in the city, and 600,000 nationwide. Brownfields are generally defined as derelict urban properties -- most often vacant industrial sites located in low-income and minority areas like Hunts Point -- which have not been redeveloped, in part, because of real or perceived environmental contamination.
Other cities have cleaned up hundreds of brownfields: Newark turned one into the New Jersey Center for the Performing Arts; Chicago has transformed dozens, one into a golf course, another a 40-story residential tower, a third a $150 million TV studio.
There is nothing in New York City comparable, certainly not at Baretto Point, which remains the way it was two years ago, even though the feds, New York State, and New York City have all specifically targeted it in their brownsfield programs.
"The city fell short on pretty much everything," says Marjora Carter, who works for The Point, a neighborhood advocacy group based in Hunts Point. "And it's particularly frustrating because we could be doing so much more in neighborhoods that desperately need it."
New York City Public Advocate Mark Green agrees. He has issued a report criticizing the delay in redeveloping sites like Baretto Point. "New York is losing out on hundreds of millions in state and federal aid and private investment," Green charges, detailing City Hall's failure to use money made available for brownfields redevelopment by several federal programs and the state's Clean Water/Clean Air Bond Act of 1996.
And Mark Izeman of the Natural Resources Defense Council, a national environmental advocacy group, says the fault lies as well with the state legislature, which has failed over the past two years to sort through the half dozen or so bills on the subject and enact a comprehensive brownsfield program.
What is holding things up? It is, in part, the debate over two questions: How clean is clean enough? And who will pay for it?
THE BIRTH OF BROWNFIELDS
Twenty years ago, in the wake of the toxic contamination of an entire neighborhood in upstate New York called Love Canal, the United States Congress created the Superfund program. Under Superfund, the U.S. Environmental Protection Agency has been cleaning up the nation's 1,500 or so most polluted sites, a National Priority List that includes portions of the Hudson River and Brookhaven National Laboratory. EPA initiates and oversees cleanup at those sites and then sues responsible companies to recover the costs.
Within the past decade, local governments and private industry have turned their attention from these highly toxic Superfund sites to what environmentalists began referring to loosely as brownfields, which are generally understood to be less contaminated, but also far more numerous.
If the federal government, as most environmentalists agree, has failed to address these sites in the comprehensive manner that it has the Superfund sites, it began in the 1990's to encourage state and local governments in their efforts. In 1997, the EPA gave a grant of $200,000 to the New York City Mayor's Office of Environmental Coordination to investigate five sites, including Baretto Point, as part of an initiative to launch a comprehensive brownfields program in New York.
"The benefit of the [EPA] grant has really been in helping the city get its resources together and create central thinking on the matter," says Annette Barbaccia, former Director of the Mayor's Office of Environmental Coordination, who left that office at the beginning of this month.
Everybody seems to agree that brownfields redevelopment is a good thing. It converts abandoned sites into parks, malls, community centers and affordable housing. The EPA and the mayor's office have planned a peninsular park on the site of a former varnish factory in the Rockaways along Jamaica Bay; 10 acres of new baseball diamonds and soccer fields in Staten Island; and new housing on the site of the old Rheingold Brewery in Bushwick.
Advocates view brownfields redevelopment as a windfall for the inner city. They say it lessens threats to public health by cleaning up toxic waste, beautifies neighborhoods by building over neglected properties, and brings jobs to low-income districts. And rebuilding these brownfields, they say, helps prevent "urban sprawl" -- helps keep developers, in other words, from building on "greenfields," which are undeveloped, unpolluted sites in cities and suburbs.
The disagreements come not in the general idea of brownfields redevelopment, but in how specifically to go about doing it.
HOW CLEAN IS CLEAN ENOUGH?
At the moment, there are no set standards for cleanup of brownfields in New York. No one is sure how much of the pollutants need to be removed. The New York City Partnership's Brownfields Coalition has proposed one of the three leading brownfields bills currently before the state legislature. Marjora Carter of the Point, who is a member of the coalition, explains that the bill says brownfields should be cleaned up according to their end use. "If an old paint factory is going to be used for a playground, then you have to clean it up," she says. "But if it's going to used as a paint factory, well, then" it needs to be less clean.
Mark Izeman of the Natural Resources Defense Council sees it differently: "There are not enough guarantees in the proposed legislation that the clean-ups will be sufficient to protect the public health and the environment over the long term. What if that paint factory ten years down the road is converted to housing? Any final legislation needs to address that."
WHO'S GOING TO PAY?
Critics say that the current state program puts too much of the burden on local government, and does not do enough to encourage private investment.
Right now, New York State and New York City are supposed to split costs for brownfields redevelopment in the city (though actually there aren't any costs to split yet). The state's Clean Water/Clean Air Bond Act is designed to make outright grants to the city for public projects that are not designed to generate income, like Baretto Point. In such projects, the state pays 75 percent, while the city is responsible for 25 percent. However, if the project the city wants to undertake has a possibility of making money (such as an apartment building), the state will not give money outright, but will only offer the city a loan. And the city must not only pay back the loan but also split any profits with the state 50-50 over the next thirty years. "The real Achilles heel of the Bond Act is the 50-50 payback formula," says Barbaccia. "You're stuck paying back much more than you ever borrowed."
While city and state funding is in place, albeit at the moment theoretical, there are not enough provisions, city officials say, to lure private developers. At the moment, the state only makes funds available to municipalities. The state's Voluntary Cleanup Program does make some effort to encourage private development, offering exemption from future environmental liability to those private companies that step forward and clean up a site under state supervision. But it provides them no direct financial support to do so. And since there are no clear, concrete clean-up standards, private developers don't know how long cleanup would take, or how much it would cost. So, city officials say, they wind up taking their money to New Jersey or Pennsylvania, which already have set standards for brownfield redevelopment, and have made funds more accessible.
WHAT'S AHEAD
Governor Pataki's Superfund Working Group, Assemblyman Richard Brodsky, and the Brownfields Coalition have each proposed separate brownfields bills that the legislature is likely to consider in the next session.
While the bills' authors differ on particulars, they surely agree with the statement of the non-profit group Environmental Advocates: "The state needs to replace the current mishmash of overlapping and inconsistent cleanup programs, and address all hazardous site contamination in a consistent and predictable way."
Links:
###
Visit the IOTW Archives!
WHADDAYASAY?? GothGaz wants to know what YOU say about this issue. Fire away!