Catholic Schools
By Tracey Middlekauff
20 May 02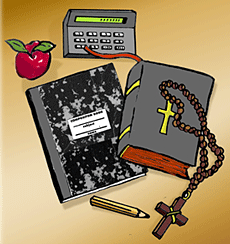 Frank Brancato's ninth-grade remedial English class begins with the Parable of the Lamp from the New Testament, about Jesus telling his disciples that when one lights a lamp, one does not hide the light under a bed or a bushel.
"Is it saying you shouldn't hide your intelligence?" one student asks.
Brancato replies with a resounding "Yes!" and then moves on to the main lesson, the book they are reading, Ray Bradbury's "Fahrenheit 451," about a future society where books are banned. What Brancato is clearly trying to teach the students is the importance of thinking for themselves.
In a public school, a principal would surely reprimand a teacher for reading from the Bible. But Frank Brancato happens to be the principal of this school, and the school is Bishop Ford Central Catholic High School in Brooklyn.
It is not just being able to read from a religious book that makes Catholic schools different from public schools, nor is it the uniforms or the crosses. For many years, New York parents have scrimped and saved to send their children to Catholic schools - whether or not they were Catholic - because they thought them a better option than the public schools in their neighborhoods. Some experts long have said that comparisons between parochial and public schools are inherently unfair, since the religious schools can choose whom to admit, and, perhaps more significantly, whom to expel. But the argument only bolstered the notion that a Catholic education was a superior education.
Lately, this conventional wisdom has been tested, in several ways.
Say "Catholic" these days and the first things that spring to mind for many people are the priest abuse cases. But in the classrooms, offices and even the hallways of Catholic schools like Bishop Ford, there is surprisingly little talk about the scandal. This may be in part because about 94 percent of the faculty and administrators in the country's Catholic schools come from the laity, not the clergy.
It may also be because Catholic schools in New York have other pressing concerns -- an ongoing financial crisis, an overall decline in enrollment, a difficulty in attracting quality teachers, labor strife, a slide in test scores. Indeed, some say even the schools' long-term survival is not assured. The New York Archdiocese, facing a $20 million deficit, has closed three of its schools, and the only surprise was that there were not more.
This summer, in what many expect will be a landmark church-state case, the Supreme Court will decide the constitutionality of Cleveland's school voucher program, which subsidizes tuition for students to attend religious schools, primarily Catholic ones. A win for school vouchers might seem an answer to at least some of the prayers of New York's Catholic school educators. But they themselves do not see it that way.
"Catholic schools have struggled for years," said one educator. "It's always going to be a struggle."
MONEY TROUBLES
Catholic educators like Frank Brancato believe that they provide a unique education, both academically and spiritually rigorous. If there has been a general drop in enrollment, Brancato says, that is because the city has fewer Catholic families -- a claim that is not supported by hard statistics (the U.S. Census does not ask questions about religion). He also says there has been a failure to get the good word out.
But Brancato need make no excuses for his own school, whose 900 students represent an actual increase in enrollment from five years ago. He also points with pride to the diversity of the student body, which is roughly a third each African-American, Caucasian, and Hispanic (with European and Asian mixed in), the most diverse of the 20 high schools in the Diocese of Brooklyn , which also includes Queens. (The New York Archdiocese, which has 55 high schools, includes Manhattan, the Bronx, Staten Island, and seven other New York counties). The percentage of their students who are actually Catholic, 77 percent, is typical both for New York and for the nation. Students of any religion are welcome, Brancato explains, but all students must take four years of religion and attend church with the school. "This is a Catholic school, and we have not compromised our Catholic identity to raise enrollment."
But, despite its growing enrollment, Bishop Ford is experiencing the same financial problems of the city's other Catholic schools, which are mostly independent of their dioceses, receiving no money from them - though even the diocesan schools are struggling.
Next year, students at Bishop Ford will pay tuition of almost $6,000, which is about $1,000 more than average for a Catholic high school in the city. But even this does not cover the full cost of educating a student, which Brancato estimates to be about $8,000. The difference is made up by fundraising events.
It might seem like common sense to raise tuition in order to cover costs, but Nora Murphy, a spokesperson for the Catholic Schools of the Archdiocese, says this would run counter to the mission of most of the schools, which is to be open to children of all economic classes.
SCHOOL VOUCHERS
One would expect Catholic educators to be hopeful that school vouchers will become a reality in New York. After all, if parents were receiving vouchers, more students could afford to enroll.
Proponents of school vouchers believe that not only would vouchers offer a solution for parents in neighborhoods with failing public schools, but that vouchers would help create an incentive for public schools to improve their performance.
But opponents charge that vouchers would take much-needed taxpayer money away from the public schools. And, they say, school vouchers are unconstitutional.
The New York Civil Liberties Union has pointed out that the Blaine amendment in New Yorks constitution expressly forbids the use of any public money being used, directly or indirectly, to help any school which is in whole or part affiliated with any religious group.
Sol Stern, a contributing editor of City Journal, who is also working on a book critical of urban public schools, does not believe vouchers will ever happen in New York.
But, even if they did, Catholic school educators like Brancato do not believe they would make that much difference to the schools themselves. The vouchers would only cover tuition. As Nora Murphy points out, even schools in the archdiocese which are running at capacity are still struggling to make up the gap between tuition and cost of education, which is on average about $1,300 per student.
SALARIES
Naturally, the financial crunch in the schools has an effect on the salaries of Catholic school teachers, who make far less than public school teachers; Catholic elementary school teachers fare worst of all. Salaries for New York City public school teachers range up to $70,000. Elementary school teachers in the archdiocese make a maximum of roughly $37,000; high school teachers in the archdiocese max out around the low 40s. At Bishop Ford, the scale runs from $20,874 to $46, 337. Earlier in the school year, members of the Lay Faculty Association and the Federation of Catholic Teachers called in sick to protest pay and pension issue. These issues have not been resolved across the board, although Brancato says that the Lay Faculty Association signed a two-and-a-half year contract at his school.
"We have been really fortunate in keeping some really good people," Brancato says. But he points out a pattern that mirrors the problem the public schools often have when they lose teachers to higher paying jobs in the suburbs: "We get people out of college, we train them, they peak and they get swiped up by the public schools." The way to try to keep teachers, Brancato says, is to make them feel as if they are part of the community. "We are doing Gods work," Brancato believes.
A SOLID EDUCATION?
Whatever problems Catholic educators acknowledge, many maintain their schools provide an enormous bang for the buck. A recent study comparing Catholic and public schools in New York found that the Catholic schools were twice as efficient spending less money per pupil, with better academic results, and that their students generally perform better on state tests.
In March, however, it came to light that the citys parochial eighth-graders did nearly as badly as public schools students on the state math exam. Sixty-two percent of the Catholic students in the New York archdiocese failed, compared to 77 percent of the public school students. Catherine Hickey, superintendent of schools for the archdiocese, expressed displeasure with the results at the time, and a study conducted by New York University concludes that "Catholic schools need to address the challenge of the new state standards in mathematics."
But Principal Brancato, while admitting that some students do struggle with the test, also argues that the numbers of students who fail the test are relatively small compared with the number of students who graduate with advanced math courses. In addition, he points out that that particular test is relatively new, and that teaching to the test has not traditionally been the Catholic school approach. "Testing takes a lot of the creativity out of teaching," he feels.
Sol Stern looks at the testing results in another way. "There has been a lot of comparison of tests over the past couple of decades," Stern says. "If you could accumulate all of the data, most would indicate at least some advantage for similarly situated poor minority kids." But the real point, Stern believes, lies in something more important: graduation rates. In the New York archdiocese, the high school graduation rate is about 95 percent, more or less comparable with the nation. The figure is roughly double the graduation rate in New York City public schools.
But Jacqueline Ancess, co-director of the National Center for Restructuring Education, Schools and Teaching, does not believe in making sweeping generalities about the relative merits of Catholic and public schools. She points out that Catholic schools have the power to expel; that there are children in the public schools who have "a lot of issues" and "I am not convinced Catholic schools do better with those kids." As for the higher graduation rates, Ancess points out that this may be linked to the fact that many of the parents in Catholic schools are making a sacrifice to send their children to that school, indicating a more supportive home environment than many public school children may have.
Another factor the Catholic schools may have on their side is their size. In general, Catholic schools are smaller than public school in New York. In fact, the NYU study indicates that the performance gap between Catholic and public schools in New York is smallest in Manhattan, where the public schools tend to be smaller than in the other boroughs. Ancess concurs, pointing out that research shows that kids tend to do better in smaller schools. Smaller schools, she says, are also generally safer.
SAFETY FIRST
Indeed, according to Brancato, it is not the education that is first on most parents' list of reasons for choosing Catholic school. The reason is safety. Nora Murphy agrees, though she is careful to point out that public schools are not necessarily less safe; many parents simply perceive this to be the case. Perhaps, Ancess says, the public schools in certain neighborhoods are not doing a good job reaching out to parents and making them feel that their school is safe.
Of course, as Brancato admits, "violence, scandal etc. can happen in any school." Near the end of the school day, three 11th-graders say that there are troublemakers in Bishop Ford and confide, perhaps with a touch of adolescent bravado, that a student can get away with anything at school if they want to. But at the same time, two of them admit that, unlike the public schools they used to attend, there is no pressure to be "bad." The third, a lifelong Catholic-school student, is loath to make a comparison between the two kinds of schools. It is not about the school, he says, it is about the individual student: "It depends on what you make of it."
###
Visit the Issue of the Week archives.
Tell us what you think about this issue. Write a letter to the editor.