CENSUS2000
By Jerome Chou
13 Mar 00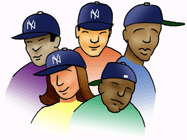 THE LOWDOWN:
1990 was not a good year for the Census Bureau. The agency missed about 8.4 million people (including 245,000 lost souls in New York City alone) in its last survey, the first time in its 220-year history that a population count was less accurate than the previous decade's. Poor people and people of color, in particular, tended to disappear on paper. Distrust of government, language difficulties, two-earner households in which people aren't home very often - all of these factors led to significant undercounts in poor, minority neighborhoods. According to Census Bureau figures, nearly 185,000 blacks, 110,000 Hispanics (the catch-all Census category that includes people of any race), and 22,000 Asian Americans were not reported in 1990.
With the state's population in decline, New York's public officials have conceded they will lose at least one Congressional seat from redistricting after the 2001 elections. But an inaccurate count could mean a smaller share of the fiscal pie, as well. Based on figures provided by the Leadership Council on Civil Rights, during the 1990s, New York lost an estimated $200 million in federal funding for a wide array of programs covering everything from education to job training to roads.
With so much at stake, public officials and community groups are just as eager as the Bureau to get the count right this time. A proposal to use a statistical formula to derive a more accurate count was ruled unconstitutional by the Supreme Court. So the burden of counting every man, woman, and child in the country falls on a group of temps, in what amounts to a massive national jobs program. As part of its $6-$7 billion budget, the Bureau hopes during its peak operations to hire some 860,000 "enumerators" to go door to door, filling in gaps in the count. The New York regional office will hire over 200,000 workers at $8.25 to $18.50 an hour, a far cry from the state minimum wage.
BASIC NUMBERS:
U.S. Census Bureau - The official site, with enough data to last you at least until Census 2010, and a guide to Census2000 with regional information.
Civilrights.org's Census2000 - The best overview of why the census matters, and who's most affected by it, published by the Leadership Conference on Civil Rights and the Leadership Conference Education Fund. Charts 1990's undercount by state and city and lists which programs use census data to determine funding (with an emphasis on how the undercount of children affects the $14 billion of federal funding earmarked for education).
NY State's Census 2000 Complete Count Website - Our local Get-Out-The-Census site (in five languages), includes promotional materials, curriculum guides for schools, and a section called Census Fun(!)
Census2000 initiative - Another good source for information on this year's efforts, including its costs (which will overshoot estimates by several billion dollars) and the statistical sampling method shot down by the Supreme Court. Sponsored by Communications Consortium Media Center.
U.S Conference of Mayors - Compares the impact of undercounts on 34 cities (not including New York) across the country.
OVERCOUNT:
New York State Census (For Census buffs only!) - New York's census through the ages, all the way back to the 1720 Albany County document.
Visit the IOTW Archives!
WHADDAYASAY?? GothGaz wants to know what YOU say about this issue. Fire away!