CITY COUNCIL, 2001
By Jessica Green
21 Feb 00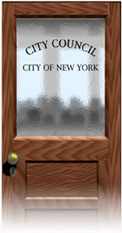 THE LOWDOWN:
The 2001 elections will be a landmark event. Thirty-six of the fifty-one seats on the City Council will be vacated because of term limits, as will four of the five borough presidencies, the offices of Comptroller, Public Advocate and Mayor. The evolving result seems to be a sort of measured chaos: a politicians' scurry for open seats and viable races. Councilman Walter McCaffrey of Queens recently declared he'll run against Representative Joseph Crowley in the seventh congressional district. Councilwoman Una Clarke plans to unseat Congressman Major Owens. With four of five borough presidencies being vacated, the office is an attractive alternative for many term-limited Council members. Ken Fisher is running for Brooklyn Beep; Sheldon Leffler and Michael Abel are thinking of Queens. Other Council members are eyeing the Public Advocate and Comptroller offices. Though originally enacted to end the "career politician," term limits may spawn a new, more creative version of its reviled progenitor.
PAST:
Local Law 94 of 1993 - Short and sweet, this law is the birth of term limits. It calls for the amendment of the City Charter to establish term limits for various elected officials.
There was however, a quick attempted reversal. In 1996, a proposal appeared on the ballot to amend the City Charter yet again to extend the limit to three terms and to "provide a natural staggering of terms to better ensure a smooth transition under the current term limit law." This ballot proposal was voted down, and the current two-term limit remains law.
PRESENT:
FUTURE:
"...Most aspirants to fill the City Council vacancies are politically connected and many of them are State legislators. $90,500 for a part time job is not all that bad; public campaign funds at a four to one match are more than a little helpful. Why commute to Albany? How about a game of musical chairs? Switch jobs with your friendly Councilmember. Let your legislative aide take over. Or challenge a political opponent in Congress or the State Legislature for that person's supposedly safe seat. And how about Junior? (Donald Wooten, son of Priscilla; Joel Rivera, son of Jose; Peter Vallone Jr., son of Peter Sr. and Erik, son of Martin Malave-Dilan.) The gossip mills are churning. Term limits may not do much for good government, but they promise long-term entertainment for the politically addicted." excerpted from Searchlight on the City Council, December 1999.
Jeffrey Hoschander - A report from inside City Hall on what term limits will bring.
NYC Campaign Finance Board - A surefire indication of an elected official's future political ambitions: moolah. The ever-vigilant CFB documents who has raised how much and who has contributed to which campaign. Also see their list of all candidates who have filed for the 2001 election. Indispensable.
NYT 2001 Mayoral Campaign - The Times coverage of the upcoming mayoral race tells the term limits story succinctly: politics as musical chairs. Also see Goth Gaz contributor Phil Lentz's commentary on The Race for Gracie Mansion
"Hopefuls Line Up in Beep Race" - Among the candidates for Brooklyn Beep is term-limited Councilman Ken Fisher.
"Pols have eyes on the Prize" - Among the candidates for Queens, term-limited Council members vying for Queens beep include Leffler and Koslowitz
Visit the IOTW Archives!