Debt
by Jerome Chou
02 October 00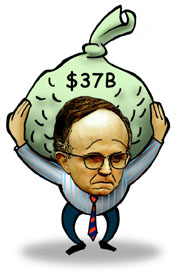 A little-noticed "candidate" on the ballot in November promises to make vast improvements to the state's highways, bridges, airports, canals and mass transit. It is the Transportation Bond Act of 2000.
If passed, it would improve highways upstate and upgrade the city's subway system, including a start on the long-awaited Second Avenue Subway. The bond act would finance many long-term plans, such as fixing bridges and canals; building new highways; and buying 180 new commuter rail cars and more than 1,000 new subway cars.
The question for voters: Is it worth increasing the state's debt by $3.8 billion, so that the total debt would rise to more than $40 billion?
At a time when governments are experiencing budget surpluses, and when it has thus become fiscally possible to start paying down the debt, the debate over the Transportation Bond Act may end up being more about debt than transporta tion needs.
Debt (not transportation) entered the race for Senate last week, when candidate Hillary Clinton gave a speech on the economy, offering a plan to make "an investment in debt reduction" that included a proposal to "keep at least 20 percent of budget surplus off limits to anything but debt reduction -- I believe that we cannot, must not, should not abandon that fiscal discipline that has brought us to this point in history. I come to that not only in the last eight years, but as the daughter of a small businessman who never believed in credit -- not credit cards, not mortgages, none of that."
Her speech came a month after her opponent Rick Lazio's speech on the economy, in which he said, "Our most important economic duty is to take a balanced, fiscally responsible approach to managing the budget surplus, one that protects Social Security, and Medicare, reduces the national debt and provides pro-growth tax relief." This was Lazio's sole mention of the national debt in a speech mostly focused on tax cuts.
When candidates discuss the debt these days, they are talking about the national debt. But New York also has its own debt, and that has its own tale to tell.
DEBT HAS BEEN GOOD TO NEW YORK
Borrowing has a long, and some would say illustrious, history in New York. Some seven million dollars in public debt was approved to build the Erie Canal early in the nineteenth century, a whopping investment that turned New York from just another American city into the financial and cultural capital of the country. More recently, the Triborough Bridge and Tunnel Authority, which built the Triborough Bridge, Bronx-Whitestone Bridge and Brooklyn-Battery Tunnel, was initially financed by municipal bonds. The ongoing maintenance on the city's aging infrastructure carries a steadily increasing price tag, which has traditionally been funded by borrowing.
So when is increasing public debt for long-term infrastructure justified? How much debt is too much? And is debt always bad?
In New York City, such questions can have a tangible effect on everyday life. Soon, about 20 percent of the city's income will go to servicing its debt. If the stock market stumbles the city could be looking at a budget crisis similar to the 1970's. It's time, some say, to cut up the city's "credit card."
THE CITY'S CREDIT RATING
Imagine you and your family are knee-deep in debt. You've maxed out three different credit cards, and just keeping up with the interest on the money you owe is taking a huge chunk out of your budget. Then one day, you get a letter that reads: "Congratulations! Your credit rating has just been upgraded."
That's essentially what happened to New York City in August when Moody's Investment Services, which evaluates the financial health of cities nationwide, quietly upgraded New York City's credit rating one notch from A3 to A2, the service's fifth highest rating. Moody's cited the city's strong economy and its "budgetary controls." Moody's obviously made its decision based in large part on the health of Wall Street, where the booming stock market has helped flood the city coffers with tax revenues and spur record spending levels.
The city's annual budgets have grown in recent years, as have its commitments to long-term, big-ticket construction projects--for everything from new schools and courthouses, to extensive repairs to the Brooklyn and Manhattan bridges. And the proposed projects keep coming, such as a stadium on the West Side and expansion of the Javits Convention Center. To pay for these projects, also known as its capital spending plan, the city borrows money. In fact, the city plans to borrow more money in 2001 for new construction than it has at any time in at least 25 years.
That has some officials and budget analysts worried. The city currently owes more than $37 billion, a number that has more than doubled since 1989.
According to City Comptroller Alan Hevesi, this year the city will spend about $3.5 billion, or three times the Fire Department's budget, to pay off interest on its outstanding debts. That number will increase to $4.7 billion by 2004. The city will then be spending about one out of every five dollars in the budget to pay off debt.
In the current robust economy, politicians can get away with ignoring how much of the budget gets eaten up by debt services. But if the stock market should falter, a large debt could force the city to make cuts in services and jobs.
THE BIG PICTURE
Not since 1835 and the administration of Andrew Jackson has the U.S. been out of debt. Today, the national debt runs over $5,645 billion, or about $20,000 for each U.S. citizen.
In simple terms, debt is essentially an obligation of the government to make up for its deficits. Deficits occur when more is spent in a year than is brought in. When the government has a series of budget deficits, debt increases.
The basic way of financing public debt is by selling bonds. In return for offering a relatively safe investment with moderate interest to the public, the government gets to borrow from itself to undertake expensive, long-term projects.
When there is a surplus, the political debate often centers on paying off the national debt versus giving tax-cuts.
Proponents of paying off the national debt argue that debt reduction helps lower interest rates, and the government could stop paying off hundreds of billions of dollars in interest. They also say it would free up more money for the private sector and that the money, no longer needed for interest payments, could help finance federal programs like Social Security and Medicare.
Other economists say paying off debt, especially down to zero, is not the best use of money. Eliminating the national debt would mean the end of the U.S. Savings Bond, they argue, and investor money would go to foreign markets, which would hurt the U.S. dollar. And, if the government remained committed to keeping the deficit at zero, Washington would lose one of the best ways it has to manage the economy. Spending is frequently the best way out of a recession, many experts believe.
While those on the national level take on a heady discussion of paying off the federal debt (see an article by Nobel Prize-winning economist Robert Solow in the New York Review of Books the state of things in New York City is less theoretical.
OLD AND CREAKING
So how did the city get so deep in the hole? For starters, New York City is old and crowded, which makes infrastructure improvements very expensive. Fixing the city's hundred-year-old bridges costs much more than renovating newer structures. And since virtually every inch of the city land is developed, repairing the sewers, for instance, means disrupting other parts of the infrastructure -- the subway system or fiber optic lines.
This kind of basic maintenance was essentially neglected for years in New York, thanks to an event that to this day haunts the city: the fiscal crisis of the 1970s.
At that time, New York was hemorrhaging jobs and tax revenues, as companies relocated to the suburbs. The city's fiscal management was laughable'Óno one was sure how much New York was spending, and city officials borrowed money to pay the annual bills, a now outlawed practice similar to using one credit card to pay off another.
With the city finances in ruins, officials laid off workers and drastically cut spending for social services and maintenance. One legacy of those tight-belted years is today's crumbling schools and torn-up roads.
MAXED OUT
The city also emerged from that period with a laundry list of state-imposed restrictions on its spending. As a result, according to James Parrot of the Fiscal Policy Institute, the city's fiscal management has improved dramatically since it bottomed out in the 1970s.
In recent years, however, New York has come perilously close to reaching its debt limits. According to a report by the city comptroller's office, New York will be able to incur only $3 billion in debt in fiscal year 2001, falling short of its anticipated $4 billion capital spending program for the year. In effect, the city will run out of the money it's allowed to borrow.
In 1998 the state legislature set up the Transitional Finance Authority to enable the city to borrow an additional $7.5 billion. As the city nears that limit, it has created the Tobacco Settlement Asset Securitization Corporation to tap funds coughed up by the major U.S. tobacco companies.
This year, city officials realized that even these stopgap funds wouldn't cover the city's insatiable capital spending appetites. Mayor Giuliani traveled to Albany, hat in hand, to ask the state legislature for a constitutional amendment to raise the city debt limit. He got another short-term solution: a little extra money from the Transitional Finance Authority.
DEBTORS ANONYMOUS
Critics say the state's approach is akin to raising a gambler's betting limit. Only coordinated treatment, they argue, will truly solve the city's debt problem. Here's a roundup of recommendations from the city fiscal watchdogs.
1. Stop relying so heavily on bonds.
To borrow money, the city issues bonds to investors, who, in effect, loan the city money and are paid with interest for their investment. Right now the city plans to finance its capital speaking with bonds, bonds, and more bonds. "It's almost like they're on auto pilot," said James Parrot, deputy director and chief economist of the Fiscal Policy Institute.
Critics of the city's borrowing tactics say that New York should spend more money up front for its capital plan, using surpluses from the annual budget.
2. Make the tough political decisions.
What could be more politically popular than public works and tax cuts? Borrowing frees up the funds for, say, a new ballpark; the full costs kick in somewhere down the line. "Politicians get to cut the ribbons and someone else pays the bill," said Chuck Brecher, research director of Citizens Budget Committee.
With money rolling in from Wall Street, the city has passed nearly $2 billion worth in tax cuts over the past five years. "Look at any of those tax cuts," says Steve Weber, Senior Transportation Planner at the Regional Planning Association. "If that money had been spent on infrastructure, we wouldn't need to issue additional debt."
Similarly, some of those funds could be used to pay off existing debt. Citing pressure from the city fiscal monitors, Mayor Giuliani recently announced he would scale back plans for another round of tax cuts in 2001.
3. More Bang for the Buck
The Citizens Budget Commission has proposed policy changes to make city services more efficient: instituting a year-round school calendar to ease overcrowding, for instance, or reducing the intervals between subway trains to increase service. While these measures won't cut spending, they will allow the city to stretch its budget dollar further.
And, of course, there are voters. While politicians may be captivated by the lure of bonds, voters are warier. Between 1974 and 1996, New York State residents rejected six out of 11 ballot measures calling for issuance of general-obligation bonds. What this means for November's Transportation Bond issue is hard to predict but it indicates that, whatever some politicians may tell them, voters know that any government project has a price, that there is no such thing, really, as a freeway.
OTHER RESOURCES
###
Visit the IOTW Archives!
WHADDAYASAY?? GothGaz wants to know what YOU say about this issue. Fire away!