The Legacy of Amadou Diallo
by Julia Vitullo-Martin
4 February 02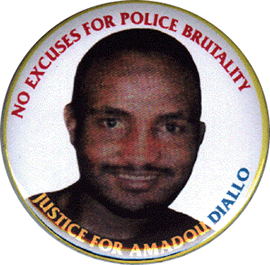 Many things have changed in the New York Police Department since the evening of Feb. 4, 1999, when an unarmed street vendor from West Africa named Amadou Diallo was killed by four plainclothes officers from the NYPD's Street Crime Unit. The top command has turned over and the rhetoric both from City Hall and headquarters at Police Plaza has been turned down. The talk is no longer of zero tolerance but of conciliatory community relations. Special units are held on short leashes. Precinct commanders actually meet regularly with community boards. Today's NYPD presents a far more pleasant face to the public than before. And crime has continued to decline.
But what has been learned from this terrible saga, well-known to most New Yorkers? Did the shooting indeed "crystallize" the debate over the Police Department's aggressive tactics in cracking down on crime, especially in minority neighborhoods, as the New York Times argued? Did the Street Crime Unit, in stopping and frisking thousands of people each year in their search for illegal guns, regularly use tactics that were overly aggressive, unconstitutional, and discriminatory as the New York State Attorney General charged? Or did these very NYPD tactics result in far safer neighborhoods than the city had seen in decades?
Was Amadou Diallo's killing a reflection not of racism among street cops but the recklessness of senior commanders who sent young cops, newly minted by their elite unit, into a strange neighborhood to search, late at night, for a man known to them only by description?
MODIFYING THE STREET CRIME UNIT
Post-Diallo reform actually began within weeks of the shooting. Looking belligerent but speaking agreeably, then-Police Commissioner Howard Safir announced on March 26, 1999, that he was putting the Street Crime Unit in uniform. By itself this change profoundly modified the procedures and tactics of the unit, whose members had been able to move fairly invisibly within the city, roaming from precinct to precinct without necessarily even notifying the local commander. For some angry community activists, uniforms--and the decline in status that came with them--weren't enough. They wanted the unit dismantled, which Safir wasn't about to do. In its glory days, early in the Giuliani administration, it had enjoyed too many triumphs to be unceremoniously cast off, even if it was now being called a "rogue police operation" by the likes of the Village Voice's Nat Hentoff.
The idea of a special elite unit assigned by headquarters to tackle obstinate problems--like illegal guns or violent drug activity--invariably appeals to the top brass, who relish having their own Green Beret-like force at their disposal. William Bratton, Giuliani's first police commissioner, had funded the Street Crime Unit generously, but had kept it small and very elite. The unit's productivity seemed to be slipping under Safir, however, so he expanded its numbers and let it be known he wanted more effective results. The four officers who shot Amadou Diallo were mostly young--two aged 27, one 28, and one 36--and new both to the unit and to one another. They had never worked together before.
Special units have problems of their own. Rutgers University criminologist George Kelling has long questioned the efficacy of citywide units, particularly those with a single goal, such as getting guns. "By the very nature of their success," says Kelling, "guns get harder to find. If the department is measuring the unit's effectiveness by gun confiscations, the unit's productivity will fall over time. This will lead to stridency and probably to more aggressive tactics."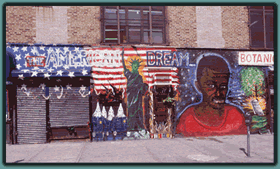 Kelling argues that the city has to be prepared to shut down special units once they've achieved what they were supposed to do--or at minimum change how they're measured. "I'm all for starts," says Kelling. "Go ahead and start something new. But you've got to be prepared for stops too. Get rid of the unit when its effectiveness declines. Police departments don't always want to do stops."
Even more important for neighborhood life, however, is the problem that many, perhaps most, special units don't know the territory, says Kelling. "They're assigned from downtown. They come into strange neighborhoods without knowing the players, the residents, what's normal. The Diallo killing was the result of officers trying to find someone who matched a description. They didn't know the neighborhood, and they didn't know one another. They hadn't worked together before. Officers who work together develop signals, clues, know who's going to do what. They can predict one another's behavior."
The future of the Street Crime Unit is unclear. Officers in the unit have been divided into eight teams that report to the eight chiefs responsibile for the city's eight patrol sectors. And they are again in plainclothes--as some relatively spectacular recent arrests of rap entertainers show. This might indicate back to business as usual, except that funding is ending for Operation Condor, which is aimed at violent drug activity. Condor costs the city millions of dollars in overtime, and is therefore financially controversial as well as politically volatile.
PUTTING COMMUNITIES FIRST
Safir lasted only a few months more as commissioner. On August 21, 2000, Bernard Kerik was sworn in as his successor. Kerik was a very different kind of commissioner and soon announced a priority that would have been unthinkable under Safir: community relations. He was not just talking about community relations in the abstract. He urged his commanders to attend important community board meetings. He encouraged precincts to fill at least one sergeant line with a specialist in community and family matters. And, unlike the aloof Safir, Kerik paid close attention to actual patrolling, to what the sociologist Egon Bittner called "literal police work."
"I need to know what cops are really doing in communities," he announced at a major address before the Manhattan Institute on his first six-month anniversary. He came up with a revolutionary device for finding out: he would ask residents via a Neighborhood Satisfaction Survey, to be conducted by the independent Vera Institute of Justice.
Cooper Union Professor Fred Siegel calls Kerik's reforms "an unacknowledged response to Diallo." The Street Crime Unit had already been reformed before Kerik took over, says Siegel, but "being more responsive, explaining to people about stop and frisk and why the department does it, these are Kerik's attempts to change the tone of policing."
Kerik also condemned racial profiling, which he said was due "not to racism, but to arrogance." This was a nice point since the NYPD was under federal investigation on precisely the matter of racist arrests--arrogant arrests not being a violation of federal law.
Several weeks after Amadou Diallo's death, citing civil rights legislation that had been passed in 1994 after the videotaped beating of Rodney King by Los Angeles police officers, the U.S. Attorney's office investigated whether New York officers had systematically deprived blacks and Hispanics of their rights by stopping them based on their race. It was the aggressive tactics of the Street Crime Unit that had attracted federal attention.
The NYPD voluntarily turned over its databases holding stop-and-frisk data, plus arrest and complaint information, from 1994 through the first three months of 1999. But it withheld more recent data, preventing investigators from assessing the many changes in procedures introduced by the police department since the Diallo shooting. (Under federal law, federal prosecutors must negotiate with the police department before bringing suit to force changes.)
Thus Kerik defined his masterful style: presenting a pleasant public face without actually producing all the data.
TRACKING CRIME
The NYPD would often be better off if it trumpeted its data to the public. Many New Yorkers think that crime shot back up in Amadou Diallo's precinct, the 43, after he was killed because cops backed off of aggressive policing. In fact, the 43 seems to be a tribute to police effectiveness. As the table shows, major crime in all categories except rape declined significantly between 1993 and 2001, the Giuliani years. Murder, for example, was down 80 percent, robbery down 71 percent, and burglary down 63 percent. Only rape showed a relatively small decrease of 7 percent.
| | | | | | | | |
| --- | --- | --- | --- | --- | --- | --- | --- |
| | 1993 | 1997 | 1998 | 1999 | 2000 | 2001 | % chg vs 93 |
| Murder | 69 | 27 | 13 | 22 | 16 | 14 | -79.7 |
| Rape | 69 | 86 | 72 | 62 | 62 | 64 | -7.2 |
| Robbery | 2,057 | 1,126 | 933 | 807 | 725 | 594 | -71.1 |
| Felony Assault | 950 | 734 | 743 | 652 | 658 | 604 | -36.4 |
| Burglary | 1,944 | 977 | 741 | 698 | 773 | 729 | -62.5 |
| Grand Larceny | 790 | 569 | 500 | 452 | 517 | 526 | -33.4 |
| G.L.Auto | 2,052 | 1,120 | 866 | 915 | 855 | 779 | -62.0 |
| Total | 7,931 | 4,639 | 3,868 | 3,608 | 3,606 | 3,310 | |
Source: NYPD CompStat Unit
So what happened after Amadou Diallo was killed in early February 1999? The year 1999 showed a jump in murders (up to 22 from 1998's 13) and in grand larceny auto, but a pretty strong decrease in every other category. If cops were backing off, they were still policing well enough to force declines in robbery, felonious assault, burglary, and grand larceny.
Rape, on the other hand, has a more perplexing history in the 43. Rapes did indeed decline from 72 rapes in 1998 to 62 in 1999. But the precinct had had 69 rapes in 1993, followed by a stunning 25 percent increase to 86 in 1997. It is probably worth recalling that the four cops who killed Amadou Diallo were looking for a rapist who had terrorized the neighborhood. (I have never seen a report that this rapist was found.)
Thus Amadou Diallo's legacy does not include increased crime or violence for his old neighborhood.
THINKING ABOUT POLICE DISCRETION
William Bratton kick-started New York City's phenomenal crime reduction with a management principle--that the precinct is the primary unit of policing. That was the point of CompStat--to hold his precinct commanders directly accountable for performance. But he also knew he would never get the fast results he wanted without a centrally dispatched elite force to clean up the most dangerous and violent neighborhoods. There was an inevitable tension between these two strategies, just as there is an inevitable tension between the NYPD's command and control functions and the need to put cops on the street and let them patrol.
As Kelling says, "The NYPD is responsible for teaching officers how to behave judiciously and wisely, how to think about what they should do, how to do it and talk about it, so that they improve their practice over time and share their values, knowledge, and skills with other cops. By its nature policing is a discretionary activity."
Which means it can never be completely controlled centrally, nor should citizens want it to be. What citizens want is a safe city patrolled by smart, well-trained, judicious cops. This means police who do not routinely interrupt or inconvenience--much less terrify--average people in their everyday lives. Amadou Diallo was an average guy, making his way in the big city, living in a neighborhood that was getting safer but wasn't yet safe. He was standing on his own door step when he was killed.
Kelling argues that the "research strongly shows that when you do order maintenance policing, you get a reduction in violent crime. This can be done appropriately and respectfully, but it carries the potential for abuse." Which is where the new mayor, the new commissioner, and the new team come in--reducing crime without abuse. On being sworn in Commissioner Raymond Kelly pledged: "We'll keep crime down. We'll protect our city." In memory of Amadou Diallo, New Yorkers will hold him to the pledge.
Julia Vitullo-Martin, the crime and justice columnist for Gotham Gazette, is the former director of the Citizens Jury Project at the Vera Institute of Justice
###
Visit the Issue of the Week archives.
Tell us what you think about this issue. Write a letter to the editor.