The Digital Divide
by Meg Murphy
24 July 00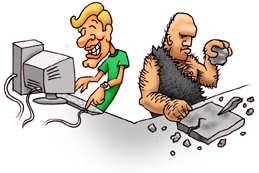 People line up for Joy Ralton to come to work each day. They wait for her to unlock the door to her one-room computer lab, and then, as soon as she does, they rush in. Chairs are scraped aside, tables are claimed with jackets and books, sometimes elbows act as weapons. Ralton's arrival signals the race for a computer terminal: there are only six machines and at least twice as many people competing for them.
"Working here, you see how big a divide there is," said Ralton, and she is talking about the Digital Divide, a phrase used by educators and world leaders alike to describe the growing gap between people with access to new technology and those who feel left out.
Ralton is the technology director at Cooper Club Access, a non-profit agency in Greenwich Village that serves people with psychiatric illnesses. There are never enough desktop computers or tech-savvy teachers to go around.
But her clients want to work at a dot com just like everybody else, she says, and she helps them learn computer skills to score jobs in the new economy. Everyone, it seems, is worried about getting wired.
TECH TYPHOON
In the last year alone, over 1.6 million new technology-related jobs were created in the United States, according to the Information Technology Association of America. There are already 250,000 Internet-related jobs just in the New York area, with a $8.3 billion payroll, which is a three-fold increase from 1997.
"Obviously, the economy is changing and every opportunity is online," said Art Brodsky, director at the telecommunications division of the Commerce Department. "If you don't get online you may be cut out of it."
According to a report by the Commerce Department's National Telecommunications and Information Administration, "at the end of 1998, over 40 per cent of Americans owned a computer, and one-quarter of all households had Internet access." But that, the report said, was the good news. Entitled "Falling Through the Net," the report focused on what it called "the persistence of the digital divide between the information rich (such as Whites, Asians/Pacific Islanders, those with higher incomes, those more educated, and dual-parent households) and the information poor (such as those who are younger, those with lower incomes and education levels, certain minorities, and those in rural areas or central cities)"
Among its findings:
"Urban households with incomes of $75,000 and higher are more than twenty times more likely to have access to the Internet than rural households at the lowest income levels, and more than nine times as likely to have a computer at home."
"Whites are more likely to have access to the Internet from home than Blacks or Hispanics have from any location. "
CITY GOVERNMENT'S OWN DIGITAL DIVIDE
by Melissa McNamara
New York is a tale of two cyber cities: It has the best of links, and the worst.
THE CITY'S ON-LINE SERVICES
One of the more popular on-line services is the Department of Health's restaurant inspection site, which received an average of 23,000 hits an hour by May 19, the day after it launched, from people wanting to know whether the restaurant they were planning to dine was going to make them sick. This site posts the health inspection reports of over 18,000 restaurants. Users can click on a map of the borough they want or search for restaurants by name or location.
New York City residents are also using lesser known links as well. The city's own Internet site provides links to useful services, such as information on how residents can file property tax and pay their parking tickets and consumers can access on-line complaint forms.
Since August 1996, residents without Internet access at home or at work can access the City's on-line services through one of 37 Internet kiosks situated in locations such as government buildings, libraries, and transportation hubs. The kiosks provide information about food and public assistance programs, adult and children programs, and parking regulations. These kiosks receive about 40,000 visitors per month.
However, if accessing these services at a public library, computer time may be limited to 30 minutes.
THE CITY'S OFF-LINE NON-SERVICES
While the Administration takes credit for helping to spark the technology boom, and have striven to improve Internet access for lucrative technology companies, "certainly most government employees do not have the Internet at their desktops," said mayoral spokesman Bill Keller. While the Mayor annually issues a strategic technology plan to improve information technology services for employees and city residents, the government lacks funding and is concerned with ensuring security with on-line transactions. Most agencies still do not communicate through the Intranet yet, and there are also no extranets to link the city with contractors and businesses.
THE POLS JUMP IN
Politicians have been quick to make an issue of the demographic discrepancy.
In his 2000 State of the Union Address last winter, President Bill Clinton called bridging the digital divide a "national crusade", and set a goal of connecting every classroom to the Internet by the end of 2000.
It has become a campaign issue too, though one in which the candidates are on the same side. Al Gore has championed a plan that pays out $2.25 billion in federal subsidies to schools making computer and Internet purchases. And George W. Bush set up the $1.5 billion Telecommunications Infrastructure Fund, designed to bring the Internet to more people in his home state of Texas.
But the issue is not limited to North America. Last week, when leaders from the world's eight most powerful nations met in Okinawa, the digital divide was near the top of their agenda.
Japanese Prime Minister Yoshiro Mori has made tackling the divide an explicit priority; he is expected to dedicate $15 million to provide training in technology to people in developing nations.
With all the international concern and attention, there are still critics who charge that the digital divide is a false crisis, created by these politicians, as well as business leaders and the media. The technology industry may be growing at a phenomenal rate, according to an argument spelled out by Richard Rothstein in the New York Times, but it is still dwarfed by the size of the service industry, for example, which will provide the bulk of the new jobs in the next decade.
The momentum is too great, though, for many to listen. This is certainly evident in the rush to get the city's public school children equipped with laptop computers and Internet access.
CASE STUDY: NYC PUBLIC SCHOOL STUDENTS
In 1998, a National Education Week study reported that just 31 percent of New York State's classrooms have Internet access, below the national average of 44 percent. While 67 percent of the public school classrooms in New York have at least one instructional computer, this was below the national average of 75 percent.
The next year, the New York City school system spent almost $400 million on technology³for supplies, services, personnel. But it was not enough, the Board of Education declared. There is still no school district in the city that has Internet access in all its schools. Students are being denied essential tools for teaching and learning because new technology costs more than the public system can afford.
There are options for students besides their school, according to New York City's Department of Information Technology and Telecommunications some 2,500 Internet-connected computers have been installed at public libraries in Manhattan, Brooklyn and Queens. Children between 9 and 12 years old, who live in public housing, can be taught computer skills at one of the 25 city-funded after-school programs called Future Kids. Or a student can always drop by one of 13 recreation centers around the city with a computer resource center.
But this seems far from adequate to those who have a growing public conviction that people without computers are about to be left behind.
So, in April, the Board of Education passed a proposal to design a Website that will offer e-mail access for free to 1.3 million students, educators and administrators, and offer laptops at reduced prices to 85,000 fourth-graders beginning in the fall of 2001. Where will the money come from to pay for all this? The Board plans to sell advertising space.
Recently, the Board's Cyberspace Task Force announced it will use a password system to shut students out of the advertising, and market only to their parents But groups like the National Parent Teachers' Association and the Center for the Analysis of Commercialism in Education still question the ethics of marketing to a captive audience.
A CHARGE OF HYPE
In fact, some educators say, people are wrong to assume their child with be smarter if they use a laptop. A researcher at the Educational Testing Service, who studied the test scores of over 13,000 fourth and eight-grade students, found that the more students used computers the worse their performance.
"[I]f computers make a difference, it has yet to show up in achievement," says the director of the National Association of Elementary School Principals as quoted by The Real World, a site that questions the computer's role in education.
THE VIEW FROM HARLEM
Frank Taveras doesn't care what the studies say. A computer supervisor at the East Harlem Tutorial Program, he knows what people need to get ahead; they need a computer. "Computers are the way of living. It's happening and it's going to keep happening. It's not a style, it's here to stay. Everything in the future and now is about working with computers."
Every fall for the past four years, over 400 students have arrived during the after-school program hoping to get a seat at one of the program's 12 computers. But this year, the center has secured itself a few private grants in order to double the size of the computer lab this fall, adding 20 new IMAC computers.
Over at the Harlem Center for Education, Paula Martin also takes competing in the technological revolution very seriously. She says the center is partially funded by a three-year grant of $353,000 a year from the U.S. Department of Education, but it must do a lot of old-fashioned phoning around to raise money for the 22 computers and instructors they provide at the center.
"Even with the grant, we can't offer what corporations can offer to people with computer skills. We are having the same problem as the public schools in attracting good people. We can't compete with Corporate America," said Martin. "The digital divide is very real. Our schools are wired, but you have teachers who don't know how to use the technology. The way things are going now in the 21st century, this segment of the population is going to be left behind."
###
Visit the IOTW Archives!
WHADDAYASAY?? GothGaz wants to know what YOU say about this issue. Fire away!