Unsung Hotspots
by Christopher Nicolson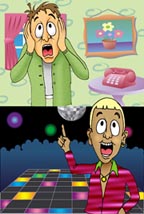 Here are some alternative destinations in Manhattan for those that prefer nightlife of a different sort. These venues will not help you get into the gossip columns, but they may prove less hazardous to your health than a night out with Puff Daddy. Also some of the best online guides for when you are feeling especially hip and fashionable.
Cleopatra's Needle - Upper West Side
2485 Broadway at 92nd Street
If you shut your eyes to the decor (McSorley's Old Saloon meets a community theatre set of Cabaret), ignore the flickering big screen TV above the bar, and request only bottled beverages, Cleopatra's Needle is worth every cent of the $5 cover. From 1 to 4 a.m., the nightly jazz jam session features sometimes-fiery young musicians who will blow, tinkle, and strum their best for the late-night listener.
Angel Orensanz Foundation - Lower East Side
172 Norfolk (between East Houston and Stanton)
In 1986, sculptor Angel Orensanz bought this peeling, Neo-Gothic inspired synagogue for a private studio. Since 1992, the Angel Orensanz Foundation has served as occasional host to eclectic music events. The rib-vaulted ceilings, dark creaking floors, and the hieroglyphic stained glass windows have hosted the likes of Sonic Youth, Philip Glass, and DJ Spooky. Check event listings at or just stroll into the echoing interior and ask for Al.
Milon Restaurant - East Village
93 First Avenue (between 5th and 6th Street)
If you have sworn off illegal substances yet still desire a thoroughly disorienting sensory experience, there is no better (or more affordable) remedy than a trip to Milon Restaurant. The glow of over 30,000 red pepper decorative lights dripping from the ceiling like stalactites, ear-blistering Indian electronica cranking from a cheap speakers, and a wait staff bustling about with Cheshire cat like smiles allow even the squarest individual a glimpse of the long day's journey into night. Try the samosas at your own risk.
B'nai Jeshurun Synagogue - Upper West Side
86th Street and West End Avenue
Upper West Side
Live devotional music with ritual weight and eternal purpose is difficult to find especially in a welcoming setting. The mystic Jewish music of B'nai Jeshurun Synagogue, called "BJ" by enthusiastic congregates (who will pump your hand and smile widely) is just the place to brush up upon your knowledge of the Sephardic and Ashkenazic cantorial traditions. Services are held in the Gothic sanctuary of the Church of St. Paul and St. Andrew each Friday night at 6:45 p.m. No cover charge or religious affiliation required.
Alfama - West Village
551 Hudson Street at Perry
Aside from an occasional record played by a gloomy, cigarette-smoking cafe waitperson, fado music (the traditional female-vocalist-accompanied-by guitar music of ancient Portugal) is rarely heard in New York. Even more rarely is it performed live. At Alfama, an outpost for homesick would-be lovers of Portuguese atmosphere, luxuriantly mournful fados are performed live by a rotating duet. The duet performs weekly on Wednesday evenings at 7:15 and 9:30 p.m., for $10 at the bar or $5 with dinner. Fine selection of vintage ports available for those inclined to weep into their drinks.
For those looking for the clubs that everyone goes to, try these guides to New York nightlife: