NYC's Changing (Disappearing) Electorate
by Jerome Chou
22 May 00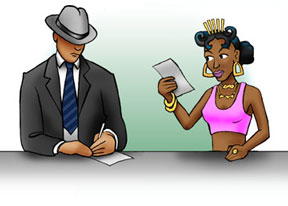 THE LOWDOWN:
To anyone used to hearing about the jaded, apathetic American voter, the City's election results from a half-century ago look like misprints. 3.46 million out of the City's 3.53 million registered voters, a staggering 98%, cast ballots in the 1952 Presidential election. One year later, 93% of registered New Yorkers voted in the Mayoral election.
Today, the bottom has fallen out for the City's electorate. 39% of registered voters took part in the Mayoral election of 1997. Voter turnout was less than 20% for City Council elections in 1999, and less than 2% for School District Board elections.
This decline is a nationwide problem, and in New York it dovetails with a massive shift in the City's population. To make sense of these changes, the Gotham Gazette looked at who's a resident, who's a citizen, and who makes the trip to the polls.
WHO'S A RESIDENT?:
According to 1990 Census results, about 1 million of the City's 7.3 million residents reported immigrating in the 1980s.
The City's population has been shaped over decades by countless factors, from immigration policy to innovations in farm equipment. Within this history, a few key events and trends stand out for their impact on the decisions of millions of families to come to or leave New York City.
During the 1940s, for the first time in New York City's history, more people moved out of than into the City. Suburbanization and "white flight" accelerated this exodus over the next three decades. From 1940 to 1970, while the City's population remained essentially the same, the New York Metro Region, excluding the City proper, grew from from 6.1 million to 11.0 million. The counties ringing the five boroughs absorbed most of this growth.
Foreign-Born Residents of NYC (figures in millions)
| | | | |
| --- | --- | --- | --- |
| Year | NYC population | Foreign-born population | % of total |
| 1950 | 7.89 | 1.86 | 24% |
| 1970 | 7.89 | 1.44 | 18% |
| 1980 | 7.07 | 1.7 | 24% |
| 1990 | 7.32 | 2.1 | 28% |
Balancing this population loss was wave after wave of newcomers, both domestic and foreign-born, which kept the City's population relatively stable compared to most older American cities. Between 1940 and 1960, agricultural modernization led to massive migrations from the American South and Puerto Rico. Overall, between 1940 and 1970 the City's African American population jumped from 458,000 to 1,668,000. Puerto Rican immigration peaked in 1953, and by 1960 613,000 New Yorkers (almost 8% of the City's total population) had been born in Puerto Rico or had a parent born there.
Immigration in New York reached its peak in the early 1900s (in 1920 76% of the City's population was either foreign born or of foreign parentage), but at mid-century, New York was no less a city of immigrants. New York's first post-WWII mayors, William O'Dwyer and Vincent Impellitteri, were both foreign-born. When the Board of Transportation raised subway fares in 1948, it advertised the changes in English, Italian, Russian, German, Greek, Polish, Yiddish, Spanish, and Hungarian newspapers.
NYC Population by Race, 2000
White: 4,313,947
Black: 2,354,964
Hispanic: 1,783,511
Asian: 478,925
Hispanic Population in NYC, 2000
Puerto Rican: 876,763
Mexican: 61,722
Cuban: 56,041
Other: 768,985
The great trigger for post-WWII immigration was the 1965 Hart-Celler Act, which loosened annual quotas for countries in the Eastern Hemisphere and, for the first time in U.S. history, set limits on countries in the Western Hemisphere. Immigration patterns changed almost immediately. Between 1950 and 1965, 63% of all legal immigrants came from Europe and Canada. From 1965 to 1977, that number dropped to 30%, while immigration from Asia rose by more than 20% and immigration from the Caribbean and Central and South America almost doubled.
WHO'S A CITIZEN?:
How New York's millions of foreign-born residents and their families assimilate into city life is one of New York's great, infinitely varied stories. One measure of this process is obtaining U.S. citizenship. Nationwide, according to INS statistics, 53% of immigrants who arrived in the country in 1977 had naturalized by 1997. Generally, those who live near their home countries are less likely to seek U.S. citizenship. Asians, for instance, are more likely to naturalize than Hispanics. (69% of immigrants from China in 1977 had naturalized by 1997; 38.1% from the Dominican Republic had done so.) In New York, about 40% of white, Black, and Asian voting-age immigrants have naturalized, while only about 30% of Hispanics have done so.
Of course, seeking citizenship is no easy matter. Since 1996, when President Clinton pushed through changes to immigration policy that cut off benefits to non-citizens, the INS has received a crush of naturalization applications, creating nightmarish backlogs. In 1995, about half of nearly 1 million applicants were naturalized. In 1997 the number of applicants jumped to 1.4 million, but only 600,000 were naturalized.
It is estimated that 1.15 million voting-age, post 1965 immigrant non-citizens are eligible to become citizens and register to vote. If they did so, they would expand the electorate by one-third.
WHO VOTES?:
As a general rule, the more money and education you have, the more likely you are to vote. Not surprisingly, the highest turnout rates in New York City are in high income, white districts (the Upper West and East Side and the South Shore in Staten Island). In 1997, whites constituted about 40% of the City's voting age population and about 60% of the actual electorate. This white voting majority is likely to shrink, as more recent immigrants naturalize and as the white voting population ages. 63% of NYC voters who are senior citizens are white; only 39% of voters aged 18-64 are white.
Contrary to conventional wisdom, voter turnout is also relatively high in Harlem, the South Bronx, and Central Brooklyn†generally low-income, minority districts. Both local and national records, when adjusted for income and education, show that Blacks are more likely to vote than whites.
Registered Voters in New York City
1999: 3.36 million
1996: 3.53
1980: 2.24
1952: 3.53
Among immigrant populations, the most important factor in predicting voter turnout is how long residents have lived in the U.S. Native-born Americans are more likely than naturalized citizens to vote, and an immigrant who fled the former Soviet Union in the 1970s is more likely to vote than his counterpart who arrived only a few years ago.
In general, West Indian, Dominican, and Italian immigrant neighborhoods turned out to vote in numbers higher than the overall citywide average. Turnout in Chinese and Russian neighborhoods was relatively low, despite high naturalization rates among Chinese immigrants and even in relatively well-off Russian households.
Turnout was extremely low among the City's Puerto Rican population, virtually all of whom are eligible to vote; in immigrant enclaves (Washington Heights, Crown Heights, Jackson Heights); and in lower middle class white ethnic neighborhoods (Bensonhurst, Midwood, Canarsie, Flatlands, Woodside).
NYC Voting Age Population (18+), 2000
| | | |
| --- | --- | --- |
| | Population | % of total |
| White | 2.24 | 39% |
| Black | 1.44 | 25% |
| Hispanic | 1.60 | 28% |
| Asian | .481 | 8% |
| Total | 5.78 million | 100% |
Eligible voters in NYC, 2000
| | | | |
| --- | --- | --- | --- |
| | | % of total | % of total within race |
| White | 1.84 | 44% | 82.3% |
| Black | 1.14 | 27% | 79.3% |
| Hispanic | 1.02 | 24% | 63.7% |
| Asian | .227 | 5.4% | 47.3% |
| Total | 4.2 million | 100% | 73.4% |
Visit the IOTW Archives!
WHADDAYASAY?? GothGaz wants to know what YOU say about this issue. Fire away!