New York's Death Penalty
by Gail Robinson
21 August 00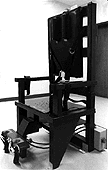 Darrel Harris, a former New York City corrections officer convicted of killing three people during his robbery in 1996 of an unlicensed Brooklyn social club, was the first to enter New York State's new Death Row. He was slated for lethal injection two months after his arrival in July, 1998. He would then have become the first person executed in New York State since August 15, 1963.
Harris did not die. He is still on Death Row, and he may well become the first one there to be executed. But that is unlikely to happen before 2008 -- if then.
That is because the average time between sentencing and execution in the United States is 9 1/2 years.
So Harris waits. Meanwhile, four other men have joined him on death row. And more are arriving. Last week, a Suffolk County jury gave the death penalty to Nicholson McCoy, whom it convicted of murdering a co-worker. And Queens District Attorney Richard Brown is weighing whether to seek the death penalty for John Taylor and Craig Godineaux, two men accused of killing five people in May at a Wendy's restaurant in Flushing.
Until now, New York was largely removed from the latest controversies surrounding executions in America, partly because no one has yet been put to death under the state's new capital punishment law, and partly because that new law, some experts say, has been crafted to avoid those controversies. But it may soon start looking like other states.
ELSEWHERE IN AMERICA
After the Supreme Court effectively voided all death penalty laws in 1972, 38 states and the federal government enacted new capital punishment measures that their legislatures believed addressed the court's concerns. As of early August, a total of 654 people had subsequently been put to death, according to the Death Penalty Information Center. The nation's busiest death chamber by far is in the state of Texas, which earlier this month executed two men, one of them mentally retarded, within half an hour of one another. They were the 27th and 28th to be executed in Texas so far this year.
A Gallup Poll found two-thirds of Americans endorse the death penalty. They accept the argument of the Pro-Death penalty web site, that executions provide a deterrent and are the only way to ensure that brutal murderers not be set free to kill again.
Opponents of the death penalty, such as the American Civil Liberties Union, Amnesty International, and Campaign to End the Death Penalty hammer away at capital punishment, arguing that it is not a deterrent, can result in innocent people being put to death, and is immoral, inhumane and costly. They charge that blacks and Hispanics are more likely to be put to death than whites and that many defendants don't receive adequate legal representation.
Meanwhile, Illinois Governor George Ryan placed a moratorium on executions in his state, noting that 13 people sentenced to be executed there had been exonerated before any execution was carried out. A Columbia Law School study examined every capital conviction between 1973 and 1999 and found serious mistakes in two thirds of them.
NEW YORK'S "MODEL" LAW
For 18 years, as other states adopted capital punishment laws, New York governors vetoed them. That changed on March 7, 1995 when Gov. George Pataki signed the measure, declaring it an important step toward fighting crime. Since then, supporters of the death penalty have credited it with helping to reduce New York's murder rate, which fell by more than 40 percent between 1995 and 1998, according to the state Division of Criminal Justice Services.
New York's tardiness in enacting capital punishment helped shape the law, says Pauline Toole, spokesperson for the state's Capital Defender Office. "Lawyers drafting this legislation said we're going to learn from [other states'] mistakes." And Attorney General Eliot Spitzer has written that New York "has shown how a state can taken positive steps to ensure that when the death penalty is applied, it is applied fairly and is warranted."
New York's law allows for execution of people convicted of first degree murder -- intentional murder with one or more of 10 aggravating factors such as the victim's being a police officer or a witness, or the murder being committed during the commission of another serious felony.
The district attorney of the county where a crime is committed decides whether to seek the death penalty, life without parole or a lesser sentence. If the death penalty is involved, the jury first judges guilt then determines the sentence, weighing the crime against anything that might "inspires sympathy, compassion or mercy for the defendant".
If the jury cannot reach a unanimous verdict on execution or life without parole, the judge sentences the defendant to life imprisonment with a minimum of 20 to 25 years.
Death-penalty convictions are automatically appealed to the state's highest court. And those on death row are also entitled to a post-conviction hearing on DNA testing if it's thought that such results might affect the verdict.
DEFENSE TACTICS
Key to the law is New York's unique Capital Defender Office which becomes involved in a case as soon as the district attorney indicates that a death penalty is under consideration. So, even though Wendy's defendant Taylor may never actually go on trial for his life, he is already represented by the Capital Defender. The office arranged for the Legal Aid capital crimes unit to defend Godineaux.
Such early intervention, says Toole, protects the defendant's rights and insures the defense is involved in the early days of the investigation. And one of the office's main jobs is to stop the state from seeking an execution.
When a death-penalty case goes to appeal, the office handles that or arranges for someone else to.
THE SCORE SO FAR
Since 1995, New York state's district attorneys have notified the Capital Defender Office that they were considering the death penalty in a total of 562 cases, says Toole. In 41 cases, they actually sought it. Five people are on death row, one is going there soon, and another five cases are either in trial or awaiting trial. Six defendants were sentenced to life without parole, and two bargained to lesser sentences during or after trial. Of those that did not get to trial, there was one suicide and three cases where the prosecutors withdrew the penalty, while 18 defendants pled to less than the death penalty. Harris is the only black resident of death row. Three others are white and one Hispanic. Of the five people whose death-penalty cases are pending, four are non-Hispanic blacks. Godineaux and Taylor are also black.
Although convictions in some or all of those cases could tip the racial balance on death row, the bias in New York State's capital punishment law so far, critics say, is what they call "discrimination by location." Some district attorneys appear far more likely to seek executions than others.
Charles Hynes, the Brooklyn DA has asked for it seven times, the DAs in Manhattan, the Bronx, and State Island have never requested an execution. The death penalty was sought in Queens, where Brown is now weighing the Wendy's decision, four times (twice against the same defendant), but never handed down.
Of the men now on New York's death row, one -- Harris -- is from Kings County, one from Monroe, and one from Onondaga. But, with Nicholson McCoy's sentencing last week, now half of those facing execution in New York are from Suffolk County.
Critics such as attorney Joe Nursey says such discrepancies arise because "the death penalty is part of the political process, not the criminal justice system."
A spokesperson for Pataki says that he had not addressed the issue of whether there is discrimination by location in New York, but, she adds, he expects all district attorneys to uphold the capital punishment law. In 1996, Pataki removed removed Bronx DA Robert Johnson from the case of Angel Diaz, who was accused of killing a policeman, after Johnson said he would not seek the death penalty in the case. (Diaz committed suicide before the case could go to trial.)
Although his action was upheld, Pataki has not removed any other DA from a murder case. While the death penalty law has not resulted in any executions, it has been expensive. Toole says a defense in a death penalty case can cost as much as $1.6 million -- without all the appeals. Between 1995 and 1999, the prosecution and defense in all New York death penalty cases was estimated to have cost $68 million. Simply preparing 24 copies of Harris's 22,000-page trial transcript cost almost $45,000.
Perhaps with high costs in mind, Chief Judge Judith Kaye has cut the fees private lawyers receive in capital cases to $100 an hour for lead counsel between the time of arrest and a determination to seek the death penalty, and to $125 an hour after. This is nearly half what it was before. The cut is facing a legal challenge.
STATUS QUO
Aside from changes in fee, for now, major changes in New York's death penalty law seem unlikely. And Darrel Harris is likely to sit in death row for another decade.
OTHER SOURCES
Cornell Law Death Penalty Project: Updates and links to a variety of other sources, including legislation and legal decision.
New York State Defenders Association: Includes a page on the death penalty, with a focus on New York.
U.S. Department of Justice: Federal Crime Statistics.
###
Visit the IOTW Archives!
WHADDAYASAY?? GothGaz wants to know what YOU say about this issue. Fire away!