Turning To Faith-Based Organizations
by Peter Mickulas and Mark Berkey-Gerard
18 December 00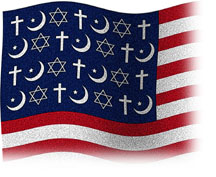 Reverend Dr. Cheryl Anthony and her church, Judah International Christian Center, have been helping the poor find jobs in Brooklyn for years. The difference is that now the city is paying them to do it.
Last spring, the city contracted with Judah International and 15 other churches, as well as the United Jewish Organizations of Williamsburg, in an effort to get welfare recipients into city job programs. The city pays churches several hundred dollars for each client who attends a time management class or enrolls in job training.
It is part of a new $1.9 million dollar pilot program and represents New York City's attempt to enact the "charitable choice" provision of the 1996 federal welfare reform legislation that encourages religious institutions to play an active role in delivering social services.
But the program has already raised questions from city leaders and the religious community: Can faith-based organizations do a better job than government? What issues of separation of church and state do these partnerships raise? Is the government dumping the problems of the welfare system on religious institutions that are not equipped to handle them?
The issues in New York City are playing out across the country as churches, synagogues, and mosques assume increased responsibility for providing services such as affordable housing, education, emergency food, and job training. President-elect George W. Bush has been a leader in implementing these programs in Texas, and promises to promote them at a national level.
Some of the traditional responsibilities of government are being transferred to religious congregations, who may or may not be prepared for the role.
CITY CHURCHES AID WELFARE-TO-WORK
The number of people on public assistance in New York City has decreased by over 82,000 in the last year. The overall caseloads have been cut in half since 1995. Some of these people have gone on to jobs created by welfare-to-work programs or regular jobs, while others have fallen out of the system. Now, the city is hoping local churches can get those people back.
The pilot program, administered by the Human Resources Administration, focuses on "non-compliant" workfare families who have missed appointments, not shown up for jobs, or simply do not understand how to navigate the system. Churches are being asked to call, write, and visit these workfare clients in hopes that they will re-enroll in city job programs.
Rev. Anthony, who presented her own faith-based welfare-to-work model to the city last year, says she and her church are "cautious participants" in the new program.
"With all of the things we can provide, this plan is limited in scope," said Rev. Anthony. "We're providing the services we've been asked to provide. But these people need more."
Anthony also noted that the money from the city does not cover the cost of the services, so churches end up paying the difference. But there are other concerns with the city plan as well.
According to the churches, the city contracts also contain a "gag order" that states that congregations must clear any public evaluation of the project with the Human Resources Administration. Some say this places religious organizations in an uncomfortable role.
"Churches feel caught between being advocates for the people they serve and being contractors for the city," said Cathlin Baker, co-director of the Employment Project, an anti-poverty group in the city.
Also at issue is that city officials never publicly announced the plan. According to watchdog groups, this violates the city's own competitive contracting procedures.
"The process has been intentionally shrouded in mystery by the Human Resources Administration," said Glen Pasanen, associate director of the City Project.
"This [plan] is in complete violation of city contracting rules," said Councilmember Kathryn Freed. "And you won't find a gag-order like this in any other city contract, which means they are trying to hide what they're doing." The Human Resources Administration has declined to comment.
In part, these controversial issues arise from the nature of charitable choice. It is a concept that leaves many of the details up to state and local governments.
CHARITABLE CHOICE IN THE HISTORY OF RELIGIOUS SERVICES
Of course, government cooperation with religious institutions is nothing new. For years, non-profits have run soup kitchens, operated after-school programs, and provided clothing and shelter for the homeless with the help of government grants.
And charitable endeavors have been associated with religion for centuries.
In the aftermath of the Civil War, Northern societies linked to churches established schools and relief organizations to aid millions of former slaves. At the turn of the century, religious groups set up missions in urban neighborhoods to aid new European immigrants, offering basic charity along with spiritual education.
With the Great Depression, the ultimate burden of public services began to shift toward government, with a particularly strong role for federal agencies. From Franklin D. Roosevelt's "New Deal" of the 1930's to Lyndon Johnson's "Great Society" programs of the 1960's, the government was largely responsible for the nation's social safety net.
The era of a dominant government role in social services came to an official close in 1996, when the Republican-controlled Congress passed - and President Clinton signed - welfare reform legislation that ended guaranteed federal assistance and created new ways for government funds to be dispersed.
Charitable choice represents the final step in that process. Section 104 of the 1996 Personal Responsibility and Work Opportunity Reconciliation Act allows for houses of worship to compete directly for government contracts without having to set up a separate non-profit.
While welfare reform made charitable choice into law, the 1993 book, The Tragedy of American Compassion by Marvin Olasky, catapulted the idea into the public consciousness. Olasky's premise is that real compassion must be personal, transforming, and spiritual. Without an element of spirituality, it cannot be effective. He thus contends that faith-based organizations should be the primary service provider of human services in the United States, because only they can meet the spiritual needs.
A NATIONAL, BI-PARTISAN PROPOSAL
When George W. Bush coined his catch phrase "compassionate conservatism" it was more than just a way to convey a more moderate image of Republicans. It is rooted in Bush's leadership in implementing charitable choice.
From the Texas Governor's mansion, Bush charged a "Faith-based Task Force" to identify obstacles to faith-based groups, and recommend ways to create "an environment in which these groups can thrive, free of regulations that dilute faith." The result was the 1996 "Faith in Action Report," in which over a dozen clergy and volunteer leaders compiled a set of recommendations for achieving the governor's goal of an increased faith-based presence in social services.
Thus, Texas became the first state to enact charitable choice legislation.
By the time Governor Bush was fully engaged in the bid for the presidency, the conclusions of his faith-based commission and the recommendations of author Marvin Olasky became a vital part of his national campaign platform.
But this is not just a Republican agenda. Democrats, including Vice President Al Gore, have also advocated funding for faith-based organizations.
WHAT ABOUT THE SEPARATION OF CHURCH AND STATE?
Those traditionally wary of mixing government and religion have grown increasingly troubled by the bipartisan support for religious social services.
"The whole issue of faith-based organizations as purveyors of governmental welfare programs violates the First Amendment," said Mark Landis, Professor of Political Science at Hofstra University.
Some organizations have even tried to block such partnerships, citing a 1971 Supreme Court case that ruled that "excessive government entanglement" with religion violates the Constitution.
Sometimes, critics say, religious beliefs may be in direct competition with specific services.
A recent report on the mergers of Catholic and secular hospitals reported that of the 43 mergers of Catholic and secular hospitals nationwide in 1998, almost half involved an elimination of some or all of their reproductive services. Hospital staffs at Catholic-run institutions, the report states, have been routinely prevented from discussing abortion procedures or birth control options with patients.
But others argue there is a way for governmental cooperation with faith-based service providers that does not violate the Constitution.
In the view of University of Missouri law professor Carl Esbeck, it is the end result that must be measured. The court only has to "examine the outcome of the welfare program with an eye to determining whether the public purpose is being served by the social service provider," said Esbeck.
WHO DOES IT BETTER?
Proponents maintain that faith-based organizations, because of their sense of mission and beliefs, provide better services than government. It is also that they are more efficient in part because they can pay staff less or use volunteers. While this may be a widely held sentiment, comprehensive assessments of how congregations fare are difficult to make because services vary with each institution.
Many academics and research institutes say the services of religious groups, although good, are limited.
In New York City, where 93 percent of religious congregations offer some kind of social service, programs like food pantries, musical performances, and clothing drives are most common.
A study sponsored by the Lilly Endowment had similar findings. The foundation provided $600,000 in annual grants to 40 religious organizations in the Midwest to create an array of programs devoted to housing, hunger, education, employment, and health. The results showed that only two types of services--food pantries and educational programs--were regularly established.
Even the people in the congregations studied believed that hunger programs such as soup kitchens and food pantries were only short-term solutions while employment and health programs would be better provided by secular organizations.
CAN RELIGIOUS INSTITUTIONS HANDLE THE JOB?
While many clergy and religious leaders have been advocating for more direct help from the government for churches, others question if they have been co-opted by government.
Bread-for-the World, a faith-based hunger initiative has estimated that in order to shoulder social-service programs government has carried, the budget of an average church, synagogue, and mosque, which now is about $100,000, would have to more than double, to $225,000.
Earlier this year, a group of New York clergy gathered at the Federation of Protestant Welfare Agencies meeting and expressed concern at the tendency of politicians to view faith-based organizations as the answer to welfare.
"Welfare reform [is] the cruelest hoax for poverty-stricken individuals, many of whom are destitute for help," said Rev. William Greenlaw, Rector of Holy Apostles Church in Chelsea and director of the largest emergency food provider in the city.
Dr. Stanley W. Carlson-Thies, from the Center for Public Justice argued that charitable choice helps churches address this need. "Charitable Choice encourages government to work with churches and churches to seek public funding," said Carlson-Thies.
Cathlin Baker, who works with churches in the New York City pilot plan to enroll people in workfare programs, thinks the city has gone too far.
"There's a difference between providing social services and being an extension of the welfare system," said Baker. "It's also a question of who determines the direction and tasks of the program." In this case, Baker says, the churches are carrying out the agenda of the city.
ARE FAITH-BASED SERVICES HERE TO STAY?
Given the political climate, faith-based organizations appear poised to assume an even greater role in constructing the city's, and nation's, social service network. But it is not just government that is leaning more heavily on faith groups. The Walt Disney Corporation recently donated $800,000 to the programs of a Los Angeles church and prominent charitable foundations are sponsoring partnerships between religion and general humanitarian endeavors.
In New York City, Rev. Anthony says it is difficult to predict the future of these partnerships, in part because it's been kept a secret.
"We still have not received a clear message on what the governor's or the mayor's position on charitable choice is," said Anthony. "We think they're waiting to see what happens. I'm afraid that if the program works out, they will say they are in favor of it. If it doesn't, then they'll say that's why they were against it."
In the end, it may be individual churches, not the government that decides what works and what does not.
"We're going to do the work and provide the services, whether the government pays us or not," continued Anthony. "We hope the city will respect our work and compensate us accordingly."
Other Resources: