The State of Gay Rights in New York
by Andy Humm
19 June 00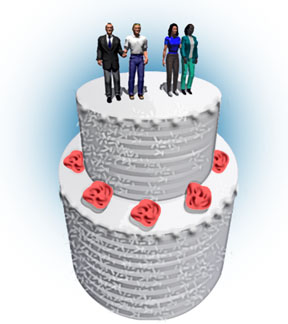 When supporters of gay rights march in cities throughout the world every June, as they will again this week, they commemorate the 1969 rebellion at Greenwich Village's Stonewall Inn, where the patrons fought back for three nights against a routine police raid on that gay bar.
In some ways, the lesbian, gay, bisexual, and transgender movement (as it is now called) has advanced greatly in the United States. The three major automakers have just extended benefits to the partners of their gay employees, many of the top-rated shows on television feature major gay characters, and there's now even an official gay caucus of the Central Intelligence Agency. "People increasingly understand that the prejudice against gay people is just silly," gay Congressman Barney Frank told the New York Times after speaking to that group.
But despite New York's distinction as the birthplace of the modern gay movement, and its reputation as a haven, advocates for gay rights see the city and state as lagging behind much of the country in its legal protections and political support.
GAY RIGHTS AND HATE CRIME
Virtually every state in this region except New York forbids anti-gay bias in jobs, housing, and public accommodations. But the New York State gay rights bill, first introduced in 1971, remains a bill, not a law. The Democratic Assembly finally passed it in 1992, after the election of out lesbian Assembly Member Deborah Glick (D-Village), but the Republican Senate then killed it. The Assembly has passed the bill every year since, including this month in a vote of 113-31, suggesting that in the year 2000 these lawmakers no longer view the bill as controversial. But the Senate is not expected even to allow a vote on this amendment to the State's human rights law.
Though New York City was the first place in the country to propose adding sexual orientation to a list of protected categories in 1971, the city gay rights bill did not pass until 1986, long after Washington's, San Francisco's, and even Buffalo's. Omitted from the law 14 years ago was protection from discrimination for transgendered people. Due to the emergence of groups like the New York Association for Gender Rights Advocacy, and reports of a sharp increase in "Boys Don't Cry"-like violence against the transgendered, City Council is considering an amendment to the human rights law that would have New York join the two dozen cities and the state of Minnesota that already ban discrimination against them. As reported by New York Blade News ("Basic Rights," June 9), the bill has 22 sponsors.
A hate crimes bill did finally make it into law this year, when Senate Majority Leader Joseph Bruno (R-C-Saratoga Springs) permitted his members to vote on the bill, which was first proposed in response to the Howard Beach racial killings in the late 1980s. The Conservative Party and the Catholic Conference had opposed the legislation in part because it included the category of sexual orientation in addition to race, gender, and religion. But after the election in 1998 of Tom Duane (D-Chelsea) as the first openly gay member of the Senate, and with Republicans less sure of retaining their majority this fall--especially in light of Nassau's legislature having a Democratic majority for the first time in decades--the bill was allowed a vote, and passed 48-12. The national outrage over the bias killings of gay student Matthew Shepard in Wyoming and African American James Byrd in Texas in 1998 were also said to contribute to forcing the Senate's hand on this issue. "It was a disgrace that it took eleven years to pass it," said Matt Foreman, director of the Empire State Pride Agenda, a state-wide gay-rights group that lobbied hard for the bill.
PROTECTING GAY STUDENTS
Duane is also pushing for the Dignity for All Students Act, modeled after similar legislation in Massachusetts and California, "to provide a safe environment for all students and school personnel no matter what their race, religion, sexual orientation, etc." It would mandate every superintendent in the state to assign someone in every school to the task of dealing with bias complaints. The bill passed the Assembly Education Committee, but is not expected to get much further this session.
SAME-SEX MARRIAGE AND CIVIL UNIONS
The biggest gay-related debate throughout the country right now is over government sanction of same-sex relationships. Vermont has gone the furthest, establishing "civil unions" for gay couples that confer almost all of the rights to which a married man and woman are entitled, though stopping short of full legal marriage.
New Yorkers may travel to Vermont for the civil ceremony as of July 1, but there is some question as to what legal weight it will carry back home. The federal government enacted the "Defense of Marriage Act" (DOMA) in 1996 when it looked as if Hawaii might give same-sex couples marriage licenses. It barred federal recognition of legal same-sex marriages performed in any state and gave the other states the right not to honor such a contract. Thirty-two states have passed laws barring recognition of same-sex marriages performed in other states, even though no state or nation allows gay couples to obtain a marriage license. (Holland will likely be the first in 2001.) A New York version of the Defense of Marriage Act is pending in Albany, but has not had a vote in either chamber. But no state has addressed how they will grapple with the relationships that Vermont has sanctioned, according to Lambda Legal Defense.
New York City started to recognize domestic partners for the purposes of hospital and prison visitation toward the end of the Koch administration. Mayor Dinkins set up a registry for domestic partners, but didn't settle a suit by city employees seeking benefits for same-sex partners until just before losing re-election in 1993. That settlement gave the partners of municipal workers most of the benefits accorded to spouses. And in 1994, the Council and Mayor Giuliani codified those rights. Christine Quinn (D-Chelsea), one of three out gay or lesbian Council Members (along with Democrats Phil Reed of Manhattan Valley and Margarita Lopez of the Lower East Side), proposes that the city go further by requiring contractors with the city to provide domestic partner benefits if they provide spousal benefits. San Francisco adopted such a law several years ago and it led to hundreds of U.S. corporations extending such benefits to their employees. But Giuliani and Speaker Peter Vallone publicly so far neither support nor oppose Quinn's proposal.
WHERE THE MAJOR POLITICIANS STAND
The first time that the seminal Gay Activists Alliance held a candidates forum in the early 1970s, only two pols showed up. As veteran activist Ethan Geto recalled, one of them started by saying, "I just want you to know, that I got no problem-with your problem." Now, most serious candidates competed for the gay vote. It was a key constituency for Mayor Koch in 1977, but his perceived inaction in the face of the AIDS crisis lost him the gay vote in 1989 to David Dinkins.
Giuliani won the white gay vote when he was re-elected in 1997 despite running against Ruth Messinger, one of the most fervent supporters of gay rights in the city's history. He had come out for enough gay issues to satisfy many gay voters who liked his toughness on crime. (Gay people of color voted against him overwhelmingly, losing him the gay and lesbian vote overall.)
But not every politician has come around. The Conservative Party still opposes gay rights. Michael Long, its leader, said that his people "feel that this is not a correct form of lifestyle, but the party is not filled with haters or those who have disdain for gay people."
Even many politicians who are on record as supporting some form of gay rights find it difficult to ignore the politically strategic Conservative Party, nor even more the strong influence in both the state and the city of the religiously orthodox. John Cardinal O'Connor opposed every gay-related bill on the city and state level in the 16 years of his tenure. His successor, Archbishop Edward Egan, was bishop of Bridgeport when Connecticut passed its gay rights law in 1991. But at his first press conference after his appointment in New York, Egan said he couldn't recall his position on that law and dodged a question on where he stood on the similar New York bill. Indeed, Egan is one of six bishops on the Clerical Advisory Board of the Catholic Alliance, an organization that opposes gay rights legislation as anti-family.
Social discomfort more than religious conviction may help explain why U.S. Senator Chuck Schumer and both Hillary Clinton and her opponent Rick Lazio all outright oppose same-sex marriage, though the Democrats say they would extend every benefit of marriage to gay couples as long as it is not called "marriage."
Three of the four leading candidates for mayor in 2001--Comptroller Alan Hevesi, Public Advocate Mark Green, and Bronx Borough President Fernando Ferrer--support same-sex marriage and the "contractors' bill" that would compel those who do business with the city to provide domestic partner benefits. The other, Speaker Vallone, opposes gay marriage and won't take a stand on the contractors' bill. He also marches in the St. Patrick's Day Parade, which has excluded the Irish Lesbian and Gay Organization for ten years. (Ferrer, Green and Hevesi all boycott the St. Pat's parade, because of this exclusion, as does Schumer.)
Still, Vallone has come a long way since his opposition to the gay rights bill in 1986. He now marches in the gay pride parade. The First Lady is expected this year, too.
OTHER RESOURCES:
Andy Humm is the editor of Social Policy magazine, a writer for LGNY and the Village Voice, and co-host of "Gay USA" on the Gay Cable Network
Visit the IOTW Archives!
WHADDAYASAY?? GothGaz wants to know what YOU say about this issue. Fire away!