Gay Rights In NYC, 2001
18 June 01
by Andy Humm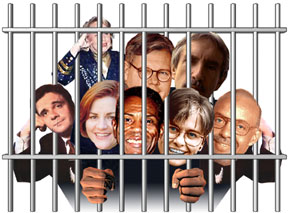 While New York culture sometimes seems as if it could hardly be more gay and lesbian, its gay politics still lag far behind the rest of the northeast despite some major signs of progress in Albany in the past year.
In March, New York magazine did a "Gay Life Now" cover story and had trouble whittling down a "gay power" list to just 101 gays and lesbians of influence and accomplishment, which included playwright Edward Albee, architect Philip Johnson, producer Scott Rudin, artists Jasper Johns and Robert Rauschenberg, real estate developers, political operators, publishers, editors, judges, a member of the New York Stock Exchange.
Gossip columnist Liz Smith finally came out of the closet and the gay lives of celebrities were covered by the tabloids more than ever before. The host for the Tony Awards was an out gay actor, Nathan Lane, who hung all over and declared his love for his married co-host and Producers co-star, Matthew Broderick. (You couldn't swing a dead cat without hitting an out gay or lesbian Tony nominee, including Lily Tomlin, Andre de Shields, Terrence McNally and a cadre of choreographers and designers.)
Huge lesbian and gay pride marches take place not just in Manhattan (June 24) on Fifth Avenue, but are big events in Jackson Heights, Queens (June 3), Park Slope, Brooklyn (June 9), and the Bronx (July 21). (There is no march on Staten Island where Borough President Guy Molinari once called Judge Karen Burstein, the Democratic candidate for NY State Attorney General, "unfit for public office" because she is lesbian.) There are record numbers of lesbians and gay men running for public office this year. Virtually every candidate for mayor has made a strong pitch for the gay vote. And yet New York will never be mistaken for San Francisco in terms of the clout.
BREAKTHROUGH IN ALBANY?
This spring, Maryland became the 12th state to enact civil rights protections on the basis of sexual orientation. New York remains the only state in the region without such protections, though the New York City passed its gay rights law (also belatedly for a major city) in 1986.
Last year, the first piece of New York state legislation with the words "sexual orientation" in it, a hate crimes bill, got through the Republican-controlled State Senate after years of overwhelming support from the Democrat-dominated Assembly. This year, gay lobbyists are cautiously optimistic that the Sexual Orientation Non-Discrimination Act (SONDA), banning anti-gay bias in jobs, housing, and public accommodations, will finally pass after thirty years. It cleared the Assembly by a record 113 to 31 vote in February, but has yet to have a full Senate vote.
"Nothing is done in Albany until it is done," said Matt Foreman, executive director of the Empire State Pride Agenda (ESPA), who is also a grand marshal in this years gay pride march. But he is hopeful because he believes that Republicans have learned "being supportive of gay rights has no downside at the polls."
"Everything in Albany is mysterious," echoed gay State Senator Tom Duane (D-Chelsea), "but I feel that were going to get SONDA passed this yearor definitely next year."
Whats changed? The state Republican Party has a new leader, Sandy Treadwell, who is reaching out to the gay community. And the Empire State Pride Agenda has put the lobbying firm of William Powers, his predecessor as Republican state chairman, on a $90,000 retainer to help get a gay rights bill through the Senate.
Governor George Pataki , who first ran for governor in 1994 opposed to gay rights, stated for the first time this year that he would sign SONDA if it comes to his desk. Not yet at 50 percent in the polls and up for reelection next year, Pataki "realizes that this is a good position to take if he wants to appeal to moderates," said Duane. And Senate Majority Leader Joseph Bruno, once a virulent opponent of gay issues, extended domestic partner benefits for Senate employees this year. In a January radio interview, Bruno said, "You get more comfortable with some things and some issues, and I guess thats where I am."
The stumbling blocks to Republican cooperation on gay rights used to be the Conservative Party and the Catholic Conference, representing the states bishops. The Conservatives still take six anti-gay stands among its nine "Family Rights" issues, but none of these are listed among the partys 19 "priorities" for 2001. The bishops also have not changed their stand, but Foreman sees them as more focused on fighting late-term abortion and an insurance law that would require coverage of family planning. He also notes that no Republican Senator needed Conservative line votes to prevail in an election last year.
The gay lobbying group is also pushing Duane's Dignity for All Students Act which calls upon schools to create safer schools for all students, including gay, lesbian, bisexual, and transgender students. Similar measures have enjoyed success in Massachusetts and California, but while the Assembly may yet pass it this year, no Senate vote is expected.
Even if the state gay rights law does pass this year, New York is still far behind neighboring Vermont in recognizing same-sex relationships. Last year, Vermont instituted "civil unions" that accord gay couples virtually every right that sex discordant spouses enjoy. Duane has introduced a same-sex marriage bill in the state legislature, but even the Marriage Equality lobby group here doesnt expect immediate action on that or a civil union compromise. But legislation in Albany to ban recognition of same-sex marriagespassed by most stateshave not gone anywhere in New York either. Many New York couples went to Vermont to obtain civil unions, but the validity of their licenses has not been court tested here yet.
The Netherlands became the first nation to recognize full marriage rights for same-sex couples just this April, but at least one member must be a Dutch citizen. Eventually, a Dutch same-sex married couple may seek full recognition of their marriage here, but so far weve only had some gay honeymooners.
Deborah Glick (D-Greenwich Village) , the first out lesbian or gay Assembly Member when she was first elected in 1991, is worried about the state budget. "It is not clear the Governor wants a budget," she said, "and money for many of the support services for gay/lesbian and AIDS groups arent there yet. The community could suffer a real setback."
DOMESTIC PARTNERSHIP AND TRANSGENDER RIGHTS IN NYC
New Yorkers have been able to register as domestic partners since January 1993 and city employees won benefits for their domestic partners in a court settlement later that year. A 1998 law codified those rights. But New York has yet to follow the lead of cities such as San Francisco and Seattle that require contractors with the city to provide domestic partner benefits if they provide spousal benefits.
While transgendered San Franciscans are protected by their citys human rights laws and city employees can get gender reassignment surgery covered under their health plan, New York has yet to enact such policies. Councilmember Christine Quinn (D-Chelsea) said that the Council has made "some positive steps" on these issues in 2001"having a hearing on a transgender rights bill [in the General Welfare Committee last month] and getting a commitment from the leadership for a hearing on the equal benefits bill which would mandate that any company with contracts with the city for over $100,000 provide domestic partners the same benefits that they provide spouses."
Mayor Rudy Giuliani and Speaker Peter Vallone take the position that transgendered people have protection in the existing human rights law under the categories of gender and disability. But transgender activists and Council sponsors of Intro 754 insist that it is necessary explicitly to add the category of "gender identity, self-image, appearance, behavior or expression." Though the bill has 27 supporters, no vote is scheduled.
The contractors bill may be supported "in principle" by Giuliani and Vallone, but they have taken no action to enact it. It means taking on large corporations who have yet to join the many who already provide domestic partner benefits, as well as religious contractors who have traditionally opposed anything that hints of extending gay rights. But the Archdiocese of San Francisco kept their contracts simply by allowing employees to name one other person to share in their benefits, without specifying domestic partners. Transgender activists in New York are also increasing their visibility in responding to the murder of Amanda Milan, a 25-year-old African American transgendered woman, last June in front of the Port Authority. The trial for her murderers gets underway in Manhattan on June 18. A vigil is planned the night before and court monitoring will continue through the proceedings.
CAMPAIGN 2001: GAY VOTES, GAY CANDIDATES
The gay and lesbian caucus of the City Council already includes Christine Quinn, Margarita Lopez (D-Lower East Side), and Phil Reed (D-Manhattan Valley) and they are all running for re-election. Quinn in the Village/Chelsea/Hells Kitchen/Midtown District 3 has an out gay opponent, AIDS activist Victor Mendolia, and gay candidates are seeking seats in Lower Manhattan's District 1 (attorney Brad Hoylman), the Upper West Sides District 6 (school board member Larry Sauer), and Jackson Heights District 25 (community activist Jimmy Van Bremer).
No candidate for mayor can afford to ignore the gay electorate, and the Democratic hopefuls have been particularly active in courting it. Comptroller Alan Hevesi came away with the most gay Democratic club endorsements, though Public Advocate Mark Green has a substantial following among gay activists. When Bronx Borough President Fernando Ferrer did not pick up any endorsements from the big gay clubs, a group of gay people of color coalesced around him and is preparing to form a distinct Democratic club for gays of color. In 1997, Giuliani narrowly won the white gay vote over Ruth Messinger, but lost the overall gay vote because gay people of color overwhelming went with Messinger. Council Speaker Peter Vallone has gamely sought out gay endorsements in forums this spring and features a whole page on gay/AIDS issues on his website. But his hesitation on issues such as same-sex marriage and the contractors bill has seemed to remind gay voters that while he has grown since voting against the lesbian and gay rights bill in 1986, he still has a way to go.
The gay Log Cabin Republican Club has two moderately pro-gay candidates to choose from in Michael Bloomberg and Herman Badillo, but these candidates are unlikely to siphon off any other notable gay organizational support. With the 2001 municipal and 2002 state elections, gay and lesbian political fortunes are poised to catch up a little with gay and lesbian cultural progress in New York. But even though the modern gay movement was born here at Stonewall in 1969 and New York activists first conceived the idea of gay rights legislation in 1970, the city and state have become followers in the movement for equality on the basis of sexual orientation, not leaders and innovators.
Other resources:
Andy Humm is a reporter for LGNY, co-host of "Gay USA" on the Gay Cable Network, and a former member of the City Commission on Human Rights.
###
Visit the Issue of the Week archives.
Tell us what you think about this issue. Write a letter to the editor.