The New Gentrification
by Rebecca Webber
11 December 00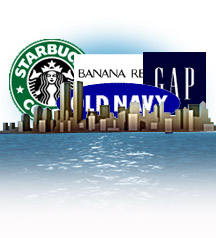 For 33 years, Alexander and Sophie Liu have lived in a small two-bedroom apartment off West 125th Street in Harlem. When they retired recently, they looked forward to remaining in their apartment, which cost them only $385 a month.
Their landlord, though, had other plans. Last November, the Lius received notification that their collected newspapers and magazines were a fire hazard. They had 10 days to vacate the apartment. "He threw us away to get a rent for $3,000," Alexander Liu says.
Actually, the landlord could probably only get $1,500, but that is still more than four times what the couple was paying. "There's such a great profit motive to empty the apartments," says Tom DeMott, a neighborhood resident and tenant organizer.
The Lius were able to keep their apartment, after arguing their case in court and throwing out 38 shopping bags of magazines and newspapers. But the memories of their battle remain.
So, on a cold, sunny day, the couple joined members of the West Harlem Coalition and dozens of other small organizations for a Citywide Anti-Gentrification March and Rally. The groups converged in front of the new Old Navy store, where they chanted: "Harlem for the needy, not for the greedy!" and "Harlem is not for sale. This is our home."
Carey Shea did not attend that rally; would not think of doing so. Shea is one of those residents, particularly newcomers, who view what is happening in Harlem differently. "When you put millions of dollars into neighborhood improvement, it's going to improve," Shea, who moved to the area from the Lower East Side, told the Christian Science Monitor. "As the neighborhood becomes more income diverse, the outcomes for all people in Harlem will be better."
The city Department of Housing Preservation and Development agrees. "We see streets that have moderate income families as well as low income families as more attractive to retailers than streets that have just low income families," says Carol Abrams, a spokesperson for the department.
In a city where too many people are chasing too few apartments, it is almost a fact of nature that the more affluent will take over the attractive areas, pushing out poorer people into more distant neighborhoods, more crowde d conditions or out of the city altogether.
The question today, as it has been during other economic booms, is whether it is possible for neighborhoods to become safer and richer while keeping long-time community residents and businesses.
City Council Speaker Peter Vallone (see accompanying article) thinks it is: The way to do it, he says, is to keep rent stabilization laws and to build more -- and more affordable -- housing.
To people such as Oakland mayor Jerry Brown, who has actively promoted development of the California city, the issue is clear: Cities, he has said, must choose between "gentrification and slummification." The National Community Building Network, however, thinks that the people who have lived in their communities -- not outsiders in three-piece suits -- can revitalize their areas by developing a community vision, strengthening existing neighborhood institutions, cleaning up and repairing the area, and improving the economic well being of existing residents.
NEW TWISTS ON AN OLD TALE
After years of white flight and urban abandonment, the term gentrification came into usage in the mid-1960s when more affluent people began "revitalizing" a smattering of relatively low-income neighborhoods. During the 1970s the conversion of rental buildings to coops in the West Village and on the Upper West Side drove away many long-term renters with lower incomes.
But the so-called urban revival really took off as part of the wretched excess of the 1980s. Even those who were part of the trend professed contempt for yuppies exposing brick walls, eating quiche and drinking at "fern bars" in far-flung parts of Manhattan and in Brooklyn. The trend abated a bit after the stock market collapse of the late '80s but roared back as Wall Street and the overall city economy rebounded in the late 1990s. In prosperous times, more people need housing and are able to pay more for it. But says Peter Marcuse, a professor of urban planning at Columbia University, "a great economy is not great for everyone." The newcomers bid up rents and vacant lots become sites for new buildings because, says activist Zack Winestine, "Development feeds on development."
As the residents change, so do businesses. On the plus side, abandoned storefronts begin to house thriving enterprises. But rising commercial rents can force out neighborhood businesses and services. Often the only establishments that can afford the increased rents are chains such as Starbucks or the Gap.
WELCOME TO OH-OH
Gentrification has been spotted throughout Brooklyn, in places like Prospect Heights, Williamsburg and Greenpoint. It entered Queens through Astoria and was last seen creeping through Long island City and west into Jackson Heights. In Manhattan, the new gentrification has entered tiny patches adjacent to already affected areas lending credence to the suggestion that the trend is contagious. These areas include the Bowery, "Esso" a tiny area between Little Italy, the Lower East Side, and Chinatown, the meatpacking district, and SoCo, the area south of Columbia University.
A cool nickname, it seems, foretells gentrification, leading one resident of Red Hook, Brooklyn, which began drawing artists in the early '90s, to caution The New York Times in 1995 "don't call us RedHo."
Already affluent neighborhoods are changing as well. For example, the West Village, where rents rose rapidly in the '80s and '90s, is now seeing the construction of luxury high rises that threatens the look of the neighborhood. The East Village lost much of its scruffiness 10 years ago. But today, writes Norah Vincent in The Village Voice, "the neighborhood's cleaner face seems finally to have taken hold."
IT'S THE ECONOMY
The numbers tell much of the story. Since 1993, the city has added 422,700 jobs, and, during the '90s, average incomes jumped almost 30 percent over the decade to $52,003, according to the state Department of Labor. But the median average household rent in New York City rose by 36 percent from 1991 to 1999, according to a survey by the Daily News and City University of New York.
In booming areas, such as the Village, Chelsea and Williamsburg, the increase was much sharper. A recent study by Time Out New York found that one-bedroom apartments below 96th street in Manhattan and in downtown Brooklyn typically rent for between $1,200 and $4,000 per month.
Those whose incomes do not keep pace, often low-wage earners and retirees, can be priced out of their neighborhoods. The displaced, says DeMott, "used to go to the Bronx, Brooklyn or Queens. Now, that's not happening because the same thing is going on there. They end up either doubling or tripling up with relatives, or leaving the city altogether."
In 1998, the Rent Guidelines Board's 1998 Recent Movers Report concurred: "Disturbingly, increasing numbers of poorer tenants may be 'doubling up,' with two families living in an apartment designated for one." No one is sure how many people have been displaced out of the city altogether.
Adding to the debate are people's different visions of what their neighborhood should be. One person's character is another's decay. Where one resident sees suburban blandness, another sees cleanliness, order and safety.
In the East Village even some who mourn that neighborhood's loss of character, praise some aspects of development. Bodega owner Rob Rose told the Voice, "I used to have to call the cops every day to get the drug dealers away from the front of my store. Now they're gone for good."
"There are always tensions within neighborhoods in terms of how to respond. There are some people who see gentrification as a way to make money. And there are other people who want to preserve the stability of the neighborhood, including keeping lower income people in it," says Columbia's Marcuse.
And some developers can't understand all the fuss. "Improving and gentrification are two different things," says Michael Ewing, president of Williams Jackson Ewing, the developer recently awarded a city contract for sites on the Lower East Side.
PARK SLOPE'S PENDULUM
Any newcomer to upscale Park Slope, Brooklyn, might be astounded to learn that the Fifth Avenue Committee was formed to address massive decline in the area's housing and commerce as recently as the late 1970s. "At the time, there were hundreds of vacant buildings and lots," said Glenn Rubenstein, the development coordinator for the committee.
But the group's efforts, combined with other social and economic factors, might have worked too well, drawing eager residents and businesses and creating today's vibrant, inviting community. As more people tried to move there, rents increased, and the less affluent began to be forced out.
Today, the Fifth Avenue Committee has established an anti-displacement zone and will try to prevent evictions of low-income people living in this area. "In our view, neighborhood residents who contribute to a community have a right to continue to live in it," says Rubenstein.
Many experts believe that the only way to stop or slow displacement is through government action, including expanded rent regulation. "There's no alternative, if you want to have affordable housing, says Marcuse. "It's very much a political question. If the political leadership is willing to face the problems and the disadvantages of gentrification, it can be controlled and can be a good thing. If it lets the market simply play itself out, it's going to be very bad for a lot of people."
The city takes a different tact and encourages development to improve communities. Recently, the Department of Housing Preservation and Development announced that 13 Harlem sites would be sold for $1 to developers with plans for new housing. "Anytime you have vacant land, it's sometimes dangerous for a neighborhood," said department spokesperson Abrams. "It's poorly lit and certainly isn't adding to anyone's sense of safety in an area."
One third of the developed housing must be set aside for current members of the community. "That's one of the ways we ensure that people there during harder times can enjoy better times," explained Abrams.
The housing department also supports home ownership, even if it drives up prices.
NO TURNING BACK
Neighborhoods cannot turn back the clock, even if the economy falters. In the late '80s, Yorkville on Manhattan's Upper East Side was the scene of a development battle as new high-rises drew young professionals by the droves, dwarfing the existing population of Central and Eastern European immigrants. Today, the area has more Tasti-D-Lite shops than Old World bakeries, and there are more young professionals who work in the financial and high-tech areas than seniors who reminisce of the old country. By 1998, the Rent Guidelines Board found that rents in Yorkville were among the highest in the city.
While an economic backslide could slow down the renovation and construction in some neighborhoods, the people and businesses that had been pushed out would probably not return. The neighborhoods that once rang with anti-gentrification cries -- SoHo, the East Village, Chelsea, Brooklyn Heights -- are now high income residential areas. Park Slope is well on its way. Harlem is probably not far behind.
###
Visit the IOTW Archives!
WHADDAYASAY?? GothGaz wants to know what YOU say about this issue. Fire away!