Guns and New York City
12 March 01
by Derek Alger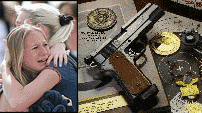 When 15-year-old Charles Andrew Williams shot 15 people last week at the high school he attended, Santana High School outside San Diego, killing two of his classmates, Alfredo and Nellie Valentin reacted the same way they did two years ago to the news of a similar shooting at Columbine High School outside Denver. They had similar reactions as well to the news a few days ago that an eighth grade girl was arrested after shooting a classmate at a school in Williamsport, Pennsylvania, and then to the slew of other incidents being reported. The Valentins sat in front of the television set in their home in the Bronx, Nellie crying and screaming, as they relived their own son's murder.
Derek Valentin was 17 years old when he got involved in a fight over a girl. He thought it was going to be a fistfight. But when he stepped out of a car at the corner of Barnes and Allerton Avenue in the Bronx on Aug. 8, 1994, someone stepped forward with a gun, and shot him and his friend Charles Simmonds. Derek died instantly; his friend died later at Jacobi Hospital.
The two teens charged with killing Derek Valentin were convicted and each sentenced to over 30 years in prison. But neither their punishment nor the passage of time has helped his parents very much. "I see parents crying on TV and I know exactly what they are feeling," Alfredo Valentin says.
Valentin is a member of the board of New Yorkers Against Gun Violence, a non-profit citizens group committed to regulating the manufacture, distribution, sale, possession, and use of firearms. The recent shootings have revived once again a couple of debates, which in practice are intertwined -- the debate over the causes of youth violence, and the debate over guns.
"Parents used to think schools were safe," Valentin says. "Now you have to start worrying the minute your child leaves the house.
On the use of guns, he is more specific. "The gun that killed my son was purchased on the street for $50," he says. That is why he supports gun control.
Tom King, on the other hand, thinks that gun control is not the answer to preventing crime or violence, among young people or anybody else. "You cannot blame inanimate objects for doing damage," says King, president of the 40,000-member New York State Rifle & Pistol Association, an affiliate of the National Rifle Association. "If a person is a felon, what good is it to tell him that committing a crime with a weapon is a felony?"
King's view may be the minority opinion in New York City, but the people against gun control are certainly not invisible even here Indeed, despite the outrage that greeted the National Rifle Association's plan announced last year to open a theme restaurant and game arcade in Times Square,-- New Yorkers Against Gun Violence, for example, gathered 2,000 signatures on a petition opposing it -- the idea is not dead.
"The project is on hold at the moment, " says Kelly Whitley, of the National Rifle Association, "but we are still looking for space and planning to go ahead."
The point, though, is not what New Yorkers think of gun control, or even that New York's gun control laws, especially the most recently enacted legislation, are viewed as the most comprehensive in the nation. Groups like New Yorkers Against Gun Violence say that New York City is a victim of the lax attitudes towards guns in the rest of the nation.
A report released in November by the United States Bureau of Alcohol. Tobacco and Firearms revealed that 80 percent of traceable crime guns in New York City came from outside New York State, much of them from seven Southern states.
"The biggest problem is guns coming into the city from states with loose laws," says Alfredo Valentin, "states where you can just get a gun, cash and carry."
GUNS AND KIDS
It is shocking enough that there are more than 32,000 deaths from firearms each year in the United States. But the homicide rate in the United States for persons between the age 15 and 24 (15.2 per 100,000) is higher than the combined homicide rate in 11 industrialized nations.
And in New York City, young adults and children used about 50 percent of those guns known to be used in a crime, compared to the national average of 43 percent, according to the report by the United States Bureau of Alcohol, Tobacco and Firearms.
Young New Yorkers were found to be especially partial to semi-automatic weapons.
New state legislation has added important measures, such as requiring a minimum age of 21 for someone to get a permit to purchase a handgun. But, say advocates of gun control, such measures mean little when so many other states have no such laws.
THE GUN SHOW LOOPHOLE
Gun legislation, signed into law by Governor George Pataki last summer, made New York the first state in the nation to close the so-called gun show loophole, by requiring background checks on anyone interested in buying any firearm, including those guns available at gun shows.
The New York legislation goes beyond the Brady Law, which requires that sales of guns by federally licensed firearm dealers must be accompanied by an Instant Criminal Background Check. The problem is that many people who sell guns are not federally licensed, and thus not required to make background checks. Many of these private dealers without federal licenses sell their guns at gun shows.
"Closing the gun show loophole on a federal level will make a difference; the federal government has to step in," said Andy Pelosi, executive director of New Yorkers Against Gun Violence. "Otherwise, New York City is at the mercy of states with lax laws."
The National Rifle Association has supported legislation in Congress in the past requiring 24 hour background checks for buyers, but maintains that such bills have failed because of disagreements with gun control advocates over language.
"The language covering gun shows in bills has been so wide that it could apply to two people talking about selling a gun in a home," says Whitley of the NRA.
ENFEEBLED ENFORCEMENT
In the meantime, gun control advocates say, there is nothing stopping the direct sale of guns to criminals. "The study we did emphasized what we said years ago, that most crime guns are not stolen, they are purchased by criminals," said Special Agent Joseph G. Green, of the Bureau of Alcohol, Tobacco and Firearms. "It is a myth that criminals obtain guns by stealing them." Under the New York law passed last summer, this should not be happening. A person who attempts to buy a firearm when prohibited from possessing such a weapon (because, for example, of a criminal record), or a person who purchases such a weapon on behalf of a criminal, is subject to a sentence of up to one year in jail, and/or a fine of up to $1,000.
But there is a problem. There is little money to enforce the laws. "We are in a fight now in the New York State Legislature to ensure funding for the Gun Interdiction Force," says State Senator Eric Schneiderman from Manhattan. "Right now, there is not adequate funding." The reason, he says, is the National Rifle Association. "Something may sound rational and inoffensive but the NRA sees everything as a creeping tendency toward regulation," Schneiderman says. "With the gun safety movement, the NRA is still in the driver's seat." Even in New York.
OTHER LINKS:
###
Visit the Issue of the Week archives.
Tell us what you think about this issue. Write a letter to the editor.