Immigrant Construction Workers
by Mark Berkey-Gerard
26 November 01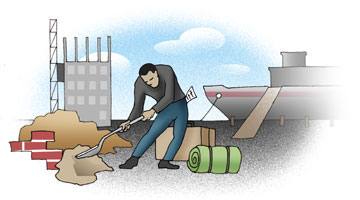 At 7:30 a.m. on Bedford Avenue in Williamsburg, Brooklyn a dozen men wait on the corner, until a man in a red pick-up truck pulls over, gets out, and points to two of them. They climb in the back. The truck drives to a construction site where the men work for $6 an hour.
They are day laborers. Twenty-one-year-old Daniel Eduardo was a day laborer too, on a site just blocks away. In 1999, Eduardo was working on the third floor of a building when it collapsed, and he literally drowned in wet cement; 12 other workers were injured. Last April, nearby, a stack of metal beams fell on Rogelio Dazel-Vallanneva, and he too was killed.
"In Williamsburg, a lot of the buildings are old and falling down," said Jose Lopez, a local construction worker. "The contractors don't care if it is dangerous. And they don't have insurance. They put you on scaffolding and tall ladders. And if you get hurt, there is nothing you can do."
But this isn't just happening in Brooklyn. Last month, scaffolding collapsed at a construction site near Union Square, killing five workers and injuring 14. Most of them were recent immigrants from Mexico and Ecuador. One was only 17 years old. These deaths received more attention than most others, in part because the rescue workers rushed from Ground Zero to the site, in part because the building was leased and managed by Stephen Green, brother of Democratic mayoral candidate Mark Green, who was three weeks away from Election Day. Green had received $13,500 in campaign donations from the contractors; he later returned the money saying there was a "likelihood of an extensive investigation."
Many other incidents, however, go uninvestigated and even unreported.
New York has the third highest number of workplace deaths. There are many reasons for this -- unsafe working conditions, illegal hiring practices, and an ineffective system of building inspections. And in an effort to cut costs in a city that has the highest construction costs in the country, contractors hire people at the lowest wages and cheat on safety.
But the major cause may be evident in one compelling statistic: In New York City, according to the Bureau of Labor Statistics, 67 percent of all workers who died on the job last year were immigrants.
"Immigrant status forces people into compromising positions," said Benjamin Sachs of an advocacy group called the Workplace Justice Project. "They take jobs that are not safe or work for wages that are illegal."
In a real way, advocates would say, the danger and death on New York construction sites is a direct result of the ambivalence of our society toward immigrants and immigration.
DAY AFTER DAY
For decades, immigrants from nearly every continent have found work on street corners called "shape-ups," working for an hourly wage wherever they are needed.
Today, New York still has one of the largest populations of day laborers in the country. A article by the Village Voice estimated there are two dozen sites in the five boroughs where approximately 3,000 day laborers wait to be picked up. An additional 8,000 workers find jobs in the suburbs.
In addition to low pay, long hours, and hazardous working conditions, day laborers often also face resentment in the neighborhoods where they live and work.
Residents in the areas that have day laborer corners complain about men loitering on corners, urinating on buildings, harassing women, and that the home values in the area are decreasing. There is also a perception that new immigrants are taking jobs from the area and not paying taxes -- an idea that advocates say is not true.
"People think they are stealing jobs from the neighbors, but really they are doing jobs no one else will do," said Carlos Canales, a Salvadoran labor community organizer for the Workplace Project in Long Island. "They contribute to the economy and are helping build the country. They pay rent, buy clothes and food, and pay taxes on the things they buy in stores."
Advocates also maintain that the responsibility should fall on construction contractors, not the workers. "It is most often the contractors who are breaking the law," added Canales. "The contractor is the one who decides if they will pay them off the book. The worker has little say."
In September of 2000, in a highly publicized case in Farmingville, Long Island, the animosity between residents and day labors turned to violence as two white men lured two Mexican workers with the promise of work, then killed them.
The incident occurred in an area where a group called the Sachem Quality of Life Organization holds regular Saturday morning protests, marching with signs that read "Illegal Aliens Are Criminals Not Immigrants."
"This is a crisis in our community," said Margaret Bianculli-Byber, the president of the organization. "We1re not able to appreciate our community. We can't walk the streets. We can't go to Kmart."
One of the men in the murder case was convicted and sentenced to 25 years in prison and the other is beginning trial. But the local government has been unable to come up with a tangible solution to ease the tensions between the 1,500 undocumented residents and the 15,000 legal residents of Farmingville.
In April, the mayor and four members of the Suffolk County Village Board vetoed a bill to build a $80,000 hiring station that would have also offered educational and legal services to workers. The mayor, Joseph Trudden, said he was only responding to the wishes of voters.
UNREPORTED
In July, Newsday issued a report that the Occupational Safety and Health Administration failed to investigate as many as 202 on-the-job-deaths in New York. The article found that the agency spends most of its resources looking into safety issues within large companies, but that deaths of immigrants who often work for smaller companies or individuals are overlooked.
Senators Hillary Clinton and Charles Schumer called on the agency to investigate the high number of deaths of immigrants on the job in New York. "When they hear it's an immigrant situation, they are less likely to get involved," said Senator Schumer. "My guess is that OSHA's more involved in unionized shops because the shop steward and the union teaches people how to reach OSHA and what OSHA is. If you ask most immigrants, they wouldn't even know what OSHA was."
Although nearly all workers in private industry -- regardless of their legal status -- are entitled to compensation under the law if they are hurt on the job, immigrants seeking workers compensation face additional obstacles: language difficulties, cultural differences, and a complex bureaucracy that is nearly impossible for someone without money for a lawyer to negotiate.
"New immigrants are afraid to go to the government because of citizenship status, or because they do not know their rights or the remedies," said Stephen Jenkins, a coordinator from Make The Road By Walking, a group that represents workers in Bushwick.
And even when workers do report injuries, or family members report the deaths of their loved ones, they face an overwhelming fight to get benefits or compensation, often waiting months or years for payment.
JoAnne Lum, director of the organization National Mobilization Against Sweatshops estimates that the average worker's compensation case takes three to five years to settle. "There are currently 180,000 open worker's compensation cases in New York State," said Lum, who added that New York also has one of the lowest minimum benefits payments of any state -- $40 a week. "The whole system is set up against working people. The insurance companies delay benefits and don't want to close the cases."
SCANDAL
The status of immigrants is not the only cause for the high death rate in New York.
The city's Department of Buildings, which is supposed to oversee and enforce safety regulations of construction sites, has been riddled with scandal and inefficiency.
A two-year investigation by the district attorney uncovered dozens of charges of bribery between the city's Building Department inspectors and construction contractors. Over 100 building inspectors were arrested and charged with crimes in the past decade, according to Edward Kuriansky of the city's Department of Investigation.
Last April, the mayor reassigned 400 Building's Department inspectors to work under the supervision of the Fire Department in hopes that would clean up the corruption.
But Louis Coletti, chairman of the Building Trades Employers Association, which represents 1,500 building contractors in the city, said the plan is not the final solution.
"It's like shuffling deck chairs on the Titanic," he said. "To move the Buildings Department inspectors over to the Fire Department does not address the problem. There are not enough inspectors and they only make about $35,000 a year. That salary makes it difficult to recruit people who are qualified to make life-or-death situation inspections."
Without adequate inspections or penalties for breaking the law, contractors cut corners on safety and look to hire the cheapest labor possible.
EFFORTS TO ORGANIZE
The Williamsburg Day Laborer Job Center, the only one of its kind in the area, opened its doors last May. The organization provides legal representation for workers, identification cards, and safer, better paying jobs.
"The pay here is better," said Javier Gallardo, who helped start the Williamsburg job site. "Construction work pays $8 an hour here, $10 to $12 an hour for demolition. On the street the rate is $6 or $7 an hour, $5 on a bad day."
For the contractors, the job center provides workers who have drafted and agree to set of rules: no stealing, no alcohol or drugs, no cursing, and no disrespect for women. The organization has also made efforts to reach out to the neighborhood by opening a public restroom.
"Everything is democratic here," said Frank Guzman a construction worker who now prefers the job center to the corner. "We talk about everything. Out there [on the corner], no one cares."
Unions, which have historically ignored or even been hostile toward immigrants, have been slower to try to organize workers, but are also beginning to see new arrivals to the country as important to their future.
"Part of revitalizing the labor movement includes reaching out to workers who in recent history we hadn't been reaching out to," said Jose Alvarez, the northeast regional director of the A.F.L.-C.I.O. Last year, the A.F.L.-C.I.O. came out in favor of amnesty for undocumented immigrants and called for new laws to protect illegal workers from workplace abuse.
Locally, union leaders like Brian McLaughlin, president of the New York City Central Labor Council, urged President George W. Bush and Congress to consider a proposal that would legalize 3 million Mexican immigrants who already live and work in the United States. "The unions of New York City are committed to achieving immigration laws that are fair and dignified -- all hard working, tax-paying immigrants, no matter where they are from, no matter how they got here, should have the opportunity to earn legal status," said McLaughlin.
But some immigration advocates opposed the president's plan because it called for "guest worker" programs that would bring unskilled laborers from Mexico to fill temporary jobs, rather than providing amnesty for those who already live here. Still others saw the plan as a political move to win votes from the Hispanic population, which has increased by 58 percent since 1990.
However, after the terrorist attacks of September 11, the federal government has moved instead toward tighter immigration law. Although Senate Majority Leader Tom Daschle announced last week that the talks between Mexico and the U.S. will resume, many fear that the new threat of terrorism will be a serious setback to any kind of immigration reform. "We're hit with a revival of historic patterns of fear, hatred, of fingering immigrants as threats to national security," Catherine Tactaquin, director of the National Network for Immigrant and Refugee Rights, recently told The Nation.
And with a slowing economy both nationally and locally, construction jobs -- even dangerous and low paying ones -- are becoming more difficult to find. "When things slow economically, people become more desperate for whatever work they can find," said Stephen Jenkins.
Other than large-scale changes in immigration law, some say the only short-term way to remedy the local problem is to increase enforcement of the current laws and impose harsh penalties on contractors who break them.
In New York, where real estate and construction are big business, that is a difficult task.
In the case of the Williamsburg worker who drowned in concrete, records showed the Buildings Department had been warned repeatedly that the site was dangerous, but an order to shut down the site was never enforced. In the end, the contractor was fined $145,000 for the violation.
###
Visit the Issue of the Week archives.
Tell us what you think about this issue. Write a letter to the editor.