Third (and 4th and 5th) Parties...
by Jerome Chou
24 Apr 00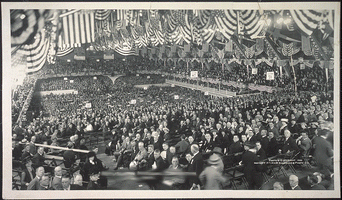 THE LOWDOWN:
Third parties have long been the endangered species of American politics. A little more than a century ago, at the height of the Populist movement, third party candidates posed a serious challenge to the country's political and financial establishment. Such challenges usually don't survive for long; third parties were quickly outlawed in state after state, or faced onerous restrictions and qualifying barriers to entering a race. This legacy of political exclusion can still be felt today--ask John McCain how he feels about New York's ballot laws.
A handful of states nationwide, including New York, have preserved third party politics through a process called fusion: third parties are allowed to nominate candidates running with other parties. For example, in the 1998 Governor's Race, George Pataki ran on both the Republican and Conservative Party lines. The 348,000 votes he won on the Conservative line counted towards his total, and also signaled support for the Conservative Party.
The wildcard this year is Mayor Giuliani, whose political leanings (e.g. abortion rights) and allegiances (to Ray Harding of the Liberal Party) have upset the traditional third party alignments. Sometimes it seems you need a scorecard to keep track of all the players. Look no further:
THE SCORECARD:
| | | | | |
| --- | --- | --- | --- | --- |
| Party | Chair | Registered Voters | # of votes in '98 Gov's race | Bread & Butter Issue |
| Conservative | Michael Long | 171,471 | 348,727 | Tax Cuts, End Parole, Vouchers |
| Liberal | Ray Harding | 92,074 | 77,915 | Child Care |
| Working Families | Dan Cantor, Executive Dir. | 4,611 | 51,325 | Living wage |
| Independence | Frank MacKay | 172,471 | 364,056 | Fiscal Responsibility |
| Green | Kathleen Healey | 3,611 | 52,533 | Environment |
| Right-to-Life | | 51,392 | 56,683 | Pro-Life |
Conservative Party - A strongman in right-wing politics and a force Republicans fear to cross. Formed as an alternative to New York's long reign of "liberal" Republicans (Governor Nelson Rockefeller, Senator Jacob Javits), the Party was forged ideologically by its patron saint William F. Buckley, who won more than 300,000 votes on the Conservative Party line in the 1965 NYC mayoral race. In 1994, the 300,000-plus Conservative votes for George Pataki more than doubled his narrow margin of victory over then incumbent Mario Cuomo, giving the Party unprecendented clout and patronage in Albany. The party's garrulous chairman Michael Long has said he views the Conservatives as a "philosophical movement more than a political party," which explains why the Party seems poised to give Hillary Clinton a huge boost by denying Mayor Giuliani an endorsement - due to his refusal to denounce late-term abortions.
Liberal Party - The Liberals have an essentially leftist platform and a history as a good-government anti-Tammany party, but in recent years they have come to be known as a nepotism factory. In the 1980s, Party leader Ray Harding cast his fortunes with Mayor Giuliani and has since reaped the payoffs of backing a winner. His two sons hold plum posts in State government; the Economic Development Corporation is reported to have sought Harding's approval in hiring its chief of staff. But perhaps his biggest coup has been Mayor Giuliani's decision to seek the Liberals' endorsement, and reject the Conservative Party's ultimatum.
Working Families Party - Since squeaking past the ballot-status barrier in 1998 with just over 50,000 votes (they were counting paper ballots in warehouses weeks after the election), this progressive, grassroots party has quietly made significant inroads in a jaded New York electorate. With their mandate of social and economic justice, the WFP has used old-fashioned roll-up-the-sleeves organizing to mobilize poor and working-class voters and backed up their platform with union muscle and money. Ultimately, they hope to push Democrats to the left, much as the Conservative Party has done with the Republicans. Hillary Clinton has already won their endorsement, and the WFP has set goals for 150,000 to 200,000 votes on their line. The Senate race however, is merely a stepping stone. Unlike the state's other third parties, the true measure of the WFP lies in its potential and its future.
Independence Party - The local branch of the party of Ross Perot (briefly the Party of Jesse Ventura, perhaps someday to be the party of Donald Trump or Pat Buchanan) fielded multimillionaire Tom Golisano for Governor in 1998. The party drew a huge chunk of votes in that race, but until the dust clears on the national level, it's difficult to predict what direction their New York incarnation will take.
Green Party - In the down-and-dirty world of New York politics, the Greens are the quintessential iconoclasts. In 1998, they ran Al "Grandpa Munster" Lewis for Governor (by far the most entertaining candidate in that race), earning enough votes to raise their highly principled (and some would say hopelessly ineffectual) leftist cry for another four years. Will the reemergence of Presidential uncandidate Ralph Nader energize them? Do the recent anti-WTO protests signal the return of hippie radicalism? Stay tuned.
Right to Life - This radical anti-abortion Party may team up with the Conservative Party and Independence Party to run an anti-abortion candidate to thwart Mayor Giuliani. Possible candidates include former U.S. Representative Joseph DioGuardi, former Watertown Mayor Jeff Graham, or Operation Rescue founder Randall Terry, who told Newsday "I would rather see a pro-abortion Democrat in office than a pro-abortion Republican." Terry ran for Republican congressional nomination in 1998 (he lost), then stayed in the race as the Right-to-Life candidate (he lost), and most recently campaigned against legislation in Vermont to legalize domestic partnerships (he lost).
Visit the IOTW Archives!
WHADDAYASAY?? GothGaz wants to know what YOU say about this issue. Fire away!