Labor's Bill Comes Due
13 January 01
by Gail Robinson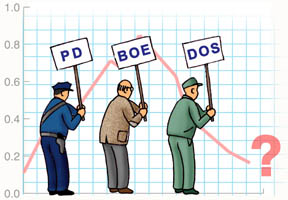 On the day in January 1966 that John Lindsay became mayor, New York's Transport Workers Union went out on strike. Not only did this shut down New York's buses and subways but it set the tone for an administration that, whatever its other achievements, was besieged by labor unrest.
Could Lindsay's nightmare revisit New York's next mayor? Last week, thousands of police rallied in front of city hall, assailing Mayor Giuliani, who has made his support for cops a hallmark of his administration. Speaker after speaker attacked the mayor for giving them a wage that, one said, "isn't enough to live on [and is] certainly not enough to die for."
While the rally may have provided a faint whiff of the labor turmoil of 35 years ago, laws passed in the late 1960s barring strikes by public employees make widespread work stoppages unlikely. Union issues, though, could well haunt Gracie Mansion's next occupant, forcing him to confront worker dissatisfaction and labor shortages or fiscal woes - or perhaps both.
Contracts for virtually all city employees, except the transit workers, expired last year, though workers continued to be paid under the terms of the old agreements. Since the pacts were negotiated before the recent good times, many municipal workers complain that they have not shared in the city's economic boom and so are pressing for generous increases. But, with compensation for more than 300,000 employees accounting for about $19.2 billion, or one-half of the city's budget, experts worry that the city cannot afford to open its wallet - particularly if the economy begins to falter.
Few people seem certain of the city's economic future. (Read an assessment by City Council Finance Committee Chairman Herbert Berman) In general, experts say New York's economy looks stronger than that of the country as a whole, but no one thinks the city could escape a national slowdown totally unscathed. Even a generally optimistic assessment by Crain's New York predicts job growth will slow down this year. Others point to layoffs in bond and securities firms and caution that 2000 may mark the end of lavish Wall Street bonuses, which in 1999 accounted for 12 percent of all wages paid in the city.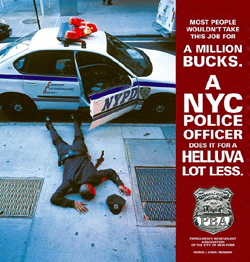 This means that the bill for higher wages could come due just as the city's tax receipts begin feeling the effects of a decline on Wall Street. A report by the Office of the State Comptroller says that the city could face a $4.7 billion budget gap in 2004, with higher pay accounting for much of the deficit.
Whatever the gap, Mayor Giuliani won't be the one who has to fill it, since he leaves office in a year. But he is doing the negotiating and the terms of the settlements could provide the mayor with another way to create a legacy. Thus the talks now taking place behind closed doors will shape the policies and the fiscal health of New York City for many years to come.
THE SCORECARD
Some 100 unions represent the city's workers. For convenience sake, they are generally divided into three groups: some 71,000 uniformed workers, primarily police officers, firefighters and sanitation workers and their supervisors; 100,000 teachers and some non-teaching staff who belong to the United Federation of Teachers; and everyone else, including 125,000 people represented by District 37 of the American Federation of State County and Municipal Employees and 18,000 by other organizations, including the Teamsters. Last week, the city and these unions reached an accord on expanding benefits which some say will pave the way for a wage settlement.
While each union has its own contract, the outlines of the accords tend to be similar, with all unionized workers receiving basically the same percentage increase in compensation. In 1995 and 1996, that amounted to a two-year wage freeze followed by annual increases of three percent to six percent over three years.
The Citizens Budget Commission, an independent watchdog group, says this has enabled municipal employees to keep up with inflation while not endangering the fiscal health of the city. Indeed, a healthy local economy allowed the city to post a $3.2 billion budget surplus in fiscal year 2000.
Seizing on that economic boom, the workers see things a bit differently. The UFT and the Patrolmen's Benevolent Association, in particular, charge that they are paid far less than their suburban counterparts. Complaining that their last contract amounted to "zeros for Heroes," the PBA cites low morale and the departure of many cops for jobs in the suburbs. "To make ends meet I cut a Nassau cop's lawn," read a placard at last week's police rally.
TEACHERS' DIRTY LOOKS
Much jockeying now surrounds which union will sign first - and what it will agree to.
Certainly, the national focus on education and a growing teacher shortage have prompted teachers throughout the country to press their case. Los Angeles teachers, for example, are threatening to walk out February 27.
In New York, teachers union president Randy Weingarten seeks parity with Yonkers where starting pay is $40,000, compared with $31,910 in the city. The Daily News has figured that such a hike would cost the city about $1.1 billion a year.
New York City teachers receive an average of $47,345 a year, $2,000 less than in other cities in the state and $6,500 less than in suburban districts.
But Giuliani, long a critic of the city's school system, has used the negotiations to advance his ideas about education, demanding that teachers' pay hikes be tied to how well their students do on standardized tests and that the tenure system be substantially weakened.
At the same time, the mayor has dismissed the teachers' complaints about low pay. "Teachers don't work the same amount of time, or the same number of days, as other people who work for the city," he said last fall. "There's a lot of room for increased productivity."
For her part, Weingarten has accused Giuliani of "following the playbook of people who were out to privatize the schools and get vouchers and replace the kind of public school we now have by starving it."
Given the mayor's hard line on the school system and the attendance of four Democratic mayoral candidates at a recent UFT rally, some experts predict the teachers will delay a settlement until the next mayor takes office. But as long as the first labor accord reached sets the pattern for all the others, such procrastinating could force teachers to accept a smaller settlement reached between this administration and a less powerful union.
THE FINEST ARGUMENT
As the UFT looks to Yonkers, the police set their eyes on Newark where the $34,617 starting pay is 11 percent higher than what New York pays rookie cops. After five years, the gap between the two jurisdictions reaches 18 percent, with Newark cops making $58,032 compared to $49,023 for New York's officers. New York police do get some extra benefits.
But those perks don't seem to be sufficient. The number of people taking the police exam fell from 32,000 in 1996 to 12,000 in 2000. Further the number of people leaving the department, some for more lucrative jobs in the suburbs, rose by a third in 2000.
The police clearly think they have a strong case. At the rally, speaker after speaker said the police deserved all the credit for the city's drop in crime and resulting renaissance. "All we ask," union president Patrick Lynch told the crowd, "is that we share in the prosperity that we brought to this city." Comparing the police to the teachers, one union official has said, "We just had the biggest crime drop ever and no problems like they have with kids' reading scores."
A RUSH TO SETTLEMENT
Meanwhile, other unions may beat both the teachers and the police to a settlement. In early January, the press reported that a collection of uniformed workers - police supervisors, firefighters, correction officers and sanitation workers - could sign a contract by spring agreeing to a pay hike of 9 percent to 10 percent over two years, far less than teachers or police officers want.
Noting that his members are working without a contract, Norman Seabrook, president of the Correction Officers Benevolent Association and head of a coalition of uniformed workers union, said, "There is no reason why the men and women who perform many of the most important functions for this city should not receive a wage increase now. There is no need waiting until a new mayor comes into office."
But Lynch expressed dismay over Seabrook's actions: "I don't see why the other uniforms would want to accept a lesser amount when they know the best argument for a raise can be made by the PBA. The smartest thing would be for them to let us get the best contract."
Certainly the other uniformed services would seem to have a weaker case for a big pay hike than their police counterparts. According to the Citizens Budget Commission, the Sanitation Department has 74 qualified applicants for each job vacancy, while the Fire Department has 12 qualified candidates for each open position.
PAYING THE BILL
The 1994-95 labor talks took place against a backdrop of significant budget gaps in the city and cutbacks in the civilian workforce. Since then, of course, the economic picture has improved dramatically.
New York added at least 80,000 jobs in each of the last three years. Partly as a result, city revenues from personal income taxes rose 4.2 percent from the third quarter of 1999 to the same period in 2000.
But how long will the good times last? Crain's New York estimates that the pace of growth will slow this year but will still be "solid." With fears of a national recession rising, "the New York City economy is not going to march to a different drummer forever," Marc M. Golden, an economist at Chase Manhattan Bank has said. "But so far there is very little evidence of a slowdown."
Other pundits see danger ahead, arguing that New York's economic dependence on Wall Street makes it especially vulnerable to a stock market drop.
A recent study by the Federal Reserve found the city's economy half again as reliant on Wall Street as it was in 1987 when a precipitous drop in the market rang in a deep recession in the city.
While each analyst's crystal ball seems to reveal something different about the city's economic future, one thing is undeniable. With so many workers, even modest pay increases cost lots of money. According to the Daily News, the relatively modest 10 percent raise over two years supposedly being sought by the uniformed workers would cost $294 million a year. Extending it to all municipal unions would cost $1.6 billion.
So far the city's budget predictions don't allow for anything like that, prompting Democrats in particular to see portents of gloom. City Comptroller Alan Hevesi, who's hoping to succeed Giuliani, forecast a budget gap of $2.8 billion in the years ahead.
A report by State Comptroller Carl McCall's office says the city's financial projections include wage increases to keep pace with inflation for fiscal years 2001 and 2002 but no hikes for 2003 and 2004. The report calculates that, if the city reached an agreement with its workers similar to what state workers received (compounded 13.6 percent wage increases over four years) wage costs alone would exceed city predictions by $1.2 billion in 2004, creating a 14.3 percent gap between costs and revenues.
And the mayor claims to agree. "The labor unions can't get everything they want," he has said. "The reality is the City of New York has huge gaps-certainly in 2003, 2004, 2005."
LOOKING FOR ANSWERS
So, will New Yorkers have to choose between deficits, and perhaps accompanying service cuts and tax hikes, on one hand and, on the other, disgruntled workers eager to flee the city for the greener pastures of . . . Newark?
Some experts say there is another way, looking largely at productivity increases. The city's proposals to teachers could be seen in that light, although the UFT certainly doesn't view them that way. Late last year the Citizens Budget Commission issued a major report entitled "The Citizens' Stakes in Collective Bargaining" that proposed ending the practice of similar across-the-board pay increases for all city workers as well as instituting merit pay, improving productivity and altering the way benefit programs are financed.
Whatever the merits of these proposals, there is reason for skepticism. Many previous attempts at reforms, such as reducing the number of firefighters on each engine, have been abandoned.
Despite a lot of talk the last time around, the Citizens Budget Commission says, the efficiency targets agreed to by the mayor and the unions "did not meet any reasonable definition of a productivity increase." On the other hand, the mayor did get school principals to agree to a major revamping of the tenure system and to working extra hours in exchange for a pay raise of more than 30 percent over four years.
And some see Giuliani as having a big incentive to make changes this year: his political future.
"If [he] runs for anything ever again, unless it's mayor of New York, he's going to be faced with a far more conservative electorate than the one he's enjoyed success with," Democratic political consultant Evan Stavisky told the New York Observer. "Labor relations is one of the few areas where he can actually maneuver to the right, and he'll be seen as leaving the city in good financial shape."
###
Visit the Issue of the Week archives.
Tell us what you think about this issue. Write a letter to the editor.