Today's Forecast: Economic Ambiguity
by Herbert E. Berman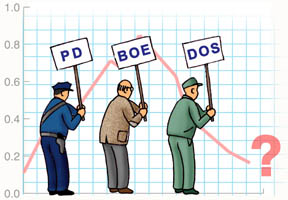 It was a misty morning last week when I realized that the weather that day was the perfect metaphor for the day's economic news. Under a sky that couldn't decide if it should rain, snow, or dry up completely, I was reading one newspaper article after another about an economy that itself seemed to be unsure what it was. I offer my empathy to all of us charged with deciphering the mixed signals.
On that murky Monday, January 8 to be precise, the New York Post offered a little editorial humor in the form of a cartoon: "What's it called when NASDAQ drops 50 points?" says one Wall Streeter to another. "An up day," the other answers darkly. A mere six months ago, the punch-line might have been, "1990."
Over at the Wall Street Journal, a story about new Labor Department statistics explored the steady four percent unemployment rate and its curious status as just slightly higher than the lowest level recorded in the past 30 years. Reassuring statistic, or fiscal mirage? Either way, we cannot ignore that the sluggish job growth across the nation might be a harbinger of an employment downturn.
Other vignettes in the January 8 Journal helped to enlighten and mystify, in equal parts. Fewer people are indulging in costly laser vision correction surgeries, suggesting that consumers have less money to spend on optional surgical procedures, But wait - business is bullish at the MGM Mirage in Las Vegas, where executives predict that fourth quarter earnings will exceed projections. From this we learn that neither the market - nor a bad case of near-sightedness - are enough to kill the urge to double-down. A thriving casino seems to contradict the theory of a tilting economy, yet nationally, gambling is taking a hit. Go figure.
That same day, the New York Times ran a lengthy piece on the waning stability of advertising sales within the magazine industry, which had been the buoyant savior of the business for over ten years. Nevertheless, another Times story reports that media stocks are - surprise! - on the rise.
That same day, I learned from the Daily News that even the Super Bowl isn't safe from economic scrutiny right now. In fact, the gridiron has become a pretty interesting place to speculate on the dot-com agenda. This year, Internet companies seem to be skipping pricey Super Sunday spots - a big departure from last year's ad landscape. For 2001, it looks like blue-chippers will dominate, and dot-commers will, with a few exceptions, sit this one out. Do we call this cold feet or good, old-fashioned fiscal prudence? It's tough to know how much we can wisely assume from this year's advertising roster, but an estimated $2.3 million price tag for a 30-second spot is a sobering way to start a year so packed with questions, especially for e-commerce.
Though we have barely cracked the spines on our new day planners, 2001 has already taken us on a wild ride that picked up considerable velocity on January 3, when Federal Reserve Chairman Alan Greenspan knocked a half-point off the interest rate. Following a 22-month low, Nasdaq would see its biggest one-day gain ever - and the game was on. I knew the sky was changing when the day after the rate adjustment, a full-color caricature of Alan Greenspan as a super hero appeared on the cover of the Daily News, complete with the moniker, "Super Fed Alan Greenspan." Though a horribly unflattering likeness, the cover choice - along with its accompanying "Up, Up, & Away" headline - proved that the current economy and its chief gatekeeper had officially reached pop culture status. The following day, by the time the new cast of "Survivor" graced the cover of the News, the Nasdaq composite index had been down by two percent after hitting a record 14.2 percent. "Super Fed" was on a rescue mission that would, indeed, be full of adventure.
Alan Greenspan was wildly successful at wrestling the economy into submission before, and we're certainly holding our breath at the prospect that he can do it again. In the meantime, I believe that New Yorkers are entitled to do some cautious exhaling with regard to the local landscape. As a 25-year veteran of the New York City Council, and as the Council's Finance Chair for the past decade, I've seen a variety of short-term cycles and long-range trends. I'm optimistic about New York City, and here's why.
First, it is important to remember that a national downturn does not guarantee a local one. Cities are their own economic units, unto themselves, and we got a taste of this in the early 1980s. While the country hit a series of potholes, New York City took a much smoother ride through the beginning of the decade and even enjoyed some significant growth.
New Yorkers must also consider the tremendous job growth the City has been enjoying in key industries like healthcare, education, business services, real estate, and construction.
New York City has smart programs in place like the Budget Stabilization Account, a safeguard I lobbied hard to establish. When the City ends the year with a budget surplus, which has been the trend in recent years, we can use the Budget Stabilization Account to pay down debt and to keep some extra money in the coffers to help weather a downturn. Right now, the City has more than $900 million in the account.
We also have some of the best weapons around for keeping up with tough relocation competitors like New Jersey and Pennsylvania. The phase-out of the Commercial Rent Tax throughout the 1990s made a tremendous difference in keeping and attracting industry. So does the Relocation Employee Assistance Program, or "REAP," which works to keep businesses in New York both in times of prosperity and uncertainty. REAP gives a 12-year, $3,000 tax credit per year - per employee - for businesses choosing to relocate to the so-called "outer-boroughs." In addition to lessening relocation losses to other states, REAP prevents corporate flight in our own backyard. When a Manhattan-based business considers leaving the city altogether, REAP offers an incentive to consider space in Brooklyn or the Bronx, for example.
We have been successful at cultivating one of the biggest contributors to New York City's economic engine and its worldwide identity - our cultural institutions. The most recent tourism report from NYC & Company, the city's visitors bureau, announced that 1999 tourists - a record 37 million of them - helped sustain almost 280,000 local jobs and tossed almost $3 billion into city, state, and federal tax coffers. Our cultural institutions play a major role in establishing our tourism base every year, and there have been many bloody battles to expand their budgets, or at the very least, to sustain them.
Thriving cultural institutions strengthen our neighborhoods, a symbiosis which fortifies the city economically. Look no further than Brooklyn's Fort Greene, home to the Brooklyn Academy of Music, for an excellent example. With BAM as its cornerstone, a modern cultural district is emerging in BAM's Fort Greene neighborhood. The Mark Morris Dance Group will soon inhabit a facility across the street on Lafayette Avenue, and A.R.T./New York recently purchased nearby office space to run some of its small non-profit companies. BAM's own Rose Cinemas for independent and classic films are extremely visible in the community, and more dance troupes might be coming soon to the area. Fort Greene's new cultural stronghold is a model suitable for replicating in other parts of the city to further bolster tourism and economic development.
Last but not at all least, one of New York City's most important weapons in any market climate is its raw memory of the fiscal crisis that nearly destroyed us in the 1970s. We've been to the dark side, and we know how to stay away from the edge. We learned, the hard way, the importance of continually maintaining services that are core to the city's health: education, sanitation, security, and the maintenance of infrastructure. We know how to put money in the bank and keep it there for the granddaddy of unde rstatements: the rainy day. We know that balancing our budget is not an option - it is a necessity, and an entitlement of all New Yorkers. I'm not suggesting that New York City is bullet-proof. For one, our reliance on Wall Street has given us a rare prosperity that comes with the burden of vulnerability.
But like everything else on that gray Monday in January, nothing right now is certain but uncertainty itself. Doing my best impression of the National Weather Service, I would advise New Yorkers to stay calm, and stay tuned.
Herbert Berman is a member of the New York City Council from the 46th District, and chair of the Finance Committee
###
Visit the IOTW Archives!
WHADDAYASAY?? GothGaz wants to know what YOU say about this issue. Fire away!