The Lazio Effect
by Kevin Strouse
12 June 00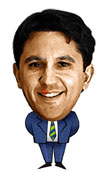 THE LOWDOWN:
If you want to call Rick Lazio a conservative, you better choose the right year. In 1994, according to a Congressional Quarterly study, Lazio voted with President Clinton 72% of the time. But in 1995, after Newt Gingrich's ascension, Lazio voted in accord with the President only 34% of the time. That same year, he supported over 90% of the Contract With America, and Gingrich tapped him to be the Deputy Majority Whip, assisting House leadership and coordinating Republican communication on Legislative issues. Sometimes he is on both sides: On federal minimum wage legislation Lazio tempered a gradual increase for low-wage workers with huge tax-cuts for businesses.
For a brief bio and a list of what he considers his accomplishments refer to his Congressional Web Page.
VITAL STATS:
| | |
| --- | --- |
| Name | Rick A. Lazio |
| Age | 41 |
| Home | Brightwaters, Long Island |
| Education | West Islip High, Long Island; B.A., Vassar College, J.D., American University |
| Family | wife Patricia, 2 daughters Molly Ann and Kelsey |
| Career Highlights | District Attorney, twice elected to the Suffolk County Legislature |
| Congressional Highlights | Budget Committee (responsible for balancing the first budget in over 15 years); Assistant Majority Leader; chairman of the House Banking Subcommittee that tackles housing and community policies |
| Unofficial Campaign Slogan | "I'm a real New Yorker." |
ON THE ISSUES:
Abortion
You couldn't tell Hillary and Rudy apart on abortion. Lazio has claimed he is pro-choice and has voted to overturn the "gag rule," which prohibited medical personnel from discussing abortion with patients. But abortion rights leaders have criticized him for voting against late term (or "partial birth") abortions and Medicaid funding for abortions, and for supporting parental notification when a pregnant teenager seeks to abort. Lazio's entrance into the race galvanized the National Abortion Right's Action League to participate in the campaign. See NARAL's Published Endorsement of Clinton.
Education
The candidate advocates the school vouchers program and "school choice."
Environment
Largely ignored by Hillary and Rudy, the environment is one of Lazio's bread and butter issues. His Long Island Sound Restoration Act, passed this May, will clean up the local ecosystem. As a member of the Commerce Committee in Congress, he oversees the national Clean Air Act. You can rank his environmentalism on the League of Conservation Voters Scorecard. Apparently, he scored high, since he gained instant endorsements from both the League and the Sierra Club.
Gun control
After the Long Island Railroad Massacre in 1993, where a deranged man fired into a crowded Long Island commuter train, Lazio voted to ban certain types of semiautomatic weapons, supported trigger locks, and voted for the Brady Bill in 1994. Yet he opposes gun licensing because he feels it is "invasive" and claims never to have encountered a "workable" gun registration program. This stance has made no one happy: Gun control advocates have harangued him on the issue and in a recent report card the NRA gave him a D-.
Healthcare
Lazio is responsible for a waiver that won New York an additional $1.1 billion dollars in Medicare funds appropriated over five years. He also ensured that $750 million of Medicare subsidies be given directly to hospitals. As a member of the Commerce Committee, he helped pass the Managed Care Bill that ushered Health Maintenance Organizations into the City's health care system. Yet, Lazio later voted to slash Medicare on a federal bill by $270 billion, which would have doubled premiums for 2.6 million senior citizens.
Housing
After three years of vigorous debate and compromise, Lazio authored the 1997 Housing and Urban Development spending bill, H.R.2. The Bill allows residents in public housing to pay either 30 percent of their salary or a pre-arranged flat fee, which, it was hoped, would encourage those trying to get off welfare and move onto jobs with higher salaries. The bill gave public housing more economic diversity by allowing Public Housing Authorities to rent to the working poor (read: those with more income than previous generations of public housing tenants). Those receiving assistance were also required to sign "self-sufficiency agreements," which mandated that competent adults serve eight hours of community service every month. The bill received bipartisan praise, but the housing advocates at Tenant.net were skeptical and the Village Voice called Lazio's bill "arguably the most damaging public housing legislation to come down the Beltway in 60 years."
What are the pundits saying about Lazio? Here are two early assessments from The New Republic and The New York Observer.
Visit the IOTW Archives!
WHADDAYASAY?? GothGaz wants to know what YOU say about this issue. Fire away!