Lead Poisoning
16 April 01
by Tracey Middlekauff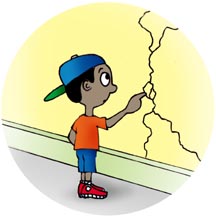 Over the years, Cordell Cleare had complained about the state of her apartment in central Harlem, and city inspectors had cited her landlord for over 40 violations. The presence of lead paint, however, was not one of them.
Then, in 1994, a pediatrician found that Cleare's son, not yet two at the time, had been poisoned by lead.
When a child is found to have levels of lead in his blood in excess of 20 micrograms per deciliter, the Department of Health gets involved. It ordered Cleare's landlord to remove the lead paint from her apartment.
Cleare says that her landlord picked "10 random guys" to work on her apartment; they followed no safety procedures. "They were burning paint off the walls with flames," she says. To make matters worse, Cleare had not been directed to a lead "safe house" for the time the work was being performed. Her son was re-poisoned. Cleare called the Department of Housing Preservation and Development, who told her to call the Department of Environmental Protection. Finally, after two years, HPD performed the work that should have been done immediately.
Tragically, it took a "painfully long time," Cleare says, to get the level of lead in her son's blood back to normal. He lost his ability to speak, which he eventually regained through therapy. Now eight, her son has had to overcome many challenges, Cleare says, and still gets speech therapy and other support to help with the learning disability she is convinced was caused by the lead poisoning. Her son is now performing at his grade level, and she remains hopeful that things will work out. "I believe my child will eventually be functional without help."
A PREVENTABLE ILLNESS
Lead poisoning is widely recognized as one of the most serious childhood health problems in New York City, and one that is preventable. Found in about 30,000 New York children, it can cause serious problems such as mental retardation, neurological damage, and developmental disorders. If detected early enough, and if the lead contaminant is properly removed from the environment in which the child lives, the problem is fully treatable. However, it is not as easy as: test, remove (the lead), and treat. Along every step in the process, dealing with lead is a hotly-contested political issue.
Activists call for strict regulations covering testing for lead and removing it. They insist that landlords should be held strictly liable. Their opponents say that the demands are financially unrealistic and draconian. Both see right on their side; neither seems willing to compromise.
The primary cause of lead poisoning in children comes from lead dust and paint from peeling or deteriorated lead paint. New York City banned the use of interior lead paint in the 1960s; the federal government banned lead paint altogether in 1978. While lead paint can be found in dwellings in any neighborhood--wealthy to low-income--lead poisoning is primarily a problem in low income neighborhoods, where apartment buildings have not been well-maintained, and lead paint has been allowed to peel and crack due to lack of proper maintenance. While not confined to any one geographical area, activists have located what they call a lead belt, which runs through Red Hook, Fort Greene and Bedford-Stuyvesant in Brooklyn, and Jamaica in Queens.
Carol Hill, co-chair of the New York City Coalition to End Lead Poisoning, explains, "Apartments that are well-kept, where the paint is not disturbed, do not have a problem. But when less affluent people move in, generally speaking, the landlords do not care as much." Hill explains that any breach or crack in paint that may contain lead poses a threat, and lead dust is even more dangerous. "Paint has to go through the stomach," she says, "dust goes right to the lungs."
Hill believes the best ways to prevent lead poisoning is to educate people in any community about the risks of lead paint, and to make sure that testing is wide-spread and frequent. There are measures to lessen the impact if a child is exposed to lead, such as what she calls nutritional intervention: While a well-balanced diet does not make high levels of lead absolutely safe or desirable, a diet rich in iron, calcium, and vitamin C can help prevent a child's body from absorbing lead. A law enacted in New York City in 1992 mandates testing every year for children ages one and two, and every year until age six for at-risk children. But Hill advocates testing every six months for at-risk children. That way, she says, if a child does contract lead poisoning, they will not have it that long before something is done.
Even something as seemingly simple as childhood testing is not without controversy. This month, the New York Public Interest Research Group sued the State Health Department, claiming that officials have refused to release their statistics on the number of New York children who have been tested for lead poisoning. The watchdog group feels that not enough children have been tested, and they are therefore not receiving the proper care.
Controversy aside, when a child is tested, levels under 10 mcg/dcl are considered safe by the Centers for Disease Control. A level of 10 is considered to be the beginning of lead poisoning, but it is not until the level of lead concentration in a child's blood reaches 20 that the New York City Department of Health is required to take action when a child under six is involved. When he was just under five years old, in 1993, Carol Hill's grandson was diagnosed with a level of 49. Luckily, an emergency repair team from HPD came in a timely fashion and covered the walls with dry wall and plasterboard while Hill and her grandson stayed in a safe house. He suffered no long-term effects.
But unfortunately, things do not always go as smoothly as they did for Hill, and just what laws and regulations should govern lead abatement is the subject of much controversy.
LAW AFTER LAW
Until 1999, lead abatement (removal) was covered by Local Law 1. At just half a page, the law was not specific in its proscriptions, and various regulations were imposed to expedite and clarify it. According to Matthew Chachére, an attorney for the Coalition to End Lead Poisoning, there were often problems enforcing the law. "Roughly 40 percent of lead paint violations were still on the books a year later," he says. Chachere says that these violations were supposed to be fixed within 24 hours. "The city was ordered to have time frames, and was held in contempt over and over."
Ostensibly with the purpose of consolidating, clarifying, and codifying lead paint regulations and abatement, the City Council passed Local Law 38 by a 36-15 vote in June of 1999, replacing all other legislation dealing with lead.
Lead poisoning activists were incensed. Local Law 38, they charged, was nothing more than a "landlord protection bill, " one which would decrease landlord responsibility in dealing with lead paint hazards. Supporters of the bill maintained that it was a practical way to serve the public interest.
In October of last year, Justice Louis York struck down the new law, ruling in favor of the Coalition, who had brought the lawsuit against the city. Justice York ruled that the city did not properly address the bill's environmental impact before voting on it. The city has since appealed this decision; a ruling will probably be made early next month. Chachere feels that there is almost no chance the decision will be overturned. He says that those who are in favor of Local Law 38 "try to make it sound like something new, when it curtailed prior responsibilities. ... It eradicates lead dust as a hazard even though all experts agree that lead dust is dangerous."
Frank Ricci, the director of government affairs with the Rent Stabilization Association, sees things differently. He believes that most critics of Local Law 38 are trial lawyers who are afraid that, under this new law, they would have has a much higher burden of proof when bringing cases against landlords. "Under 38, the lawyers would have to prove that the child got poisoned in the apartment," Ricci explains. "Some advocates are very sincere, but trial lawyers are often masquerading in sheep's clothing. That's as plain a truth as you're going to get."
Andrew Goldberg, an attorney for NYPIRG, feels the new law was deeply flawed for a number of reasons. First of all, he says the new law would only have addressed lead-poisoned children under the age of six, when "Health Department records show that ten percent of lead poisoned children are over the age of six."
Even more disturbing, according to Goldberg, is that the new law did not address lead dust as a potential hazard. The law also failed to require a clearance test--a dust wipe test--to determine if a once-contaminated area is free of lead dust. "This testing is the gold standard," Goldberg says. "It is the only way of knowing if an area is safe." Instead, the new law contained provisions for a limited clearance test, to be done only if work was done on windows or doors.
Finally, Goldberg explains that who actually performs the lead abatement is an extremely important issue. The work must be done by trained workers, he says, because "they know how not to poison themselves, how not to contaminate the apartment further, and how not to contaminate their own family." Local Law 38 did not contain a provision that the work be performed by trained workers. "The landlord lobby knows that clearance testing and trained workers is a one-two punch," Goldberg believes.
But Ricci feels that claims such as Goldberg's are not grounded in fact. He says that 99 percent of lead dust is tracked into an apartment from outside due to its presence in soil from years of using leaded gasoline. The dust-wipe test that advocates like Goldberg call for simply "doesn't correspond to the condition of the apartment," according to Ricci.
Ricci also says that lead abatement would still require trained experts, but that Local Law 38 calls for specific cleaning procedures, which could be done by the landlord, that constitute preventive maintenance. He points out that the city, HPD, and owners' groups have been running training courses for landlords and supers.
Councilman Archie Spigner (D-Queens) strongly supported Local Law 38, and says he "would rather bet on a horse race" than guess whether Judge York's decision will be overturned. As for the critics of 38, he says "people are entitled to their opinions." He says he believes Local Law 38 would "safeguard the health of children without placing a fiscal burden on housing that is already on shaky fiscal ground."
Spigner defends Local Law 38's various specific provisions, which he says were passed "after exhaustive testimony." But he also feels that legislation alone is not enough: "I think education is as important as legislation ... one without the other will never do the job."
NOW WHAT?
What do activists advocate in lieu of Local Law 38? Carol Hill feels the city needs "something kinder than Local Law 1, but more strict than 38."
Matthew Chachere believes that one good alternative was Intro 205, which was written a few years ago by Councilman Stanley Michels (D, Manhattan). "People will say that Local Law 1 is over-the-top," he admits. "But 205 says to take the appropriate action on a case-by case basis." NYPIRG is currently drafting a new proposal to cover lead issues. Goldberg believes that it is important to have a strong mandatory enforcement program, health-based standards, and liability; in other words, if a landlord is negligent in his duties, he should be liable.
Frank Ricci, however, doesn't see any possibility of compromise. He says, "They will never be happy. Thirty-eight was the compromise."
But some important issues have not been covered by legislation. For example, residents of buildings with fewer than three apartments have no protection or recourse until a child is actually lead poisoned. And some feel that small-time landlords should be offered monetary compensation as an incentive to do the right thing. One solution, according to Andrew Goldberg, is to offer tax breaks to landlords who do building upgrades and repairs. This would help encourage landlords who may not otherwise be able to afford it to maintain their buildings properly.
The (relatively) good news is that, according to Goldberg, given the age of New York City housing, the prevalence rate of lead poisoning is lower than in many other cities. This, he says, is a credit to the programs that have existed. "New York City is not the worst place in the world," he says, "but still we are talking about thousands of children a year."
To Cordell Cleare, even one lead-poisoned child is too many. Her son deals with the results of his lead poisoning every day. That is what led her to the New York City Coalition to End Lead Poisoning, which she now co-chairs. Her activism has been ignited, in fact; she also serves as Council member Bill Perkins' director of constituent services. She believes that lead poisoning has a ripple effect. "It costs us all around," she says. "Housing, education, medicine. I feel fortunate that I got in touch with a good group. But there are people for whom it never worked out."
To Learn More About Issues Surrounding Lead Poisoning:
###
Visit the Issue of the Week archives.
Tell us what you think about this issue. Write a letter to the editor.