The New Libraries
02 April 01
by Norman Oder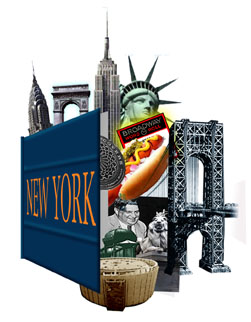 There is no question that the city's public libraries are in many ways more vital than ever before -- popular with the public, innovative in their programming, thriving as centers of information in the Information Age. [See The Library Goes Digital on Gotham Gazette's new NYC Research Desk] But at the same time the libraries are facing some old-fashioned problems that threaten to make their successes turn hollow.
The city's three public library systems -- the New York Public Library (which serves Manhattan, the Bronx, and Staten Island), the Queens Borough Public Library, and the Brooklyn Public Library -- remain open more hours than ever before. They serve as the city's crucial source of free public access to the Internet, bridging the "digital divide." They have renovated many facilities and built more and more new ones, now operating a total of more than 200 branches throughout the city. They have expanded their community franchise beyond books to educational programs and even open mike nights for performers. "People find libraries to be the living rooms of their community," says Gary Strong, the director of the Queens system.
Still, even as the public clamors for more library services, low salaries cause half of all librarians at the New York Public Library to leave their jobs within three years. The drop-out rate is also alarming in the two other systems.
"Morale couldn't be lower," laments Ray Markey, president of the largest of the three library staff unions, the New York Public Library Guild. His library, New York Public Library President Paul LeClerc acknowledges, faces "a very serious threat to quality service."
Some might say that threat has already been delivered. Nearly half the branches in the Bronx lack children's librarians. Last year, four Bronx branches had to close for a day because they did not have enough staff. All three systems juggle staff to keep branches open, and must struggle to recruit and train new employees. Indeed, that helpful person at the desk may not be a credentialed librarian (with a master's degree); the libraries now train "library associates" (with bachelor's degrees) for certain functions. As a group of five library administrators put it in an urgent memo, "we are unable to develop a core staff with the depth of experience required to, among other things, supervise branches, develop and maintain collections...and provide outreach." That was 18 months ago, and things have not improved.
SIGNS OF PRIDE
As National Library Week focuses attention on libraries this week, New Yorkers seem largely unaware of the problems. In a recent Baruch College survey, 82 percent of those polled gave the city's public libraries good or excellent marks, by far the highest rating of any city service.
PORN AT THE LIBRARY?
New York's libraries have become key Internet sources for those who can't afford or access computers at home or work. Indeed, in visits to several city libraries, nearly all Internet workstations were in use, even when the buildings were not full. People use the Internet to send e-mail, conduct a job search, read hometown newspapers, or just play games.
Still, concern over the availability of Internet pornography has led to controversies in some localities. Now, more than 20 percent of libraries nationally use Internet filters -- software programs designed to block pornography -- mostly on the children's terminals.
In New York, an effort to mandate such filters stalled in the City Council. Last year, however, Congress passed a law requiring libraries and schools receiving federal funds for computers and Internet access to block minors' access to material that is "harmful to minors" to block all patrons' access to obscenity and child pornography.
To Congress and the law's supporters, the issue was a no-brainer: libraries do not buy Hustler, so why should its ilk be available on the Internet? To many librarians, the cure is worse than the disease: the software inevitably overblocks legitimate sites, nor can it keep up with the ever-expanding Internet. Moreover, the block lists are secret. A Congressional commission last year recommended against requiring filters.
On March 20, the American Civil Liberties Union and the American Library Association filed suit to stop the law. They pointed out that no filter can block only the narrow categories of material stated in the law, and that the so-called Children's Internet Protection Act will inevitably censor adults.
By contrast, the law's supporters call unfettered library Internet access "federally funded peep shows." At some libraries, porn surfing has been a problem. Last year in Minneapolis, 47 staffers signed a letter complaining of exposure to hard-core pornography.
In New York, library officials report few complaints. Partly that is because in many cases users have little privacy -- hardly a peep show. Also, library staff monitor Internet use, especially in the children's room.
N.O.
There are many reasons for such praise. Queens leads the nation's libraries in total circulation, reaching out to the borough's ever-arriving immigrants. Its new Flushing branch, home of the library's International Resource Center, is the state's busiest. Brooklyn's Central Library boasts a handsome new children's wing, plus a lively series of author events upstairs, with hosts like public radio's Leonard Lopate.
New York Public is the nation's second largest library, after the Library of Congress. Its four research libraries maintain collections of international renown. They include the iconic Humanities and Social Sciences Library on 42nd Street; the Science, Industry & Business Library (converted in 1996 from an old department store, B. Altman); the Library of the Performing Arts and the Schomburg Center for Research in Black Culture. The last two are currently being renovated.
New York Public's branch libraries served nearly 20,000 children in last year's summer reading program, a 30 percent increase over the previous year. Even before a major marketing campaign, sessions are fully subscribed at six new public computer training centers (Four more will open soon).
A recent ceremony to celebrate the renovation of New York Public's 1906 Muhlenberg Branch on West 23rd Street underlined the library's unwieldy situation. The $3.3 million renovation, including $500,000 from children's book author Ann McGovern, includes a new community room, the building's first elevator, and a host of new furniture and fixtures. Still, amidst the bonhomie, Councilmember Christine Quinn acerbically noted that "the mayor has not exactly flooded the libraries or the librarians' pockets with money."
LOUSY SALARIES
Nearly everyone agrees salaries are far too low. The starting salary for librarians is $31,296, some $4,000 below that of school librarians in the city, and some $7,000 to $14,000 less than the best-paying systems in the nation. What is worse, there is little reward for long-time service: Some 20-year veterans earn $40,000. No wonder the three library unions have picketed library events and enlisted authors from Frank McCourt to John Kenneth Galbraith to sign a newspaper advertisement last year to "save New York's public libraries."
The unions, in concert with management, have for three years requested a 15 percent boost in the starting salary. However, Mayor Rudolph Giuliani's Of fice of Labor Relations has resisted; according to union representatives, the city fears that a librarian salary adjustment will aid the much larger teachers' and police unions, which also can point to more lucrative suburban salaries. (It has been argued that the librarians have a stronger case--given that public librarians can get a raise simply by moving to the schools--but that argument has not had much effect.)
Last year, New York Public proposed to fund that 15 percent adjustment by cutting back slightly on staff positions and materials. Giuliani instead proposed linking a salary boost to an increase in weekly work hours from 35 to 37.5. While library managers thought the union should consider the offer-nearly all other major libraries work longer weeks-the union resisted, deeming the proposal both an insult, given years of salary neglect, and an unfair wedge to leverage increased hours from other city unions.
Will the salary issue return to the agenda? Talks continue, but a Giuliani spokesman did not respond to a request for comments. All four Democratic mayoral candidates have spoken in favor of an increase.
THE DOORS OPEN WIDER
New York has long been known for its libraries, which began shortly after the city itself and now number more than a thousand. The three public library systems are all about a century old, though their roots go back even further. The New York Public Library was formed in 1895 when money bequeathed for a free library by former governor samuel j. Tilden was combined with the fesources of two struggling private libraries (Astor and Lenox). It is now run by an independent board. The Brooklyn system was established in 1896. In Queens, six existing library systems joined in 1901. Though Queens and Brooklyn are independent agencies, the mayor and their borough presidents appoint the members of their boards.
The city's fiscal crisis of the 1960's and 1970's played havoc with the library systems. As late as a decade ago, some library branches were open only 14 hours a week. The Dinkins administration, which had cut hours, ultimately restored five-day service and planned for six-day service, implemented in 1994, when Giuliani became mayor. Last year, the city found money to support Sunday service in branches of all three systems.
Still, while the city has continued to fund materials and some programs, the libraries cannot keep up. In Queens, library usage has jumped by more than a third since 1994, but the library has not gained funding for new staff positions to serve those pouring in.
City monies support more than 80 percent of the Brooklyn and Queens budgets. The city funds a similar percentage of New York Public's branch system, while the research libraries derive about half their support from the library's endowment and private philanthropy.
OTHERS SPEND MORE
New York's libraries are not the best-supported in the country. The best-funded large libraries spent over $60 per capita. In 1999 in comparison, the Brooklyn and Queens systems spent $29.50 and $33.50 per capita. (This is still well above the median, $21.66, for large library systems).The figure for New York Public was $52.50, but that figure is skewed because it includes significant (private) support for the four research libraries.
This means that the libraries, even Queens, lag in some statistics. According to Hennen's American Public Library Index, a rating system conducted by Wisconsin librarian Thomas Hennen, the libraries with highest circulation spend about 20 percent of their budgets on books and other materials. By contrast, New York's libraries spend about 15 percent. Keeping the doors open means that the libraries cannot spend more on materials.
Municipal funding is not the only story. A few states, like Ohio, provide significant state support to libraries; New York does not. A bill pending in the state legislature would provide $95 million to libraries statewide and raise contributions to the city's systems.
Both the Brooklyn and Queens libraries have ratcheted up their private fund-raising in recent years, though their administrators note that such gifts generally support specific projects rather than underfunded basic operations. The Brooklyn library has even received an unusual gift from a church. The activist St. Paul Community Baptist Church in East New York is giving the library $100,000 over four years to renovate the nearby New Lots branch.
KEEPING PACE WITH SPACE
As library usage increases, the need for better library spaces becomes clear. The city's three systems present a vastly disparate range of branches, some airy and large, with handsome signage, renovated community rooms, and new furniture, others cramped and crowded, with worn fixtures and a bedraggled image.
Brooklyn, for example, has in the past five years fully renovated or newly constructed 12 branches; another 13 have undergone substantial renovation. Still, that is less than half the total.
A renovated library gets more traffic. After Queens renovated its Langston Hughes branch in Corona, usage jumped more than 50 percent.
The libraries have big plans. Queens will renovate its old Central Library in Jamaica into a new Business, International, and Government Library. New York Public's Mid-Manhattan Library, a poor cousin across Fifth Avenue from the Social Sciences & Humanities Library, will be renovated and expanded. In the Bronx, library officials plan to replace a small, overcrowded central library with a much larger building that will include a Latino cultural center.
Libraries nationally and in New York have begun to respond to the influence of book superstores like Barnes & Noble, recognizing the importance of a more welcoming design. Indeed, the influence is such that one consultant calls it "the Barnes & Nobling of the American library." Of course, Barnes & Noble doesn't lend books, hold community meetings, offer Internet access, nor venture outside middle-class districts.
THE PLACE TO GO
The public library has long welcomed immigrants; during the heyday of the Jewish Lower East Side, the Seward Park branch was the busiest in the city. What's different is that today's libraries make a greater effort to communicate in foreign languages.
Queens has pioneered outreach. Its Program for New Americans even mails books in seven languages to immigrants. Its groundbreaking online catalog has won awards for offering five languages.
Brooklyn opened a multilingual center at its main library in 1997, and a Caribbean Literary & Cultural center last year at its Flatbush Branch. Both the Brooklyn and New York systems aim to offer multilingual catalogs. All three systems offer English as a Second Language classes, as well as literacy training.
THE FUTURE, IF THE MONEY'S THERE
The libraries' potential reach remains enormous. While all three libraries have developed special Web sites for kids, Brooklyn has used grant money to develop a new site for teens, plus teen programming at five locations; it hopes the city's budget will expand it. Queens is also planning new teen programs.
Brooklyn plans a remote learning network, linked to more than one hundred community and educational organizations, so that people can "visit" the library for a tutorial or a class. "It is more than a repository of information; it is increasingly becoming an educational organization," said Deputy Director Evan Kingsley.
New York Public is steadily adding Internet workstations wherever it makes renovations, and is going to expand its technology training. The library will test wireless technology in three branches to see if computer access can be expanded without costly wiring.
Will libraries continue to grow? The city's annual budget dance has begun. The mayoral budget proposes cuts of about 15 percent for libraries; in past years, those cuts were restored, even augmented, after negotiations with the city council. However, in response to the city's fiscal downturn, Giuliani last month proposed additional cuts of two percent this year and six percent in the 2002 fiscal year, which starts this July. That could shut library doors several days a week.
Meanwhile, as the Times noted in an aside last week, the city spends more on police overtime than library service. "Public Libraries are the bedrock of access to information," Strong testified at a recent hearing. "It is terrible and inexplicable that we are here again to fight off attacks on our budget."
Norman Oder is an editor at the independent trade magazine Library Journal. He is also a consultant to the Brooklyn Public Library for one four-week author series.
###
Visit the Issue of the Week archives.
Tell us what you think about this issue. Write a letter to the editor.