Editing Out The Facts
By Glenn Pasanen
7 October 02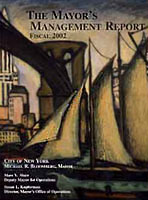 The praise for Michael Bloomberg's first Mayor's Management Report no doubt reflects the relief of many who need no longer tote - let alone read - the three-volume, 1,000 page epics of Rudolph Giuliani. Mayor Bloomberg's 186-page version, with its attractive graphics and easy prose, seemed to give hope that a new era in city government had arrived.
Indeed, there is much that is good about Mayor Bloomberg's new management report.
Data that had been in separate sections - like contract budgets, number of welfare-to-work positions, and overtime - are now included in agency reports. There is a new emphasis on measuring performance over a five-year time period. And the report compares New York City to other large cities in the United States.
However, some things have changed for the worse.
In some ways, Mayor Bloomberg, by presenting a drastically abbreviated version of the report, actually makes it more difficult to find essential information about city services.
Take the report from the Human Resources Administration. Of 180 standards for measuring agency performance in last year's report, only 15 survive. The problem is many of them provided important information. For example, 21 ways of measuring AIDS/HIV services has been reduced to one category. There is no mention of domestic violence. There is also no data on the distribution of food stamps, perhaps because there is $555 million less in federal money now than in 1995.
Anyone who wants to find the old information has to download a separate version from the Internet. (Most people with a basic computer and a regular modem will find this huge pdf document nearly impossible to access.)
Long ago, Giuliani got rid of a category that measured the number of "beat cops," how many officers were on the street on any given day. Now even the average number of daily officers on duty is gone and we are left with just the total number of uniformed and civilian cops.
On the other hand, the mayor has decided to keep some statistics that tell nothing. Why, for example, did the mayor choose to include the results of a police test - which over 98 percent of the officers pass?
Many areas of the mayor's report simply do not say enough.
We are told that 143,200 New Yorkers were placed in jobs in 2002, but we don't know where or how. Several kinds of quality-of-life crimes like graffiti, prostitution, panhandling, and noise complaints are lumped together, then we are told that the total number of these crimes has decreased by 16 percent in the last year.
What happened when the city cut $56 million out of an $80 million program to create 10,000 new day care slots? The Department for the Aging prides itself on continuing to provide meals-on-wheels, but doesn't mention that it has a waiting list of 500 seniors for the service.
What is most disturbing about the new management report, however, is its lack of respect for history and fact.
While Giuliani used enormous amounts of data and self-serving rhetoric to spin the report as a public relations vehicle, Bloomberg has simply cut information and then refused to comment. Simply put, the Bloomberg approach represents a huge dumbing-down of the report and reduces its usefulness.
The trick in the future will be to maintain the reader-friendly style of this new management report while adding substance and historical perspective. As currently designed, the report gives the public too little information and too little credit for being able to recognize what's important and what's not.
See also: "Guide To The Mayor's Management Report" by Mark Berkey-Gerard
###
Visit the Issue of the Week archives.
Tell us what you think about this issue. Write a letter to the editor.