Middle School Muddle
30 September 02
by Gail Robinson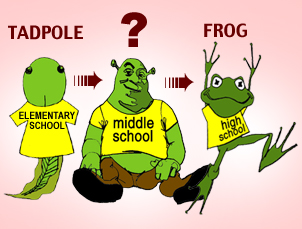 Last winter, they crammed for tests, coached by teachers, parents and tutors, and tried to quell pre-test jitters with a good night's sleep and a healthy breakfast. Now, they worry about applications and even more tests. Accompanied by parents, they visit schools and pepper guides with questions. The big one: Who gets in?
It's a familiar scenario. But these students are not applying to college or even high school. They are fifth graders trying to get into public middle schools in New York City.
For much of the 20th century, students either stayed in their local elementary school until eighth grade or attended their neighborhood junior high school. Now neighborhood middle schools do not exist in some parts of the city. Even when they do, many students do not attend them, choosing instead to apply to middle schools of choice, gifted schools and other programs that can, to some extent, select their students.
Fifth graders jockey for spots in the relatively small number of schools with good reputations. Some apply to schools that are not only outside their neighborhoods but beyond their community school districts or boroughs. If accepted, they may commute an hour each way -- all to go to sixth grade.
It is a high-stakes game. Which middle school students attend can have a major effect on what high school they go to and how well they will fare once they get there.
And the chances of turning up in a bad middle school are high. The state has identified almost half of the city's 234 middle schools as requiring major improvements under the federal "no child left behind" legislation passed earlier this year. More than 70 percent of eighth graders in city public schools fail to meet state standards for reading and math.
Now many parents, politicians and educators want change. At the first meeting of the new city Educational Policy Panel last week, one Bronx parent challenged Schools Chancellor Joel Klein "to go to any of our middle schools and stay a month." Steven Sanders, chair of the State Assembly Committee, recently wrote that "without any question" the chancellor must focus on middle schools. "Either we will succeed in the middle grades or we will continue to see an escalating dropout rate in high schools and unsatisfactory Regents exam scores," he said.
Last spring, the New York State United Teachers, a statewide federation of unions, cited a "crisis" in middle school education and called for a 10-part program to upgrade the state's middle schools. Union vice president Antonia Cortese said, "Middle education now must be front and center. There's been enough talk and enough study. Students need action now."
So far neither the chancellor nor his education deputy, Diana Lam, has made any public statements on how to improve middle schools. But many educators have ideas. Some borrow methods used in those middle schools that do manage to educate and engage youngsters in grades six through eight. Others argue the best solution to the problem with middle schools is to do away with them altogether.
THE DROP-OFF YEARS
Junior high schools have "always been the weak link in the system," said Clara Hemphill, of Advocates for Children and author of "Public Middle Schools: New York City's Best."
As poorly as New York City school children do in elementary school, everything gets worse for the 214,000 middle school students. While 52 percent of fourth graders met the basic standards on a statewide math exam last school year, only about 30 percent of eighth graders did.
And academics are not the only problem. Middle schools suspend an increasing number of students, the New York Post reported. With 647 students, IS 198 in the Arverne section of Queens issued 186 suspensions in the 2000-2001 academic year. "Some of these schools are unsafe for students and teachers," then school board president Ninfa Segara charged.
Even junior high school students concede that classes are often out of control. Parents complain that the curriculum makes few demands on students Many schools do not offer a foreign language or algebra. Research projects and challenging reading can be rare.
ADOLESCENT ANGST AND ATTITUDE
The middle school malaise exists throughout the country. It "extends to the most expensive private schools in our wealthiest neighborhoods," education columnist Jay Matthews wrote in the Washington Post.
What is now perceived as a problem was once the solution. About 30 years ago, school districts created middle schools to ease students' transition to high school. "No longer dependent on the structures that characterize elementary school, but not yet ready for the independence of high school, students between the ages of 11 and 14 demand something different," said a report on middle schools by Anne Mackinnon published by the Edna McConnell Clark Foundation.
This is a time in life that many adults recall as difficult if not downright miserable. Matthews refers to middle schools as "hormone flooded enclosures." Junior high school students grow at a faster rate than they have at any time since infancy. Short attention spans, mood swings and what many parents groaningly describe as "that attitude" accompany the physical changes.
We tend to have low expectations of middle school kids -- and they often meet those expectations. "In some middle schools," says Mackinnon's report, "concern for students' emotional and psychological needs overshadows expectations for high achievement." But, she continues, "developmental concerns . . . must never be allowed to justify a retreat from educational rigor, a rich and demanding curriculum, or a belief in students' competence as learners."
CHOOSING CHOICE
In New York City, middle schools, some of which bear the name junior high or intermediate school, fall under the control of the community school districts. Districts have taken their own approaches to shoring up middle schools and trying to keep middle class parents from fleeing the school system. But generally, the trend has been to create various programs to which students must apply. Some districts offer these schools in addition to neighborhood, or zoned, schools. Others have eliminated the traditional local school entirely.
Although exact statistics are virtually impossible to find, about a third of New York City middle schools are schools students must choose to attend. Other schools include both a neighborhood program and a selective gifted or talented program in the same building.
The movement to middle schools of choice has its roots in the 1970s and '80s. Under the leadership of then district superintendent Anthony Alvarado, District 4 in East Harlem, a largely Hispanic and black, low income district marked by poor academic performance, eliminated neighborhood middle schools. The district launched a number of alternative schools, and students could apply to any of them. Initially the District 4 program seemed a smashing success. Test scores and the district's ranking compared to other New York City districts increased dramatically until the 1990s. But then, student achievement dropped off.
The district today offers a variety of middle schools programs in six buildings. The Talented and Gifted Institute for Young Scholars still provides a demanding curriculum, and its students respond by doing well on standardized tests. But some of the other district schools are on the state list of schools needing improvement.
Meanwhile, other districts copied the District 4 approach. Alvarado went on to District 2 in Manhattan where he created a number of special schools, though students can still attend local, or zoned, schools. Parents and students from throughout the city eagerly seek out several of the selective schools, particularly The Lab School.
In 1998, District 15 in Brooklyn did away with zoned schools and created some new relatively small schools that students had to apply to. The district rushed the plan into effect, confusing and irritating many parents. Some of the schools quickly faltered and have already been revamped or eliminated. The state has placed two of the district's middle schools, MS88 and MS378, on its Schools under Registration Review list of failing schools. While the district holds high hopes for the new Secondary School of Law, Journalism, and Research at John Jay High School, a lot of parents think IS51 with its gifted program is the only district school worth seriously considering. Since the choice plan went into effect, IS51 has become increasingly affluent and selective.
Many of the new schools throughout the city are small and focus on a theme, such as law, global studies or journalism. This does not mean the school trains 11-years-old to be lawyers, said Seymour Fliegel, president of the Center for Educational Innovations - Public Education Association, which advocates educational choice. The curriculum in most middle schools tends to be the same but a theme, he said, can motivate students and provide an avenue for approaching conventional academic subjects.
Fliegel says that the choice schools "work rather well." But Alvarado, now superintendent of the San Diego schools has said, "Choice is just one arrow in the strategic quiver. District 4 did not succeed just because of choice. We got loads of money to deal with innovation." Leadership from various people in the district also proved essential.
While students in choice programs select schools, school select students as well. Anna Poe-Kest, a freshman at LaGuardia High School who attended one of three selective programs at Brooklyn's Hudde Junior High, praised her gifted program for offering classes that "moved at my level." But she expressed concern that such programs may foster a kind of elitism, leading some students to think they are better than others.
Ten years ago, David Kirpf identified some of the other problems with choice in an article in The Atlantic "For the many youngsters who are characterized by district officials as 'at risk' -- including children with young mothers strung out on crack, children who have worn thin the patience of their grandmothers, children living in group homes or on the streets -- there is no responsible adult to make a choice," he wrote. Perhaps partly as a result, "a hierarchy has emerged, reflecting the extent to which schools can be selective. ... At the bottom of the heap are schools that virtually none of each year's 1,400 prospective seventh-graders in District 4 would choose. These get the hundreds of children who are left over after the more successful schools have made their picks."
In other words, students who do not get selected by a program still have to go somewhere. At the same time, says Hemphill, almost all the best middle schools in the city select their students in some way.
To do that, school officials look at student scores on the statewide fourth grade reading and math tests which are to middle school admissions in New York City what the SAT is to college applications. On top of that, some schools offer additional tests, while others hold auditions or interviews and review student elementary school records. Criteria vary not only from district to district but also from school to school, forcing many 10 and 11 year olds to run a gamut of tests and trials.
WHAT WORKS
However bad many city middle schools are, the system includes a number of successful ones. Critics often fault New York City schools for not being able to copy good programs and put them into bad schools.
Replications Inc., a nonprofit company based at Teachers College of Columbia University, does exactly that. It clones schools, notably some middle schools that have been particularly successful in largely poor and minority neighborhoods.
This includes the Frederick Douglas Academy in Harlem, which Inside Schools, an on-line guide to city schools sponsored by Advocates for Children, describes as "a serious, traditional and highly structured place, where rules of behavior are carefully spelled out and infractions swiftly punished." Replications has also copied Mott Hall in Harlem which generally ranks at or near the top of the city's middle schools. Inside Schools says it "chooses the best elementary school students in the city and pushes them to even great heights" with a program that uses various progressive educational ideas.
Replications president John Elwell said the new schools may be even more successful than the originals because "they don't have to make the same mistakes the other ones did when they started." But Elwell believes there has to be a well thought out plan to replicate the whole school, not just a few key elements. "We've known about all these things for 30 years," he said. But what characterizes the schools he replicates, he said, "are teachers and leaders who really believe in them."
When pressed, though, Elwell identifies some characteristics of a good middle school. Like many educators, he believes that smaller schools work better than larger ones. Holding an orientation for students in the summer helps. And what he calls culture is key. "Culture is always about behavior," Elwell said. "If children, behave, they will learn."
Others argue for better teachers. New York and many other states do not certify people specifically as middle school teachers. The National Forum to Accelerate Middle-Grades Reform wants states to adopt specialized and rigorous certification requirements for middle-school teachers.
Hemphill believes finding good middle schools teachers -- "people who both know their subjects and can work with youngsters at this difficult age" -- is important, as is a good principal. And, she said, a middle school should provide "a formal structure to make sure kids and adults have a chance to speak to each other informally."
This is clearly something Emily Allen values about her school, the Clinton School for Writers and Artists in New York City. "Here they let you express your feelings," she said. "No one beats you down if you have different opinions. You can talk about your emotions."
Some educators say recommendations to improve existing schools do not go far enough. The middle school experiment has failed, they say -- and they are acting on this theory. Baltimore, for example, hopes to replace some conventional middle schools with schools offering kindergarten through 8.
Paul Vallas, the new chief executive of the Philadelphia schools, wants to phase out most of the city's middle schools and convert many schools with kindergarten through eighth grade. The state of Pennsylvania considers 34 of Philadelphia's 42 middle schools to be failing.
But regardless of which grades are in what buildings, youngsters between 11 and 14 have to attend some kind of school. While eager to leave elementary school behind, many of them realize they are not yet ready for high school.
"There are things about high school that make me scared -- like pressure about going to college," said Ellie Alter, another Clinton student. "Middle school is not as intimidating." Indeed, Alter, says logically enough, it is "in the middle."
In New York, that middle has been a bit of a mystery. The question facing the new chancellor and the Department of Education is whether they can find programs that help students in these intermediate years make the transition from elementary school to the increasingly rigorous demands of high school.
Joanna Suffin contributed reporting to this article.
###
Visit the Issue of the Week archives.
Tell us what you think about this issue. Write a letter to the editor.