Mitchell-Lama
09 April 01
by David Schwartz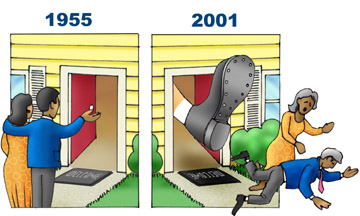 Desperate for a place to live, Donna Lee Michas was willing to look at a newly constructed apartment building complex, though she had her doubts about it. It was in the middle of nowhere, a 20-minute walk to the nearest subway, in an unsafe neighborhood. And the rent would cost her more than two weeks of her pay each month.
But since the builder was having trouble attracting any tenants, he offered her the first two months rent-free. And then when she saw an apartment on the fifth floor, with a view of the East River, she fell in love with it. The landlord really clinched the deal, though, when he told her that her rent could not be increased very much over the years, because the building was part of a program called Mitchell Lama.
So Michas moved in to Waterside Plaza, a complex along the East River on East 23rd Street.
"I planned on retiring here," she said, "living here forever."
That was 27 years ago. Her gamble paid off. While rents have skyrocketed in the now-fashionable neighborhood around her, she pays just $615 a month for her apartment, thanks to Mitchell-Lama, which many call the most successful government housing program ever devised.
But Michas might have to make new retirement plans. Richard Ravitch, former candidate for mayor and owner of Waterside Plaza, is trying to take his building complex out of the Mitchell-Lama program. Over the next three years, her rent could literally quadruple. So could the rents of 1,500 families at Waterside Plaza. And so could the rents of people in buildings throughout the city. Many of the 70,000 Mitchell-Lama renters throughout the city might be forced to leave their homes.
That was why, one recent Thursday night, Donna Lee Michas was standing before a microphone in an auditorium crowded with some 700 fellow tenants, her hands shaking and her voice trembling -- partly from stage fright, but mostly from rage.
"Do you not have any conscience?" she said as she shook a finger up at the building manager and three lawyers sitting on a stage. Three security guards in suits and sunglasses edged almost imperceptibly towards her. "Where would you go if you found out tonight that you'd have to pay five times what you're paying now? Where would you go?"
"THE BEST HOUSING EVER"
At a time when "affordable housing" has become everyone's mantra, New Yorkers recall with a nostalgia bordering on awe the program that began in 1955, after New York State Senator McNeil Mitchell and State Assemblyman Alfred Lama introduced a bill in the state legislature to provide a package of incentives for housing developers. (Though their names are now enshrined, the two legislators reportedly did little more than officially sponsor a program that was developed by housing experts within the administration of Mayor Robert Wagner). In exchange for offering developers low-interest mortgages and tax breaks, the Mitchell-Lama program would encourage them to build sturdy apartment buildings; keep the rents (or in the case of co-ops, the selling price) within reach of middle class families; and submit to state or city supervision of any cost increases to the tenants.
Just about the only thing that tenants, builders, housing experts and politicians now agree on is that Mitchell-Lama was a success. Over the next quarter-century, more than 400 Mitchell-Lama buildings were constructed, providing homes for about 150,000 middle and moderate-income families. The most famous of them is Co-Op City, the sprawling complex in the Bronx with more than 15,000 apartments.
"Mitchell-Lama is the best housing program any government anywhere has ever designed," said Michael McKee of the New York State Tenants and Neighbors Coalition, a tenant activist group.
To get an apartment in a Mitchell-Lama building, a prospective tenant has to earn under a certain amount of money. While the limit depends on the building, most maximum incomes these days range from $60,000 to $100,000 a year. For most New Yorkers this is not the hardest part.
As a testament to the program's success, waiting lists can be up to 10 years. The most desirable buildings are closed altogether.
But if the program overall undeniably worked, there was one provision that critics now see as shortsighted, one that is causing the current-day angst and argument. At the program's inception, it was assumed that the city, then reeling from a post-war housing crunch, would be able to solve its housing shortage in coming decades. That is why the law stipulated that 20 years after they constructed a building, owners would be able to buy out of the Mitchell-Lama program by paying back the mortgage, and thus escape the government supervision over any charges to the tenants.
The city's housing problems, as everyone knows, have not been solved. But more and more owners are planning to leave the Mitchell-Lama program and charge market rents for their apartments. About thirteen city buildings, and thousands of individual apartments, have already left the program, and talk among owners of buying out is pretty wide-spread, according to Jerome Belson, director of the Associated Builders and Owners. There has even been talk about Co-Op City leaving Mitchell-Lama
Tenants of rental buildings are trying to stop this in court and in the legislature. Owners, though, say that the buyouts are necessary.
"Owners aren't making money," said Belson. Besides that, he pointed out, the law is the law. "In consideration for agreeing to take a limited return, these owners built affordable housing with the idea that they could buy out of the program after 20 years. You can't change that after the fact."
NO MORE MITCHELL
If Mitchell-Lama was such a successful program, why did it come to an end?
The answer to why the city and state stopped subsidizing any more Mitchell-Lama construction, depending on whom you ask, is that the program was done in by inflation or by indifference, by the city's fiscal crisis or by tenant strikes.
"The political will wasn't there to keep it going," said Bob Woolis, co-chair of the Mitchell-Lama Residents Coalition.
"It was very expensive and there wasn't the commitment to funding it," said Michael Schill, director at New York University's Law School Center for Real Estate and Urban Policy.
By the time the last building went up in 1979, the city and state had granted private developers more than $4.1 billion in low-interest, long-term loans and also gave them partial real-estate-tax exemptions.
With the end of Mitchell-Lama came the end of government-sponsored middle-income housing programs of any kind in the city - until just last year.
LESSONS OF LAMA
In a sort of Rip Van Winkel replay, the major players have suddenly woken up after twenty years and called for sweeping Mitchell-Lama-like programs for construction of middle-class housing, including Mayor Rudolph Giuliani, who proposed in his State of the City Address that the city government spend $600 million to spur new construction. All four major Democratic candidates for mayor have proposed their own Mitchell-Lama-like plans. Some candidates are even more explicit in their homage to Mitchell-Lama.
"My housing plan talks about building more Mitchell Lama," says Scott Stringer, a member of the New York State Assembly who is running for Public Advocate. "Mitchell Lama 2 would take three billion dollars. [We should] force the insurance companies to get into the housing business..."
The political will, in other words, has apparently returned.
That may be because the economy has improved while the housing situation has gotten worse. Over the past decade, according to the new Census, the city's population has increased by at least 350,000 people, but only 42,000 new rental apartments have been built.
The result? The average cost of Manhattan co-ops and condominiums south of Harlem is over $700,000. The number of rentals for $500 a month has shrunk by 55 percent in eight years.
"One of our biggest - and toughest - jobs is to build more affordable housing in this borough, and throughout the city," Manhattan Borough President C. Virginia Fields said during her State of the Borough Speech (and she doesn't even have an opponent). Then the borough president added: "We must also focus on our existing affordable housing, already serving New Yorkers so well, and keep it from disappearing into the dark clouds of oblivion. I am referring to our Mitchell-Lama program.... Mitchell-Lama residents are determined to keep their affordable apartments in the program. And I am determined to help them."
FIGHTING TO STAY
It is mostly Mitchell-Lama rental buildings in high-priced neighborhoods in Manhattan and Brooklyn that are buying out of the program. In places like the South Bronx, the real-estate market doesn't make it worth the owners having to pay back low interest mortgages and losing the tax breaks.
Right now, there are bills in Albany that would help these tenants. One bill would extend the amount of time before an owner could buy out of Mitchell-Lama. Another bill would make all the buildings leaving Mitchell-Lama rent-stabilized.
But such bills have been proposed in the past, and while they pass the Democratic Assembly, they have all died in the Republican controlled Senate.
Some tenants are talking about negotiating with the owners. There have even be a few settlements. Tenants who sued the landlord of Ruppert Yorkville Towers, two red-brick buildings with 1,258 apartments that were built in 1975 on the upper east side (on the site of the old ruppert's brewery), were recently able to come to a tentative agreement, with the help of the city. In 1998, the landlord, yorkville towers associates, notified tenants it was planning to withdraw from the mitchell-lama program. Last month, the two sides came to a compromise that neither is ecstatic about, but both seem to be able to live with. For the wealthier tenants, the landlord would convert their apartments to condominiums and set the purchase price at a 20 percent discount. For the tenants who cannot afford to buy their apartments, the landlord will increase the rents based on the ability of the tenant to pay (with both the landlord and the city subsidizing the rents of the poorer tenants, at an estimated cost to the landlord of about $10 million and to the city of about $ 3 million). Under the proposed agreement, for an apartment that is now renting for $900 a month, the rent would go up to $1,250 a month for those tenants who earn below $45,000 a year, and on up to $4,000 a month for tenants earning more than $144,000 a year.
Under one deal that has been informally mentioned by tenants at Waterside Plaza, the rents of present residents would be rent-stabilized but new tenants coming into the building would go to market level. "Attrition, please. Just think about it," pleaded Donna Lee Michas to the Waterside representatives.
But attrition and complicated compromises still take apartments out of the mitchell-lama program. "Once the apartments are gone, that's less affordable housing for the rest of the city that you can't get back," said Woolis of the Mitchell-Lama Residents Coalition.
And the fate of the Mitchell-Lama buildings not only affects its tenants. "The direct impact is on those people who live in the Mitchell-Lamas," said McKee of the tenants coalition. "But indirectly, when a building leaves Mitchell-Lama the housing supply becomes even lower and rents become even higher."
So far, the Waterside Tenants Association has succeeded in delaying the buyout for two years now. They have a high-powered attorney, highly organized tenants who work as lawyers and public relations directors, and a large enough building to attract media attention.
Across the river, though, about 100 tenants have been fighting for just as long, but with less attention and fewer resources. The tenants of Middagh Street Studios, at the edge of Brooklyn Heights and DUMBO, have been trying to prevent their landlord, the Penson Corporation, from buying out of Mitchell-Lama. But their funds are limited, raised from door-to-door collections and garage sales. They do have a lawyer, but with so little money they try to do most of the work themselves. They have traveled to Albany to lobby state legislators in person.
They argue that when the apartment was built, in 1975, it was with the intention of attracting artists in order to transform a undesirable neighborhood full of crumbling factories and abandoned warehouses. They moved in when nobody else was willing to.
"I remember when you wouldn't go out by yourself after 10 because it wasn't safe," said tenant Karen Zebulon, a photographer and tap dancer who has lived in Middagh Street for over 20 years.
"We helped DUMBO grow," said Anita Karl, a calligrapher who has lived in her apartment for 22 years. "We were like the beginning of the artist community here. We added a lot to the community with art shows, redoing the waterfront and parks."
It worked. Now, the apartment building is in one of Brooklyn's most fashionable neighborhoods, with six-dollar coffees and chic restaurants. But now, if their landlord is successful, the monthly rent for studios in their building, which currently range between $600 and $1,100, will soon rise to as much as $5,000. If that happens, the 100 tenants discovered (from a survey they conducted of themselves), every last one of them would be forced to move out.
"I don't know what I'd do," said Anita Karl. "I'd have to leave the city."
Mitchell-Lama Links
###
Read a letter to the editor about this article
Visit the Issue of the Week archives.
Tell us what you think about this issue. Write a letter to the editor.