The MTA Capital Budget - Report from the Combat Zone
31 Jan 00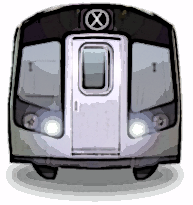 THE LOWDOWN:
Every five years, the Metropolitan Transportation Authority (MTA) must submit a capital spending program for the next five years. This system was established in the early 1980s to insure that New York's subways and commuter railroads (which nearly collapsed in the late 1970s from decades of deferred maintenance) received adequate capital investment. This process has worked; New York's rail transit systems now function with reasonable reliability.
In September, the MTA proposed a $16.5 billion capital program for the years 2000 to 2004. Of this, $13.5 billion was to continue the current level of investment in restoring existing systems. The other $3 billion was to start three new-capacity projects, the first in decades:
1. $1.5 billion for East Side Access, the MTA's name for connecting the Long Island Rail Road to Grand Central Station;
2. $700 million for the MESA project, the MTA's name for an Upper East Side subway running down Second Avenue from 125th to 63rd streets, and then swinging over to the West side on the unused N and R express tracks; and,
3. $645 million to extend subway service to LaGuardia Airport.
While the proposed funds for capital investment in existing facilities are non-controversial, there is a bitter debate over the adequacy of the MTA's proposals for capital expansion. And no one has yet really addressed the issue of how any MTA capital plan will be financed.
THE VETO:
Under NYS law, the MTA capital program must be unanimously approved by a four member Capital Program Review Board, whose members are appointed by the Governor, the State Senate Majority Leader, the Assembly Speaker, and the Mayor of New York City. Approval is presumed unless, within ninety days, a member vetoes it. Two members, Assemblywoman Catherine Nolan on behalf of Assembly Speaker Sheldon Silver, and State Senator Dean Skelos, both vetoed the plan in December. Nolan vetoed the program largely because it did not include a full Second Avenue subway. Skelos vetoed the program to insure the mass transit capital program and the highway capital program would be considered jointly during the legislative budget process, and that rough funding parity would be maintained between them. This dual veto was considered unavoidable by almost everyone.
THE CENTRAL ISSUE: SECOND AVENUE SUBWAY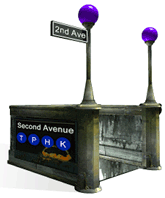 After a quarter century of neglect, 1999 saw the Second Avenue Subway become a real political issue again. A million new subway riders a day since 1997 have produced increasingly overcrowded subways and increasingly discontented riders, particularly on the Lexington Avenue line (the Lex). These discontents were energized by the Regional Plan Association's MetroLink proposal for a new four borough subway system built around construction of more-than a Second Avenue Subway from Co-op City in the Bronx to Atlantic Terminal in Brooklyn. A broad coalition of political leaders, civic organizations and neighborhood groups united in urging the MTA to build a full length Second Avenue subway with four borough service. Price tag: $8 to $13 billion project.
The MTA tried to meet this public demand by proposing to spend $700 million to start MESA, its three mile Upper East Side subway proposal that would ultimately cost $4 billion and not be completed until 2015. But MESA received withering criticism as a white elephant that would directly serve only one out of 20 Lex riders and leave the Lex in 2015 significantly more crowded than today. The MTA attempted to salvage MESA by arguing that it was at least a first step towards a Second Avenue subway. But when the MTA refused to commit to either a plan or a schedule for constructing a full Second Avenue Subway, the MTA's first phase argument collapsed. Second Avenue subway supporters are seeking $2 billion in the next MTA capital program (the MESA $700 million plus $1.3 billion more) to complete by 2004 all the planning, engineering, community outreach and environmental review needed to begin its construction.
OTHER ISSUES:
1. Building the Second Avenue Subway in Tandem with East Side Access
Bringing the Long Island Rail Road into Grand Central Station is something transit advocates have long sought, and the Governor's proposal to do so in 1996 was widely hailed. Since then, however the impact of East Side Access on the Lex has become an issue, after three years of soaring subway ridership and overcrowding. According to MTA figures, East Side Access would add 6,000 riders an hour during the peak period to the Lex at Grand Central, a passenger load far beyond the ability of the MTA to absorb even today, much less in 2010 when East Side Access is scheduled to be completed.
Few Manhattan interests are opposed to East Side Access at this point, and institutions like RPA remain strongly supportive. The issue is improving conditions for some (i.e. Long Islanders) by making conditions on the Lex even worse for others (i.e. New Yorkers and Westchester commuters who use the Lex to travel to Lower Manhattan). To avoid that, Second Avenue subway advocates propose building the Second Avenue Subway and East Side Access in tandem.
This seemingly statesmanlike proposal, which has been editorially endorsed by three of the four major New York dailies, including LI's Newsday has been ignored by the MTA. Instead, it is rumored in transit circles that the MTA's Draft Environmental Impact Statement (DEIS) on East Side Access, due out this spring, is going to drastically reduce the MTA's original estimate of the number of passengers that East Side Access will add to the Lex at Grand Central. Many fear that such a bureaucratic evasion will spur what one observer called "a regional food fight," endangering both projects.
2. Extending the N Train to LaGuardia Airport
Largely at the urging of Mayor Giuliani (and with the strong support of Queens Borough President Claire Shulman), the MTA capital program included $645 million as the first stage of a $1.5 to $2 billion project to extend subway service to LaGuardia. But extending the elevated N train through Astoria to LaGuardia, as originally intended, has met with implacable community opposition, including the local City Councilman, one Peter Vallone.
Though the MTA is now looking at 19 alternative routes, prospects for identifying an acceptable and credible subway service to LaGuardia appear to be dwindling. The MTA itself has shown no great enthusiasm for the project, and its proposed capital plan backloaded the spending of over $500 million of the $645 million into 2004. If LaGuardia access is to survive once its powerful patrons move on, the MTA will have to come up with a practical way to get to LaGuardia that will have real user appeal. So far, it has failed to do so.
3. Immediate Service Improvements
In response to the 1997-1999 surge in ridership, the MTA has made only limited increases in existing subway and bus service. The MTA's proposed capital continued that policy. The Straphangers Campaign, the leading rider advocate organization, has proposed adding to the capital plan about $500 million in funds to purchase hundreds of new subway cars and buses to significantly increase existing service levels. Though this program has received widespread civic community endorsement, the MTA strongly opposes it as unneeded.
4. Natural Gas Buses
Since 1990, the MTA has been under continuing pressure to phase out polluting diesel buses in favor of clean fuel natural gas buses. Other bus lines have done so, including the City buses bought for its franchise lines. But the MTA has stubbornly clung to diesels, arguing that new diesel technology is much cleaner and that the cost of retrofitting bus garages for natural gas operations would be prohibitively expensive. Natural gas advocates calculate the cost as only $280 million over the next five years and are pressing forward with widespread public support.
FINANCING:
The MTA is billions of dollars short of the money for the capital program it has proposed, much less the additional $2 billion a full Second Avenue subway and the other proposed additions would cost. The MTA has only about one-third of its proposed $16.5 billion capital program in the bank, largely through federal capital subsidy funds. To close the gap, the MTA has proposed a massive two-part bonding scheme. The first part involves refinancing most of the MTA's existing debt to free up about $3 billion in new bonding authority, at the cost of much larger long term debt obligations. Then the MTA would issue an additional $8.8 billion in fare-backed bonds, a scheme that would raise the portion of MTA revenues going to debt service to 25% by 2004.
This City wasn't built by people who said it costs too much. The Second Avenue Subway must run from up in the Bronx, down to the Battery, and out into Brooklyn. That's our obligation to the future of New York City. And we should spend nothing on any proposal that fails to get that job done.
Peter F. Vallone
State of the City Address, January 11, 2000
This has left everyone, especially the Governor and the Legislature, with the uncomfortable choice of either accepting the MTA's mega-bonding scheme or finding a replacement for it. Accepting the mega-bonding approach reduces the MTA's estimated additional revenue need to meet both debt service plus operating deficit to $2.3 billion for the next five years, and not much more if the capital plan adds a full Second Avenue subway and other improvements. Such is the short term magic of bonding. But it may also be a long term pact with the devil, in this case a massive devil of a deficit going into preparation of the 2005 to 2009 capital plan, whose dimensions could threaten not only the new capacity programs, but even the continuation of current levels of capital investment in existing facilities.
On the other hand, to reject this level of MTA borrowing will require coming up with some major new revenue sources for mass transit. The wide public support for expanding mass transit and a prosperous economy prosperous probably make this as good a time as any to try to get the public to support more resource allocation to transit. But with hotly contested presidential and senatorial elections this year, and with cutting taxes still a dominant political theme in New York, the obstacles to obtaining major new revenue for mass transit appear formidable.
So far only one politician has even dipped his toe into these waters: Governor Pataki. His budget proposed $802 million in additional state aid over the next five years to support the MTA capital program, about one third of the MTA's estimated revenue need under its bonding approach. But the money was offered with no hint of a willingness to consider more fundamental financing measures or of support for a Second Avenue subway or other MTA capital plan additions. Most observers saw it as nothing more than a placeholder until the Governor judges the time is right to reveal his ultimate intentions.
A FARE INCREASE?
In the absence of other specific funding initiatives, attention has been inevitably turning to the issue of a fare increase. A quarter subway fare increase, with an equivalent 17% increase on commuter rail fares, would produce about $400 million a year in additional revenue.
Such a potential increase has been vehemently denounced in many quarters. The fear of opponents is that a fare increase would be a substitute for a real long term financing plan for the MTA, providing enough money to support the MTA's mega-bonding but nothing more. The numbers at least bear that out. $400 million a year would make a meaningful contribution to reducing the MTA's $2.3 billion debt service and operating deficit over the next five years, but do nothing to reduce the long term debt service juggernaut that the MTA's mega-bonding scheme would create.
WHAT HAPPENS NEXT:
What happens next is likely to be determined by two things: when it happens and what the business community does.
The early word out of Albany was that the Legislature would try to settle the MTA capital program during the March budget negotiations, to get as much as possible that was controversial off the table in preparation for the fall elections. If the MTA Capital program is addressed that quickly, it is unlikely that there will be time for the kind of complex political mating dance required to get a major new revenue source through the Legislature. In that case, the likely outcome will be an MTA capital plan dependent on unprecedented levels of bonding with all that will mean for the future.
On the other hand, a combination of cynics and idealists expects action on the MTA capital program to be deferred to a special, post-election session. The cynics believe that the State Legislature and the Governor will be unable to come to a politically acceptable agreement on the program and will put off the hard decisions until after the election. The idealists believe that the Legislature will have to recognize that major new funding is required to keep mass transit afloat but, not wanting to raise new revenues before the election, will opt to face the issue once the election is safely behind them. If so, the prospects for a long term MTA financing plan are probably much better.
The decisive role in any long term funding plan debate will most likely belong to the business community. Business has been generally supportive of the campaign for a Second Avenue subway and new investment in transit capacity. But it has also put little if any political capital into pushing for new financing sources. If it does so, it is much more likely that the Legislature will be willing to deal with the revenue issue. But if the business community stands aside or opposes new revenue raising schemes for mass transit, than the prospects for legislative action on a new MTA funding package will be poor.
The issue will turn on whether business leaders recognize the need for new transit capacity if the economy to grow. One view of the importance of transit to the economic future of the City is expressed by Frank McArdle in his "Their Dreams, Our Dreams" essay, where he asks where we would be without the transit investments of the past and where will succeeding generations of New Yorkers be if we do not act on a similar scale.
ADDITIONAL SOURCES AND RESOURCES:
Everyone who is anyone in New York politics now has a finger in the MTA capital program debate pie. Last week alone, Comptroller Alan Hevesi predicted as much as a 35 cent fare increase in 2001 if the MTA's funding was not increased, and Mayor Giuliani gave qualified support to a Second Avenue subway, but said the LaGuardia line was more important. Nearly all of the leading political players have information packed websites and home pages but, except for RPA and one or two others, none of these sites goes out of the way to highlight materials on the MTA capital plan debate.
MTA - Capital budget proposals and other basic transit information. But the MTA's answer to challenges to its capital plans and various proposals like MESA is mostly silence.
Governor Pataki - A major player, but so far has not spoken and only acted indirectly, through the State Executive Budget proposal.
State Comptroller Carl McCall - An early whistleblower on the risks in the MTA mega-bonding proposal, and a critical fiscal watchdog.
Assembly Speaker Sheldon Silver - The veto message of his Capital Program Review Board appointee, Assemblywoman Catherine Nolan, is probably the closet thing to his agenda statement about the MTA capital budget controversy.
Mayor Rudolph Giuliani - So far, has concentrated on LaGuardia access on the subway scene.
Public Advocate Mark Green - Another strong Second Avenue subway advocate.
City Council Speaker Peter Vallone - A more recent addition to Second Avenue subway advocates, but has come forward very forcefully.
State Senator Dean Skelos - must represent both highway interests and East Side Access advocates in the MTA capital program debate, speaks for Senate Majority Leader Joseph Bruno on the MTA capital budget.
Borough President Freddy Ferrer - strong advocate of a Second Avenue subway, per the RPA MetroLink plan, as a citywide asset. His Bronx perspective adds an important element to the Second Avenue subway debate.
Borough President Virginia Fields - A leading political champion of a Second Avenue subway.
Congresswoman Carolyn Maloney - Another leading political champion, the most vocal congressional supporter.
State Senator Roy Goodman - Another leading spokesman rounds out the trio of champions, although less involved of late.
Regional Plan Association (RPA) - Does much of the heavy planning and analytic work for Second Avenue subway advocates.
The Straphangers Campaign of NYPIRG - The civic community's transit infantry. Campaign Director Gene Russianoff is the one person always asked to comment on the latest MTA developments. Especially good on how to make immediate improvements that will benefit riders.
The New York City Partnership - Elite business community's Chamber of Commerce, strongly supportive of transit, now trying to decide how to insert ideas like value pricing into the MTA funding debate.
The Association of General Contractors (AGC) - Plays an important role in providing not only a construction industry perspective, but also construction industry leadership in setting a transportation infrastructure agenda and how best to achieve it
The Natural Resource Defense Council (NRDC) - The leader in the fight for natural gas buses (In the Air/Energy section, see "The Role of Clean-Fuel Buses in New York City's Transit Future.")
Visit the IOTW Archives!