The Next Election After Florida
10 September 01
by Mark Berkey-Gerard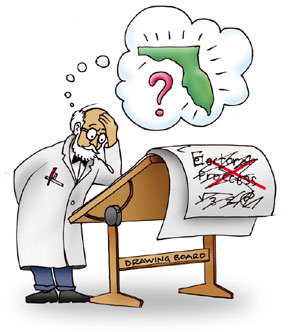 For already election-wary New Yorkers, this week's primary will not just reveal (eventually) who is running in November. It may also answer the question, are we as bad as Florida?
But the events in Florida mean different things to different people. Some who recall what happened during the presidential contest last year focus on black voters and other minorities being disenfranchised. Some think of poorly-designed ballots, malfunctioning machinery, and lawyers arguing over the definition of a vote. Others recall television news anchors declaring a winner, then having to take it back. Many think of the Supreme Court decision that ended it all.
From beginning to end, clearly, there were hitches in the electoral process. And such is true as well here in New York, where the election laws are complicated, the campaigns are expensive, and, this week -- the first election since the Florida debacle -- there are more candidates on the ballot than ever before. There may wind up being more than a few races where the results will hinge on just a handful of votes.
There is more to the electoral process than just which candidates will win, which is why we are revisiting and updating a series of articles that we ran mostly before the 2000 November election. The names have changed from Lazio and Hillary, Bush and Gore to Hevesi, Vallone, Ferrer, and Green, but, all along the electoral process from beginning to end, the issues remain the same:
Why do so few people vote? Are political polls used incorrectly? Does the press focus too much on the "horse race" and not enough on the issues? Have elections been taken out of the hands of the regular citizen and handed over to "professionals?" Will the machines break down? Will the counting of the votes run until the next election?
GETTING OUT THE VOTE
Any candidate will tell you that at the end of the race the most important task is not to sway the still-undecided voters, but to get the already-committed to the polls.
This is certainly true in race for the City Council seat in Flushing, Queens. It has received national attention because four candidates are hoping to become the first Asian-American elected to the City Council, but for the primary the candidates are expected to compete for a total of only about 8,000 to 12,000 voters.
For the three Asian-American candidates vying for the Democratic nomination, then, each vote counts. Candidate John Liu has been holding voter registration drives and on Election Day will work with unions like the United Food & Commercial Workers International Union Local 1500 to get their members to the polls. One of his opponents, Terence Park, is spending his last days shaking hands at subway stops, appearing with mayoral candidate Peter Vallone who endorsed him, and putting together telephone and door-knocking campaigns. James Wu, a campaign organizer for candidate Ethel Chen, would not comment on their specific strategies, calling them "confidential," but said that higher voter turnout would be best for his candidate and they would be doing "everything we can to get people out to vote."
Everywhere in the city, unions, advocacy organizations, religious groups, and local political clubs send out their "troops" on Election Day. By 6:00 am, volunteers appear in front of polling place armed with palm cards reminding voters who to vote for. They also call from phone banks, go door-to-door, and drive vans of voters, particularly senior citizens to polling places.
"The difference this year is pure volume [of candidates], and that we started early in April," said Nathan Smith of ACORN, an organization that advocates for housing and better wages. "Our whole thing is door-to-door, going person to person to get people out to vote. With all of the open city council races our members have a stake in every borough and neighborhood."
For all the effort, this year, the Board of Elections anticipates participation in the primary at no more than 800,000 voters -- out of the 3.4 million registered voters in the city. This might baffle outsiders, because the primary races are in many ways more important than the general election. Because the city is overwhelmingly Democratic, most races will in effect be decided now.
Nobody knows for sure why fewer and fewer people in New York (and in America as a whole) are bothering to vote. But as Gotham Gazette reported, some theories hold that:
The current system excludes too many eligible voters, like new immigrants.
Political scandals have contributed to a general cynicism
If the economy is going well, voters are content with the way things are, and just not interested in politics.
With so many close, crowded and competitive races this year, even those New Yorker who think their "vote does not count" could make the difference by showing up, as Florida made clear.
THE ROLE OF THE PRESS AND THE POLLS
"A boring and lethargic mayoral race? Yes," wrote the Daily News.
"They're the four horsemen of the anticlimax," said New York magazine.
"Political forums are usually staid affairs, with the candidates showing their earnestness while often driving the audience toward slumber," wrote the New York Times.
"Green. Vallone. Ferrer. Hevesi. If you're like most New Yorkers, your eyes just glazed over," said the Daily News in yet another article.
For months, this is how many articles about the election began. Then, just days before the primary, a new poll showed that Fernando Ferrer, who had trailed Mark Green by more than 15 percent for months, was suddenly ahead. The next day newspaper headlines declared: "Now It's A Race."
The poll itself was questionable because it came from a small sample of only 303 voters and had a margin of error of plus or minus 5.6 percentage points, which meant Ferrer's lead of two percent was statistically insignificant. But it did influence a key endorsement. Dennis Rivera, the president of the city's powerful health care union S.E.I.U. 1199, said the poll influenced the union's decision to endorse Ferrer rather than stay out of the race as they had said they would just days before.
As journalist and professor Steve Ross explained in a Gotham Gazette article, the typical poll is much less accurate than readers, reporters, and editors have been led to believe. And because a common definition of "newsworthy" is "surprising," journalists often report numbers that surprise them, which then can have a surprising effect on the candidates and campaigns.
Many voters complain, as a Gotham Gazette article about the press reported, that they cannot learn about the issues they really want to know about because reporters instead cover detail after detail on the candidates' private lives, the "horse-race," the politicians' personalities, and the campaign tactics.
There is disagreement over whether the press should accept some of the blame for lower voter turn-out, but some critics say the press can at least do something to reverse it. Andrew Kohut, director of the Pew Research Center for People and the Press, said that news organizations could begin by reaching out to a younger audience, emphasizing the issues and their importance, and reporting less on private lives and political tactics. But even he admits there are limits to what anyone can accomplish. "In the end, it may turn out there is nothing that news organizations can do to stem erosion of the political news audience, short of sending Gore and Bush to a desert island and having people vote to banish one or the other."
THE PEOPLE = CONSULTANTS AND LAWYERS?
Franklin D. Roosevelt did not have a political consultant, a pollster, a media adviser or even a make-up artist when he won four consecutive presidential elections. Today, as Phil Lentz suggested in a Gotham Gazette article, he would have trouble getting elected to the City Council without such an entourage.
Certainly that is the case in New York City this year. Next to the candidates, the only people more excited about the citys campaign finance program that matches $4 for every $1, are the political consultants.
"With campaign finance money coming to nearly all of the campaigns, there is more money in City Council races than has ever been available," said political consultant Hank Sheinkopf. "Even consultants who are just focusing on council races are doing just fine."
The Parkside Group, a consulting firm, has created 165 different pieces of campaign literature to be sent to 1.5 million households just for their council candidate clients running in the primary.
But even aside from the finance issue, consultants are controversial. Some say that these consultants have "superseded" the political parties in their power. But some consultants, like Hank Sheinkopf, writing for Gotham Gazette, argue that their efforts actually have a beneficial effect on democracy.
Election lawyers are not hurting for business this year either. Lawyers for candidates and the political parties issued over 1,200 objections to candidates signature petitions and spent hundreds of hours arguing in court. In the end, 61 out of 420 candidates were knocked off the ballot.
But it is not just the lawyers who like having the business, it is the incumbent politicians who benefit most from complicated election laws. "Politicians know the laws and outsiders don't," said election lawyer Henry Berger. "They've got the organizations that can deal with them."
BALLOT BREAKDOWNS
Although Florida captured the headlines, New York had its share of Election Day mix-ups last November as well.
The Board of Elections sent out thousands of ballots to absentee voters in the Upper East Side district that mistakenly listed the candidates for another State Senate district. Old voting machines broke down or jammed. At a poll site in Brooklyn, a Spanish speaking voter found that the only translator on hand spoke Russian.
Ironically, the system that is set up to promote and facilitate democracy, as a Gotham Gazette article argued, may actually be responsible for impeding it.
This year, the city has taken measures to prevent problems. Judges have been appointed to oversee the vote count. The Board of Elections contracted with a private company from New Jersey to bring in more voting machines and repair the broken ones. The Board of Elections has also prepared guidelines to determine what exactly counts as a vote in order to avoid the "hanging chad" type debate in Florida. The city is also spending a record amount of money ($2 million more than usual for each Election Day) on better pay for workers.
But some of the problems of the past have not even been addressed.
Last year, in a close Senate race on the Upper East Side, it took longer to decide who won than the presidential election. Throughout the city, an estimated 60,000 votes were lost in part because the Board of Elections had disabled a device in the voting machines meant to alert voters they had made a mechanical error. The Board of Elections says it has neither the money nor the manpower to reactivate the device, which has been disabled for 20 years. All in all, though it did not get the same attention, New York City wound up having a higher percentage of uncounted, unmarked, and discarded ballots than Florida. The electoral process in New York, in other words, has already shown itself in some ways to be worse than in Florida. The question for this year's election is: what will the consequences be?
###
Visit the Issue of the Week archives.
Tell us what you think about this issue. Write a letter to the editor.