NJ vs. NYC
By Michael Markowitz
5 August 02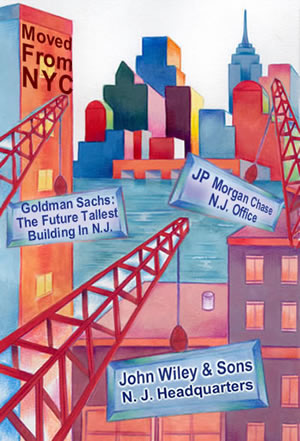 If you peered through the buckled, rusted fence and high weeds bordering River Street in Hoboken as recently as a couple of years ago, you could still see the ruins of the docks where Marlon Brando's character, Terry Malloy, toiled as a longshoreman in the 1954 film On the Waterfront.
Today, a 13-story brick-and-glass office building is just about complete on the site, surrounded by jogging trails, bike paths and a manicured park that offers panoramic views stretching from the Narrows to Washington Heights. By late summer, this setting will be the new home of John Wiley & Sons, a 200-year-old publishing company that is pulling up its deep New York roots and leaving Midtown Manhattan.
As anyone who glances across the Hudson these days can see, Wiley will have plenty of company. The burgeoning skyline on the New Jersey side and the construction cranes that seem to sprout from every available waterfront lot are clear signs that there has been an exodus of companies and jobs from New York.
Between 1998 and the middle of last year, at least 10 major Manhattan companies said they would move at least some of their employees to the reclaimed ship terminals and rail yards that make up New Jersey's so-called Gold Coast. In the same period, many smaller companies joined them.
And since September 11, even more have announced plans to cross the river, either because they were displaced by the destruction of the World Trade Center or because they want to protect their operations by dispersing workers.
Some of those companies are returning to Manhattan, but many are setting up shop in New Jersey permanently. Just up the street from Wiley's future home, another new building will house 1,100 employees of the financial services firm Marsh & McLennan, which suffered heavy losses on September 11. A short distance to the south, in downtown Jersey City, office buildings are under construction for JP Morgan Chase, UBS PaineWebber and Goldman Sachs, whose 840-foot tower will be the tallest building in New Jersey when it is completed next year.
Just as that Goldman Sachs tower will be dwarfed by New York's tallest skyscraper, the 1250-foot tall Empire State Building, so the Jersey City office market is small by comparison to New York's. Jersey City has a total of 16.7 million square feet. There are about 87 million square feet in downtown Manhattan alone (the World Trade Center complex accounted for about 14 million square feet). But New Jersey also offers some enticing lures for companies.
Chief among them is a tax break that is available by law to just about anyone who plans to move into New Jersey or expand within the state. In New York, incentives for business tend to be negotiated on a case-by-case basis, and often, they are offered only when a company already threatens to move. What's more, developers in New York complain, the city's job retention efforts gets too little support from the state government.
"New Jersey talks about not poaching New York City tenants, but they don't have to because they have built-in legislation that grants incentives," says Barry Gosin, chief executive of the New York City developer Newmark & Company Real Estate. "In New York, they have to negotiate these deals one-by-one."
There are other benefits to New Jersey as well. They include:
Lower rents
Easy transportation by PATH train and ferry
Zoning and brownfields laws that allow for relatively easy development of former industrial sites
All of these present a formidable obstacle to the city's efforts to prop up its own business districts, including satellite areas in Brooklyn and Long Island City, Queens. New York officials say they are working diligently to boost the city's job retention programs, but they face an uphill battle.
"Clearly, the benefits in Jersey City are more substantial than they are downtown," says Adam Foster, senior managing director at Insignia/ESG, New York City's largest commercial real estate brokerage.
One thing that is certain is that this battle between the states has cost both sides substantial amounts of money.
Critics ask what taxpayers are getting for their money, and argue that there is a better approach than tax breaks and the continuation of a com petition that goes back for centuries.
THE TWO HUNDRED YEARS' WAR
To Mayor Rudy Giuliani, the Port Authority of New York and New Jersey was a symbol not of cooperation between the two states but of the long-running rivalry between them. The former mayor often accused the bi-state agency of an unfair tilt towards New Jersey, and the recent proposals to redevelop the World Trade Center site brought the agency's role in economic development into even sharper focus. As the Daily News noted in a recent editorial, rental from the World Trade Center and other Port Authority facilities has tended to go to projects such as "Port Newark, Port Elizabeth, Newark Airport, other places (which always seem to be in New Jersey).
"There are many things the agency should invest in on this side of the Hudson," the News said. "If it balks, it should change its name to the Port Authority of New Jersey and That Other Place."
But New York and New Jersey have been rivals long before the Port Authority even existed -- almost from the beginning. Alexander Hamilton, the nation's first treasury secretary and the founder of the New York Post, is also one of the first people responsible for moving a factory from New York to New Jersey.
Early in the last century, New York was quick to respond to what it considered a threat from the upstart across the river. The city embarked on a spree of airport building, first Floyd Bennett Field in Brooklyn, then LaGuardia Airport, because it resented the bustling traffic at Newark Airport, which was in effect "New York's" first airport.
By the second half of the 20th century, though, the balance was shifting away from the city. New York found itself losing much of its shipping industry to new container ports in Newark and Elizabeth.
And by the 1970s, with white-collar jobs dominating the region's economy, open warfare was breaking out between the two sides over corporate headquarters and back offices. In the 1980s, the city began to use tax breaks and other incentives to try to retain jobs. NBC wrangled a $97 million package to stay in Rockefeller Center instead of moving to Secaucus, and after that, media other companies, and then financial firms, learned to play one side against the other.
George Steinbrenner spent a good part of the 1980s and '90s threatening to move his New York Yankees from the Bronx to the New Jersey Meadowlands until the Giuliani administration, in its waning days, brokered a deal for a new ballpark adjacent to Yankee Stadium. That plan now is on hold because of the city's budget crunch, but the team eventually expects it to be revived.
In the biggest deal of them all, the city and the state agreed to shell out as much as $1.1 billion over a number of years to keep the New York Stock Exchange from carrying out a threat to ditch Wall Street for New Jersey. As part of the package, the city agreed to buy land for the exchange's new trading floor. The deal was put on hold after September 11, and last week, the exchange pulled out of it entirely -- but the city has already spent more than $80 million on it, on contracts and security deposits, etc., which it will not be able to recover.
The New York Times recently got incentives, said to be worth $29 million, for a new headquarters near Times Square after hinting that it would leave Manhattan. Back in 2000, Bloomberg L.P. negotiated a $14 million subsidy, although the new mayor renounced it after winning election last November.
MONEY ISN'T EVERYTHING
Exactly how much the two sides have spent is difficult to account for because the money comes out of a variety of programs. Under New Jersey's primary incentive program, the state has committed about $550 million worth of grants to corporations since 1996, according to a spokesman for the New Jersey Economic Development Authority . Some of those grants went to companies relocating from other regions of the U.S. and to companies expanding existing New Jersey facilities, but a good number were aimed at bringing in jobs from New York, the spokesman acknowledges.
New York City, meanwhile, has its own dizzying array of benefits, tax credits and energy savings programs. All told, according to a group called Good Jobs New York, New York City plus New York State have given out a combined total of more than $2 billion in tax incentives to keep businesses in the city since about 1990.
Developers in Brooklyn, Queens and fringe Manhattan districts such as far west midtown have repeatedly urged the city to work even harder and spend more to counter New Jersey. Yet at least one study suggests that the money has not accomplished its goal. The Center for an Urban Future, found that 39 out of 80 companies given tax breaks to stay in the city wound up cutting jobs, merging with another company or putting itself up for sale. As a result, 40,000 jobs were cut in those 39 companies.
Part of the problem is that the city has been slow to act. While a skyline grew on the Jersey City waterfront, areas within New York City that should have been competitive continued to languish.
Take Long Island City. It offers many of the advantages of Jersey City: quick access to Manhattan by public transit, picture-postcard views of Manhattan, relatively inexpensive land and abundant sites on which to build.
Citicorp (now Citigroup) was supposed to be leading the area's transformation when it opened a 48-story tower in Long Island City in 1989, but since then only one other major company, Metropolitan Life Insurance, has moved into the neighborhood.
In fact, despite public and private efforts to promote Long Island City as an office district, it wasn't until last year, when the economic bubble of the 1990s had already burst, that the city rezoned much of the land in the center of the neighborhood for offices. Some developers believe the city has hung onto antiquated industrial zoning in many neighborhoods for far too long with the vain hope that manufacturing jobs would return.
Developers hope the Long Island City rezoning makes a difference when the economy improves and corporations again start looking for space. They also believe that Long Island City will gain cachet from the new housing on the East River at Queens West and the temporary relocation of the Museum of Modern Art to a concerted industrial building nearby.
And it would help, the developers add, if the city improved the aesthetics of the neighborhood, which is currently crisscrossed by elevated train tracks and highway ramps and dotted with empty traffic islands.
"The city has to do something to get those things moving," says Newmark's Gosin, whose company is involved in a development project in the neighborhood. "Brooklyn has momentum but Long Island City needs a little help."
EVERYONE IS SLUMPING
For all the consternation New Jersey's success inspires among New York officials, it is not immune to the problems that plague the rest of the region. The entire metropolitan region is now struggling to emerge from a recession, and office vacancy rates remain high, even on the Gold Coast waterfront.
According to Insignia/ESG, the office availability rate (a measure of space being actively marketed and available for lease within 12 months) was 17.8 percent in northern and central New Jersey at the end of the first quarter of 2002, up from 11.9 percent a year earlier. Average rent per square foot was down to $26.09 from $27.39 a year earlier.
On the waterfront, the availability rate was only slightly better -- 16.9 percent. Rents averaged $38.03 per square foot.
In Manhattan, Insignia/ESG says the availability rate in May was 9.5 percent in Midtown and 14.1 percent downtown. The rate was around 5 percent a year ago. Average rents in midtown were just over $55 per square foot. Downtown, however, they are $38.25. So for now, at least, Lower Manhattan is competitive with the Jersey waterfront.
Investment banks, the prime tenants in the new Jersey City buildings, have cut back employees, reducing their needs for space. As a result, they are being forced to find subtenants for the space they leased during more optimistic days. And some projects are being postponed, among them a 1.1 million sq. ft. tower on Hudson Street in Jersey City, that the developer, Hartz Mountain Industries, is delaying for several years.
In the months after September 11, New Jersey was a beneficiary of an unprecedented exodus from Lower Manhattan. Newmark, in a report over the winter, noted that most tenants leaving the Financial District , 66 percent, moved to Midtown. But New Jersey was the second most popular choice, attracting 15 percent of the tenants, or as many as Brooklyn (9 percent) and Queens (6 percent) combined.
Although that is frustrating to New York, it also indicates that the New Jersey market is not completely healthy: the companies that move couldn't have done it if there wasn't so much space available.
No one, however, expects the slowdown in Jersey to be permanent.
LEARNING FROM A RIVAL?
Bright and early on Monday July 1, the mayor of Hoboken handed the key to the city to William J. Pesce, the president and CEO of Wiley, as he and the first batch of the publisher's 900 employees moved into the company's new headquarters. What the new arrivals found was a building with a large expanses of flexible space and a neighborhood brimming with restaurants and small shops -- a far cry from the company's cramped old quarters on congested Third Avenue, where it had been for 40 years.
Before choosing the new development in Hoboken, which was built with the help of the Port Authority of New York and New Jersey, Wiley looked at other cities, among them Baltimore. But, says Susan Spilka, the company's director of communications, few other locations provided both affordable space and access to transportation, while being close enough to Manhattan to allow Wiley to retain most of its employees.
The icing on the cake, though, was the bundle of financial incentives from the state of New Jersey. Spilka would not disclose details of Wiley's benefits, but she described the package as "attractive" and says it helped steer the company away from sites elsewhere in New York City.
New York politicians and developers look at companies like Wiley with alarm. In the 1990s boom years, they fretted that there was not enough space in Manhattan for everyone who wanted to be there. Now they are concerned that by the time the economy starts expanding again, the companies that will be adding jobs will be the ones that have already bought their E-Z Passes and headed for the tunnels in search of room to grow.
How does New Jersey do it? Cheap rents and easy access are important; it didn't hurt that the PATH fare stayed at $1 until 2001, before finally being raised to $1.50. In addition, while New York still struggles to come up with funding for projects such as the Second Avenue Subway, New Jersey has built a light-rail line along the waterfront that will eventually extend to the Meadowlands.
Beyond infrastructure, the state of New Jersey also joined in with a concerted effort to win over companies such as Wiley. Central to this effort is a business incentive program provides grants for up to 10 years based on the amount of state income taxes withheld from the new employees. It is open to any relocating or expanding company that adds at least 25 jobs to an urban area or 75 to a non-urban area.
Companies get back 10 percent to 80 percent of the tax amount based on a complex formula. Obviously, because the program is based on income tax withholding, companies that bring high-salaried jobs to the state get more.
Glenn Phillips, a spokesman for the New Jersey Economic Development Authority, says the program, instituted in 1996, is responsible for 289 "projects" representing 68,000 jobs that might otherwise have not been created in New Jersey or moved into the state.
Late in the Giuliani Administration, the mayor and City Council tried to counter New Jersey by increasing the tax breaks and other benefits available to businesses that leave Manhattan for other boroughs.
And under Mayor Michael Bloomberg, the city is bringing together all the agencies involved in economic development issues and seeking to focus its strategy, says Bruce Brodoff, a spokesman for the New York City Economic Development Corporation.
SOME SUCCESSES FOR NEW YORK
A few prominent companies dislocated in September decided to return to the Financial District after temporarily shifting employees to New Jersey in September, among them Merrill Lynch, American Express and Deutsche Bank. Others moved elsewhere in Manhattan. Standard Chartered Bank, a London-based institution that regrouped in Jersey City after its offices at 7 World Trade Center were destroyed, recently came back to New York and leased space at 1 Madison Ave.
Another company that returned to Lower Manhattan from across the Hudson was Folksamerica, a reinsurance company that was headquartered in 1 Liberty Plaza, across Church Street from the twin towers. The company was already looking for space to expand when the terrorist attacks drove it from its offices into temporary quarters in central New Jersey and elsewhere in Lower Manhattan.
Insignia/ESG's Foster, who worked with the company on its deal, says Folksamerica looked all over New Jersey, including the waterfront: "What they determined at the end of the day is that they really wanted to be in Lower Manhattan. They just felt prestige-wise, this was where they needed to be." Folksamerica moved back into Liberty Plaza and ended up taking additional space in the same building that became available when the investment bank Gruntal & Co.was absorbed by Ryan, Beck & Co.
ARE THERE BETTER WAYS?
For now, the border war has cooled. The terrorist attacks, which took the lives of scores of New Jersey residents as well as New Yorkers, underscored the importance that Manhattan retains in the regional economy.
Officials on both sides, as well at with the bistate Port Authority, are involved in the effort to rebuild both the economy and the infrastructure of the Financial District. New Jersey has said it would not actively try to lure companies out of Manhattan in the aftermath of Sept. 11.
Indeed, the recent recession showed that New Jersey needs New York. Without a boom in Manhattan, there is little reason for companies to look for inexpensive nearby space in which to expand.
But what happens when the economy heats up again? Some argue that the city's strategy needs rethinking if the city wants not only to keep the industries it has, but to attract new ones as well. In testimony before the City Council last month, the Center for an Urban Future's research director, said:
"In fact, the city's economic development policies have too often been narrowly focused on just a few sectors, or rather, on a handful of the largest companies within those few sectors. Over the past decade, for instance, the city's economic development leaders came to be overly dependent on a defensive strategy that essentially consisted of laying back and responding with tax breaks or other subsidies when a large business decided it needed financial assistance in order to remain in the city.
"By focusing so many resources and so much staff on retaining a small number of large companies, the city's economic development dollars have been going to only a fraction of 200,000 companies in the five boroughs, most of which are small businesses."
And although no one disputes that the loss of jobs and tax revenues hurts the city, to some, the interdependence of New York and New Jersey, not the competition, is the real issue. Instead of offering an endless series of tax breaks to companies that threaten to move, they argue that the money should be used to improve infrastructure, education and amenities so that the entire region and its workforce stay competitive in an increasingly global economy.
Given the bitterness that has accompanied the interstate rivalry, such cooperation may be the most difficult thing of all to achieve, but some observers believe the two sides have to give it try.
"We don't view what is happening in Jersey City in and of itself as competition to New York City," says Thomas Dallessio, the New Jersey director of the Regional Plan Association. "If [companies] didn't relocate jobs to the Gold Coast, they might be moving them elsewhere. That part of New Jersey is regarded by a lot of people as an additional borough of New York.
"We take the perspective that the real competition is not within the region, but is actually the New York metro area vs. the Los Angeles or Atlanta metro area. And in fact the competition is not even that anymore; it's Hong Kong, it's London. We'd rather have the businesses stay within the New York metro area, and that includes New Jersey and Connecticut, than see them go elsewhere in the world."
Related articles:
Zoning Changes Fail to Attract Businesses to Long Island City
The New York Times, July 6, 2002
Wall St. Firms Flee to N.J. as City Waterfront Rusts
Newsday, May 22, 2002
Financial Operators
The Record (Hackensack, N.J.), May 5, 2002
44th Annual Industrial/Office Review
New Jersey Business, April 2002
Office Building Plans Come Off the Shelf
The New York Times, October 7, 2001
Uncertainty in a Landscape Transformed
The New York Times, September 23, 2001
Schumer Proposals Address Shortage of Office Space
The New York Times, June 11, 2001
###
$app = JFactory::getApplication(); $menu = $app->getMenu(); $menu_items = $menu->getItems('menutype', 'mainmenu'); var_dump($menu_items); * */ ?>