New York and San Francisco
28 October 02
by Michael Markowitz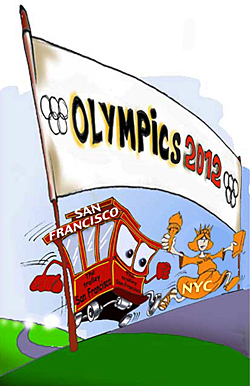 "I'd never set foot in San Francisco. Of all the Sodoms and Gomorrahs in our modern world, it is the worst."
The author Ambrose Bierce wrote those words back in 1907, long before Haight-Ashbury, the Grateful Dead or the Castro entered the national consciousness.
Over the years, plenty of people have used similar terms to describe New York. The Spanish poet and playwright Federico Garcia Lorca once said he found the city to be "something awful, something monstrous."
Few U.S. cities are considered as liberal -- or as libertine -- as New York and San Francisco. Both have long treasured their roles as magnets for outsiders, bohemians and dreamers.
Now, however, these kindred cities are rivals. This weekend, one of them will be picked as the U.S. candidate to play host to the 2012 Summer Olympics. Some might see it as a battle pitting "Sodom on the Hudson" against the town dubbed "Baghdad by the Bay" by legendary San Francisco columnist Herb Caen (back when Baghdad had a different connotation).
But, with the competition in its final stretch, residents of both cities appear largely oblivious to the U.S. Olympic Committee's deliberations. In the Bay Area, attention has been on a different contest, the home-town baseball Giants in the World Series. And San Franciscans have been hotly debating a measure on homelessness that will appear on the November 5 ballot. New York newspapers have been taken up with the sniper attacks in D.C., debate over war, NYC's fiscal crisis, and even the race for governor.
But the Olympics remain a big, expensive event, guaranteeing the winning city thousands of visitors and weeks in the international spotlight. And so the contest to be the host city for the games has engaged officials of these two cities at opposite ends of Interstate 80. Both are world-class centers for the arts, commerce and media and havens for young people and immigrants, but they are also home to rough-and-tumble politics and a litany of urban ills.
Despite their similarities, the political cultures of the two cities diverged sharply in the 1990s. New York moved away from its belief that big government would solve problems, while San Francisco still holds to its counter-culture values and 1960s faith in social programs. Now in an era of new budget constraints, both cities are re-examining how to handle a variety of issues.
It seems the right time to ask: What lessons can New York learn from the way San Francisco deals with its problems? Are any aspects of San Francisco's political culture, with its well-known emphasis on tolerance, diversity and ecology -- and fractiousness -- worth emulating?
OLYMPIC GAMES
San Francisco's Olympic organizers base much of their bid for the games on the city's moderate climate, scenic vistas, cultural and ethnic diversity and what the committee describes as its "unique place in the cultural and intellectual life of our nation."
New York's approach relies on emphasizing its status as an international center and its ability to handle big events and move people around the metropolitan area by rail and water.
San Francisco is also trying to attract the budget-conscious. The Bay Area Sports Organizing committee estimates the games there would cost $2.4 billion and have set out a budget that has the games leaving a $409 million surplus. Cost estimates for a New York Olympics vary widely, although one pegs it at eight billion dollars: three billion dollars in expenses plus one billion for an Olympic Village and another four billion for development of the Far West Side that the Bloomberg administration hopes will move ahead with or without the games.
New York has already outspent its rival. Newsday last week reported that NYC2012, the city's Olympic organizing committee, has spent about $13 million in the past two years on efforts to attract the games, while its San Francisco counterpart has spent about $2.5 million.
The legacy of September 11 may present another obstacle to New York as an Olympic site. Although some supporters argue that holding the Olympics in New York would send a message that the world is behind the city's recovery, San Francisco officials have quietly raised the specter of further terrorism. "The fact that our venues are so dispersed around the region is really a security advantage," San Francisco organizing committee spokesman Tony Winnicker has said. While venues in a San Francisco games could be as much as 90 miles away from the city, New York plans to keep most of the competitions within 10 miles of the Olympic Village.
Of course, the winner of the San Francisco-New York competition will not necessarily capture the games. The U.S. candidate must vie against other world cities, with the ultimate victor to be announced in fall 2005.
THE HOMELESS PROBLEM
San Francisco is sometimes called the loveliest city in America, something that few people have ever said about New York. But behind the picture-postcard views, all is not well in the City by the Bay. "San Francisco is truly the foulest place on earth," Ken Layne, the editor of the now-defunct on-line newspaper Tabloid.net wrote in 1998. "The nation's most expensive city features $2,000 moldy little apartments, a filthy broken-down transit system, tens of thousands of bums on the dole, the nation's worst newspapers, year-round crappy weather, and a local government that's truly of and for the people. That's because the people here are total idiots."
High on the list of problems is homelessness. As most other cities shifted their focus to spending money on shelters and services for the homeless, San Francisco has continued to make relatively generous direct payments to the homeless.
Partly as a result, San Francisco has become a magnet for street dwellers. Some estimates put the city's homeless population at 7,000 to 10,000 or more, out of a total population of 770,000. The numbers are straining the city's reputation for compassion and acceptance. "When you visit, even liberal activists will tell you not to walk in certain areas" because of the large concentrations of panhandlers and drug-addicted street people, said Ken Sherrill, the head of the political science department at Hunter College in Manhattan.
New York has more than 10 times as many people, but only about five times as many homeless (45,000) single adults, parents and children seeking space in city shelters.
In an effort to address the problem, San Franciscans on Election Day will vote on a ballot measure that, if passed, would dramatically change the way the city deals with homelessness. Known as Proposition N, it would cut direct payments to the homeless by roughly 80 percent and shift the money to spending on housing and services. That means people who now receive payments of as much as $320 a month would get only $59.
In effect, the measure would bring San Francisco in line with what other cities now do, including New York. As a result of several court cases that established a right to shelter, New York has focused its efforts on a system of homeless facilities that house more than 20,000 people a night. The New York City Department of Homeless Services spends $530 million a year on services to the homeless.
Like New York, San Francisco has shelters, but activists there defend the right of people to live on the streets. Indeed, opponents of Proposition N, which is known as "Care Not Cash," bring up New York as a negative example in arguing for the measure's defeat. One activist told the Los Angeles Times recently that Supervisor Gavin Newsom, the author of "Care Not Cash," wants to "Giuliani-ize" San Francisco and make homeless people disappear.
With some polls showing 75 percent support for Proposition N, Supervisor Tom Ammiano has introduced a companion measure, Proposition O, aimed at ensuring that sufficient sums are spent on shelters and addiction programs.
POLITICS
Proposition N would represent such a dramatic departure for San Francisco that it prompted a New Republic columnist to ask recently whether the city is moving to the right. That seems highly unlikely. After all, the same ballot that includes the homeless questions will also ask voters to decide whether the city government should explore growing and distributing marijuana for medical purposes. That proposal is expected to pass overwhelmingly.
San Francisco, with its assortment of advocates, interest groups and people who care passionately about the city, has a unique political culture. But often it comes to a screeching halt.
Like New York, San Francisco boasts a tradition of community activism. But San Francisco does not have the kind of political machines and moneyed interests that New York has. However some people may denigrate machine politics and sophisticated lobbying, the political system in New York City manages to push some initiatives through, and get things accomplished.
San Franciscans may feel more pure, critics say, but less actually gets done. Willie Brown, a flamboyant politician who served as speaker of the California State Assembly, found out just how hard it can be to do anything when he became mayor of San Francisco. According to Sherrill, Brown has had a much harder time with the 11-member Board of Supervisors in San Francisco than with the entire State Assembly.
Critics contend that the presence of a strong-willed mayor and 11 independent-minded supervisors causes stalemates. For example, San Francisco's Planning Commission and its Board of Appeals, the two main land-use authorities, have not met for months because the mayor and the supervisors cannot agree on how to fill vacant seats. As a result, dozens of projects, ranging from large housing developments to simple modifications to single-family homes, are on hold.
Brown wanted the supervisors to approve the appointments of a package of candidates and so fill several vacant seats on the boards at once. When the supervisors asserted their right to review the nominees one by one, the mayor balked. And when the supervisors approved all but one of Brown's nominees in early October, the others, obeying the mayor's wishes, refused to serve.
But San Francisco has sometimes benefited from its citizens' propensity to say no. The San Francisco Giants baseball team repeatedly tried and failed to get public funding for a new stadium, despite threatening to move to Tampa Bay. After the team and stadium backers lost four referendums -- two in San Francisco -- it found private money to build Pacific Bell Park, a showcase facility and scene of Games 3, 4 and 5 of this year's World Series. New York was ready to build two new publicly financed stadiums for its baseball teams until the present budget crisis forced the Bloomberg administration to put that plan on hold.
HOUSING, TRANSPORTATION AND "SMART GROWTH"
As in New York, the dot-com boom and an influx of young professionals in San Francisco helped drive up housing costs during the 1990s. In fact, housing costs in San Francisco are only about 14 percent below those in Manhattan, according to Money magazine's most recent "Best Places to Live" issue. By comparison, St. Louis housing costs are 81 percent below Manhattan levels.
While San Francisco grapples with homelessness, some experts praise the city and its Bay Area neighbors as leaders for taking a regional approach to housing and development.
Through the Association of Bay Area Governments, 110 municipalities, including San Francisco have joined forces to develop a "smart growth" strategy. It attempts to distribute new housing to all parts of the region over the next two decades and concentrate it near transit lines. By taking a regional approach, smart growth aims to minimize sprawl, preserve open space and protect the environment.
The regional government group decides how many units of housing, and what type of housing, should be in each city and uses zoning and other regulations to encourage the desired development to take place. In doing this, the regional association must overcome San Francisco's entrenched resistance to development and suburban residents' objections to density and to projects that require more schools and municipal services
Some communities are more amenable to the plan than others. Although communities that do not meet the plan's guidelines can lose state grants or face legal action, some critics say the plan does not do enough to force communities to comply. In fact, many communities did not meet the deadline last December to submit housing plans to the state.
Despite this, the program is a step forward, says Alex Marshall, author of How Cities Work: Suburbs, Sprawl and the Roads Not Taken (University of Texas Press, 2000). "Housing is the great unwanted thing because no one wants to pay for other people's kids to go to school," Marshall said. While the Bay Area program does not go as far as it might, he added, " it's still a really helpful planning framework. We have nothing comparable in the New York area, partly because we spread across three states."
The Bay Area benefits from being entirely within one state. But San Francisco's willingness to work with its neighbors also stems in part from its diminished position within the region. The TransAmerica insurance company's pyramid dominates the skyline, and some brokerage firms remain in downtown San Francisco, but much of the financial industry, including Bank of America, has left.
Even after September 11, 2001, Lower Manhattan remains a financial and corporate center for the New York metropolitan area. In the Bay Area, young professionals and entrepreneurs value the urban lifestyle of San Francisco, but they make their money to the south, in the Silicon Valley office parks that sit near the off ramps of the region's traffic-choked freeways. (The dot.com crash of 2000 slowed but did not halt this trend).
Unfortunately for these commuters, San Francisco's record of regional cooperation does not extend to transportation, Marshall notes. "In the whole Bay Area there are 27 different transit agencies that coordinate very little. It's an unbelievable mess. . .. Even in New York it's much more coordinated."
San Francisco's two major transit systems, BART (Bay Area Rapid Transit) and Muni (the San Francisco Municipal Railway), do offer one service that New Yorkers have long clamored for: electronic signs that display the time when the next train will arrive.
CIVIL RIGHTS AND GAY RIGHTS
San Franciscans point proudly to their city's record on civil rights. Extraordinary steps have been taken to integrate the city's schools, and San Francisco remains at the forefront of the gay rights movement, becoming among the first cities to recognize domestic partnerships.
In 1971, New York became the first city in the country to propose adding sexual orientation to anti-discrimination laws, but the city gay rights bill did not pass until 1986, long after San Francisco, Washington, D.C. and even Buffalo approved similar legislation.
In addition, San Francisco's human rights laws protect transgendered people. Municipal employees can even get their health plan to pay for gender reassignment surgery. Activists in New York have attempted to get such policies enacted here without success. San Francisco also requires companies with city contracts to offer domestic partnership benefits.
These policies help make San Francisco a draw for gay people and for young people who work in the Silicon Valley, but critics contend that they also make it expensive to do business there.
TOILETS, CIGARETTES AND ANIMALS
New Yorkers may be especially envious that San Francisco has public toilets on its streets while Gotham, despite years of promises, continues to wait for them.
In fact, since 1996, San Francisco has had 24 toilets along the waterfront, at Fisherman's Wharf and in other neighborhoods. Users pay 25 cents for a maximum of 20 minutes, and the toilets clean and disinfect themselves after each use. To help cover maintenance costs, the company that holds the franchise is also allowed to sell advertising on kiosks erected in high traffic areas.
In New York, one plan for toilets after another has been hyped and then allowed to die. The most recent was scrapped in 1998 because of the Giuliani administration's reluctance to award a contract that would give one company a monopoly over toilets, newsstands and kiosks in all five boroughs.
The only headway has been made by the private sector. The 34th Street Partnership, a Manhattan business improvement district, installed two automatic pay public toilets, both near Macy's.
California banned smoking in restaurants in 1995 and extended the ban to bars and casinos in 1998, making it the first state to do so. In calling for New York City to enact a similar measure, Mayor Michael Bloomberg has cited the California experience. "All of the evidence suggests that in California, where they did this, that actually the patronage of restaurants and bars -- the amount of money spent in them -- goes up, not down," Bloomberg has said. The proposed New York smoking ban now faces an uncertain future in the City Council. Like California, New York City already prohibits smoking in most restaurants.
San Francisco is also often cited as a model for its no-kill animal shelter system. Animal control officials turn all unadopted dogs and cats over to the San Francisco Society for the Prevention of Cruelty to Animals, which promises to find homes for all but the sickest or most dangerous pets.
New York has no similar policy. In fact, animal rights advocates complain that the Center for Animal Care and Control, the agency that rounds up strays in the city and runs shelters in Brooklyn and Manhattan, emphasizes euthanasia for the animals over adoption.
SIZE MATTERS
In the end, of course, the major difference between the two cities is the most obvious one: size. New York is the biggest metropolis in the nation while San Francisco, with less than one-tenth as many people, ranks just 13th.
That means that even if New York wanted to emulate San Francisco's contentious community politics, it would be difficult. For better and for worse, the voices of individuals and of activist groups carry more weight in San Francisco than they do in New York.
Hunter College's Sherrill believes that "a lot of what's special about San Francisco is a function of its size."
Not everybody sees this as special, certainly not Crew Chief Weinberg in the 1943 movie "Air Force." When a fellow crew member marvels at San Francisco as "an awful big town," Weinberg gives a Bronx cheer.
"Strictly a one-whistle stop," he scoffs. "There's only one city in the USA and that's New York." Need we explain that the fictional Weinberg is a New Yorker?
###
Visit the Issue of the Week archives.
Tell us what you think about this issue. Write a letter to the editor.