NYC 2000
by Jerome Chou
08 May 00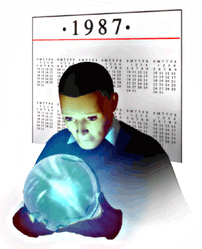 THE LOWDOWN:
Part progress report, part fortune-telling, the Report of the Commission on the Year 2000 assembled a V.I.P. lineup of New Yorkers from a wide range of professions, led by Robert F. Wagner, Jr., former Planning Commissioner, President of the Board Education, and the son of the former three-term Mayor. The 25 members of the Commission worked for three years, spending close to $1 million in the process, and finally released its findings in May of 1987.
Critics at the time complained the Commission's main purpose was to boost Mayor Ed Koch's sagging popularity in the polls. And in fact, the report drew mostly bipartisan political support as well as extensive media coverage for its millennial predictions. But for all the hype, New York Ascendant is both pragmatic and remarkably even-handed in measuring New York's successes and shortcomings. The economy was booming, the report stated, but many were left behind. The City needed to improve the services it provided, but focus on reorganization rather than on new spending. The Commission emphasized that urban problems are interrelated; low-income housing, for instance, does not solve homelessness without similar initiatives for employment, drug abuse, and mental health.
To some, the report's balanced, conservatively optimistic tone simply meant there was no meat in it, and that another blue-ribbon panel had wished away yet another set of intractable problems. David Dinkins criticized the Commission for virtually ignoring the problem of race relations in New York. But 15 years later, the report remains a fascinating document, a time capsule that reveals a City wrestling with many of the same issues New York faces today. Gotham Gazette reporters examined the Commission's predictions and recommendations in five key sections: poverty, economic development, education, crime, and transportation.
NEW YORK SNAPSHOTS:
| | | |
| --- | --- | --- |
| | NYC 1985 | NYC 2000 |
| Mayor | Ed Koch | Rudolph Giuliani |
| Schools Chancellor | Nathan Quinones | Harold Levy (acting) |
| Population | (1980) 7.1 million | 7.4 million |
| % Population Foreign Born | 25% | 40% |
| Police Force | 28,000 | 40,000 |
| % NYC residents in poverty | 25% | 24% |
| % NYC children in poverty | 40% | 34% |
| % NYC residents on welfare | 15% | 8% |
| NYC Board of Ed. budget | $5 billion | (1999) $9.6 billion |
| Subway fare | 90 cents | $1.50 |
ECONOMIC DEVELOPMENT:
Having survived the fiscal collapse of the 1970s, New York in 1985 boasted unprecedented job growth (the report repeats several times that 300,000 jobs were created in the early 1980s) and a 12-year low in unemployment. A booming stock market and real estate development had returned a sheen of extravagance and wealth to the City.
The Commission Recommendations:
Cut cost of doing business
Tax abatements in special cases only
Create information center
Preserve manufacturing jobs
Revise zoning laws
Promote regional centers
Before anyone had ever heard the words "dot-com" or "startup," the Commission envisioned New York as an "information center" and "an urban, 21st century version of California's Silicon Valley." But they could not have imagined in their wildest dreams the impact of the Internet Revolution on business, finances, and everyday life in New York. Similarly, the Commission correctly predicted that the City would remain an important cultural and arts center, but did not foresee the massive transformations wrought by tourism, the entertainment industry, and commercial development. Nor did they sense how private-public partnerships would come to dominate numerous sectors of City administration and spending.
On several of the report's recommendations, the City has made little or no progress.
Although politicians have made noise about preserving manufacturing jobs and finding new garbage sites, then as now not much has materialized in the way of substantive policy. After many years, waterfront development is finally on developers' front-burners, but the City continues to suffer from a lack of comprehensive strategic planning.
POVERTY:
To the Commission, the City's most urgent problem and most pressing needs revolved around poverty. New York's child poverty rate of 40% is another of the report's repeated statistics. "Even as we note economic exuberance all around us," the report states, we see that the benefits of prosperity have passed over hundreds of thousands of New Yorkers."
The Commission Recommendations:
Create job training programs and mandate work or education for welfare recipients
Reduce teen pregnancy
Create jobs programs for young, unemployed men
Attack poverty at the local (neighborhood level)
Early family caseworker intervention
The main target of the Commission's anti-poverty proposals is the impact of "long-term dependency" on the City. After the report's publication, Senator Daniel Moynihan seized on this idea, which laid the foundation for welfare reform in the next decade. Today, of Mayor Giuliani's Work Experience Program (W.E.P.), has carried out the report's recommendations, but the City has been lax in tracking just how effective its job centers and training programs have been in lifting people out of poverty and overcoming dependency.
On other fronts, the City has implemented only a handful of the Commission's recommendations. Jobs programs for young, unemployed men are few and far between. Neighborhood services such health clinics and recreation centers have declined, due to market forces and budget cuts.
EDUCATION:
Children entering Kindergarten the year the report was published would have graduated high school by 2000. Education policy, the Commission made clear, would have an enormous impact on those children's futures.
The Commission Recommendations:
Reduce class size
Spend more money on infrastructure
Implement high standards
Hold principals and teachers accountable
Enlist businesses and colleges in education partnerships
New York Ascendant urged the City to reduce class size, emphasize early education, and spend more money on school infrastructure. The new state budget allots $200 million to expand prekindergarten classes for all 4-year-olds and reduce class size for early grades. Last year, state and federal funding allowed NYC's Board of Education to create smaller classes in almost one out of three public school classrooms for grades K-3. But the sheer number of incoming students each year and a drastic shortage in qualified teachers³conditions not mentioned in the Commission's report³have made more extensive changes extremely difficult.
The report highlights two other telling statistics for New York public school students. In 1985 NYC was home to 36% of the State's students but received only 32% of its education funding funds (creating a $200 million annual shortcoming). This discrepancy still exists. The City's share of students has risen to 38.5% of the State's total, but it still receives only 35% of the State's funding.
The 1987 dropout rate in NYC public schools was 30%. Today approximately 70% of New York's public students graduate by age 21 (including GEDs), but only about 50% graduate after four years. Some things never change.
CRIME:
While acknowledging that crime had become New Yorkers' number one preoccupation, the Commission noted that crime rates in the City and the country actually fell between 1981 and 1985, before rising again in 1985 and 1986. No one anticipated the crack epidemic and the skyrocketing homicide rate that would soon arrive, but the Commission made a number of recommendations that Mayor Giuliani, then the U.S. Attorney for the Southern District of New York, has made the keystone of his crime policies.
The Commission Recommendations:
¾Demand greater accountability from criminal justice system
Establish crime database
Increase police spending
Crack down on "crimes against civility" (quality-of-life offenses)
In the early 1990s, Giuliani and Police Commissioner William Bratton instituted the COMSTAT system, which exhaustively tracked criminal activity and held precinct commanders accountable for crime in their districts. The NYPD launched numerous quality-of-life initiatives, clearing the streets of squeegee men, graffiti artists, and public drinking. To carry out this anti-crime campaign, the City boosted the police force from 28,000 to 40,000 employees. In each of these areas, New York Ascendant proved eerily prescient.
On other fronts, the Commission would have been disappointed by the City's approach to crime. The Commission viewed prison cells as "a scarce resource" that should house only violent offenders. Instead, New York's prison population and new prison construction have exploded since the 1980s, and the majority of the State's inmates are serving time for non-violent, drug-related crimes. And while the dramatic drop in crime has helped residents, particularly minorities, reclaim their neighborhoods, many of these same residents feel they've become targets of racially-biased aggressive policing.
TRANSPORTATION:
Early in the transportation section of its report, the Commission stated "There is no major capital addition out there that will solve our problems³not a new bridge, or a new tunnel, a new subway line, or a new highway°Basically the transportation structure we have now is what we will have in 2000." Doing nothing is always an easy task, and the City has not disappointed. Few changes have been made, but major developments are in the works: JFK is getting a long-overdue makeover (including a new light-rail system that will improve airport access); proposals for a new subway line have resurfaced; and the City plans to spend $17 billion to link the L.I.R.R. to Grand Central Terminal.
The Commission Recommendations:
Increase ferry services
Reduce car traffic
Increase number of taxis
Improve airport access
Although it has no megaprojects yet to show for it, the MTA in recent years has borrowed money on an epic scale. The MTA is planning the largest municipal bond sale in U.S. history, and projections show that 23 cents on every dollar of MTA fares will go to repay bonds; in 1985, using fare revenue to pay off debt was as yet unheard of.
As for traffic, thanks to the EZ-Pass and the political impossibility of charging tolls on the City's free bridges, there are more vehicles clogging the streets than ever.
Visit the IOTW Archives!
WHADDAYASAY?? GothGaz wants to know what YOU say about this issue. Fire away!