NYC Sports
by Jessica Green
15 May 00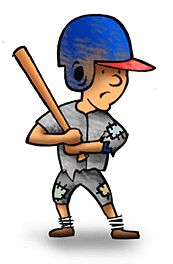 THE LOWDOWN:
The NYC school system has been criticized on many fronts: crumbling and overcrowded classrooms, uncertified teachers, lax standards. In light of these very serious problems, other shortcomings, like the woeful state of sports in the schools, are generally overlooked. With so many other pressing needs, triage is necessary, and gym class has been the first to go.
Sports, both physical education and extracurricular teams, have been drastically downsized, both in New York and across the country. Until the early 1990s, NYC public schools, like schools around the nation, required its students to participate in physical education classes five days a week. No longer. Over the past few years, that requirement has been replaced with the "3-2" system, where kids take phys ed three times in one week, and twice the next. This change mirrors a nationwide trend. In 1996, the Surgeon General reported, only one-quarter of American high school students took daily phys ed classes, down from 42% in 1991. Some states -- like Massachusetts, which eliminated the state-mandated minimum time spent in phys ed -- have loosened their requirements. Others, like Idaho, have eliminated them altogether. In fact, only one state, Illinois, continues its daily phys ed requirement.
THE BUDGET:
The decline of sports in NYC schools is a simple budgetary issue. In the 1990s, spending on extracurricular sports fell by more than 19% in NYC high schools. The City now spends less per pupil on extracurricular athletics than other major cities in the New York or in the country. The Chancellor's 2000-01 budget requests $20 million for sports programs; thus far only $15.2 million has been secured. That comes to about $13.80 per student per year for sports and phys ed.
While Former Chancellor Rudy Crew put athletics on his list of priorities, his efforts to restore funding and improve athletic facilities were not entirely successful, as he pointed out to the City Council last year:
"This winter, I was stopped by a young boy in the hall of his school, who asked me where his gym was. Thinking he was lost, I misunderstood the heart of his question. He wanted to know why his school had no gym. I have called on the Mayor to help us restore health and physical education to our schools in much the same way we restored the arts. This initiative, called Fit for Life, sets clear standards for health and physical education. The recent cuts to the capital plan leave no money for upgrades to athletic fields, gyms, swimming pools and auditoriums. How can I expect this boy to meet those standards, to acquire the skills and habits he needs to lead a healthy life, without a gym or a safe place to run and play? You have to ask yourself how you would have answered this boy's question."
- Former Chancellor Rudy Crew, May 13, 1999 in his testimony before the City Council on the Executive Capital Budget.
PHYS ED IS GOOD FOR YOU!:
As sports programs are on the decline, so too is the general health of the nation's and the City's youth. The data are alarming:
The proportion of overweight and obese youth has more than doubled over the last thirty years.
Only 19% of high school students nationwide are active for 20 minutes or more five days a week.
About 14% of young people report no recent physical activity. Inactivity is more common among females (14%) than males (7%), and more prevalent among black females (21%) than white females (12%). Additionally, nearly half of high school girls and one quarter of high school boys do not exercise vigorously on a regular basis.
National Association for Sport and Physical Education - Warns that kids need more exercise. Also see their homepage.
We Need PE! - All the vital and alarming statistics about the declining activity of children and teenagers across the nation.
GREENER PASTURES:
Last year, Senator Ted Stevens (R-AK) introduced S. 1159, the Physical Education for Progress Act. If passed, the proposed legislation could help alleviate the funding problems that plague New York's high school sports programs and others across the country.
The bill would provide grants to local educational agencies to initiate and expand physical education for K-12. The funding levels are considerable: $30 million for FY 2000, $70 million in FY 2001, and $100 million in FY 2002. See the full text of the bill.
Visit the IOTW Archives!
WHADDAYASAY?? GothGaz wants to know what YOU say about this issue. Fire away!