Screen Play
19 March 01
by Yael Schacher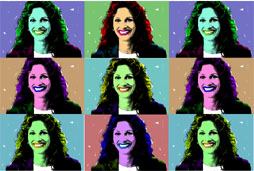 It is no longer such a cheap thrill to gaze at the stars in New York, no matter how brightly they might glow at the Oscars this Sunday night.
The nominees were announced on February 13. Two and a half weeks later, the price of tickets at Loews-Cineplex theaters in Manhattan went up 50 cents. Now, New Yorkers have to shell out $10--the highest ticket price in the nation--to watch Julia Roberts in The Mexican at Sony Lincoln Square, which is the best-attended theater in America, though perhaps not for much longer.
What is worse, we can no longer catch Cameron Diaz in late runs of Charlie's Angels at the chain's cheap theater, Encore Worldwide on West 50th. Loews screened thelast movie there last month.
Are the stars--or more specifically, their astronomical salaries--to blame? The answer: sort of. Salaries upwards of $20 million per film for movie stars like Julia Roberts have contributed to the soaring of movie production costs. The major studios spent eight percent more last year than the year before to make and market individual movies. The increased costs have been offset by nine straight years of rising box office revenues, helped along by steadily rising ticket prices.
But tickets for movies not starring Julia Roberts are just as high. Studio costs are only a part of the picture.
Understanding the latest ticket price hike requires an examination of the recent boom-to-bust pattern within the exhibition industry. There has been a race to build state-of-the art megaplexes, a staggering 10,000 new screens nationwide. Because New York City in the late 1990's had relatively few screens compared to the number of moviegoers, the chains made the city the site of an especially manic Screen Rush. In the last two years, 82 screens, many of them concentrated on one Times Square block, have been added to Manhattan's estimated 350 screens.
But this boom has led to a spectacular bust, many of the largest theater chains in the nation filing for bankruptcy. Loews-Cineplex, the only national theater chain headquartered in Manhattan, did its filing on the same day that it shut down Encore. It has plans to close several more of the 13 theaters it still has in Manhattan. The company says that the closings and the price hikes are happening throughout the rest of the nation as well. (The New York Times reported that adult tickets in Brooklyn remain at $8, but discounted ticket prices are going up a quarter; in New Jersey, ticket prices will range from $6.75 to $9 depending on the age of the theater; in Los Angeles, ticket prices are going up a quarter to $9)
Underneath this history there is what seems like a conundrum. Exhibitors charge more for tickets to compensate for low box office returns. But higher prices drive some regulars away. Last year, Americans spent approximately a billion dollars more on video rentals than on movie theater tickets. Saving the big screens might require a few complicated plot twists .
THE RISE OF THE MEGAPLEX
It was Disney and the government that spurred the screen boom in Manhattan. There is irony here. Disney was one of the few Hollywood studios that stayed out of the movie exhibition business. And the spur for all these new movie theaters was Disney's desire for a new theater that did not show movies.
In 1994, New York was having trouble revitalizing Times Square when Disney agreed to rebuild the New Amsterdam Theater on 42nd Street. The plan was for a legitimate theater to show live Disney musicals. But they were savvy negotiators, asking the city for low interest loans to cover most of the $35 million in restoration costs, plus tax and rent breaks.
That was not all. Before agreeing to move to 42nd Street, Disney also urged New York City and New York State to find other family oriented entertainment companies that could be its neighbors on the block. It suggested AMC, the movie theater chain that was the largest distributor of Disney movies. Disney got everything it wanted, including a hit musical "The Lion King" at the New Amsterdam and, down the block, the 5,000-seat AMC Empire movie megaplex.
But it wasn't just Disney. In addition to government incentives to open movie theaters in the New Times Square, the government also offered movie theater companies subsidies to build in the Harlem USA shopping mall uptown, and for the Magic Johnson theaters in Flatbush.
Also in 1994, Sony Lincoln Square opened on the Upper West Side, and struck gold, attracting more patrons than any other theater in the U.S. The reason, theater owners quickly calculated, was that New Yorkers were actually somewhat theater-parched compared to other cities. As late as 1997, there were 51 screens for every one million residents, less than half the average for 14 major cities nationwide
And so the building began. AMC built. Regal built. Loews, not to be undone by its rivals, followed up Sony Lincoln Square with a theater in Kips Bay that has 15 screens and 3,500 stadium seats. In 1999, as part of its 95th anniversary celebration, Loews opened E Walk theme theatre in Times Square, calling it "a modern day movie palace" replete with art deco box offices, elaborate concessions, murals and oodles of neon. According to president and CEO Larry Ruisi, each of the 13 screens in E Walk cost one million dollars, and stadium seating and surround sound recapture the grandeur of "the golden age of movie theaters." But it was not really the golden age.
FROM BOOM TO BUST
Michael L. Campbell, chairman of Regal Cinemas, accurately described what happened next as both the best of times and the worst of times for the exhibition industry.
The economy slowed and the theater market supersaturated.
At the same time, cable television, DVDs and the Internet were grabbing the attention of the nation's viewers. Many megaplexes were just around the corner from each other or from older theaters owned by the chains. They could not fill seats as attendance dropped. Rather than decreasing operating costs, consolidation lead to cannibalization. And closing older theaters to give the newer megaplexes a chance was expensive. Some of those "old" theaters were less than 10 years old and still had years remaining on their leases. Because theater leases usually contain ''continuous operation'' clauses, closing the money-losing sites would have forced exhibitors to pay landlords millions in damages.
Plus, the theaters remained at the mercy of the studios, which continued to release about the same number of films each year despite the increase in the number of movie screens. In fact, Hollywood studios released 18 percent fewer films last year than the year before. And non-compete rules prohibit the release of the same film in different theaters in the same neighborhood at the same time (such as concurrently at the Empire and E-Walk on 42nd Street). So, not only did the megaplexes have empty seats, but also blank screens; they competed for both customers and product.
The chains planned to run each film on a few screens at a time. But even this did not work out as well as they hoped. Blockbusters that open on many screens at once have a shorter life span, ensuring that studios reap most of the profits because they get a larger percentage of box office revenues than exhibitors during the first few weeks. According to Variety, the average film in June, 2000 opened on almost 46 percent more screens than it did in 1990 and disappeared much faster, with 35 percent of its gross coming on opening weekend and, mostly, headed into the hands of Hollywood.
Art houses had their own worries. In 1998, indie venues BAM and City Cinemas, owner of the Angelica, fought over non-compete zones. And the Regency art house, which is across the street from the Sony Lincoln Square multiplex, closed down. Meanwhile, bad blood between studios and exhibitors was evident when Fox and Loews Cineplex fought over the rental terms and the bottom line percentage profit sharing of the much hyped "Star Wars: Episode One--The Phantom Menace" in its Manhattan megaplexes. More recently, studios and theaters have fought over who should pay for free movie passes for industry groups and critics during the award season and who should pay for security at violent films.
By 1999 the same companies that Wall Street had showered with cash a couple of months before were getting downgraded by Standard and Poor's.
Consumers were not happy either. Ticket prices rose to $9.50 and City Council Speaker Peter Vallone called for a boycott of Loews theaters on the first Friday of the month. The effort never really got off the ground, just like the one organized by former Mayor Edward I. Koch when ticket prices rose to $7 from $6 in 1988.
But Vallone went a step further than koch had, pointing out that the root of the problem of higher ticket prices lay in certain larger trends in the movie business that encouraged the studios to act like monopolies. the speaker called for a renewed anti-trust investigation.
Despite a 1948 Supreme Court decrees specifically banning movie studios from the exhibition business, many got back into it in the 1980s. Also in the late 1990s, theater chains started consolidating: Loews, for example, merged with Cineplex in 1998. In order to merge, the U.S. Justice Department forced the company to get rid of some of its theaters, including 14 in Manhattan, as a way to prevent a monopoly and protect consumers.
It did not work. Consumers are now paying even higher ticket prices. When it first learned of the $10 movie ticket, the City Council released a statement denouncing it as "insulting and fundamentally unfair. New York City should be a place for everyone to enjoy, not just a playground for billionaires and tourists."
THE SHOW MUST GO ON
As the millennium closed, the Loews-Cineplex chain continued to plan new megaplexes , and shutter old theaters, as revenues declined. After going belly up and being bought out, Loews is now restructuring and purging. There has been speculation that two other movie theaters in Manhattan--The State Theater, a fourplex in the Virgin Megastore on Broadway, and Loews Tower East, a single-screen theater at East 71st Street and Third Avenue--are closing. By filing for bankruptcy in February, Loews got the chance to void leases on 22 of its weaker U.S. theaters (Chapter 11 essentially allows theater operators to shutter underperforming theaters without the landlord's consent). Nationwide, the number of theaters peaked at almost 38,000 in the middle of 2000 and fell to 36, 379 by the end of the year, with theater chains continuing to shed about 200 screens a month.
Even closing theaters cost money, which brings us back to the $10 ticket. But there are some other ways theaters can raise revenue without jacking up ticket prices:
Get more on the screen: Theaters have started selling screen time to advertisers to raise revenue (you may have noticed that you now get some commercials along with the previews). Also, companies like Arenaplex are planning to distribute non-theatrical fare (like music, family and sports shows) to exhibitors to augment multiplex programming and boost attendance during slow times. Some theaters are lending their poorer performing screens to film festivals; Loews has such a deal with the Shooting Gallery, an independent film production company.
Draw customers with discounts like off-peak fares or giveaways like free magazines, concessions, movie paraphernalia or CDs. Coming soon: the buzz is that a CD-ROM called Hollywood Previews will be given out at the box office of thousands of theaters nationwide. The disc will contain studio-provided promotional content like trailers, soundtrack excerpts and behind-the-scenes interviews and footage from upcoming films.
Get Hollywood even more involved: Exhibitors are nudging Hollywood to help pay for the outfitting of theaters to show digital films. As fiber optics and satellite technology replace film prints and projectors, the price of distribution should decrease significantly [Click here for an article on the distribution economics of the digital revolution]. Exhibitioners want the studios to spend now to save in future years. There has been some speculation that the new owners of Loews, who also own fiber-optic companies, may speed the introduction of digital technology to Loews theaters.
A CAVEAT
On the other hand, many of the major film studios plan on using the Internet to send movies directly into homes -- via cable TC, downloaded as video-on-demand or pay-per-view -- circumventing theaters altogether. Mega media companies and mergers make this a real possibility: Warner Bros. parent, Time Warner, owns a vast cable operation with 12 million subscribers and MGM and USA studios have held talks with Cablevision. Recently, Blockbuster Video has made digital streaming deals with both MGM and Universal.
A RELATED DIGRESSION ON THE VIDEO INDUSTRY
The price of a Blockbuster video rental is approaching five dollars. This too is a result of consolidation and revenue sharing arrangements. Blockbuster, the leading video rental chain with some 4,800 stores nationwide, is owned by giant Viacom, which is also parent to Paramount Studios. According to an August 1999 report in Variety , Blockbuster brings the major movie studios, Paramount among them, an estimated four billion dollars in cash flow from the home video market, or 30 percent more than the studios make from U.S. theatrical releases. Earlier this year, owners of private video stores sued Blockbuster in Los Angeles, claiming it manipulated its Hollywood connections to increase its market share and drive out competitors.
IN THE MEANTIME...
Theater industry revamping--the bankruptcy proceedings, the closing 10,000 theaters, the digital technology--is going to take a while. Here are some useful links on the best and cheapest theaters to keep you star gazing on the big screen until then:
1) NYC Movie Theater Evaluations:
2) Department of Consumer Affairs Ticket Price and Concession Survey
More Links...
Motion Picture Association of America
New York Film and Video Guide and NYFilm.Com: Both have collected great links to film societies and unions and city agencies involved in the industry, plus biz news magazines.
Some sites for New York film buffs on festivals in the City or elsewhere. Here is a listing of alternative venues.
Internet Movie Database: Everything you need to know about upcoming, current and formerly released movies.
Reviews: A movie review portal (not just bad reviews!)
For history buffs: NYU professor Robert Sklar on the history of movie theaters and a summary of film and antitrust law.
###
GO TO "POWER PLAY" BY MICHAEL BURGER
###
Visit the Issue of the Week archives.
Tell us what you think about this issue. Write a letter to the editor.