New York's Pet Policies
by Jillian Jonas
25 September 00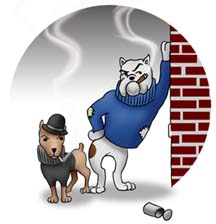 New Yorkers certainly love their pets. In a city of almost eight million humans, there are more than two million dogs and cats that live in our homes. The presence of so many animals softens the city's hard edge, giving companionship and protection to many New Yorkers. But it also causes problems.
The biggest problem is what to do about stray and abandoned cats and dogs. Beginning in November, the city will require that all animals in city shelters and pet stores be sterilized. Animal-rights groups support this measure. But they criticize New York's policies toward animals for being less innovative and humane than those of many other cities. New York, they charge, puts too much emphasis on putting animals to death, and not enough on finding other ways to control the animal population.
WILD IN THE STREETS
The tens of thousands of stray animals (not to speak of millions of rodents) that roam city streets pose a threat to children and pets, and have the potential to create sanitary problems and spread rabies. Between 6,000 and 11,000 people are bitten by dogs each year in New York.
In 1999, some 60,000 animals turned up in city shelters. About 40,000 of them were killed. Earlier this year Brooklyn's Prospect Park reportedly had become a dumping ground for unwanted dogs. One animal rescuer says she saved more than 500 stray cats in Battery Park City in five years.
While some of the strays are feral or wild, the progeny of abandoned ancestors, most are simply abandoned house pets.
Some local animal-rights activists argue that the Giuliani Administration has allowed -- and even contributed to -- the overpopulation and stray problem.
At the heart of much of the debate is the Center for Animal Care and Control, which the mayor created in 1994, when the American Society for the Prevention of Cruelty Animal shifted its emphasis to concentrate on pet adoptions. The Department of Health then gave the center the contract to carry out New York's animal-control policies.
DEADLY SOLUTION
According to a Coalition for NYC Animals fact sheet, more than 167,000 animals were killed by the Center for Animal Care and Control between 1995 and 1998 alone.
Gary Kaskel of Shelter Reform Action Coalition is highly critical of the center, particularly for its emphasis on killing (referred to as euthanasia) and for its weak adoption programs.
Esther Mechler from SPAY USA contends the problem is that too many animals are being born. Referring to the city, she says, "They cannot adopt their way out of this mess... There's no way to empty the basement of water without shutting off the valve."
THE NEW LAW
The neuter/spay law is an attempt to do just that. Marilyn Haggerty-Blohm, executive director of the Center for Animal Care and Control, has said the measure could reduce the number of animals put to death by 11,000 a year. The law also requires a full service, licensed animal shelter in every borough. Existing shelters in Manhattan, Brooklyn and Staten Island must meet the law's requirements by Jan. 1, 2001. New shelters in Queens and the Bronx must be built and up to code by July 2002.
The City Council is planning to fund a van that will travel around the city and offer low cost sterilization services. Center for Animal Care and Control spokesperson Doris Meyer says that the city hopes to add more vans in the future. Eventually, if the money becomes available, the center would like to provide free spaying (for female) and neutering (for male) services.
The law does not go as far as a measure proposed in 1994 by City Council Member Kathryn Freed that would have mandated sterilization of all house pets, not just animals in shelters and shops.
Many people get animals from breeders, friends or out-of-city shelters, so their dogs and cats will not be covered by the new law. Freed also wonders why any kind of meaningful mandatory spay/neuter legislation took so long to pass when the need has been so great for so long.
A NEED FOR EDUCATION
In 1997, a City Council oversight report, Dying for Homes, charged that the animal care center had repeatedly failed to fulfill much of its charter mandate to rescue, care for and find homes for homeless animals. Animal-rights advocates say the situation has not improved much in the ensuing years. They point to a lack of public-education campaign, volunteer programs and fundraising.
The center's detractors, including some former board members, find fault with the organization's structure and funding. Though it serves as a non-profit independent group with charitable status, the board of the Center for Animal Care and Control is comprised exclusively of Giuliani appointees, many of whom have little or no experience in animal issues and have jobs that depend on the mayor.
The critics also cite what they see as the city's poor funding of animal-related services, including spay/neuter, which is less than one dollar per capita (per human). The Humane Society, a preeminent animal protection organization, recommends between three and five dollars per person.
For their part, the mayor and his supporters note that city money allocated for animal control has increased by roughly five million dollars since 1995, from three million dollars to $8.1 million. Staffing levels at the Center for Animal Care and Control have been beefed up to 173 full and part-time employees, from 148 at the end of 1995. And administrators plan major renovations of existing shelters to expand the capacity, so "euthanasia will be less pressing because there will be more room for animals," Meyer says. Furthermore, a plan to change and enlarge the board of the Center for Animal Care and Control could create a more traditional non-profit board, with a wider variety of members and better representation of the interested parties.
FAMILY PLANNING
Experts such as Mechler believe that any truly effective program to combat animal overpopulation must include three parts:
1. an intensive multilingual public-education campaign, particularly in low-income neighborhoods
2. aggressive and highly publicized adoption programs
3. accessible low-cost spay/neuter services.
Critics charge that New York has consistently failed to launch such a program.
Many animal rescuers say that what New York has, or has not, done to remedy the problem becomes starker when measured against the efforts of some other municipalities.
In Seattle, Wash., senior citizens are given a 50 percent discount on adoption fees for shelter cats over two years old. Neighborhood centers in Austin, Texas, distribute vouchers that residents collecting social service benefits such as food stamps can use for animal sterilization. In Miami, Fla., public money funds a 40-foot bus that offers animal services including free and low cost sterilization and rabies vaccinations. San Francisco's no-kill shelter system is often cited as a model facility.
PETS NEED NOT APPLY
For years, the New York City Housing Authority has probably been adding to the problem of strays in the city by threatening public-housing tenants with immediate eviction if they don't abandon their pets. Exceptions were allowed only in the cases of a resident's serious illness.
Now, though, the federal Department of Housing and Urban Affairs, which oversees the city's housing authority, has passed a new rule allowing pet ownership in public housing.
And says attorney Karen Copeland, who specializes in tenant/pet housing issues, the change seems to be having an effect as the authority has dropped cases, some of which had been pending for years, against tenants who have pets. She said one case against a pit bull had been dropped, as the tenant was able to show the animal was not dangerous.
But, Copeland adds, the housing authority does not seem to have publicized the rule change, and she said she had received one report of a housing manager who was still trying to enforce the old policy.
Copeland says the city should actively encourage people in public-housing to take in strays from shelters. She maintains that, if animal adoptions were promoted along with many other social services like food stamps to qualified tenants, "the shelters could be emptied."
HIDE YOUR HYENA
Dogs and cats have not been the only New York pets facing abandonment. Last year, the Board of Health issued a long list of animals that people could not keep as pets, replacing a broadly worded rule with a very specific list. The list included elephants and hyenas, but also such popular pets as iguanas and pythons, angering their owners. With people who harbor such animals facing fines of $100 to $2,000, some could decide to abandon the animals, though the city promised it was not planning to conduct house-by-house ferret hunts.
To animal rescuers, the anti-ferret policy is just another sign of the administration's callous attitude toward animals. While acknowledging that there have been some accomplishments, animal-rights advocates remain skeptical of City Hall's overall attitude. They cite the city's blocking of a ballot measure to create a Department of Animal Affairs and the length of time it took to pass any sterilization legislation. These are among the many signs, animal-rights advocates say, that the Giuliani Administration has not, and is not, putting animals first.
Other Links
###
Visit the IOTW Archives!
WHADDAYASAY?? GothGaz wants to know what YOU say about this issue. Fire away!