Public School Principals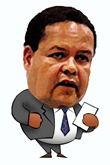 THE LOWDOWN:
For many public schools in the City, the year began inauspiciously:16% of NYC's public schools opened without a permanent principal. And the forecast is glum. There is a dearth of qualified candidates. Principals in the NYC school system are leaving the City for better paying jobs in the suburbs. The principals' union (the Council of Supervisors and Administrators) is locked in contract negotiations with the Board of Ed (and has been for almost four years). Neither the union nor Chancellor Crew seems willing to bend on the key issue of tenure. The Chancellor, along with Mayor Giuliani, wants to do away with tenure. They contend that tenure is protection for the inept. The union says that tenure is their only protection from the whims of politics. To break the impasse, the Board of Ed has made what it hopes to be an offer the principals can't refuse: 33% salary raise in exchange for forfeiture of tenure. So far, no deal.
RELEVANT LEGISLATION:
1996 Board of Education Annual Report † Explains the1996 School Governance Reform Law and its impact on several facets of public school governance: extending the authority of the Chancellor, mandating parent involvement, improving participation in school board elections.
Crew Packs Arsenal of New Powers in NYC † A January 1997 article in Education Week details the changes put into motion by the1996 Reform law.
THE REPORT CARD:
School Governance Reform † Two Years Later † Study by the Institute for Education and Social Policy at NYU, examining the implementation of the 1996 School Governance Reform Act. Has it really improved the schools? Unfortunately, no, this study says: implementation has been stymied by the street-level bureaucracy. Top-down changes cannot be effected from the bottom up without adequate dissemination of information.
THE ESSENTIAL GUIDE:
Jessica Wolff † Director of Program Outreach at the Public Education Association explains the Principal Problem and the potential solutions.
THE REACTIONS:
The Union Teacher - UFT publication, defines, and defends, tenure for principals.
Education World † Online resource for teachers, explains the recent City offer (33% raise in exchange for forfeiture of tenure), and polls principals about their feelings.
New Visions for Public Schools - Sees a shortage of qualified applicants for principal positions. Their take on tenure? The anti-tenure cry is further disincentive, scaring away much-needed would-be principals.
Public Education Association - Their newsletter, the PEA Alert, details the necessary qualifications and process for becoming a principal and getting tenure. PEA calls for an enforced probationary period and a stop to automatic tenure.