Drug Laws
By Maia Szalavitz
19 August 02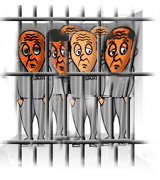 Every winter, when the state legislature convenes in Albany, activists think this is the year. Buoyed by press accounts and pronouncements by politicians, they believe that the state's harsh drug law will finally be reformed. And every year they get a little closer.
But months later, when the legislature goes home, the Rockefeller drug laws and their long mandatory sentences remain on the books. And thousands of New York City residents continue to serve time in upstate jails for selling or possessing a few ounces of a drug.
Governor George Pataki, state Senate Majority Leader Joe Bruno and Assembly Speaker Sheldon Silver have all endorsed changes in the law. Almost every community organization that has taken a position on the laws opposes them.
But in an election year, even with public support for change, politicians, particularly those from upstate or rural districts, fear the consequence of voting for reform and then being attacked as "soft on crime." And, so once again the Rockefeller drug laws seem likely to survive to face possible reform by the new legislature next year.
Opponents of the laws says they have packed prisons with low-level drug offenders who need treatment, not imprisonment and have not reduced the level of drug addiction in the state. Reformers argue that the laws, which were enacted in 1973, did nothing to stop New York's horrendous crack epidemic of the late '80s and early '90s, one of the worst drug crises ever in the United States.
Supporters, mainly the state's District Attorney's Association, claim that the laws helped spur the decline in crime throughout the state and particularly in New York City in the 1990s.
Now, as is common with decisions critically affecting the city, it all comes down to what three men in Albany -- Governor George Pataki, Assembly Speaker Sheldon Silver and Senate Majority Leader Joe Bruno -- do behind closed doors. If they agree to a reform proposal, the governor can call a special session of the legislature to vote on it. Otherwise change will have to wait until next year -- after the gubernatorial and state legislature elections.
THREE DECADES OF THE LAW
The Rockefeller drug laws are among the harshest such laws in the nation. They were enacted in 1973 at the instigation of then-Governor Nelson Rockefeller was considering making another try for the White House a few years later and wanted to be seen as tough on crime. At the time, New York City was experiencing a massive increase in heroin use and heroin-related crime, fueling the climate for new, stricter laws.
Rockefeller originally wanted life sentences for all dealers, but eventually accepted the current structure, which set sentences of 15 years to life for anyone caught selling more than two ounces or possessing more than four ounces of cocaine or heroin, regardless of the accused's history or the circumstances or the arrest.
Largely as a result of these laws, the prison population in New York state skyrocketed from 12,500 before their enactment 73,000 today. Today, about 19,000 people are in prison under the Rockefeller laws. (See related story on New York State jails.) Researchers estimate there are 250,000 heroin addicts in the state, a number that has remained fairly constant for decades.
Nearly two thirds of prisoners in the state are from New York City. Most serve their sentences in upstate jail, more than 100 miles away from their families, according to the Correctional Association. Some 80,000 children in New York State had at least one parent in prison in 2001, according to state statistics. Those children—and their parents—come disproportionately from minority communities.
STALLED IN ALBANY
Most opponents of the Rockefeller drug laws want them completely repealed, leaving other laws already on the books to set sentences for possession and selling drugs. These other laws give judges greater discretion to sentence any drug offender to treatment, probation or prison depending on the offense and the person's history.
Even though he is an upstate Republican, Pataki seemed to be an ally. Since he was first elected in 1994, the governor has publicly expressed strong support for changing the laws. But every year, after the Democratic-controlled Assembly comes up with its plan for change, Pataki counters with a more limited proposal. And any reforms then die when the legislature adjourns, a victim of Albany's way of doing business.
This year, the two sides seemed closer to compromise than ever before. A measure passed by the Assembly in June would significantly reduce drug sentences. For example, the mandatory 15 years to life sentence for selling more than two or possessing more than four ounces of cocaine or heroin would be cut to between five and 8 1/3 years. And the amounts of drugs needed to incur the sentence would double. In other cases, judges would have wider discretion. And the Assembly bill made the changes retroactive, so people still serving time could be released, and it increased funding for treatment.
The governor countered with his plan, introduced in the Republican-controlled Senate. His measure keeps the current structure of the law and is far more limited than the Assembly bill. It would, for example, reduce the 15 years to life to 10 to 12 years. And it is not retroactive in most cases.
The legislature adjourned earlier this summer without reaching agreement. But reform advocates have not given up hope.
"There are substantial reform proposals on the table, and there have been new developments and proposals since the last ones we've seen in writing," said Bob Gangi of the Correctional Association, a criminal justice advocacy group. "The governor could call a special session and pass reforms, but it is impossible to predict."
Gangi is a bit skeptical of the governor's actions. "The governor may be trying to posture on this issue," he told the Village Voice. "He has not delivered significant reform on the drug laws despite all this talk about how it's long past due."
John Tunney, Steuben County district attorney and spokesperson for the DAs' association on the Rockefeller laws says he can't predict whether changes will be made this year. "If I had that kind of insight, I'd probably be doing something else and watching the money roll in," he says.
Reformers fear a watered-down package that gives the governor a soundbite but does not make significant changes. They also worry that, if nothing happens this year, momentum will be lost. They note that Pataki is up for re-election in November and seeking support from New York City voters and Latinos who tend to favor reform. After Election Day, he might be less interested in changing the law.
PROS AND CONS
The key opposition to change comes from the state District Attorney's Association, which represents prosecutors. Under the Rockefeller laws, the quantity of drugs involved determines the sentence. And so prosecutors, by choosing what weight to cite and so what offense to charge the defendant with, play a major role in determining the offender's sentences. Of course, prosecutors have similar discretion in charging criminals with other crimes, but the Rockefeller drug laws remove much of the judge's leeway in sentencing, leaving more power in the hands of the prosecution.
Tunney believes that district attorneys should retain the threat of tough mandatory sentences for drug dealing. Since district attorneys know more about an offender than judges, he says they are best qualified to determine whether a dealer or user should get treatment or incarceration. Tunney concedes some drug dealers are selling to support their own habits and are not dangerous felons. "When we . . . know for certain who truly is non-violent, then they've been diverted" to other programs, he says.
But advocates for change say prosecutors are too cautious about alternative sentencing. And they say that giving such broad authority to district attorneys unfairly shifts the balance of power away from the judge, who is supposed to be impartial, to the prosecution.
In urging change, reformers cite imbalances in who actually gets caught by the drug laws. Although research finds that whites use and deal drugs at virtually the same rate as people of color, 94 percent of those serving time in state prison for all drug offenses are African American or Latino.
That shocking statistic is a major reason given by most reformers for change. In fact, the laws originally included tough sentences for marijuana sales, but these were dropped in 1979, when politicians became alarmed by a few high profile cases of affluent college student caught selling marijuana and facing sentencing under the laws.
The DAs' Association supports some change. It agrees that the 15 year to life sentence for possessing more than four or selling more than two ounces of cocaine should be reduced. "Frankly," says Tunney, "that word 'life' causes more problems than it's worth. No one sits in prison for life. It becomes a lightning rod [for the opposition]."
While only several hundred offenders are serving time under this top, or A-1, category of offenses, stories of injustice related to them are heart breaking. For example, Jan Warren, was single and pregnant when she was sentenced to 15 years to life for carrying eight ounces of cocaine for her cousin from Newark to Rochester. The judge called the mandatory sentence he was forced to impose on this first-time offender "a travesty."
Most of the drug prisoners in the state are serving time under the lower felony categories, which for a second offense can carry mandatory sentences of 15 to 30.
According to New York State criminal justice department statistics, 80 percent of drug offenders sentenced to prison in 1997 had never been convicted of a violent felony, and nearly half had never been arrested for a violent crime.
THE TREATMENT ALTERNATIVE
Since an estimated 60 percent to 70 percent of prisoners have a current or former drug problem, it is reasonable to assume that many offenders convicted under the Rockefeller law were dealing drugs to support their own use. Reformers urge that these people be sent to treatment facilities, rather than prison.
The DAs, however, believe the threat of long prison terms makes treatment work. Explains Tunney, "All of the treatment providers tell me that unless treatment is coerced, unless the consequences will be prison, addicts tend not to do it."
But the data does not support this position. Voluntary patients are just as likely to get off and stay off drugs as coerced patients, according to numerous studies funded by the National Institute on Drug Abuse. Addicts, like alcoholics, can be persuaded to seek treatment by families, employers and other concerned parties, as well as by the courts.
Howard Josepher, executive director of Exponents, Inc., which trains current and former drug users in HIV prevention, is a former addict who got clean when a judge offered him the option of treatment instead of prison in the pre-Rockefeller era. He says, "The reliance and dependence on coerced and mandatory clients doesn't support creative and innovative treatment." In other words, because the clients are forced in the door, treatment providers have little incentive to improve their services or make them more welcoming to voluntary patients.
Treatment in New York state is currently dominated by providers who rely on coercion for approximately half their admissions. The city itself stopped providing treatment during the fiscal crisis of the 1970s and 1980s, and many private providers are beleaguered by the cutbacks imposed by managed care which often will fund little treatment or none at all.
Reform advocates believe that increased funding for treatment funding must be part of any changes to the Rockefeller laws.
CAMPAIGN ISSUE
The Rockefeller drug laws turned up in the political news earlier this year when a commercial on Spanish language TV promoting reform charged that Pataki wasn't doing enough to change the laws. When an error in the ads was found, the governor's office pressured the TV stations to drop them. The resulting outcry over censorship drew more attention to the issue and was viewed as an embarrassment for Pataki.
"He came out looking bad," says Gangi, "And it may have helped send him a message that people are serious about reform."
But now the political reporters have moved on to other topics leaving reformers with the faint hope that change will actually come this year. If not the "Drop the Rock" advocates will undoubtedly be back in Albany again in 2003, hoping to untangle the mess that keeps New York state from making a change that most of its leaders everyone professes to support.
Maia Szalavitz, Gotham Gazette's health columnist, is author, with Dr. Joseph Volpicelli, of "Recovery Options: The Complete Guide: How You and Your Loved Ones Can Understand and Treat Alcohol and Other Drug Problems."
See also: "The Prison Boom," by Sasha Abramsky
###
Visit the Issue of the Week archives.
Tell us what you think about this issue. Write a letter to the editor.