Public Housing
By Jessica Green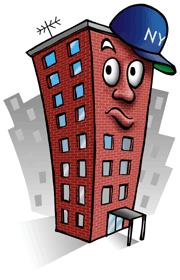 THE LOWDOWN:
The New York City Housing Authority (NYCHA) operates the largest public housing system in the nation. Its apartments are much sought-after. One estimate puts the waiting list at 110,000 people, most of whom wait an average of five years. Despite this demand, NYCHA's current five-year plan does not include building new units. The Authority attributes its no-build policy to lack of federal appropriations, which account for 70% of the budget. Per federal mandate, the NYCHA submitted one- and five-year plans to HUD. The plans have riled public housing tenants, advocates and some legislators, who feel that NYCHA is not doing enough to solve problems of short supply and quality control in NYC's 181,000 public housing units. Their response? "Our hands are tied; this is what Washington wants."
NYC's Public Housing at Risk - February 1999 report by State Comptroller Carl McCall describes the NYCHA as a "maintenance time bomb" that will explode unless the its capital needs are met. Among other conclusions, the study found that in two-thirds of the buildings, at least one serious repair (e.g. elevator, roof) was needed immediately.
NYC Housing and Vacancy Survey - Though the most recent version was conducted in 1996, this survey gives some indication of demographic characteristics of public housing tenants, as well as the availability of and turnover in public housing units.
NYCHA Spotlight - Though NYCHA is considered by many to one of the best run Housing Authorities in the nation, the Spotlight disagrees. Run by a former NYCHA employee, the Spotlight dishes the dirt on the Authority, and as such, is considered contraband within NYCHA territories. All Spotlight info comes straight from the horse's mouth: NYCHA employees. Good whistleblowing.
SOME FACTS:
NYCHA manages 344 housing units with 181,000 for more than 500,000 persons.
The federally funded Section 8 Existing Housing Program, also administered by NYCHA, assists another 77,000 people.
The NYCHA is the largest housing authority in the nation.
In 1998, 34% of NYCHA dwellers were working families (i.e. households in which at least one adult member was employed), the highest percentage in four years.
The occupancy rate in NYCHA public housing was 99.5% in FY1999; 5.6% of the apartments were vacated at some point in the year.
(Source: Mayor's Management Report, Fiscal Year 1999)
WORKING FAMILIES PREFERENCE:
Goth Gaz reporter Amanda Bell gives the lowdown on the Working Families Preference, and why it's probably doomed to fail in NYC.
The Working Families Preference - An explanation of the WFP program -- who is eligible, how to apply.
"Housing Authority Plan Axed by Judge" - The WFP will not be implemented in all NYCHA housing, since a ruling by a federal judge that the policy would contribute to segregation in projects where whites exceeded 30% of the population.


Gotham Gazette
c/o Citizens Union Foundation
198 Broadway • 7th Floor
New York, New York 10038
Phone: 212-227-0342 • Fax: 212-227-0345
email: [email protected]