Rebuilding By Consensus?
By Mark Berkey-Gerard
10 June 02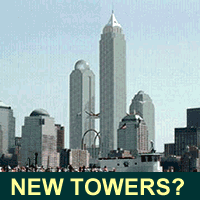 Sherman Carrington, who owns an engineering firm in Yonkers, has an idea for rebuilding the World Trade Center that he calls the "Eighth Wonder." He envisions eight office buildings joined together to form a circle around a grassy courtyard, their walls etched with the names of all of those who died. In the middle is a spire, raising 75 feet higher than the surrounding buildings, a kind of "tombstone," he says.
Carrington's plan is not part of a design competition, development plan, or official government commission, although he did submit it to the Lower Manhattan Development Corporation for consideration. His drawing is taped to the window of the Stage Deli across the street from Ground Zero for anyone who might be interested.
Thousands of other New Yorkers also have ideas they are eager to share.
Some of the families of the 2,823 people who died on September 11 want the entire 16-acre site to be a cemetery. Other New Yorkers want the twin towers to be rebuilt exactly as they were. Developers want office space and a giant shopping mall. Senator Charles Schumer wants to move the United Nations downtown. Senator Hillary Clinton wants to build a biotech research center. And the major civic coalitions representing businesses, community groups, labor unions, planning professionals and individual residents have issued extensive recommendations (See "Working In Coalition" and "Competing Visions?").
The events of September 11 have inspired a dizzying number of different rebuilding ideas.
In fact this week, Imagine New York, a group that aims to involve the public in the rebuilding process, will deliver the results of 230 workshops attended by 3,000 people - an astonishing 18,492 ideas.
Despite all of these conflicting proposals, some of the decision-makers are already saying there is widespread agreement about what should be rebuilt at the World Trade Center site.
"I wouldn't say there are competing visions," said Daniel Doctoroff, deputy mayor for economic development and rebuilding. "There's a wide consensus."
Congressman Jerrold Nadler, who represents lower Manhattan, disagrees. "There has not been enough outreach to determine that," he said. "There's currently a great deal of consensus [but only] among the major financial, real estate, and government power elite."
So in the end will any of these ideas be considered? Will all the public meetings matter?
"New Yorkers have an amplified skepticism about whether public officials will really listen to them," said Gianni Longo, a planning consultant hired by Imagine New York, who has helped involve the public in projects from Baltimore to Bahrain.
For many New Yorkers the basic questions about who makes the decisions, what should be built, and even what "rebuilding" means have yet to be answered.
WHO WILL DECIDE?
Last November, Governor Pataki and former Mayor Giuliani created the Lower Manhattan Development Corporation, a 15-member panel that along with the Port Authority will oversee the rebuilding efforts.
Other people involved in the rebuilding include Larry Silverstein, who holds the lease on the World Trade Center and wants to rebuild 10,000 square feet of office space.
Shopping mall giant Westfield America holds a 99-year lease on the retail space and wants to put a huge shopping complex on the site. The mall below the Trade Center was one of most lucrative in the country. "We paid a lot of money to be there," Frank Lowy, the head of Westfield told the Wall Street Journal.
Silverstein has hired his own architect to draw up plans and has met with Westfield about various plans.
Then there are the victims families, downtown residents, labor unions, and advocates of particular issues.
The Lower Manhattan Development Corporation and Port Authority have pledged to make their decisions based on an "inclusive and open public process." The next public hearing is scheduled for July 20 at the Javits Center where as many as 5,000 people are expected to attend.
"Consensus at this point is not about the details of the project, but a general plan," said Michael Kuo, an urban planning student whose father died on September 11 and who has worked closely with many of the civic coalitions. "It's a recognition that there are many stakeholders and that they each have to be recognized."
The official planning term for incorporating all of these aspects into one site is mixed-use -- meaning the area would support tourism, office space, shopping, cultural programs, and residential needs. But just what mixed-use will mean in the specifics of the final design is still to be decided.
WHAT DOES REBUILDING MEAN?
Since September 11, words like "recover" and "rebuild" have come to mean many things, certainly more than just replacing buildings. There is a daily schedule of "rebuilding events" on topics like getting business loans, helping children cope, creating art out of tragedy, and finding spiritual peace.
Officials have been criticized for thinking too narrowly about business and commercial development and ignoring the special impact the attacks have had both directly and indirectly on lower-income New Yorkers.
"Chinatown workers are still unemployed and they are talking about things, not people's lives," said Wei Chen, a member of the Chinese Staff and Workers Association.
"As a basic necessity of economic development, affordable housing needs to be a factor," said Margaret Hughes of the community group, Good Old Lower East Side.
Some also question why 145 large corporations have already received over $500 million in subsidies, when efforts to help smaller businesses are going much slower.
Councilmember James Sanders, Jr., chair of the council's economic development committee, is calling for programs in the "multiple downtowns" throughout the five boroughs. "Local job development can revitalize under-served areas while giving the whole local economy a substantial boost," he said.
REBUILD THE TOWERS?
In weeks after September 11, nearly half of New Yorkers polled wanted to see the twin towers rebuilt as they were.
Nearly nine months later at a recent public forum, many people still said that restoring the 110-story towers would be the ultimate act of defiance against terrorists and would restore the empty gap in the lower Manhattan skyline.
"It's absolutely inconceivable to me that they would rebuild without rebuilding the towers," said Louis Epstein of Caramel, New York.
But planners say the towers would be too costly, too difficult to fill with businesses, and that tenants would be reluctant to go to work in huge skyscrapers that have been the object of two terrorist attacks.
"I think there's zero chance that the buildings will be rebuilt the way they were, as two 110-story towers," said Daniel Doctoroff. Yes, many New Yorkers talk about restoring it the way it was, but he said, they don't mean replicating the towers. "They are talking about repairing the skyline," he said. "Repairing the skyline and rebuilding the towers are very different."
Instead Silverstein and others are talking of constructing several buildings half as tall. However, last week a private architect hired by Silverstein unveiled a proposal for a 110-story building, except the top 40 floors would be an empty glass shell. The top of the building would serve as a kind of memorial and massive addition to the skyline.
Some speculated that the idea was in response to a recent hearing where many expressed their desire for a tall landmark.
"Please do not diminish the memory of all of these good people by building 50-, 60-, or 70-story mediocre buildings on the site," Jonathan Hakala, who used to work on the 77th Floor of 1 World Trade, told officials at a public hearing. "Please, if you are going to put buildings on that site, build one of the seven modern wonders of the world."
THE WHOLE SITE AS A MEMORIAL?
On September 11, Monica Iken lost her husband Michael, who worked on the 84th floor of Two World Trade Center. Shortly after, she founded September's Mission, a victims' family group. Like many relatives of those who died and have not been able to recover the bodies of their loved ones, Iken would like to reserve the entire site as a memorial, although she knows it is unlikely.
"Why do they want to build a mall on our cemetery?" asked Iken.
The Lower Manhattan Development Corporation has proposed setting aside the "footprints" of the towers or five to seven acres as a memorial.
"We are not going in the direction of having no buildings," said Madeline Wils, chair of community board 1 and a member of the Lower Manhattan Development Corporation. "This is not Gettysburg, it's not Oklahoma City, where you have parcels of land with nothing on them. It's not the Beach of Normandy."
BUILD A GRAND CENTRAL STATION DOWNTOWN?
For downtown to grow and thrive, many planners say, the rebuilding efforts must include a transportation hub that would connect subways to the Long Island Rail Road, Path trains to New Jersey, and bus and ferry terminals.
"All the investment in mass transit has gone to mid-town Manhattan," said Alex Garvin of the Lower Manhattan Development Corporation. "It should be no surprise that businesses either want to be in mid-town, or Stamford, or in New Jersey."
Another idea is to reunite the neighborhoods of lower Manhattan by opening through fares like Greenwich Street, Fulton Street, Day Street, and Cortland Street that were closed when the World Trade Center was built. There is also a plan to put West Street underground to better link the 25,000 residents of Battery Park City to the rest of the area.
But others, particularly those who want the site to be a place of quiet place of remembrance or even a commercial shopping area, would like to keep cars and traffic out of the area.
WHEN WILL REBUILDING BEGIN?
The urban planning firm, Beyer Blinder Belle, is supposed to present up to six proposals for the site to the Lower Manhattan Development Corporation and the Port Authority in July.
A final blueprint is supposed to be chosen by December 2002.
A series of public meetings are planned over the coming months to give people a chance to respond to plans.
But there will not be any construction of anything above ground for several years since the underground infrastructure for subway tracks and train tunnels must be built first.
The first building to be rebuilt will probably be World Trade Center 7. Larry Silverstein, who holds the lease on the property, has already unveiled plans for a 52-story glass building that will house a energy station for Con Edison and serve as a gateway to the rest of the area and to a permanent memorial. Excavation on the building began in May, and the building could be completed by 2005.
A complete rebuilding is at least a decade away - and that might be an optimistic assessment. After all, architectural designs for the World Trade Center began in 1962 and the towers were not completed until 1976. The last building in the complex was completed in 1988.
For now there is much discussion and many unanswered questions.
What would a fitting memorial look like? Is the economic future of downtown in financial industry, tourism, or something else? How can the city recover 125,000 lost jobs? And can a great work of architecture be built by consensus or does New York need a new Robert Moses?
"It is important to think about lower Manhattan as a way to change the entire city of New York," said Alex Garvin of the Lower Manhattan Development Corporation. "It's not just another project."
###
See "Working In Coalition" and "Competing Visions?"
Visit the Issue of the Week archives.
Tell us what you think about this issue. Write a letter to the editor.