Working In Coalition
By Mike Kuo
10 June 02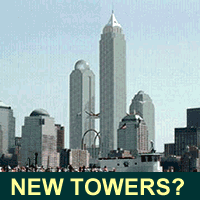 In the months that followed the World Trade Center attacks on September 11, New Yorkers of all backgrounds began to seek out ways to respond to the tragic events. For two months, I mourned the loss of my father, Frederick Kuo Jr., by staying at home to be with my mother, brothers, sister and extended family. We virtually barricaded ourselves in the house, venturing forth only to explore the area hospitals and family assistance centers, looking for news of my father's whereabouts. I became the physical manifestation of my father's missing persons number in the city's 9/11 codification system - a number that will forever be etched in my mind.
As my family and I began to come to grips with the actual loss and the certainty that my father was not coming home, I began to go back to the activities in my life that were put on hold indefinitely on 9/11. I was just beginning my second year in the graduate school of Urban Planning at Hunter College and had to figure out just how much of my schedule I had to drop in order to cope with random, but persistent lapses in concentration, focus and energy. I immediately took incompletes in two courses and was wrestling with the idea of dropping a full-year studio. It was at this time that the miraculous intervention from an unexpected source changed the course of my entire year, my personal life and my career.
My studio professor told me that she didn't think I should quit, that I'd done too much work to this point to stop now. She told me that it was okay that I wasn't keeping up with the rest of the class and that they all understood. In order to get me to feel as if I was contributing, she proposed that I go to the Municipal Art Society and meet with a planner who had completed a research report that could be useful to the team. In addition to the research report, this planner was working on a project related to the rebuilding of the World Trade Center. Would I be interested in something like that? Definitely - and without hesitation.
At my first meeting with Eva Hanhardt of the Municipal Art Society in November 2001, I was certain that working on the rebuilding and memorialization would be the most productive way for me to cope with the loss of my father and to do something positive in his memory and for the 2,822 others. I would be able to find out about the issues without having to read the paper and would help myself to build my career as a planner. This confluence of personal and professional interests is something that, in the past seven months, has gotten me involved in the activities of four other coalitions that have spent every day since 9/11 charting a course towards effective and appropriate redevelopment of the site and the city at large.
While I, and other victims' family members like myself, were busy trying to cope with our feelings of loss by rallying around our loved ones, others across the city felt compelled to react to the tragedy in a different way. Feeling driven to do what they could to help, these individuals met together to talk about how they could work together to help the city put itself back together. As the enormity and complexity of the issues began to unfold, these impromptu initial meetings became regular weekly affairs. With each weekly meeting, membership seemed to expand exponentially and larger conference rooms were sought out to accommodate the dozens of new faces.
The coalitions began to adopt names:
New York New Visions
Rebuild Downtown Our Town (R.Dot)
the Civic Alliance
Imagine New York
the Labor Community Advocacy Network to Rebuild New York (LCAN).
Months later, these groups have separately produced reports that carefully map out the rebuilding path. Many members are active participants in more than one or all of the groups. Although each group has staked out a particular territory, they each operate in a spirit of cooperation with the others, not of competition. Collectively, their visions provide a clear portrait of the myriad of rebuilding concerns and more importantly, present a path to the plan.
One of the first things to mention about these groups is that almost all of the members in these coalitions are committing their time and energy on a pro bono, or voluntary basis. Their practical expertise and experience in relevant fields is a valuable resource, which the future of the city should depend upon. They are specialists in the fields of architecture, engineering, planning, design, transportation, labor, community development and the environment. Their members come from Long Island, New Jersey, Westchester, Connecticut and all five boroughs. They are trained to look at cities and diagnose their problems and find ways to make them better. The collapse of the towers presents the ultimate challenge to the vitality of this city and it is these people that have the best training to deal with it.
Looking at these five reports and attending dozens of meetings over the past seven months, I see an incredible amount of agreement on virtually all of the significant issues that we will face in the rebuilding process. There are eight critical rebuilding principles that are mentioned in all or almost all of the five reports:
Open, transparent and inclusive public process:
All five coalitions advocate for public involvement in the design of a 9/11 memorial and for the entire redevelopment process. When describing processes for public involvement, they all believe that opportunities for public involvement should be more frequent and accessible and that decision-makers should feel encouraged by the level of public interest in the rebuilding and embrace the widespread talents in this diverse metropolis.
Memorials as a significant on-site component:
All five groups believe that any development on-site or off-site should contain memorials to the victims as an integral component. In the reports, memorials are always mentioned before other types of development.
Transportation investment as a long and short-term economic solution:
The groups agree that a reconfiguration of the transportation system in downtown is the single-most important investment for the revitalization of the Lower Manhattan. All point out that pre-9/11, there was a massive but unconnected mass-transit system downtown and that if they could somehow be connected by a major transit hub, the area would experience a resurgence. In addition to connecting the various mass transit components (MTA and PATH), the possibility of extending commuter rail, such as the Long Island Railroad and New Jersey Transit, into downtown Manhattan is strongly recommended. Such improvements to the system will make it easier for people to get in and out of downtown, therefore creating a strong foundation for job growth.
Mixed-use and diverse, 24-hour community:
Historically, downtown has been known as a business and financial district that shuts down after 7 pm. However in the past decade, the construction of Battery Park City and the residential conversion of many older buildings in Tribeca has caused the residential population of Lower Manhattan to skyrocket. These groups advocate for an enhancement of that trend by creating a mixing of uses to incorporate residential, commercial office, retail, cultural, recreational and other uses in an integrated and vibrant fashion.
Restoring the street grid and improving pedestrian and waterfront access: These groups feel that the superblock that was created for the former World Trade Center presented a physical barrier that segregated downtown neighborhoods from each other and interrupted the flow of pedestrian and vehicular traffic. The solution to these problems would be to restore the street grid, either as a whole or in part. By creating better circulation at the street level, the future World Trade Center site would be integrated with the surrounding areas and would make it easier to traverse the site in all directions.
Green-building and sustainable design:
Meeting the desire for bold and innovative architecture, all five groups recommend that "green" building technologies be strongly considered. Green building uses cutting-edge technologies and building materials to create "high performance" buildings that efficiently use and/or recycle their own energy and reduce the demand on municipal resources.
The reciprocal relationship of Lower Manhattan and the region: People from all over the region felt the impacts of September 11. Whether it was lost jobs or loved ones, or a decrease in business, the attacks created a domino effect throughout the region. With this in mind, the reports acknowledge that investment downtown should be executed in a manner that has beneficial impacts to communities throughout the entire metropolitan region and that the relationship between the two should be seen as mutually beneficial.
Bring back jobs lost from 9/11 and help those who continue to operate downtown:
A chief concern of all of the groups was to create a strategy for addressing the 88,000 jobs lost or relocated out of the city as a result of the terrorist attacks. Another aspect of this was the creation of incentive packages to retain both small businesses and major firms in downtown. This job creation strategy must not restrict its scope to downtown; the entire tourism, restaurant, hotel and airline industries have suffered and they are not exclusively located downtown.
Even though the groups have had a remarkable and unprecedented amount of consensus around key issues, the nature of the groups and the interests that they represent are so radically different that their reports tend to concentrate on a particular key element that the other reports may not develop as completely. In this manner, you can observe the individual groups demonstrating their strengths. For example, the Regional Plan Association is largely a transportation planning organization, so as conveners of the Civic Alliance, their report has a very strong section dedicated to transportation improvements. Similarly, LCAN is composed of various labor and union organizations, so their recommendations with respect to job growth have a great deal of detail and validity. Although the other groups address notions of transportation and jobs in their reports, these groups tend to shed a little more light on the particulars of the topic.
Here's a brief look at the individual coalitions, who they are and what special perspective they bring to the overall rebuilding effort:
Civic Alliance to Rebuild Downtown New York:
"A Planning Framework to Rebuild Downtown New York"
Convened by the Regional Plan Association (RPA), the Civic Alliance is composed of over 85 business, community and environmental groups providing an umbrella for civic planning and advocacy efforts. New York New Visions, R.Dot, LCAN and Imagine New York are all a part of this coalition. As a result of this collaboration and by hosting two major public listening sessions, the Civic Alliance drafted its "Planning Framework" to reflect the contributions of their coalition partners as well as the input of the public.
Their report advocates for a 21st Century city that is built around a revamped inter-modal transportation system that offers a single-seat ride from the suburbs and an integration of the PATH with the subway system. This transit hub would be in the form of a 2,000 foot underground Grand Concourse that would link the PATH to all of the other subways that cross Lower Manhattan. The Fulton Street station would be completely reconstructed to allow for a smoother transition from one line to another. Moving walkways and retail space would be a new component of the state-of-the-art facility.
Imagine New York:
Giving Voice to the People's Visions
The Imagine New York project, convened by the Municipal Art Society, is dedicated to engaging the broad public in participating in the rebuilding of New York City. The Imagine New York project allows for the vast public to become the experts and pledges to accomplish two objectives: 1) to listen to the voices of the broad public that was affected by the tragedy, and 2) to ensure that those voices are heard by decision-makers. Ideas for rebuilding and memorializing were gathered at 130 venues that sponsored Imagine New York. At those venues, there were over 230 Imagine New York workshops in April through May that engaged over 3,500 people in communities across the tri-state region and on a dedicated website.
The Imagine New York project is different from the others in that it allowed its participants, not its staff, to determine the issues and to create the vision statements for the white paper report. Public participation was not merely a recommendation of this project; rather it was the mechanism for producing those recommendations. The white paper report for Imagine New York will be released on June 10 and presents the 49 vision statements that summarize all the issues and concerns that were raised during the public workshop period. While reading through the individual ideas as a member of Imagine New York's steering committee, I noticed that a significant portion of the 18,432 ideas directly reflected the eight key components in all the coalition reports and seemed to validate the preliminary guidelines of the Lower Manhattan Development Corporation's blueprint for rebuilding.
Labor Community Advocacy Network to Rebuild New York:
Policy Statement
LCAN is a network of representatives from labor unions, community groups, research and advocacy organizations and service providers. LCAN has been coordinated by the Fiscal Policy Institute and the Central Labor Council of the AFL-CIO.
With respect to creating jobs, LCAN recommends that a two-pronged job-creation program and a package of sectoral economic strategies (that are similar to NYC's Economic Policy and Marketing Group) be implemented. LCAN itemizes resource allocation of some of the $21 billion in Federal aid towards the creation of jobs and the short-term and long-term revitalization of the city's economy. They stress that the rebuilding should ensure social, economic and environmental sustainability.
New York New Visions:
"Principles for the Rebuilding of Lower Manhattan"
This coalition of architecture, engineering, planning and design organizations is committed to honoring the victims of September 11 by rebuilding a vital New York. New York New Visions is a joint project of The American Institute of Architects New York Chapter and the New York Foundation for Architecture.
As a coalition composed primarily of architects, engineers and those connected to the building profession, New York New Visions has engaged in a computer graphics study of various on-site redevelopment alternatives that attempt to balance two variables: memorials and office space. By tweaking the memorial areas of different sizes with approximately 10 million square feet of commercial office development, they produced a range of alternatives that touched both extremes from using the entire 16-acre site as a memorial to developing a commercial heavy site. As memorial size increased, the size and height of buildings had to increase in order to maintain 10 million square feet. As memorial size decreased, height of buildings decreased but the overall office coverage of the 16-acres increased. In this exercise, New York New Visions was able to graphically depict the placement and size of buildings and memorials, as well as demonstrate their visual impacts on the skyline.
Rebuild Downtown Our Town:
"Rebuilding Lower Manhattan and the World Trade Center"
The R.Dot coalition is comprised of Lower Manhattan residents, businesses, community and business associations, artists, colleges, architects, designers, public officials and their appointees. They represent the community that is located in the area surrounding the World Trade Center. When the entire area of Lower Manhattan was "shut-down" below Canal Street, these were the people whose businesses and livelihoods were the most seriously affected by the tourniquet. Consequently, when the rebuilding is to take place, it is their lives and jobs that will be most affected by whatever forms take shape. One of their chief concerns is that the reconstruction will have an equal if not greater impact on Lower Manhattan than the attack itself.
R.Dot's report contains an interesting element that the others do not. A portion of the report engages in an exercise that they call "experience mapping", which is an analysis of user behavior on a typical day in downtown Manhattan. R.Dot produced experience maps that depict the routes and interactions of four people: a delivery driver from Brooklyn, a stock-broker from New Jersey, a tourist family staying in Midtown and a small-business owner who lives and works in Tribeca. R.Dot recommends that these user-based scenarios, when compared with existing infrastructure, will show planners the gaps in the demand and the existing supply and therefore will help to match resource expenditures with specific areas of need.
* &nbsp * &nbsp *
By looking at these five coalitions as a singular effort, their collective endeavors have almost completely covered the gamut of issues and concerns that have arisen to date and the public and media have widely validated their recommendations. These are the groups that should be doing the planning for the city's reconstruction.
The efforts have been open, transparent and inclusive of the public, as well as informed by experts in pertinent fields such as transportation, engineering, labor, architecture, planning and design, community advocacy, legal affairs and public policy. In addition to their expertise, these groups have continued to demonstrate a passionate and sustained commitment to rebuilding the city.
What initially began as a knee-jerk reaction to the horrific attacks has become a series of nine-month projects with thousands of participants, which show no signs of slowing down. They have produced enough momentum that they will continue to address the rebuilding challenges that come up in the future.
###
See "Competing Visions" and "Rebuilding By Consensus?"
Visit the Issue of the Week archives.
Tell us what you think about this issue. Write a letter to the editor.