Recycling
by Etta Sanders
8 April 02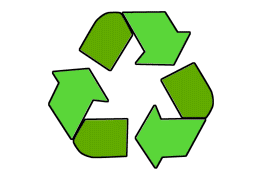 Like many New Yorkers on the Upper West Side, Francie Williamson hates recycling, and loves it at the same time. A nurse who works a long day, she hates coming home to the chore of rinsing out the bottles and cans, and hates having them clutter up her apartment. But she likes the feeling that she has been part of a solution to the city's garbage problem that was long seen as a common-sense alternative to leaching landfills or polluting incinerators. So she fills her blue recycling bags with bottles and cans, and is herself thus filled with hope for the environment.
But the hopes of New York's recyclers were shaken when Mayor Michael R. Bloomberg recently proposed suspending the recycling of metal, glass and plastic for 18 months. The program is expensive and inefficient, the mayor said, and much of what is in the blue bags does not in fact get recycled, ending up instead in landfills along with the rest of the garbage.
"We are not doing a good job," the mayor said, "and until we can it's just not worth it."
Others disagree, and in any case doubt that the mayor will be able to suspend what, after all, both state and local law require. The head of the New York City Council's new Committee on Sanitation and Solid Waste, Michael McMahon, says he is not about to let recycling end. "Is it as important as education and public safety? No," McMahon said. "But it is almost as important. And the city has to be committed to implementing a good plan." (See McMahon's essay on Searchlight). This week, McMahon said, the city council will be making an announcement about an alternative proposal to Bloomberg's -- it will essentially be asking the state to take over the recycling program.
But thirteen years after the city council passed the first mandatory recycling law aimed at reducing New York's trash, many officials are focusing on other ways - such as incinerators (see story) -- to replace Fresh Kills, the city's primary garbage dump until it was closed last year after half a century in operation. In a city that generates 11, 000 tons of household garbage a day -- 22 million pounds! --recycling may have seemed like a good solution, but few think it is going to be an easy one.
THE COST OF RECYCLING
There are some people, most noticeably New York Times columnist John Tierney, who think recycling makes people feel virtuous, but accomplishes little, and at great cost. Half a billion dollars could have been saved, he wrote in his most recent of many columns on the subject, if a decade's worth of recyclables had been sent instead to out-of-state landfills.
From the Department of Sanitation:

WHAT NYC RECYCLES:

Paper and Cardboard
corrugated cardboard
magazines and catalogs
newspapers
phone books
shirt cardboard
paper and envelopes
paper bags
cardboard boxes
computer paper
pizza boxes
cardboard egg cartons (no styrofoam)

Metal, Glass and Plastic (plastic items stamped with a #1 or #2 only)
milk and juice cartons
aluminum products
metal cans
detergent, shampoo and lotion bottles
plastic and glass bottles
milk jugs
household metal -- pots and pans, etc.
wire hangers
aerosol cans
wire hangers
paint cans

WHAT NYC DOES NOT RECYCLE:

yogurt containers
salad bar containers
styrofoam
plastic wrap/plastic bags
plastic and wooden hangers
batteries
caps and lids
cardboard take-out food containers
paper towels, napkins, cups and plates
ceramic dishes
light bulbs
mirrors
But the mayor himself was careful not to be so completely dismissive.
"We have two recycling programs, one that works and one that does not," Bloomberg said in his February 13th budget address.
The one that he says works is recycling of paper -- some 1,300 tons of it a day -- which pays for itself. The one that does not, the administration contends, is the 1,000 tons per day of metal, glass and plastic, which does not pay for itself.
Advocates say that such an assessment is unfair. They point out that paper recycling took time to turn a profit. It has taken a decade for the city to get to the point where 20 percent of all garbage collected from residences in the city is recycled. Only since April 2000 has curbside pick-up of recyclable material been a regular weekly occurrence in every neighborhood. Recycling, they say, has barely been given a chance. "This program has been a success," said Mark Izeman of the Natural Resources Defense Council. "There are more than 2,000 tons of material a day that don't have to be landfilled. And it holds the potential for further savings."
But with a projected $4.8 billion deficit looming in the city budget, "potential" savings may not be good enough. And indeed, while the cost of recycling has actually been slightly lower than the cost of trucking the material to out-of-state landfills, that will soon no longer be the case. The price that companies charge to process the city's metal, glass and plastic will soon increase to more than $100 a ton, nearly double what it is now. Add the cost of collecting it all, and the cost of recycling jumps to $239 a ton. By contrast, the cost of disposing of a ton of garbage, without recycling it, is $132. That is why the mayor projects that a halt in recycling will save the city $56 million next year.
CAN RECYCLING BE MADE COST-EFFECTIVE?
If recycling is expensive it is partly, advocates say, because the city has not done enough to make the program cost effective.
It admittedly faces a sharp challenge in the marketplace, where the value of most metals, most glass and many plastics is low. "The markets are not real strong for these commodities," said Allan Gerlat, editor of Waste News, a biweekly newspaper. "It's a nationwide thing. There's just more supply than demand."
But New York City could boost those markets by using its clout as a consumer to buy more products made from recycled materials. The city does buy some plastic bags, carpeting and garbage cans with recycled content, but other items, such as snow cones, park benches, playground equipment made from recycled materials, are often more expensive than those made from virgin materials.
And the city could do a much better job in retrieving those materials that are valuable, such as clear glass used for glass bottles and jars and certain plastics used in carpeting, clothing and plastic lumber.
Though the city has spent millions of dollars on public education campaigns about recycling, the word has not reached many New Yorkers, who still do not know what they should sort into the blue bags. "Despite the best intentions of residents, they put in plastic toys, plastic wrap, yogurt containers," said Steven Lawitts, the deputy commissioner for administration at the Department of Sanitation. "Many of these things have recycling symbols on them, but they're not in fact economically recyclable and they're not part of our program." That is one of the reasons why as much as 40 percent of what is put out in the blue bags is not actually recycled.
Plastics present the greatest confusion. Many plastic items are stamped with an embossed recycling symbol and a single digit, but only two types are included in the city's program: PET plastics (stamped with a number 1), and HPDE (marked with a number 2). In some cases a bottle is recyclable, but the lid is not.
The city also mixes clear and colored glass, which makes it difficult to reuse and consequently of little value.
Since the average New Yorker does not know what belongs where, more than half of all valuable recyclables get put into the black plastic bags destined for the landfills. Here too, advocates say, the city could be doing more - it could be trying to get building superintendents, for example, to retrieve the recyclables from the residents' black bags. This is crucial, they say, because if enough recyclable material was diverted out of the black bags and into the blue ones, recycling trucks would be filling up. It would then be possible to reduce the number of garbage collections, for greater cost savings. Efficiency could also be improved by having one truck collect all recyclables, instead of one for paper and one for everything else. In the places where the sanitation department has done this over the past three years (some 20 out of the 59 sanitation districts), it has saved money. But what could make recycling most cost-effective is if the cost of disposing of trash in landfills increases (which is happening), while the market for recycled materials increases - not just among municipalities buying back their own re-converted trash, but from regular consumers and businesses. So, advocates say, if the city suspends recycling, it could prevent that market from developing. "It is difficult for manufacturers to invest in producing those products," Izeman said, "if the supply of materials is turned on and shut off due to short term budgetary problems."
WHAT NOW?
New York City is not the only municipality that is struggling to make recycling work. The upstate city of Amsterdam (pop. 18,000), faced with rising costs and a belief that their recyclables were being dumped, stopped recycling at the end of 1999. Six months later they were sued by the State Attorney General, Eliot Spitzer, and forced to resume. Amsterdam is not anti-recycling, says Mayor John Duchessi, but they feel they are subjected to a burdensome state requirement that comes with no financial assistance.
The Attorney General has been meeting with New York City Sanitation Department officials, but has made no statement regarding what he would do if the city stops recycling. "Attorney General Spitzer recognizes Mayor Bloomberg and the city are facing tremendous fiscal challenges," says Mark Violette, a spokesman for Spitzer, "We're trying to balance the monetary needs with our conviction to continue recycling."
Meanwhile, the city officials are looking for ways to finance the operation. The mayor has suggested using the deposit money from returned cans and bottles. Others have recommended increasing the deposit to ten cents, with five cents going to the city and five cents being returned to the customer. The city council, according to McMahon, this week will ask the state to set up an independent recycling authority which will handle all city recycling -- paper, glass, metal and plastic. That authority would also act to try to develop markets and improve public education. To pay for the authority, McMahon said, the council will ask the state to amend the bottle law to redirect unclaimed deposit nickels from the distributors to this authority and also expand the deposit to more bottles. The original state bottle law, passed in the early 1980s before the boom in bottled water and iced tea, covers only sodas and wine coolers.
Although Mayor Bloomberg says he is committed to recycling, the program could be in jeopardy if he is successful in suspending it and then ties its resuscitation to a quick economic recovery or a change in the bottle deposit law.
THE VALUE OF RECYCLING
With all the focus on monetary concerns, it is easy to forget that the purpose of recycling was not cost reduction but conservation. It offers the hope of reducing air pollution from incineration, stopping the degradation of land and ground water from landfills, cutting down fewer trees for paper and having less reliance on petroleum for plastics.
Studies by numerous environment groups indicate that the process of turning already existing products into new ones not only uses fewer natural resources, but also requires less energy consumption and fewer toxic chemicals. A May 2000 report from the New York State Attorney Generals office concludes, "while the extent of benefits varies depending upon the product, the benefits are indisputable whether one considers paper, plastic or metal."
Some critics have disputed this indisputable; John Tierney, in his New York Times Magazine article "Recycling is Garbage", wrote that paper is produced from trees farmed for that purpose and therefore does not cause the destruction of forests. But, according to the Natural Resources Defense Council, only 20 percent of the paper manufactured in the United States comes from farmed trees.
If the many public officials who publicly endorse the environmental benefits of recycling, including the mayor and the governor, nevertheless make short-term finances their primary consideration, the recycling program could soon be thrown out with the trash, the blue bags gone for good from the curbside landscape.
"We contend that recycling is not a frill; it's a basic goal that needs to be achieved," said McMahon, "If the system is flawed let's fix it, but don't shut it down. I fear once we shut it down, we'll never restart it."
RESOURCES
See also:
Read Letters to the Editor about this article
###
Visit the Issue of the Week archives.
Tell us what you think about this issue. Write a letter to the editor.