The Rights Of Same-Sex Partners
By Andy Humm
24 June 02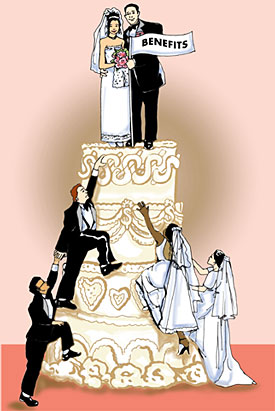 Larry Courtney lost his partner, Eugene Clark, in the terrorist attack on the World Trade Center - and then was forced to move out of the apartment in Manhattan they had shared for 14 years. Courtney could not afford to stay there on a single salary, and few of the agencies that are supposed to help in just such a situation, such as Social Security, recognized the relationship. He has sued the Workers Compensation Board for the $20,000 a year to which a spouse is entitled under such circumstances. "Not having a marriage license was not our fault," he said. Only the State Crime Victims Board offered aid, and then only under an emergency executive order issued by the governor in the wake of the attack.
"After September 11, many domestic partners were shocked and angry to learn that we were without any real protection under the law," Fire Captain Brenda Berkman testified at a recent City Council hearing on the issue. "In fact, we found that the state and city, along with private unions and charities, were denying benefits to the domestic partners of the city's emergency service workers killed trying to save others at the World Trade Center, as if our relationships meant nothing.
"Although I have been paying my pension contributions and risking my life as a firefighter for twenty years, my partner has no entitlement to my line-of-duty benefits."
Like AIDS before it, the tragedy of September 11 has brought renewed attention to the issue of the rights of unmarried "domestic partners."
"People lost their apartments, were unable to pay their bills, lost control of their partnerÍs estates, or simply had insult added to their grief," writes Councilmember Christine Quinn (See "Hard Lessons Learned").
Many city businesses already give domestic partner benefits to their employees, but are resistant to government mandates to provide them. Some unions neither offer them nor fight for them. And powerful religious groups in New York oppose any attempt to expand these benefits and thus to redefine what constitutes a legal couple. But the aftermath of the attacks has revived interest in the debate, and made many elected officials in New York City express more sympathy, even if it is not clear what the city government collectively can or is willing to do.
The History of Domestic Partner Benefits
New York City started recognizing domestic partners, gay and straight, at the height of the AIDS epidemic in 1989, when Mayor Ed Koch issued an executive order granting them hospital visitation rights and death leave. Rudy Giuliani, running for mayor, opposed Koch's move, saying it would cost the city too much. Koch called Giuliani's position "heartless" -- and David Dinkins won the election.
Early in his term, Dinkins set up a domestic partners registry at the City Clerk's office, allowing same-sex couples who lived together and could demonstrate some interdependence, to sign up for a certificate at the City Clerk's office. It did not carry much weight within government at first, but has proved useful for the many corporations in the city, from Merrill Lynch to Disney, that have since begun providing domestic partner benefits to their employees.
But Dinkins, in the midst of one of the city's many budget crises, resisted fulfilling a campaign promise to settle a suit by gay teachers demanding health benefits for their partners. It took him until shortly before Election Day in 1993 to settle that suit, making the domestic partners of all city employees eligible for health benefits. Dinkins, however, lost his re-election bid a few days later, and the winner Giuliani had no commitment to furthering domestic partner rights.
When Giuliani ran for re-election in 1997, he got the Empire State Pride Agenda, the lesbian and gay lobby group, to remain neutral in his race with Democratic candidate Ruth Messinger, a veteran supporter of gay causes, by promising to support a domestic partners bill in the City Council. The 1998 bill that was passed codified the terms of the 1993 court settlement into law, and went through the City Code adding the term "domestic partner" wherever "spouse" appeared. But to Thomas K. Duane, then on the Council and now a State Senator, the changes did not go far enough. He suggested, and would still like to see, the city commit to providing domestic partner benefits to its city employees that are equal to those for employees in marriages - by providing those benefits that the state and federal governments give to married couples but not to gay couples.
On the Table Again
Lambda Legal Defense is representing Larry Courtney and Bill Valentine, who lost his partner Joseph Lopes in the American Airlines crash in Belle Harbor on November 12, before the state Workers Compensation Board. Lambda attorney Adam Aronson said that the governor could do an executive order to open up workers compensation to domestic partners as he did for the Crime Victims Board. Another group called Marriage Equality is working to get New York State to recognize same-sex marriages through litigation or a new law if necessary--something opposed by both Governor George Pataki and his Democratic rivals, Comptroller Carl McCall and Andrew Cuomo. The two Democrats, unlike Pataki, support a Vermont-like civil union law for New York, reflecting an official position of the state Democratic Party.
But what is New York City's role in an area that many believe only the state can resolve?
The City Clerk's office holds that it cannot issue marriage licenses to same-sex couples without the state's permission. That thesis has never been tested, and there is some evidence the city government is relieved to pass the buck to the state: While mayors like Willie Brown of San Francisco and Ken Livingstone of London have conducted union ceremonies for gay and lesbian couples, no New York mayor has ever done so.
Lambda's Aronson believes there is a case to be made for Duane's proposal that the city cover marriage benefits for gay couples that the state and federal governments will not. "We have a non-discrimination law in the city on the basis of sexual orientation that is expansive and inclusive," Lambda's Aronson said. "It says it will cover instances of discrimination where a disparate impact can be demonstrated. A policy that discriminates on the basis of marriage can have a disparate impact." This was shown in Lambda's case against Yeshiva University that denied married housing to domestic partners. The Court of Appeals ruled for Lambda's client in Levin v. Yeshiva because she had no opportunity to marry her same-sex partner and was thus deprived of a service.
The City Council sounds poised to do whatever it can make expand domestic partner rights. "It is unacceptable," said Alan Gerson at the recent hearing "to have the city's post-9/11 unity torn asunder by bureaucratic rulings against domestic partners. We are determined that all domestic partnerships, same-sex or heterosexual, be treated fairly, equally and equitably."
Councilmember Christine Quinn, Duane's successor, concurs. "The Speaker [Gifford Miller] and lawyers to the council now want the most comprehensive domestic partners legislation we can have," which is a shift from the time when Peter Vallone was Speaker of the City Council On the other hand, the other open lesbian on the council, Margarita Lopez, has apologized in public hearings to domestic partner survivors of 9/11 who have been denied benefits, but she is not sure how much the city can do. The council's legal staff, she said, has convinced her that some benefits could only be resolved in collective bargaining. "I've learned that our capacity to affect issues is very limited in the Council unless the Assembly and Senate give us permission," she said. But she is hopeful that the council can fashion some solutions.
The Opposition
The council hearings on domestic partner issues post-9/11 have not attracted the anti-gay opponents who used to come out en masse in the 1970s and 1980s to fight the lesbian and gay rights bill, which finally passed in 1986. The city transgender rights bill, adding "gender identity and expression" to the human rights law, passed in a veritable lovefest, with no one testifying against it and only a handful of council members voting no on it.
But Councilmember Quinn plans next month to introduce a bill that would require businesses and non-profit agencies that have contracts with the city to provide domestic partner benefits. This is sure to be controversial.
Alair Townsend, publisher of Crain's New York Business, has not yet taken an official editorial position on the contractor's bill, but did say that measure's like this were "more about making council members feeling good," than enacting sound public policy.
Mayor Michael Bloomberg has already said he is not in favor of Quinn's bill. The mayor wants an exception for religious groups. Indeed, opposition is almost sure to come from some religious groups, which have opposed such measures in the past, as an attack on the traditional family and an effort to weaken marriage.
If those groups that are contractors with the city are required to provide domestic partner benefits, some may comply, others will lose their contracts, and some may choose to sue. The San Francisco domestic partners contractors' law has stood up to court challenges from an airline association. The Catholic Archdiocese there found a way to comply. But the Salvation Army stopped taking city money, forced to by the national office, though the local Salvation Army had offered to comply with the law.
Unions
The city unions have not pushed domestic partners issues. Joseph Mancini of the Police Benevolent Association said that domestic partner survivors are not included in help provided by the union under its Widows and Children Fund.
Tom Ryan, president of Fire Fighters Lesbian and Gay/Emergency Medical Services ( known as "Fire-Flag/EMS") said he has been asking the firefighter's union "to put a bill forward to the state that would include everybody," including domestic partners. "I'm not worried about terrorism," the out gay firefighter said, "I'm worried about my loved ones not being taken care of if I die."
A Change?
Why is there so much talk and movement around these issues now? "After September 11," said Lambda's Aronson, "Americans started thinking of issues as Americans, no longer as black, white, gay, lesbian. For the first time, many heterosexual people understood in a profound way how the law discriminates against gay people and couples." Most of these injustices, he said, could be solved if the state recognized the marriages of same-sex couples.
Richard Haymes of the Gay and Lesbian Anti-Violence Project told a recent state hearing on these issues at the Lesbian, Gay, Bisexual, and Transgender Community Center, "In the aftermath of September 11th, the inequities were compounded and highly magnified. And perhaps because there had never before been such a huge critical mass of lesbian, gay, bisexual, and transgendered individuals affected at one time, we at the Anti-Violence Project were heightened in our resolve to ensure the victims of the terrorist attack from our community would not fall through the cracks." Though Haymes's group and the gay lobby Empire State Pride Agenda got some government action and set up a private fund to pay some of what officialdom would not, "in many regards, our efforts were in vain," he said.
The next battles in the conflict over how many rights same-sex couples should have will be played out in City Hall several times before this year is out.
###
Visit the Issue of the Week archives.
Tell us what you think about this issue. Write a letter to the editor.