School Building
By Gail Robinson
6 May 02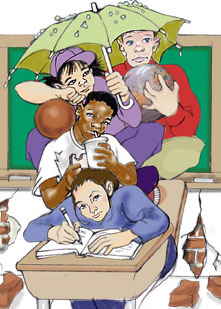 In Midwood High School in Brooklyn, some 4,000 teenagers crowd into a building designed in 1940 for 2,300, forcing the school to schedule classes in three overlapping shifts. Some students have to get up at dawn, and others are unable to participate in after-school activities such as sports teams or the school play. Some parents worry about their children having to travel so early (or so late).
For a while, relief seemed to be in sight for students at Midwood and Brooklyn's other overcrowded high schools. The Board of Education planned to build an annex in 2003 and a completely new high school in Sunset Park in 2004.
Now these plan are on hold, as is all new construction in Brooklyn high schools. They may be on hold forever, victims of the city budget crunch and of cost overruns on earlier school construction projects.
With budgets being cut for all city agencies, education has become an even more hot-button issue, and one of the most contentious issues within education is school construction. Proponents of new schools say that, without additional buildings, the city cannot decrease class size or create a good working environment for students and teachers. Decrepit schools, they say, send a message to students that the city does not consider them or their education to be important.
Critics point to costly projects and poor workmanship and say the issue is not only how much we spend on school construction, but who gets to spend it and how. Last week, a commission appointed by Schools Chancellor Harold Levy announced a series of recommendations it said could drastically slash construction costs for New York City schools and create more space. Levy said he would immediately implement many of the suggestions, such as streamlining construction procedures.
Meanwhile, the City Council has proposed a tax hike to finance school construction.The mayor acknowledges the need for new schools, but does not want the taxes.
CLASSROOM CRUNCH
In the 1890s,when immigrants from eastern and southern Europe flocked to New York, class size ballooned to more than 43 students. The Board of Education called for it to be set at 40, noting, "there are thousands of classes with registers ranging from 45 to 60."
A century later, the Campaign for Fiscal Equity, an education advocacy group, found that the average city elementary school class has 28 students. This was a big improvement from the 19th century, but the average class size in the rest of the state is only 23, and many experts now believe that students in the lower elementary grades learn best in classes of 20 or fewer. To do this, though -- to cut average class size in New York City to 20 -- would require some 2,600 additional classrooms in the city, according to the Independent Budget Office. And each one of those new classrooms would need a new teacher.
But the need for new classrooms is not just a lofty educational ideal. The City Council estimates there are no seats for 42,000 youngsters currently enrolled in New York City public schools. Of course they do sit somewhere, crammed into aisles, at desks in rooms not intended as classrooms, or attending school at odd hours. The schools in Queens are so badly overcrowded that the state has allowed them to slash the day from seven to six periods, so they can run two sessions instead of one. And, by 2009, if nothing is done, there will be a shortage of 80,000 additional seats in Queens alone.
At P.S. 11 in Queens, students attend class in what had been a shower room; what once served as a drain remains in the middle of the room. And P.S. 19, also in Queens, already has become a kind of poster school for overcrowding. When United States Education Secretary Richard Riley visited a couple of years ago, he was aghast. "Every inch of the school is being used," he reported. "Children are learning in closets, in the hallway, and because there is no cafeteria, the children have to eat their lunch at their desks, and they have no playground."
This year, Council Speaker Gifford Miller followed in Riley's path and took reporters to P.S. 19 to dramatize the issue of overcrowding. An elementary school has become the new Charlotte Street for public officials, the educational equivalent of the former disaster area in the South Bronx.
With more than half of New York's 1,200 school buildings at least 50 years old, the city has been forced to use money that might have gone for additional classrooms to make repairs instead. Some of the worst conditions have been corrected; hundreds of schools, for example, are no longer heated with coal furnaces, as they were up until just a few years ago.
Many schools are still shabby, however. At the Clinton School for Writers and Artists, a middle school in Chelsea, for years the gym teacher had to tape down tiles that peel up from the deteriorating gym floor. Now that has been repaired somewhat but mold still persists on many of the school.s ceiling. Working bathrooms and water fountains are rare in many public schools, while roaches and mice can be common. Science labs and other equipment, including computers and libraries, tend to be outmoded or scanty.
At schools throughout the city, officials have erected temporary fabricated classrooms nearby that no one really thinks are temporary. These unattractive buildings, euphemistically dubbed minischools, cut into playground space and are prone to leaks.
CROWDING AND ACHIEVEMENT
A crumbling, crowded school is not necessarily a bad school, any more than an ample modern facility guarantees quality instruction. Midwood, for example, has among the highest test scores of any high school in the city, and has won national recognition for the number of its students who have become semifinalists in the national Intel Science Search.
In fact, some overcrowded schools boast a particularly high level of academic achievement, according to a 1995 Teachers College study. "Schools which have high academic achievement attract more students and therefore are overcrowded," Francisco L. Rivera-Batiz, the studyęs co-chair said. However, youngsters in overcrowded schools with a large number of low-income students scored lower on reading and mathematics tests than similar students in less crowded schools. And almost 88 percent of teachers at schools stuffed with students said overcrowding was a very important issue.
Students may not be too adversely affected when a school is operating at perhaps 105 percent of capacity, says Noreen Connell, executive director of the Educational Priorities Panel, a coalition that pushes to improve public education. But when a school has 20 percent more students than it is designed for, she says, academic work is sure to suffer.
Links may also exist between a crumbling building and poor student morale. A study of District of Columbia schools found that students attending schools in poor condition had test scores six percent below their counterparts attending schools in fair condition and 11 percent lower than those fortunate enough to go to a school in excellent shape. "The tacit message of the urban schools is not lost on students," a Carnegie Foundation report concluded in 1988. "It bespeaks neglect, and students' conduct seems simply an extension of the physical environment that surrounds them."
GOING, GOING, ALMOST GONE
Faced with crowded and deteriorating schools, then-Schools Chancellor Rudy Crew presented an $11 billion plan for building and repair in 1998.
The City Council and Mayor Rudolph Giuliani immediately assailed the Crew plan as too large. Six months later, after much wheeling and dealing, the Board of Education adopted a $7 billion, five-year plan for 32 projects, creating 33,000 new seats, almost two thirds of which would be in Queens. The School Construction Authority began building the schools.
Even before September 11 and the economic decline, this plan seemed destined to fall short of its original goals, largely because of huge cost overruns. The real figures dribbled out for much of last year, but, by December, the Board of Education knew that it was $2.3 billion short. To complete the capitol plan, the board needed $4.3 billion; it had only $1.9 billion.
Schools Chancellor Harold Levy then cut back the number of new schools to 21, with Queens again getting the lion's share. The rest would be delayed at least until the start of a new five-year plan. As he proposed the reduction, Levy said, "the kind of choices we have to make are too awful for words."
Five months later, that old plan now seems almost lavish. In February, Mayor Bloomberg called for a 20 percent cut in the school capital budget, amounting to a reduction of $692 million. This could mean that only 11 schools out of the original 32 would be built before 2005.
In response, the City Council has proposed a surcharge on the local income tax to pay for new schools. This would fund construction of 10 new high schools and for converting space at existing City University of New York campuses to 10 more high schools, if and when the university builds a flagship campus on Governors Island. The council plan also calls for 14 additional elementary schools, as well as school libraries, science labs and computers. The city would borrow $5 billion for projects and use the tax to finance the debt.
Bloomberg has resisted tax hikes, saying they will encourage people to leave New York, and has not made an exception for this one. Speaker Gifford Miller, who is behind the surcharge proposal, argues that a deteriorating, poorly performing school system is far more likely to force people from the city than a modest tax increase. Republican City Councilmember Andrew Lanza says that the city would be able to build schools without a tax hike if the agencies responsible for school construction did not waste so much money. (See Lanza's essay on Searchlight.)
Others think Albany could help. The Educational Priorities Panel and other New York City groups say the state shortchanges the city on construction money, much as it does on funds to operate the schools. In particular, says Noreen Connell of the panel, Albany uses a different formula to determine whether a school is needed for New York City than it uses for districts in much of the rest of the state. As a result, while New York City got about $159 a student in building aid from Albany between 1992 and 1999, the districts in the rest of the state (omitting the five biggest cities) got $347 a student.
SELF INFLICTED WOUNDS
The State Legislature created the School Construction Authority in 1988 to design and build schools. The Board of Educationęs Division of School Facilities had had this responsibility and, according to many accounts, botched it. "The board needed 8 to 10 years to build a school, and organized crime dominated its construction projects," E.V. Kontorovich wrote in "City Journal." The board still has the job of planning schools.
Now, some say, the solution has become the problem. "The most consistent and effective arguments made against increased funding for school facilities are concern with poor management overall and a lack of accountability at the School Construction Authority," the New York City Partnership concluded in 1999. "There are strong reservations to providing more dollars to an entity that, in the perspective of many, has done an inadequate job with its existing funds."
And this was before the news of the multibillion cost overruns broke last year. "Costs of school construction exceed those for luxury buildings in mid-Manhattan," Mayor Bloomberg told a City Council committee. It costs almost $79,000 to create space for one student in a New York City public school, the New York Post reported, three times what it costs in New Jersey. Looking at it another way, a new school in New York costs about $425 to $450 a square foot, compared to between $180 and $210 in Chicago.
As expensive as it is, the construction and repair of schools are often done badly. A Brooklyn teenager died in 1998 when she was struck by a brick that fell from the roof of Brooklyn's PS 131. At new PS 24 in Sunset Park tiles seemed about to fall from the school's facade almost as soon as it was completed; construction crews rushed in to ring the school with scaffolding. Now, the facade is intact and the school scaffolding-free, but the problems boosted construction costs $12 million over budget.
Committees and experts have scrambled to find the reason for the high costs and bad work. The price of land in the city is partly to blame. By stressing that the city needed schools -- and needed them fast -- officials may have inadvertently sent a message to contractors that speed, not keeping costs down, was key. The construction boom since 1999 created a shortage of contractors and workers, pushing costs upward. Community opposition to a school in its midst can create delays and force the city to alter a schoolęs design or location, further raising costs.
CHANGING THE SYSTEM
Last December, Chancellor Levy appointed a commission, headed by developer Peter M. Lehrer, to investigate the reasons for the high costs and recommend changes. In its findings released May 2, the commission, like many other critics, targeted the School Construction Authority, noting that the establishment of the authority created "a system with too little accountability and which has proved itself incapable of controlling the forever-escalating school construction costs." With two agencies involved in construction, the commission said, it is often difficult if not impossible to determine who is responsible for what.
Those comments echo statements previously made by Mayor Bloomberg who has said, "There is no accountability in the way schools are constructed or maintained." He has called for creating "clear lines of management" to handle school construction.
The Lehrer Commission would put control in the hands of the mayor, giving him the authority to appoint all three trustees of the School Construction Authority (the mayor now only appoints one).
The commission noted that the Board of Education has literally thousands of pages of design standards and rules that architects and contractors must comply with. At least some of these standards are intended to make schools last for generations, but the Lehrer Commission wondered whether spending more on construction now to avoid maintainance later is "always the wise choice."
In its report, the commission called for an array of measures that would streamline school construction rules, and thereby attract more contractors to bid on school projects, further lowering costs. The commission urged the city to build simpler schools with more standardized parts, such as doorknobs and clocks, and pointed to Chicago, which uses a small number of prototype designs for new schools. Overall, its recommendations, the report said, could lower costs for new schools to about $300 a square foot.
While the commission thought its design recommendation could create attractive schools serving children's need, education historian Diane Ravitch expressed doubts. "Standardization could mean those horrible boxes we got in the 1950s and 1960s," she told the New York Times.
Chancellor Levy, though, said he would throw the book of construction rules in the trash and replace them with updated standards.
Some earlier critics suggested the city government should not be in the construction business. The Manhattan Institute sees many problems at the School Construction Authority as endemic to bureaucracies: lack of accountability, apathetic workers, little incentive to excel. So, it calls for the Board of Education to adopt a "turnkey" model of public contracting. "In a turnkey system," explains Christopher Atamian, "the board hires a private-sector developer to build a school, with all the efficiencies private developers enjoy. When the job is done, the developer hands over the front door key to the Board of Ed. If the board likes what it sees, it can reward the developer with new contracts -1?2 a healthy incentive to work efficiently and for a fair price."
The Cypress Hills Local Development Corporation in Brooklyn has gotten money from private groups to begin to create a 400 seat school for students in kindergarten through 8th grade. The group, the first local development corporation to take on such a project, wants to buy an industrial building and refurbish it for the Cypress Hills Community School.
Others think the board should lease space, as opposed to building new schools, in order to bring new classrooms into the system quickly.
Meanwhile, despite the tight budget, the mayor has said he would like to put a school in the Tweed Courthouse, although some wonder whether a lavishly restored 19th century building next to City Hall is really the best place for dozens of raucous youngsters.
Bloomberg also sees his plans for Governors Island, which include building a flagship campus for the City University on the site of the former Coast Guard station, as having the potential to ease the school crowding crisis at lower grades. The space that will be freed, he has said, would be the equivalent of at least a dozen high schools.
INNOVATIVE SOLUTIONS SHORT OF BUILDING
Aside from building, the other way to ease overcrowding is to make better use of what already exists. Schools could be occupied 12 months a year. Under such a plan, students would attend schools about 180 days a year as they do now but would have vacations at different times. So in one school, students could be divided into four groups with each attending schools for 45 days and then having 15 days off. This, one study estimates, would allow a building built for 750 students to serve 1,000. And, some say, it would also produce educational benefits since students would not forget as much over several shorter vacations as they now do over the long summer break. Parents and teachers, however, have resisted the idea.
The Educational Priorities Panel urges that some fifth grades be shifted from elementary schools to middle schools, since many middle schools tend to be less crowded. And the Lehrer Commission thinks too much space in new schools goes for kitchens., boilers, basements and so on. In response Levy said he would require that at least 60 percent of all space in new schools go for education purposes.
Few of these solutions will have produced much classroom space by next September or probably even the next. And so, when schools open in September, some Midwood students will still be setting their alarms for 5:30 a.m. and some students at PS 11 will learn reading, writing and arithmetic in a place originally intended for washing.
###
Visit the Issue of the Week archives.
Tell us what you think about this issue. Write a letter to the editor.