Security
25 February 02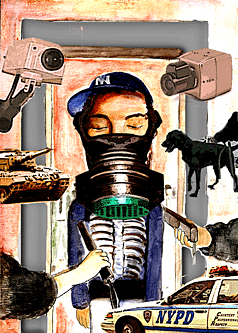 Before September 11, one security guard stood at the front entrance of the Veterans Administration Medical Center on 23rd Street and First Avenue. Now, a team of guards studies the x-ray monitors in the lobby, occasionally frisking people whose belts and watches set off the buzzers of the metal detectors. The hospital has sealed off all loading docks and side entrances, and has hired 12 ex-officers to improve security. More security equipment has been added, with new video cameras monitoring the hospital's hallways. The mailroom has been swabbed weekly for in-house anthrax tests.
"One of the responsibilities of running a government institution is to provide as secure an environment as possible," said Peter Juliano, the hospital's administrator. "And we've added a lot of extra measures to be more vigilant."
How long will the extra measures last?
"They're permanent," Juliano replied.
Throughout New York City, everybody scrambled to improve security measures immediately after the terrorist attacks, trying to prepare for the worst. Now, nearly six months later, security is still an obvious priority -- for the police, for the public, for private companies, for public health workers, for government agencies.
Early in February, when the Bush administration released its $38 billion homeland security budget, along with a progress report on federal efforts at security, the New York Times editorialized that it left "a welter of unanswered questions." There are many such questions locally as well. Has all the beefed-up security actually made us safer? Will it prevent any future attacks? What is the cost, in dollars and in other ways, such as the loss to civil liberties?
ARE WE SAFE?
For months after the attacks, members of the National Guard and of the New York Police Department stood guard outside government buildings and city landmarks, put up blockades and barriers, searched nearly anything that moved. A blockade partially formed by city dump trucks surrounded the United Nations building on First Avenue.
Then, on New Years Eve, some 7000 police officers were on hand at Times Square, while bomb-sniffing trucks scoured the streets for radioactive materials.
Most of this massive visible presence is gone now, though the United States Air Force still operates Operation Noble Eagle, a daily air patrol over New York City (There has been talk recently of scaling this back as well). Some say that much of this mass deployment was without any significant security function, its purpose little more than reassuring the public that action was being taken.
Ironically, "some people are made very anxious by all the extra security," said Dr. Edward Seidman, coordinator of the Community Psychology Program at New York University; they see it as a constant reminder of the terrorist attack.
Whatever the aim and effect of calling out the cavalry, the truth is, claims Steve Coleman of the Port Authority, "the majority of security measures are not visible to the public," and are only reluctantly discussed by officials.
Since the attacks, airport security has been the main focus of public action by the government. Last week, John F. Kennedy International Airport became one of the first 15 airports in the country to institute one of the provisions of the new federal airport security law, when government security screeners replaced those from private firms.
Also last week, the Journal of the American Medical Association published case studies of three of the 22 persons who developed anthrax nation-wide last fall, five of whom have died. (One of the case studies is that of 61-year-old Kathy Nguyen, the only New Yorker to die). "Despite intensive investigations, the sources of their infections may never be known," explains Dr. Julie Gerberding of the Centers for Disease Control and Prevention in an editorial in the journal.
"These stories teach the important lesson that anyone active elderly persons, healthy infants, and hard-working private citizens could be infected during a bioterrorist event. Hence, the safety of all persons, regardless of age, health status, location, or occupation, must be addressed in bioterrorism preparedness and response programs." The focus of such current programs, the editorial suggests, is the education of "front-line" public health workers and physicians in recognizing the symptoms, conducting the proper tests, and knowing the best treatment. The result so far has been "a remarkably effective detection system for identifying and reporting cases."
"Although it is tempting to respond as if the current anthrax threat is coming to an end," Dr. Gerberding concludes, "the criminal(s) who perpetrated these acts of bioterrorism has not been apprehended. The country remains at risk for additional exposures and infections with this deadly pathogen and perhaps with other agents. The importance of individual clinicians in bioterrorism preparedness and response was not fully appreciated by many until the current attacks occurred. Hopefully, the lessons learned during the past 4 months will motivate local health departments, health care organizations, and clinicians to engage in collaborative programs to enhance their communication and local preparedness and response capabilities."
Senator Charles Schumer held a press conference last week to warn of the need for such preparedness for another threat, what he called cyberterrorism. "We could be on the verge of a digital Armageddon," Schumer said. With so many systems operated by computers that could be broken into, "our nuclear power plants, our phone lines, our water treatment plants, our banks, our airports, our train stations are all vulnerable to attack," Schumer said. "That doesn't just mean e-mail won't work for a few hours. It means rolling blackouts. It means dead phone lines. It means immediate shutdown of the subways and buses. To an individual, it could mean that your bank accounts could be wiped out. It could even mean that they shut down the Northeast air traffic control system while thousands of planes are in the air." And New York could once again be a special target. He pointed out, for example, that two facilities in Lower Manhattan carry all the fiber-optic cable wires that connect the United States to Europe and the Middle East. Schumer said he would introduce legislation to create a task force and eventually a central authority to coordinate the efforts of all federal agencies, such as the CIA and the Defense Department and the Department of Homeland Security, to ward off cybersabotage.
But as Peter Huber and Mark P. Mills point out in a current article in The City Journal, "however much local governments may yearn for a one-stop federal solution to their new security problems, much of the initiative and innovation will almost certainly be left to them. And," they add, "for obvious reasons, the challenge will be especially great in places like Manhattan, where the largest number of potential targets attracts the largest number of cars, packages, and people -- every one of which could be a bearer of destruction."
If the challenge is greater here, so, many believe, is the capacity. "Fortunately, the tools the New York Police Department developed to fight street crime -- above all, the intelligence and accountability mechanism known as Compstat -- are tailor-made for combating terrorism," Heather MacDonald wrote in a previous article in the City Journal, "Keeping New York Safe From Terrorists," which was reprinted in The Journal of Homeland Security. "Applying them to America's new war, however," she added, "will require solving one of the most enduring problems in policing: turf jealousy, especially between the FBI and local law-enforcement agencies."
The new police commissioner is aware of the problem. "Old rivalries and old lines of demarcation that once separated agencies and prevented the free flow of information can no longer be tolerated," Commissioner Raymond Kelly pointed out last week in testimony before the City Council (see transcript of opening statement), as he enumerated the various committees and task forces that have been created to solve the problem. (There is a Joint FBI/NYPD Joint Terrorist Task Force, and the New York Metropolitan Committee on Counter Terrorism, comprised of federal, state and local public safety agencies .) Though these new bodies have resulted in improved relations, Kelly said, he still called for an amendment to the U.S. Patriot Act that would require more sharing of intelligence among local and federal law enforcement agencies.
The commissioner was flanked by two new deputy commissioners. David Cohen, a former director of operations at the Central Intelligence Agency, is now the deputy commissioner of intelligence. Retired Marine Corps Lieutenant General Frank Libutti is the deputy commissioner for counter-terrorism. Both are newly created positions, and, the police commissioner has said, "a quantum leap" from past practices, with a shift toward emphasizing intelligence and other counter-terrorism activities, and an acknowledgement that the department needed experts with experience and connections both nationally and internationally.
"A large share of the burden to restore both the sense and the reality of security in New York," the commissioner said, "falls upon the police department."
WHAT ARE PRIVATE COMPANIES AND PRIVATE CITIZENS DOING?
Government agencies were not the only ones to react. In the days following the Terrorist attacks, companies and buildings rushed to beef up their security, giving a boost to an industry that was already growing at a rate of about 20 percent annually.
"Our work doubled in the last four or five years, then it doubled again in seven weeks," noted Sergio Robleto of Kroll Inc., a company focusing on corporate security whose headquarters are in New York. "In particular, clients are requesting additional surveys of their facilities, armed executive protection, travel advisories and presentations, and bomb detection dogs," Robleto said. After half a year, "the demand for this type of work remains strong."
The vast majority of New York City companies have added more security one way or another, as Robert Littlejohn, president of the International Security Management Association, an organization of senior security executives of major corporations, told Crain's New York Business last week, in its special report on business security. Random House, the publishing company based in Manhattan, has created a new position of chief response officer. The Empire State Building alone is committed to spending an extra $5 million a year on additional security guards and new bag-scanning machines. But smaller companies throughout the country are also paying more attention to security, with banks, check-cashers and retail stores turning to state-of-the-art technology, including thumb-printing their customers.
Individual New Yorkers are trying to take steps as well. As the Times reported last week, stores like the Counter Spy Shop on Madison Avenue have been breaking all records in the sale of gas masks, hazardous materials suits, bullet proof vests and letter bomb detectors. There is little evidence that they would offer any more protection than the school desks that a previous generation hid under during practice drills intended to prepare students in the event of the dropping of a nuclear bomb. Nevertheless, in September alone, that one store sold 2,000 gas masks at a minimum price of $300 apiece, and sales have remained strong.
WHAT IS THE COST?
Greater security comes at a great cost. The city has been operating since September 11th at its highest level of security, known as Omega. For months there were as many as 1,400 officers a day assigned to special security patrols, before a rise in crime in some neighborhoods prompted a scaling back of security deployments. The result was record overtime; the police department alone already logging $553 million since the summer, according to the Independent Budget Office, a sum already nearly double the total for the entire previous fiscal year.
At the City Council hearing last week, Commissioner Kelly said that there will be some $700 million in additional cost for the police department alone for its new counter-terrorism program. This would include money for new training programs, new equipment and vehicles to detect and handle biological and chemical threats, protective equipment for the 40,000 members of the department, etc. He acknowledged that most of the money would have to come from a combination of federal aid, grants and other "external sources."
While it is unclear exactly what the price tag will be outside the police department, both the city and the state have talked about billions of dollars over the long term, for measures such as shoring up security in vulnerable locations including bridges, tunnels and ports.
It will also be expensive to modernize the systems by which the city responds to an emergency. Fire and police response units, for example, were unable to communicate by cell phone for about six hours during the attacks because there was no telecommunications system in place to give priority to particularly urgent calls or to reroute calls to other networks when one system was damaged. Such a system is currently being discussed, but telecommunications companies estimate, according to The Economist, that it could cost as much as $2 billion just to begin putting it in place in the Northeast.
In his budget proposal, Mayor Michael Bloomberg requested $200 million from the federal Homeland Security Funds, and the city also plans to tap into a grant from the Federal Emergency Management Agency. But there is no question that the city itself will be spending more of a shrinking budget on security.
WHAT ARE THE OTHER COSTS?
To some observers, City Hall itself has become the biggest symbol of the other costs created by security. Long before 9/11, Mayor Rudolph Giuliani ordered metal barricades and a constant police presence largely to close off City Hall to the public. Where rallies were once held daily on the steps of City Hall by one group or another protesting (or lobbying for) one government action or another, Giuliani cited security concerns and vehemently fought almost all permits to protest there. Police barred tourists and unauthorized pedestrians from walking up to the steps.
In the campaign last year, to a man the candidates for mayor, including Michael Bloomberg, promised to take down the metal fences and throw open up the gates of City Hall. Then September 11th occurred.
In late December, the mayor-elect said that he still wanted to open the steps of City Hall to the public, as soon as his police commissioner tells him it is safe.
The metal fences remain in front of City Hall; the public is still kept outside the gates. Police at checkpoints tell those hoping to get a closer view of City Hall that the only way to get in is on official business or with an official identification card.
The greater attention to security has created issues that are far from just symbolic. The most prominent is the detention of New Yorkers of Middle Eastern or Pakistani descent. There are weekly protests now outside metropolitan detention centers to protest the incarceration of immigrants, such as hundreds of members of Brooklyn's Pakistani community, who are being interrogated by the FBI.
"Detention and interrogation of immigrants of Middle Eastern descent has been an exercise in racial profiling," said Donna Lieberman, executive director of the New York Civil Liberties. "We are concerned that some of the security concerns that are legitimate after 9/11 don't become an excuse for a retrenchment on civil liberties."
Following the terrorist attacks, most New Yorkers did not complain about the extra measures of security; most seemed grateful, patient, willing to wait on the long lines. And months later, for many that sentiment has not changed. But others see it differently. "It seems people are more aware of their privacy and other civil liberties than ever before; it is now an open, popular topic of conversation," said Bill Brown, from the Security Camera Players http://www.notbored.org/the-scp.html, which works to bring public awareness about security cameras. Video surveillance, anecdotal evidence suggests, is on the rise.
Many of the issues that attach to the heightened security have been clear since shortly after the attack, laid out in Gotham Gazette's Crime and Justice topic page for both September and October, among other places. But more New Yorkers seem to be asking the questions now. How do you weigh the city's need for security against its freewheeling nature, which is a large part of its appeal? Do all those sign-in sheets and bag searches and metal detectors and extra security guards accomplish anything, and are they worth the decrease in the city's everyday efficiency and speed? Will the city's security needs cause a new aesthetic ugliness, whether from concrete barriers or from new buildings designed with security as a priority? Will there be new restrictions on freedom of movement? Will the city permanently retreat from its longstanding commitment to civil liberties? Will a New York changed by its need for security stop being a magnet for the freedom-loving talent that has made the city what it is?
Nearly six months out, though, a single question surely remains paramount to most New Yorkers: Will we be safe?
David Hirschman, David Schwartz and Oren Yaniv contributed to this report.
###
Visit the Issue of the Week archives.
Tell us what you think about this issue. Write a letter to the editor.