Smoking In New York
By Mark Berkey-Gerard
15 July 02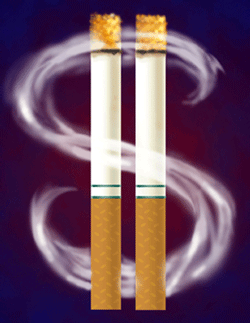 The Smoker's Choice tobacco shop across the street from City Hall has survived the economic ups-and-downs of the last 25 years and even the events of September 11, when the store was forced to close for 10 days. But manager Gautam Patel says the shop might not be able to endure Mayor Michael Bloomberg's new $1.42 tax on a pack of cigarettes.
"In the first week since the tax, my sales are down 70 percent," said Patel. "We were not scared for the business after September 11, but we are afraid of this."
Patel said his customers -- who are mostly business people and tourists -- are "not stupid" and are simply refusing to pay $7 for a pack of cigarettes when they can get them elsewhere for less. "They tell me they will buy them on the Internet, in New Jersey, or on Indian reservations," he said.
By 11 a.m. one morning, Patel had only sold two packs of cigarettes. Before the increase, he would have sold 20. The hottest-selling item in the tobacco store can not be smoked or chewed -- it is the new 37-cent postage stamp. "I had four sheets yesterday," he said. "Those I can not keep in stock."
Other stores in the area are figuring out their own approach. Some say they will sell a wider range of items like newspapers and snacks. Grace Deli at 198 Broadway simply posted a sign that reads: "Cigarettes $8. Stop Smoking!"
New York City now has the most expensive cigarettes in the country thanks to nearly three dollars in state and city taxes. The average pack-a-day smoker will now pay $1,000 more a year in taxes than non-smokers, and will generate an additional $220 million in new revenue for the state and city this year.
Some smokers feel politicians looking for an easy way to generate more money are unfairly targeting them.
"They are treating us like second-class citizens, as if our opinions don't matter," said Audrey Silk, head of the organization, Citizens Lobbying Against Smoking Harassment.
Mayor Bloomberg argues that the measure will save lives. However, the mayor himself has raised the question of how dependent the city should be on money from the tobacco industry.
During the campaign last fall, Bloomberg said that he was "uncomfortable" with the idea that the city's coffers were being filled with millions of dollars from the national tobacco settlement. He only justified the latest tax increase, he said, because he hoped it would persuade people to quit.
"If it were totally up to me, I would raise the cigarette tax so high the revenues from it would go to zero," Bloomberg said.
The new tax is just the latest in New York's crackdown on smoking. Since 1990, the city and state have passed a dozen new laws that ban smoking in public places, increase fines for selling to minors, reduce the number of cigarette vending machines, and even require cigarettes to meet rigorous fire safety standards.
But will "prohibition through taxation" make the city healthier? Is New York using a double standard -- regulating smoking to appear tough, while reaping millions of dollars from taxes and the tobacco settlement? And does big tobacco still have its hold on government?
A SMOKING CITY?
About a quarter of all New York adults smoke, which is roughly equal to the national average. However, the city's attitude toward smoking -- at least in its image and culture -- more closely resembles other international cities than other parts of the country.
The city's economy thrives on nightlife, restaurants, outdoor cafes, clubs, and bars and thus on the things that go along with them like food, alcohol, and tobacco. The city is home to many international residents and given an increasing immigrant population, some predict that the number of smokers may rise.
The events of September 11 also proved to be a set back for many who wanted to kick the habit.
In the weeks after the terrorist attacks, surveys showed that smoking, along with alcohol and drug use, increased. Ground Zero workers petitioned tobacco companies to donate cigarettes to the recovery efforts. And a recent New York Times editorial even questioned whether in making cigarettes more expensive the mayor was asking too much of an already stressed-out city, wondering if his taxes would result in more New Yorkers "twitching, tapping their fingers, snarling at the nice man in the coffee cart" and "frightening the tourists."
However, it would be difficult to call New York a smoking-friendly place.
Fewer New Yorkers smoke now than did 10 years ago, according to a recent report in the Journal of American Medicine. In March, a New York State Supreme Court Judge ruled that a mother must stop smoking or lose her right to visit her son as part of a divorce settlement. Last April, a co-op on the Upper West Side became the first apartment building in the country to ban smokers from buying property.
At the same time New Yorkers are not necessarily healthier. In the last 10 years, the rate of obesity has increased from 12 to 16 percent.
Citing the mayor's reported taste for somewhat odd, fat-filled snacks, one critic suggested a tax on junk food would be more appropriate if he really wanted to improve residents' health.
"How about I come out there and start a campaign to tax that bacon that's going to cause heart disease and tax that super-chunky peanut butter that's going to kill you?" Audrey Silk told the mayor at a recent hearing.
NEW CIGARETTE TAXES - WHO PAYS?
The political argument for raising taxes on cigarettes is simple: it generates revenue and lawmakers can claim they are giving people an incentive to quit. The effect these new taxes will have elsewhere in the economy is not so clear cut.
Critics argue that new taxes will force people to buy cigarettes elsewhere. By going to New Jersey, Pennsylvania or Connecticut, a consumer can save $20 to $25 a carton. Cigarettes bought on the Internet or Indian reservations are nearly $30 cheaper per carton. Such savings, some say, could lead to a new tobacco black-market that will then create more expense for government.
"With the evolution of the Internet, the legislature is going to have to look at a whole new set of activities, including illegal trafficking of cigarettes," said State Assemblymember Scott Stringer, who supported the new tax.
Another argument against the steep taxes is that they will hurt the most vulnerable -- small businesses and the poor.
"It's a shame that small businesses have to rely heavily on products that are killing people," said State Assemblymember Jeffery Dinowitz, who also voted in support of the tax.
According to the U.S. Bureau of Labor, people from households that make less than $30,000 a year make nearly half of all tobacco purchases.
"The demographics show that people of less economic means are more likely to smoke and that they will continue to smoke," said Assemblymember Michael Cohen who voted against the tax. "It is regressive and the burden will be carried by people who are less able to bear it."
ALBANY'S SMOKE SIGNALS
Like many issues in New York, the new city cigarette tax that originated in City Hall had to go through the State Legislature in Albany. And the state could not resist getting its hands on millions of dollars from New York City smokers.
The mayor's office had originally hoped to raise $250 million a year from the cigarette tax, but the state demanded half of it.
"It hasn't turned out to be the windfall that the mayor had hoped," said Douglas Offerman of the Citizens Budget Commission.
Then after the mayor and the City Council shook hands on a deal to raise the city tax at the end of June, they still had to wait for the Assembly and Senate to approve the measure since the city is largely unable to raise taxes on itself.
Albany also often takes the lead in legislating what it believes is best for the city.
Assemblymember Peter Grannis introduced a bill that would further restrict smoking in public places, including restaurants which seat less than 35 people that now do not have to provide a non-smoking section. The bill would have superceded some city regulations.
"It is the right of government to save lives, like laws about wearing seatbelts," said a spokesperson for Grannis.
According to Blair Horner of the New York Public Interest Research Group, the bill appeared to have the support of Senator Joseph Bruno, 46 members of the senate, and even some restaurant lobbyists.
"All of a sudden the bill blows up," said Horner. "Our view is that the governor just raised state cigarette taxes twice and approved the city tax and he did not want to upset Phillip Morris."
The governor's office denies the claim and emphasizes Pataki's efforts to decrease smoking in New York.
Seventy-percent of voters were in favor of the bill, but it still proved too controversial for an election year.
QUIT YET?
For 25 years, in the exact same spot in Times Square, a famous sign for Camel cigarettes blew giant smoke rings across Broadway. Last summer, instead of smoke rings, a quick question began flashing across a giant television screen: "Quit Yet?"
The campaign was seen as a major coup, since Times Square, once the home of cigarette ads, had been claimed for anti-smoking measures. The city plastered subway cars, buses, billboards with the message in multiple languages.
New York currently spends $40 million a year -- or about $2.21 per person -- on tobacco prevention campaigns. Advocates say that is not enough, since the state only ranks in the middle of what most states spend. Others argue that the revenue from the new tax should be used for smoking cessation programs, prevention, or even for general health expenses, but not to close the city's overall budget gap.
Still some smokers, who have wanted to or tried to quit for years, say that the new tax may push them to quit.
"I've been wanting to quit for a while so I guess this is the time," said Andrew Lewis, a New York University student who was smoking in an East Village restaurant. "Plus it's harder to bum a cigarette off a friend now."
"When a pack reaches $10, then I'll consider it," countered his friend, Gwen Blake. "But he's right, I'm not giving out cigarettes anymore. I may institute my own tax on my friends."
ADDICTED TO TOBACCO MONEY?
In addition to revenue from taxes, the four largest tobacco companies will pay $681 million to New York State this year as part of the federal tobacco settlement of 1998. New York City's portion of the payments will average $250 million a year until 2025.
The city has already sold bonds backed by its share, earmarked a portion for health care, and has put some into capital projects like improving the Staten Island Ferry and closing the Fresh Kills landfill.
"We have to be cognizant when we use this money for operating expenses," said City Council Minority Leader James Oddo, who says he thinks more of the money should be used for health care. "We only have to look at how our lottery money was supposed to be used to know that it may not go where we think it will."
Others say that despite all of the new laws and taxes, government is still too influenced by money from tobacco lobbyists.
In 1996, Governor George Pataki took two trips to Hungary that were part trade commission, part family vacation. The trip was paid for in part by the Phillip Morris Corporation and sparked an ethics investigation. In 1999, the tobacco company was fined $75,000 for giving gifts -- ranging from expensive meals to tickets to sporting and cultural events -- to at least 115 of the 211 members of the State Legislature. In 2000, the State Senate passed a bill that would have banned members from accepting gifts. The Assembly and the governor rejected it.
Philip Morris still ranks among the top 10 lobbyists in the state.
Amanda Cohen, Casey Rosenblum, and Leslie Spitalnick also contributed to this article.
###
Visit the Issue of the Week archives.
Tell us what you think about this issue. Write a letter to the editor.