Space Wars
25 June 01
by John Wolfson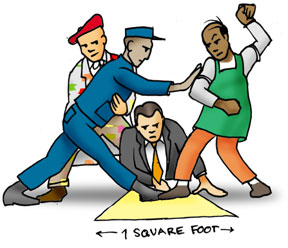 Walk across the rusty, peeling Queensboro Bridge, step down into Long Island City and climb to the roof of any of the low-rise industrial buildings in the working-class neighborhood. Now look west, and there, spread before you, is the skyline of midtown Manhattan; look to the left, and there is a second crowded skyline in the financial district, skyscrapers a thousand feet tall and not an inch to spare.
As famously impressive as these views are, the future of New York City is not there, many believe, but on the very roof where you are standing.
The reason is space. Space is the final frontier, and there is not enough of it left in Manhattan -- not for offices, not for residences, not for retail stores, certainly not for factories.
Big business says that the shortage of space threatens its very existence in New York City. But businessmen are not the only ones feeling claustrophobic. Housing advocates say that the city's rents, which are the highest in the nation, are driving out families, workers and artists. New York's small businesses and manufacturers, who cannot pay as much rent as big corporations or even as individual residents, are finding themselves increasingly squeezed out. Advocates want the city to designate certain areas as safe-havens for these small businesses, areas that would be off limits to development for other purposes.
What each group wants seems reasonable, but it all requires space -- often the same space. And space -- as wealthy as New York City may be, as boundless its supply of energy and optimism -- is one thing the city cannot purchase or will. Adding to the problem, some critics say, has been the city's failure to adequately manage the use of the land and buildings that it does have. They say zoning laws are outdated and erratically enforced, and that market forces rather than sound planning have driven how the city grows.
There is a struggle going on for New York's most precious resource, its 309 square miles of space.
OFFICE SPACE
Despite all of New York's skyscrapers, despite all its millions upon millions of square feet, New York City does not have enough office space to compete in the future. That is the conclusion of a report issued this month by the so-called Group of Thirty-Five, the business leaders, public officials and academics organized by Senator Charles Schumer to find solutions to the space crunch. In February of 2000, one month after Schumer created the Group of Thirty-Five, the New York Media Industry Survey drove home the need for the senator's high-profile panel. New Jersey, not New York, had experienced the highest growth rate in attracting new media companies. "Today, 45 percent of New York Area New Media companies are located in New York City," the senator said when the survey came out, "but unless we find space for companies to grow and for new companies to move in, we will see that percentage creep further and further downward."
To remain at the forefront of the technology and new media industries, the Group of Thirty-Five says the city must come up with 60 million new square feet of office space by 2020 to accommodate an additional 300,000 jobs. The new space is needed, the report states, because the city's office vacancy rates are at historic lows, sending rents to all-time highs and pushing out businesses to places like the Newport Center, a 600-acre commercial, retail and residential community in Jersey City.
From 1995 to 2000, the report states, 37 million square feet of office space were leased out, which increased rents by 53 percent. "As a result," according to the report, "many businesses are either building new facilities or moving existing operations to New Jersey and other locations outside the city." That is why the report calls for incentives to lure biotechnology and information companies to New York, and for the creation of a fund to purchase manufacturing buildings for the city's industrial business community. Above all, the report calls for the building of more offices, bringing rents down, attracting businesses.
But where, in a city that already seems impossibly overcrowded, do you build 60 million new square feet, equivalent to the office space of about 30 Empire State Buildings?
The report has identified three areas as central business districts, which together would account for 50 million square feet of the space: downtown Brooklyn, the far West Side of Manhattan, and Long Island City. And this solution for solving the crunch in office space bumps directly into the problem of a lack of space for manufacturers.
MANUFACTURING SPACE
After 79 years at the same address in Manhattan's Printing District, the Hudson Printing Company was forced out last year. The company's landlord declined to renew its lease with Hudson because the businesses that have moved into TriBeCa can pay much more for the same space to use as offices. So Hudson, which employs 30 people, packed up its six presses and moved to Long Island City, where many other printing companies have sought refuge from Manhattan's hefty rents. The company has a 15-year-lease on its new space. But as co-owner Alan Bergman looks around, he wonders whether some of his new neighbors, in an area that for generations has been home to heavy industry, might soon face the same fate that drove him from TriBeCa. This week, the City Council may approve a zoning change in Long Island City that permits high-density office and residential space in a 37-square-block area near the Queensboro Bridge.
Manufacturing rents have already increased in the last two years from about seven dollars per square foot to about $10 per square foot, according to Gayle Baron, executive director of the Long Island City Business Development Center. Now, with the possible rezoning and the expected influx of tenants willing to pay in the mid-$20 per square foot range, Baron said, "I think what will happen is, as the area becomes more desirable long term, I think it will push out any tenant that will not be able to pay the rents that will be required."
And once manufacturers cannot afford Long Island City, where will they go? Throughout the city, writes the Center for an Urban Future's Jonathan Bowles, former manufacturing areas are slowly becoming more residential and more commercial -- and therefore more expensive -- from Sunset Park to Greenpoint to Maspeth to Hunts Point to Williamsburg to Red Hook. "A lack of affordable real estate is the number one problem for small business owners in New York," Bowles writes in a report commissioned by the Center.
That report argues for industrial "sanctuaries" where zoning would not be changed for a guaranteed number of years. Further, the report says the city should provide manufacturers and small business owners with financial incentives such as the ones given to major corporations. Though manufacturing is not as significant to New York City's economy as it once was, the stakes remain high, according to the New York Industrial Retention Network. The city is home to 11,000 manufacturers, which account for 250,000 jobs and 43 percent of the state's total number of manufacturers, according to the New York State Department of Labor.
And the worried search to keep these jobs bumps directly against the city's lack of affordable housing.
HOUSING
It is so hard to find an apartment in the city that some couples remain roommates long after they decide to break up. This is amusing only to people who do not have to grapple with New York's severe housing shortage. The four percent vacancy rate, the nation's lowest, has created the highest rents in the country, a fact that New York State Comptroller H. Carl McCall believes threatens "the city's prospects for long-term economic growth." Companies are finding it increasingly difficult to attract, and retain, the best workers because housing costs are so high, a report by the comptroller found. To lower costs, the report argued for new housing construction throughout the city.
A report prepared by New York University's Center For Real Estate and Urban Policy found the city's housing market to be inadequate for the population, a condition that left more than 25 percent of New York's renters paying more than half their income in rent. To lower rents by increasing the housing stock, the report argued for an overhaul of "obsolete" zoning laws and for rezoning certain manufacturing areas for residential development.
In the absence of city-led rent relief, many renters have devised their own methods of securing cheaper housing. Several observers detailed a common pattern in New York City, and one that can currently be seen in the northern Brooklyn neighborhoods of East Williamsburg, Bushwick, Red Hook, and Green Point: People seeking inexpensive housing start to look into areas that are zoned for manufacturing. Landlords in these areas, recognizing the potential for higher rents, apply for what are known as hardship variances, asking the city's Board of Standards and Appeals to allow them to rent space in manufacturing areas for residential or retail uses since, they say, they cannot make enough money renting to manufacturers. Essentially, the waivers allow the landlords to supercede zoning ordinances, according to Sara Crean, a senior project manager with the Industrial Retention Network.
"These variances aren't subject to public hearings," Crean said, "so you have entire neighborhoods that are changing and there's no systemic overview of what's being done."
Renters often find their lower rates, but ones that are still far higher than small manufacturers can afford. So the manufacturers find themselves pushed out.
"WHO IS MONITORING THIS?"
With so much competition for New York'ss land and buildings, some observers say the city must do a better job of planning for the future, of ensuring that the commercial, residential and industrial communities can all exist.
The critics say the Department of Planning is too willing to let the open market determine how areas are developed, an approach they say encourages land speculation, rent increases, and even the competition itself. "Who is monitoring this? Who is evaluating this? No one," said Rex Curry, associate director of the Pratt Institute Center for Community and Environmental Development. "We have got a city planning department that believes in nothing but market forces. With their market-forces blinders on, they may be witnessing the loss of some of the city's greatest components."
The Planning Department did not return phone calls seeking comment.
What effect, if any, the recent reports will have on development trends in New York is unclear. For now, none of the combatants over space seem ready to admit defeat
###
Visit the Issue of the Week archives.
Tell us what you think about this issue. Write a letter to the editor.