Stadium Fever
04 June 01
by John Wolfson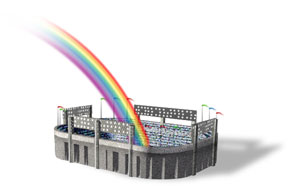 KeySpan Park, one of New York's two new baseball stadiums opening this month, and home to the new Brooklyn Cyclones baseball team, sits gleaming on Surf Avenue, just a few blocks west of Nathan's Famous, the original hotdog stand that is a Coney Island landmark. Set against the neighborhood's dull brown housing projects, the stadium's angles and bricks and glass seem so new, so unfathomably exciting that, like sunshine after a matinee, it almost hurts to look.
Phone, sewer and electrical lines still need installation, but one notable feature is already fully operational in the 6,500-seat park, whose opening day is planned for June 25. Giant neon lights encircle the stadium's eight towers like hula hoops. Glowing green, blue, purple and red, they shine like beacons past the Verrazano Narrows Bridge, past the Belt Parkway, proclaiming to the rest of the city that, despite decades of decline, life remains vivid in the seaside resort.
At least that's what New York City officials are hoping, and Coney Island merchants too.
"It tells people we're here," says Scott Fitlin of Eldorado Auto Skooter, a disco-bumper car attraction on Surf Avenue. "We're here in Coney Island and maybe they'll come see the Cyclones andthen visit some of the concessions and rides."
Maybe. Maybe not.
SHOULD THE PUBLIC FUND THEM?
The city is betting the people will come. That is why it built the $39 million park for the Cyclones, the New York Mets' new farm team in the Single A New York-Penn League, a low-level minor league where many players, fresh o ut of high school or college, begin their professional careers. The city spent another $71 million for a minor league stadium project in the St. George area of Staten Island, where the Staten Island Yankees will play in the same league as the Brooklyn Cyclones. Their Opening Day is June 24. The Giuliani administration believes each new team's 38 home games every season, plus as many as 70 other events per year, will draw visitors and money to the sagging neighborhoods.
In Staten Island, the 6,500-seat Richmond County Bank ballpark, with its dramatic views of the Manhattan skyline, is the centerpiece of a plan to rejuvenate the St. George neighborhood. The ferry terminal there will be renovated, a $20 million maritime museum is planned and an arts and sciences center will open. Staten Island Borough President Guy Molinari says these projects will energize his borough's downtown, filling vacant storefronts and boosting tourism.
The philosophy of sports as an economic motor has been practiced from Baltimore to Oakland, from Cleveland to Nashville, and in hundreds of municipalities in between. Cities hoping to resuscitate gasping economies have thrown money into stadium projects, believing sports teams will draw fans, and their money, downtown.
And that philosophy at least partially explains the $573 million for sports stadium subsidies that Mayor Giuliani had included in his last three budget proposals. That money, which was never approved, was to have helped fund new ballparks for the Mets and the Yankees, and possibly a new stadium for the Jets, whom Giuliani would love to lure back from New Jersey
Giuliani continues to support publicly financed stadiums. Besides the jobs and spending that stadiums create, the mayor says sports help market New York City to the world and are a source of civic pride. He also supports an effort to bring the 2012 Summer Olympics to the city, an effort that would only be enhanced by new, modern stadiums.
Others, however, believe public spending on stadiums for privately owned teams is a mistake, especially when the New York City Independent Budget Office predicts significant budget deficits over the next few years. Critics, including to varying degrees the men vying for the Democratic nomination for mayor, say more should be spent on New York's crumbling schools, on housing and on health care. But if the city were going to pay for a new stadium in Coney Island, says Brooklyn Borough President Howard Golden, it should have recruited a higher-level minor league team, one that would have played more home games every year.
And then there are the experts who insist that stadiums do not spur economic development. In fact, they say, public spending on ballparks actually costs taxpayers more money than it delivers.
WHY SHOULDN'T IT DO WELL HERE?
Half of KeySpan Park's top level has been designated a party deck. The spot rents for $3,000 per game and the renter gets 50 tickets, $500 worth of food and beverages and views of Coney Island's amusements, the Verrazano Bridge and, off in the distance, Lower Manhattan. The deck also overlooks the beautiful new playing field, the stadium's 12 luxury boxes, and the 6,500 seats below, which sell for between $6 and $10 per game. With weeks to go until Opening Day, the most expensive tickets had already sold out for the season. In fact, the Cyclones -- owned by a company whose chairman is Mets co-owner Fred Wilpon -- had already sold out 12 of their 38 home games. It is possible, said team spokesman David Campanaro, that the Cyclones could sell every ticket to every game before the first pitch is thrown.
A season sellout would mean nearly 250,000 people lured to Coney Island between late June and early September. The city figure those people will eat in area restaurants before and after the ballgames, and they might visit the amusement parks, pumping new money into what was once an international destination but has slipped into dilapidation and decay in more recent times.
Add to the visitors the tens of thousands expected to attend planned concerts, boxing matches and amateur athletic events at the stadium, and the city and the team see the ballpark, which is on the site of what was only last year the seldom-used and gated Steeplechase Park, as a significant piece of Coney Island's revival.
"We're hoping to be the major force in rebuilding this area," Campanaro said, standing on the party deck and looking out over the infield, where a small steamroller rested on the orange dirt between first base and second base, and a white tarp covering the pitchers mound flapped in the wind.
The city hopes so, too. Besides paying for the ballpark, it has begun a multi-million dollar overhaul of the Coney Island Stillwell Avenue subway stop. And there are rumors it is working to bring in new amusement attractions, perhaps even a water park, in the vacant lot adjacent to the ballpark's left field wall; the lot that used to house the famous Thunderbolt Roller Coaster, which was torn down last year. The ballparks in Coney Island and Staten Island are important components of the city's efforts to reenergize those areas, said Bruce Brodoff, a spokesman for the New York City Economic Development Corporation, which oversaw the projects. "These are areas that needed revitalization and these were two great ways to start that revitalization," Brodoff said.
Al O'Hagan, executive director of the Coney Island Chamber of Commerce, said the neighborhood could use the help. At the height of Coney Island's popularity a half-century ago, he said, a million people or more visited the area in a week. All of last year, he said, 5.2 million people got off the subway at Coney Island. "Not a bad figure," he said, but nothing like the old days.
"I wasn't keen on the ballfield at first," O'Hagan said. "I just couldn't see where it would benefit Coney Island because they didn't play that many games. But now I've changed my mind, now that I see this big, beautiful park."
Fitlin, whose father and grandfather opened the disco-bumper car attraction in 1973, was also skeptical of the stadium. "I would have rather they put in some new [amusement rides], a reason for 100,000 more people to show up on a Saturday," he said, stepping away to mix popping strobes into the flashing colored lights that illuminated the bumper cars. But he's optimistic that with boxing matches and concerts, the ballpark will be a draw. "If that stadium runs three or four times a week, maybe it will help around here," he said.
Fitlin, 38, pointed out that the minor league Long Island Ducks in Central Islip sold out every game last year in their inaugural season. The Ducks play in a $20 million, 6,000-seat stadium that was built for them with public money. And over in New Jersey, the owners of the Somerset Patriots, a team that plays in a $17.5 million, publicly-financed facility, have done well enough to seek more money for a stadium for the Bergen Cliff Hawks, a team they also own.
"Baseball does very well everywhere else, so why shouldn't it do well here?" Fitlin said, throwing his hands up and jutting out his chin, "Any time you put that kind of money into an area, it's not going to hurt the area."
ARE STADIUMS ECONOMIC POLICY, OR NOSTALGIA?
Baseball may not hurt an area, but publicly financed stadiums wind up costing more than they are worth, according to two economics professors who studied the results of stadiums built in 30 cities over 25 years. A ballpark built with public money costs a citys individual taxpayers between $10 and $40 per year, according to professors Dennis Coates and Brad Humphreys of the University of Maryland Baltimore County.
That's money just to build the stadium, Coates said, it doesn't include paying to actually attend games or watch them on TV or buy caps and T-shirts.
Proponents of publicly financed stadiums tend to rely on consultant reports that Coates said are "almost always bought and paid for" by stadium supporters. Those reports greatly exaggerate the economic benefits, he said, sometimes claiming that a new stadium will generate twice as much money as it cost to build. In fact, he said, the most a publicly financed ballpark can hope to profit a community is about 20 cents for every dollar spent. Coates acknowledged that stadiums can draw spending to a particular area, but he said that money is often simply redirected entertainment dollars that were likely being spent elsewhere in the community.
The Citizens Budget Commission, a non-profit, non-partisan group that advocates fiscal responsibility in New York government, believes that stadiums are not a good investment of public money, according to Douglas Offerman, a research associate with the group. "If you use public funds for anything, you have to judge it as an investment," Offerman said, "and the public should receive some return on the investment."
The Commission issued a report in 1999 that said a new major league baseball stadium would add $29.5 million per year to the city's economy. To ensure at least a 10 percent return on the public's money, the Commission argued that the city should therefore spend no more than $28.6 million per year on a stadium subsidy. The group believes the two minor league stadiums are not good investments, Offerman said, because minor league teams tend to attract local spectators who are just redirecting money that they already spend in the area.
The men seeking the Democratic nomination for mayor have other reasons for opposing public money for new ballparks. Both Public Advocate Mark Green and Bronx borough president Fernando Ferrer say New York's spending priorities should be education, housing and health care. "A stadium in every borough is really not economic development strategy," Mark Green said at a mayoral forum on urban planning. " I love sports. But spending on sports stadiums is nostalgia; it's not policy." And, he has said, now, with slower economic growth looming ahead, is especially not a good time to spend on nostalgia.
City Council Speaker Peter Vallone, also running for mayor, supports public money for certain stadium projects as long as the state and the teams also help pay. "The theory is that a new stadium produces much more money for the city as a whole," a Vallone spokesman said. "Sure, [the teams] do make more money, but it's a win-win."
The fourth Democratic candidate, Alan Hevesi, has had less to say about ballparks, though in a recent mayoral debate he came out against building a new stadium in the rail yards just below the Jacob Javits Convention Center.
The two new minor league parks will open later this month, that much is for sure. What will come of Giuliani's dream to help build new homes for the Mets, the Jets and his beloved Yankees is less certain. The mayor's $39.5 billion expense budget this year does not include any direct money for stadiums. It does make an oblique reference to $600 million that a newly-created authority could raise from bonds for stadium construction. But the mayor has provided no details in his budget, including how many stadiums would be constructed or where they would go.
And with time running out on Giuliani's term, and with stadium subsidies further down on the priority list of the men who would replace him, many speculate that the mayor's most recent ballpark swings are likely to go foul.
###
Visit the Issue of the Week archives.
Tell us what you think about this issue. Write a letter to the editor.